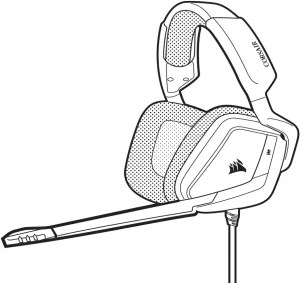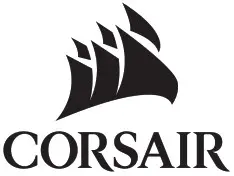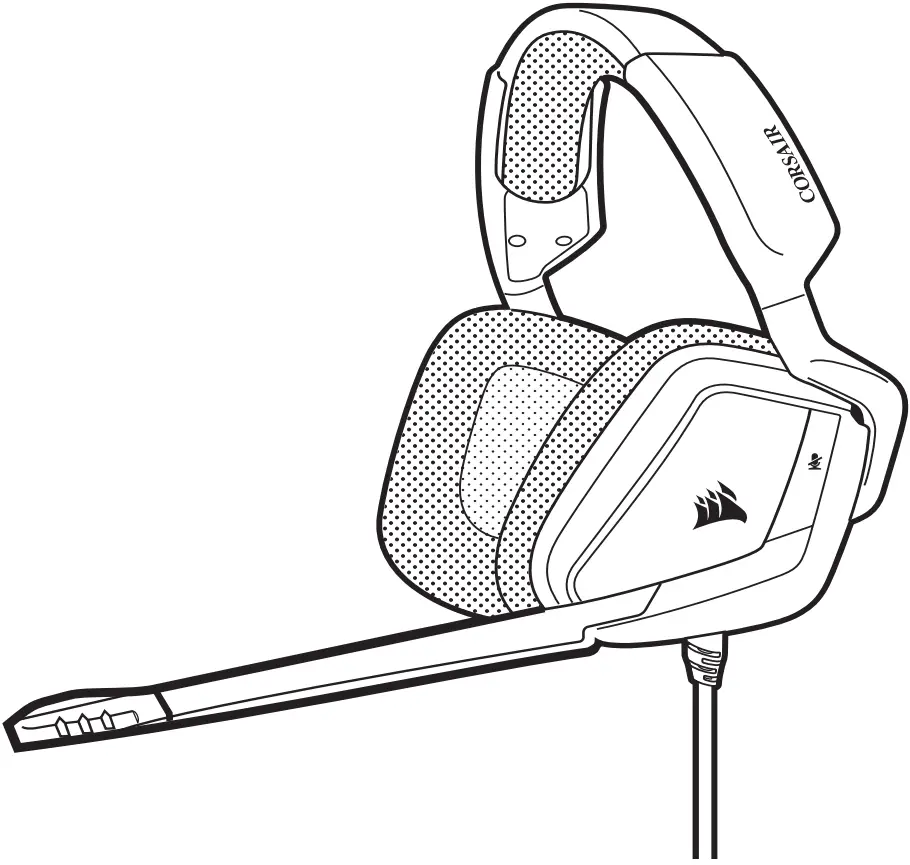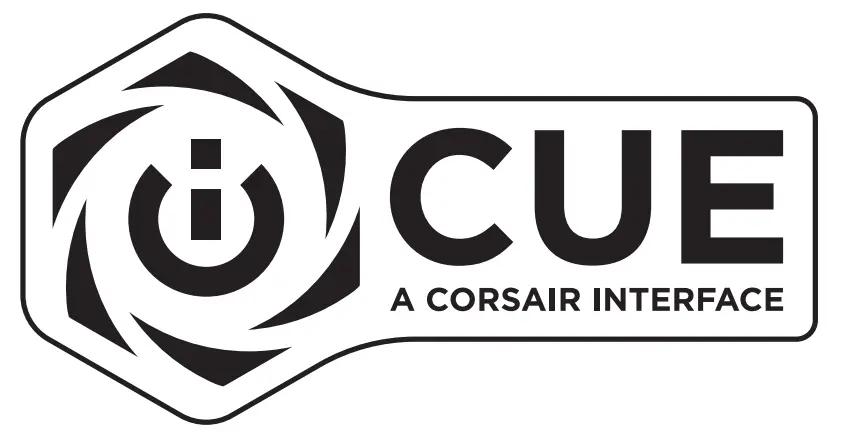 VOID RGB ELITE USB
Premium Gaming Headset with 7.1 Surround Sound
CONTROLS AND FEATURE
A. Headband adjustment
B. Cantilevered arm + hinge
C. Mute button
D. Jog dial (volume + EQ)
E. Microfiber covered ear pads
F. Microphone foam windscreen (removable)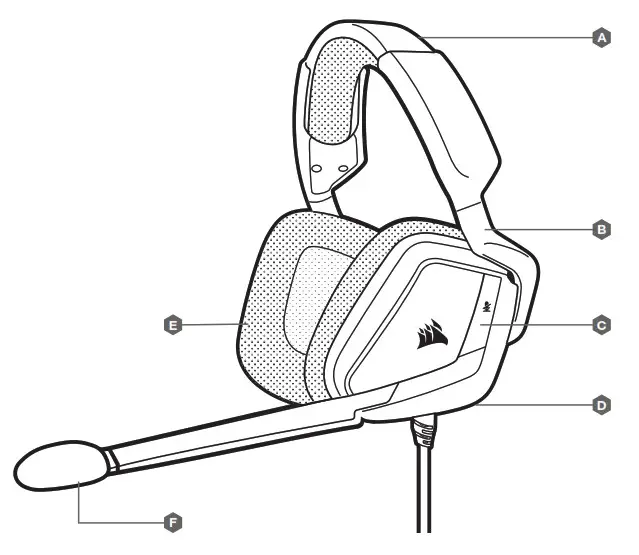 GETTING STARTED WITH YOUR VOID RGB ELITE USB HEADSET
> Connect your headset to a USB port on your PC.
> Go to corsair.com/support/downloads to download the CORSAIR Utility Engine ("iCUE") Software.
Using the iCUE software will enable the full feature set of your headset.
> Note: If the headset is used without software, some features will be disabled.
> Install the iCUE software on a PC running Windows® 7, Windows® 8.1, Windows® 10 or later.
> After installation is complete, reboot your PC, and launch iCUE.
iCUE SOFTWARE CAN BE USED TO
> Choose your RGB color preference and light intensity.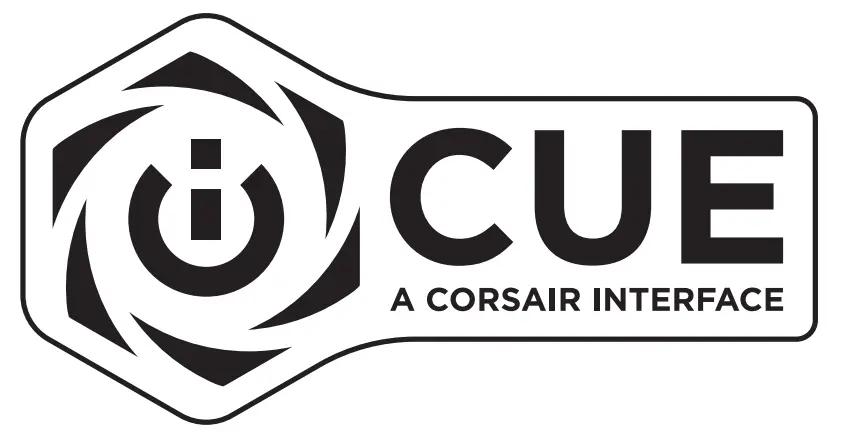 > Select and customize audio equalizer (EQ) settings.
> Adjust headset volume, microphone input volume, and microphone sidetone.
> Set 7.1 surround sound on or off.
Note: Prolonged listening at high volumes may adversely affect your hearing.
Take breaks between sessions and always begin with the volume at the lowest possible level before increasing.
HEADSET AUDIO SETTINGS
Short key press (0.1-0.5 seconds) on JOG DIAL D toggles EQ. Medium keypress (0.6-2 seconds) on JOG DIAL Dtoggles 7.1 surround sound.
HEADSET MIC CONTROL
Short key press (0.1-0.5 seconds) on mic mute button C toggles mute on and off. Long key press (2-4 seconds) on mic mute button Ctoggles sidetone on and off.
Note: iCUE software can also be used to control these features.

Listening to sound at a high volume may permanently damage your hearing. Background noise, as well as continued exposure to high volume levels, can make sounds seem quieter than they actually are. For specific product documentation, please visit corsair.com/documentation. To prevent possible hearing damage, do not listen to high volume levels for long periods.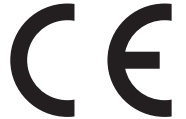 CORSAIR MEMORY, Inc. declares that this equipment is in compliance with Directive 2014/30/EU and Directive 2011/65/EU. A copy of the original declaration of conformity can be obtained at "[email protected]". Operating temperature: 0°C~+40°C
After the implementation of the European Directive 2012/19/EU in the national legal system, the following applies:
> Electrical and electronic devices may not be disposed of with domestic waste.
> Consumers are obliged by law to return electrical and electronic devices at the end of their service lives to the public collecting points set up for this purpose or point of sale. Details to this are defined by the national law of the respective country. This symbol on the product, the instruction manual, or the package indicates that a product is subject to these regulations. By recycling, reusing the materials, or other forms of utilizing old devices, you are making an important contribution to protecting our environment.

VOID RGB ELITE USB
WEB: corsair.com
PHONE: (888) 222-4346
SUPPORT: support.corsair.com
BLOG: corsair.com/blog
FORUM: forum.corsair.com
YOUTUBE: youtube.com/corsairhowto
© 2019 CORSAIR MEMORY, Inc. All rights reserved. CORSAIR and the sails logo are registered trademarks in the United States and/or other countries. All other trademarks are the property of their respective owners. Product may vary slightly from those pictured. 49-001925 AA