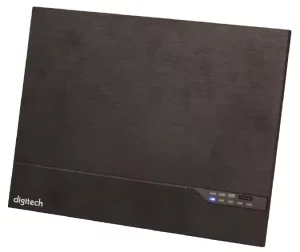 Digitech
Model: LT-3158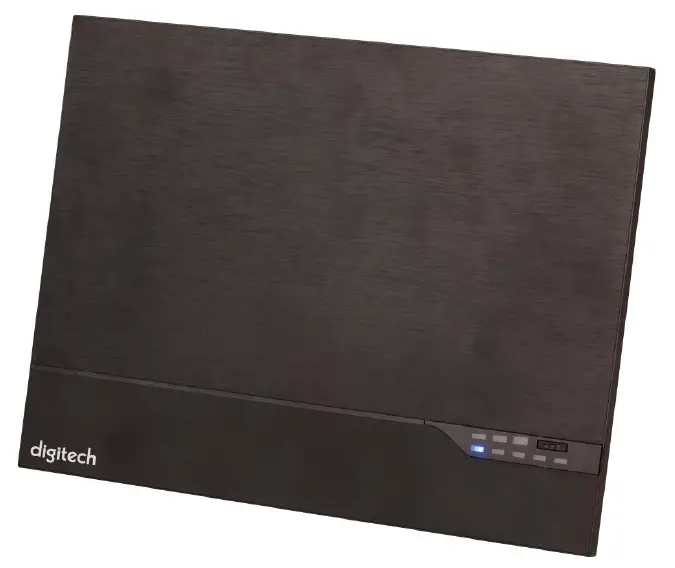 Box Contents: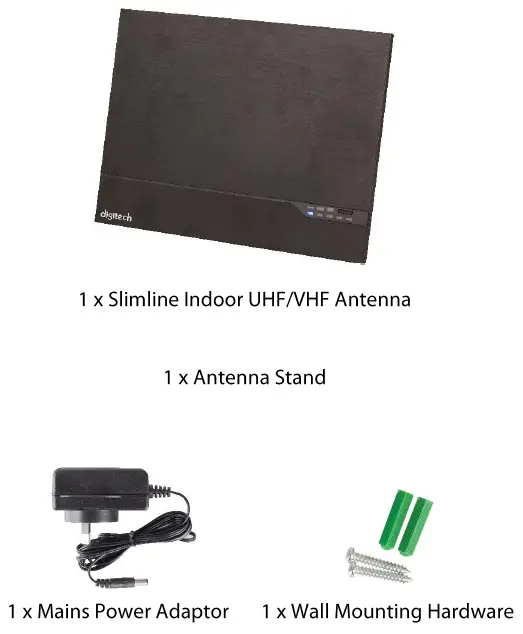 Product Diagram: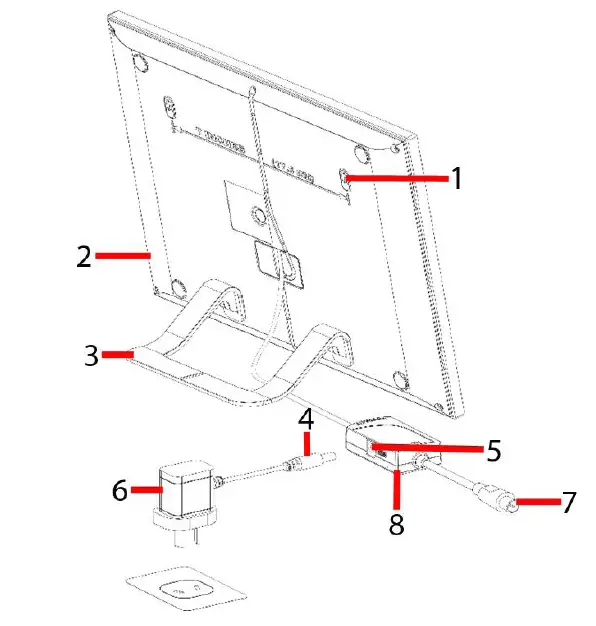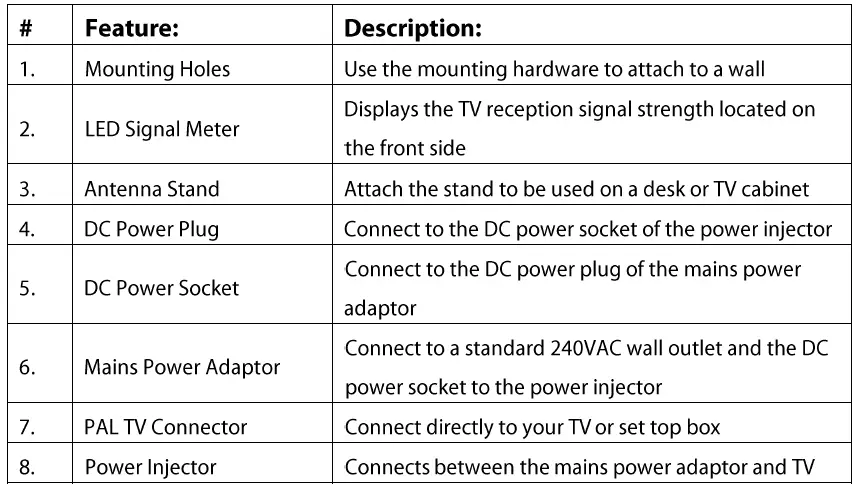 Operation:
Insert the PAL connector of the power injector into the socket of your TV or set top box.
Connect the DC plug of the mains power adaptor to the DC power socked of the power injector.
Connect the mains power adaptor to a standard 240VAC wall outlet and turn it on.
Once the power has been turned on; the power injector should show a blue LED to indicate it is now powered on correctly.
Turn on your TV and set top box and run a channel search scan.
The LED signal meter on the front of the antenna will show you the current reception signal strength. Try to reposition the antenna if you're getting low signal or you may be in a low signal area. Refer to the reception page of the user manual.
Note: Please refer to your user manual of your TV or set top box if you're unsure on how to complete a channel search scan.
LED Signal Meter: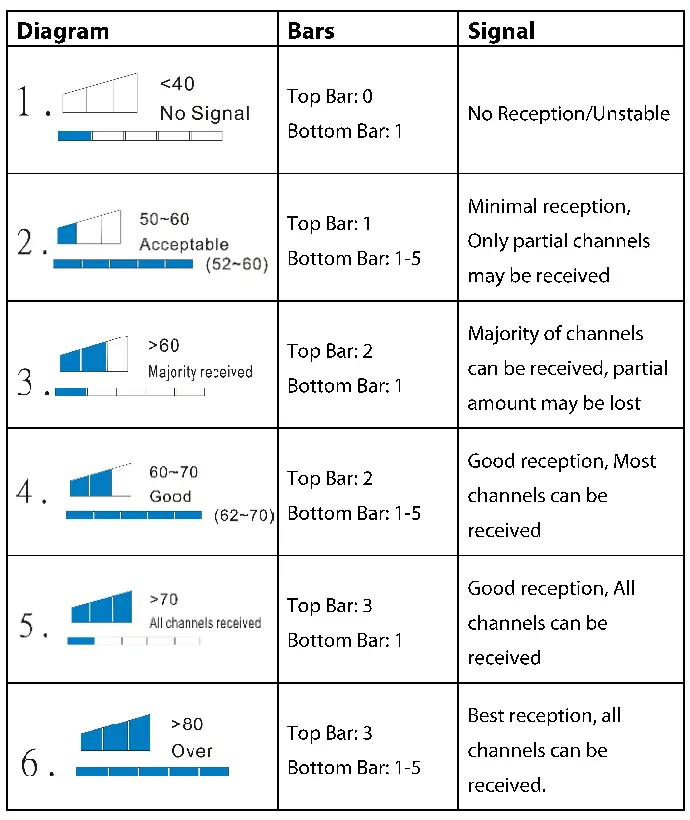 Reception:
This antenna is suggested for use up to a 25km distance to the TV tower. Please note that obstacles in-between the tower and receiver such as buildings or walls may affect the distance.
Please refer to the following websites to check the coverage in your area:
Australia – https://myswitch.digitalready.gov.au/
New Zealand – https://www.freeviewnz.tv/faq-library/about-digital-tv/coverage-maps/
For best reception; please try the following steps:
Reposition or change the direction of your antenna to try and obtain better signal. Run a channel search again on your TV once the antenna has been moved.
The antenna distance to the TV tower may be affected by objects in-between; it is suggested to change the position of the antenna to try and avoid these objects. Objects such as microwaves may affect the signal. The signal strength may be far greater even by moving the antenna a short distance.
Mount the antenna as high as possible on a wall or cabinet.
It is suggested not to place the antenna near your TV as it may cause interference.
Troubleshooting: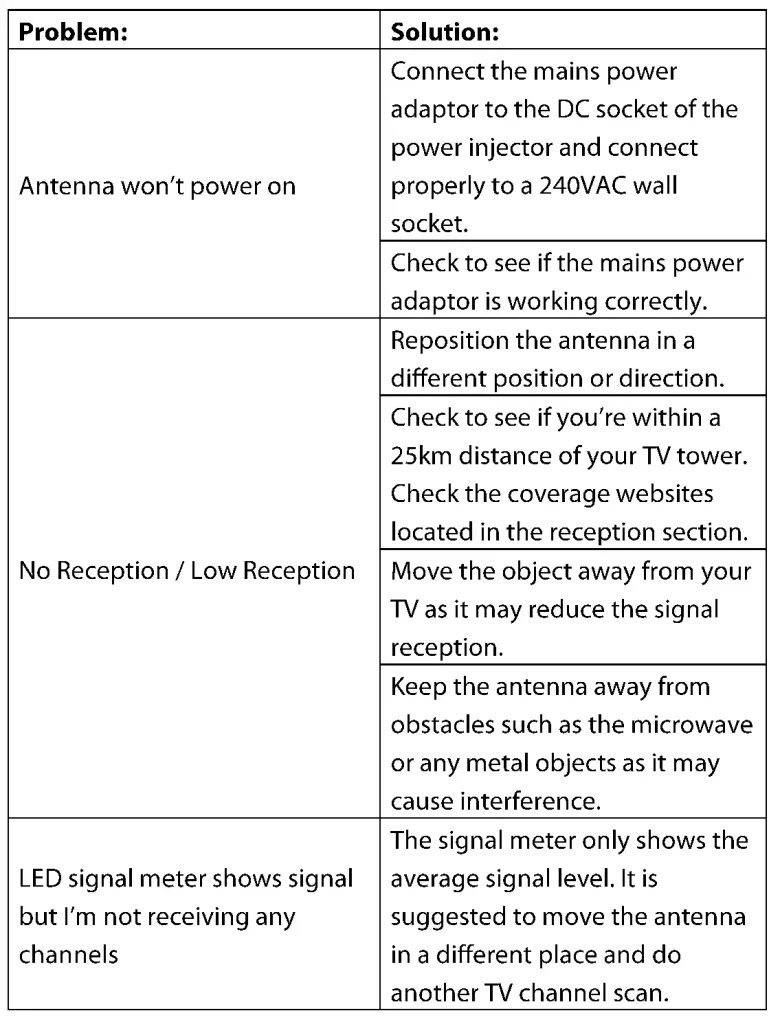 Safety:
Do not open the case of the antenna to avoid damage and injury.
Keep the antenna away from high temperatures as it may cause damage to the antenna.
Do not expose the antenna or mains power adaptor to water, moisture or liquids to prevent the unit from damage.
Make sure the mains power adaptor is connected correctly to a standard 240VAC wall socket.
If using a replacement or third party mains power adaptor; make sure the voltage and current match the specifications as 6VDC, 150mA.
Features:
LED Signal Strength Meter
In-Built Amplifier
4G/LT Filter
Automatic Gain Control
Stand & Wall Mountable
Specifications:
UHF Frequency: 470-862MHz
VHF Frequency: 170-230MHz
Antenna Gain: 26dB±3 (UHF) 30dB±3 (VHF)
Distance to TV Tower: Up to 25km
Channels: 6-12 & 25-69
Impedance: 750
Power: 6VDC, 150mA
Power Consumption: 80mA (Max)
Dimensions: 305(W) x 230(H) x 20(D)mm
Distributed by:
TechBrands by Electus Distribution Pty. Ltd.
320 Victoria Rd, Rydalmere
NSW 2116 Australia
Ph: 1300 738 555
Intl: +61 2 8832 3200
Fax: 1300 738 5OO
www.techbrands.com