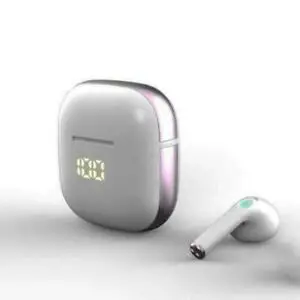 PAIRING
open charging box and take out both two earphones, The earphones will turn on automatically and enter pairing mode after 5s. You will hear voice prompt "beep" on L/R earphones same time after paired successfully.

Turn your bluetooth device on and search" K6″ to connect, you will hear voice prompt "connected". Then you can start your wonderful music journey!
Function instructions
Play/Pause: Touch the switch once
Volume – Touch "R" earphone touch switch twice
Volume+ Touch "L" earphone touch switch twice.
Previous song Touch "R" earphone touch switch for 2s
Next song Touch "L" earp hone touch switch for 2s
Answer phone call touch the switch once
End phone call touch the switch once
Reject Incoming call Long press the touch switch for 2s
Wake up Siri Touch the switch thrice
Note: If you use monaural mode, the single bud can only increase the volume and the next song.
CHARGING
Earphones Put the earphones into the charging box to start charging The red LED indicator of earphones and the digital d1splay's LED number will flash during charging
Warm reminder-: Charging "L "earphone t he tens digit of digital display flash twice Charging "R "earphone the units digit of digital display flash twice Charging both earphones the digital display screen flash once The earphones are power off under charging mode Charging case: Please use a standard adapter with Type-C cable for charging The digital displays LED number will flash during charging, it's fully charged when display screen shows "100.
Chipset introduction
Earphones type TWS bluetooth earphones Bluetooth ch1pset 32-bil RISC CPU AC69360 Bluetooth protocol: a2dp I avctp I avdtp I avrcp I hfp spp SMP alt gap GATT rfcomm SD P 12cap Bluetooth version V5 O+EDR BLE Radio frequency power class: class2 and olyss3 Transm1ss1on distance之1 0M.
Charging port type Type-C
Operating voltage 3 7V
Charging current charging box 200mAh, earphone 30mAh
Charging time charging box S2 hours, earphone S1 5 hours
battery capacity charging box 400mAh+ earphone 40mAh'2
Call duration 4-5 hours, music playing duration 5-6 hours
Battery cycle life: charge and discharge cycles .e400 times
standby duration 60 hours
Wireless charging Support
Microphone type· MEMS s1l1con wheat
Microphone D ual m,c (left/right)
Sensitivity.-38db 士3db (db= 1v/pa@ 1 khz)
Sound output mode: backward sound
SNR 63dB
Distortion THO less than O 1 5%94db SPL@1 khz
Impedance 2000
Speaker type: Double composite membrane micro speaker
Drive:q,13mm, N45 Neodymium magnet
Sens1t1v1ty 103db (士3db)@ 1khz.126mV
Impedance 320
Frequency response 20hz-20 KHz

Function introduction
K6 earphones support master & deputy earphones switching freely, It means you could use each earphones independently, Power off any one earphone of them won't effect another earphone's uses mg When one earphone battery low or you only want wear one earphone, you could power off one earphone of them or put ,t into charging box Just pick up from the charging box, the earphone can connect another earphone quickly once you wanna use them together Indicator light introduction.
Power on Red light flashes slowly
Power off Red light flashes 3 times
Pairing successed The master earphone red indicator flash quickly
connected device Both L/R ear p hones led indicator are off Successfu11y
Low battery Red light flashes slowly
Left earphone charging Left number on LED digital screen flash
Right earphone charging Right number on LED digital screen flash
Charging Box The LED digital dis play screen numb flash.
Common problem analysis
Whether Pairing successed:
Pairing failed, you will find two K6 pairing name in your device, you need to put the two earphones in the charging box again, close the charging box flip cover, then open the charging flip cover again wait for 5s, you will find only one K6 pairing name in your device now, Re-connect your device is ok
Confirm if both earphone are working:
If only one earphone can hear the sound, Confirm if both please check whether both earphone are power earphone are on normally . It possible that another earphone
turn on or power off status. Please recharge the earphone under lower battery then turn in on is ok. You could pick up the earphone from charging box power on automatically or long touch switch until earphone power on.
Confirm the charging box whether have power:
when the charging box under few battery or charging box no battery situation, it can't recognize the earphone after you put the earphone into charging box, it caused the earphone still working.
Check the earphone charging point whether covered by other things:
If the earphone charging point covered by Check the earphone d the charging box can't charging point hones Please try remove whether covered it or use alcohol wipe to clean and try charging by other things again.