The eufy T2108 RoboVac is packed full of awesome features which can make setting it up rather difficult. This user guide breaks down how to do this setup and shows you how to activate the various modes such as edge cleaning and spot cleaning among others.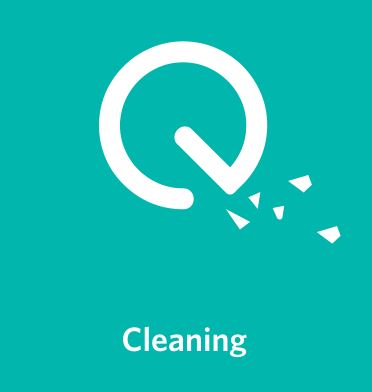 Owner's Manual
RoboVac 11S (T2108)
Important Safety Instructions
To reduce the risk of injury or damage, read these safety instructions carefully and keep them at hand when setting up, using, and maintaining this device.
WARNING SYMBOLS USED
This is the safety alert symbol. This symbol alerts you to potential hazards that could result in property damage and/or serious bodily harm or death.
This device can be used by children aged from 8 years and above and persons with reduced physical, sensory or mental capabilities or lack of experience and knowledge if they have been given supervision or instruction concerning use of this device in a safe way and understand the hazards involved.
Children should be supervised to ensure they do not play with this device.
Cleaning and maintenance shall not be performed by children without adult supervision.
This device is only to be used with the power supply unit provided.
For the purposes of recharging the battery, only use the detachable power supply unit provided with this device.
The battery must be removed from this device before this device is disposed of. To remove the battery from this device, first remove the screws on the bottom, then remove the main PCB and unscrew the battery cover using a screwdriver. Remove the battery by disconnecting the quick connector.
The used battery should be placed in a sealed plastic bag and disposed of safely according to local environmental regulations.
The external flexible cable or cord of the power supply unit cannot be replaced; if the cord is damaged, the power supply unit shall be disposed of.
This device is for indoor use only.
This device is not a toy. Do not sit or stand on this device. Small children and pets should be supervised when this device is operating.
Store and operate this device in room temperature environments only.
Clean with a cloth dampened with water only.
Do not use this device to pick up anything that is burning or smoking.
Do not use this device to pick up spills of bleach, paint, chemicals, or anything wet.
Before using this device, pick up objects like clothing and loose paper. Lift up cords for blinds or curtains, and move power cords and fragile objects out of the way. If this device passes over a power cord and drags it, an object could be pulled off a table or shelf.
If the room to be cleaned has a balcony, a physical barrier should be used to prevent access to the balcony and to ensure safe operation.
Do not place anything on top of this device.
Be aware that this device moves around on its own. Take care when walking in the area where this device is operating to avoid stepping on it.
Do not operate this device in areas with exposed electrical outlets on the floor.
Do not expose the electronics of this device, its battery, or the integrated Charging Base. There are no user-serviceable parts inside.
Do not use this device on an unfinished, unsealed, waxed or rough floor. It may result in damage to the floor and this device. Use only on hard floor surfaces or low-pile carpet.
This device has been designed to be used on floors without scratching them. We still recommend that you test this device on a small area of the room to be cleaned to ensure no scratches are made before cleaning the whole room.
Notice

This symbol on the device or its packaging indicates: Do not dispose of electrical appliances as unsorted municipal waste; use separate collection facilities. Contact your local authority for information regarding the collection systems available. If electrical appliances are disposed of in landfills or dumps, hazardous substances can leak into the groundwater and get into the food chain, damaging your health and well-being. When replacing old appliances with new ones, the retailer is legally obliged to take back your old appliance for disposal at least free of charge.
FCC Statement
This device complies with Part 15 of the FCC Rules. Operation is subject to the following two conditions:
This device may not cause harmful interference.
This device must accept any interference received, including interference that may cause undesired operation.
About Your RoboVac
What's in the Box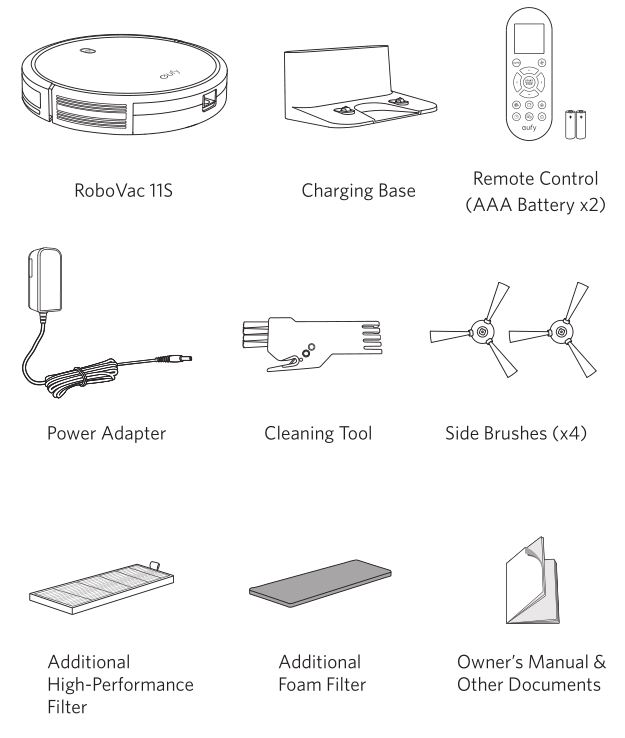 RoboVac Anatomy
Top and Side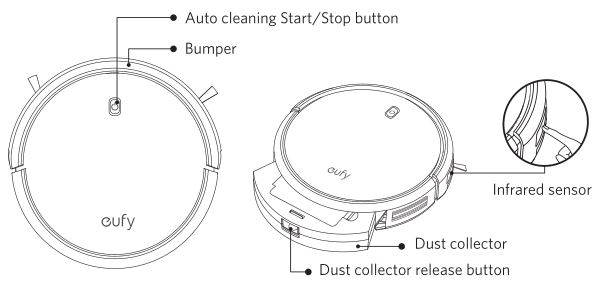 Bottom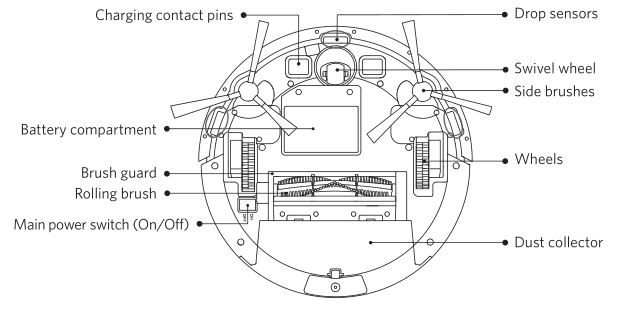 Dust Collector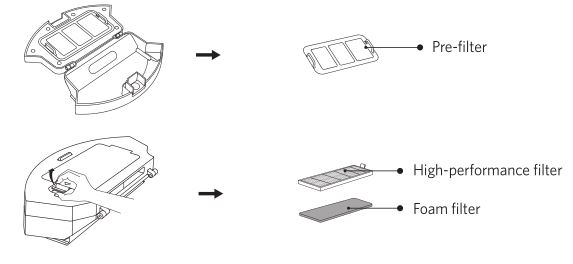 Suction Inlet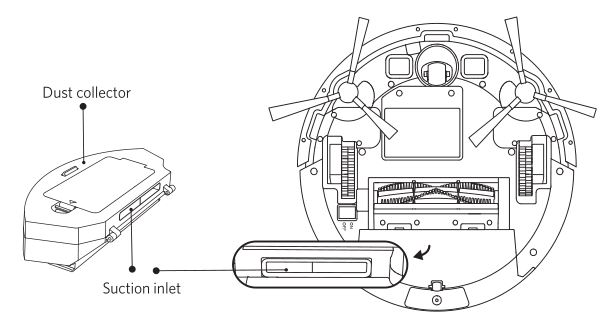 Charging Base

Remote Control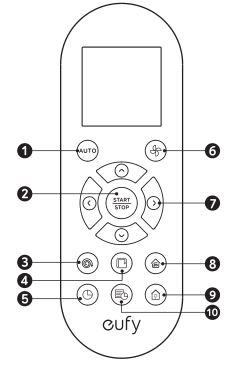 Start Auto cleaning
Start Auto cleaning /Stop cleaning
Start Spot cleaning
Start Edge cleaning
Adjust time
Adjust suction power level in Auto/Single Room / Cleaning mode
Control cleaning direction manually / Adjust the hour and minute
Start Single Room cleaning
Return RoboVac to Charging Base
Schedule Auto cleaning start time
Remote Control Display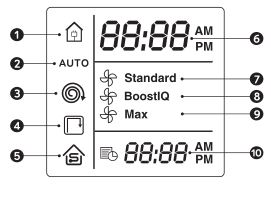 Returning to Charging Base
Auto cleaning mode selected
Spot cleaning mode selected
Edge cleaning mode selected
Single Room cleaning mode selected
Clock
Standard suction power enabled
BoostIQ™ dynamic suction power enabled
Max suction power enabled
Scheduled cleaning time
Install 2 AAA batteries before using the remote control for the first time. Make sure the positive and negative ends are facing the correct polarity direction as marked in the battery compartment.
LED Indication
You can see the status of RoboVac from the LED indicator.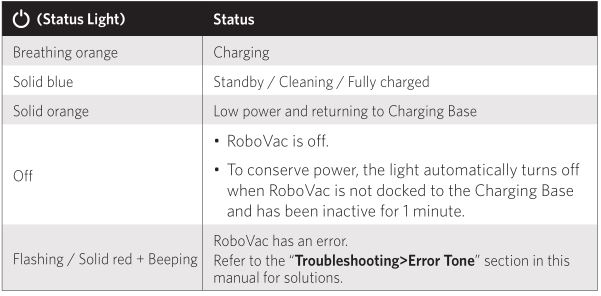 Using Your RoboVac
Important Tips Before Use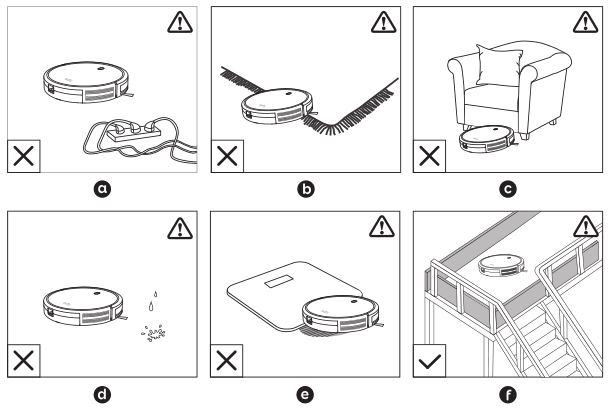 a. Remove power cords and small objects from the floor that may entangle RoboVac.
b. Fold tasseled edges of area rugs underneath to prevent tangling RoboVac. Avoid cleaning very dark-colored high-pile rugs or rugs thicker than 1.02 in/26 mm as they may cause RoboVac to malfunction.
c. Keep RoboVac away from spaces lower than 2.87 in/73 mm to prevent RoboVac from getting stuck. If necessary, place a physical barrier to block off the problem areas.
d. Keep RoboVac away from wet areas.
e. RoboVac may climb on top of objects less than 0.63 in/16 mm in height. Remove these objects if possible.
f. Anti-drop sensors prevent RoboVac from tumbling down stairs and steep drops. They may work less effectively if dirty or used on reflective/very dark-colored floors. It is recommended to place physical barriers to block off areas where RoboVac may fall.
Place physical barriers in front of fireplaces and areas that may cause damage to RoboVac if entered.
Preparation
Install the side brushes before use.
Turn on the main power switch on the bottom of RoboVac. Remove the sticker next to the power switch, and the foam blocks beside the bumper before use.
Place the Charging Base on a hard, level surface and against a wall.
Remove objects within 3 ft/1 m of the left and right side and within 6 ft/2 m of the front of the charging base.
Connect the round connector of the adapter into the power socket on the Charging Base and the other end into a wall outlet.

When the Charging Base connects to AC power, the LED indicator on the Charging Base is SOLID WHITE.
Install the Charging Base in a location that RoboVac can easily access. It is recommended to place the Charging Base against a wall, and on a hard-level surface rather than on rugs or carpets.
Always keep the Charging Base plugged in, otherwise RoboVac will not automatically return to it.
Charge Your RoboVac
• RoboVac has a pre-installed rechargeable battery that has to be fully charged before use.
• RoboVac returns to the Charging Base at the end of a cleaning cycle or when its battery is running low.
Method 1: Attach RoboVac to the Charging Base by aligning its charging pins with the charging pins on the base.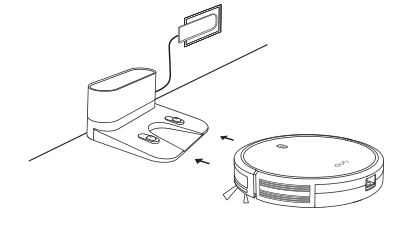 Method 2: Press Home on the remote control to return RoboVac to the Charging Base.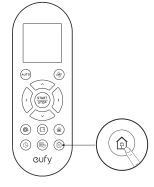 Turn off the main power switch if RoboVac will not be used for a long period of time. To preserve the battery's lifespan, recharge at least once every 6 months.
Start / Stop Cleaning
Make sure the main power switch on the bottom of RoboVac is turned on before use.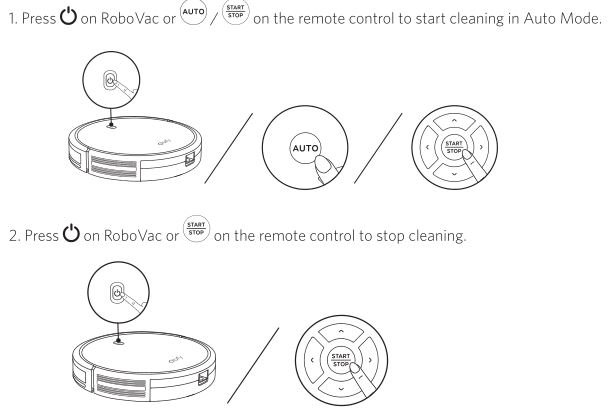 Select a Cleaning Mode
Auto cleaning
RoboVac optimizes its cleaning path by selecting different cleaning modes automatically until cleaning is complete. This is the most commonly used cleaning mode.
RoboVac will return to the Charging Base automatically when the battery level becomes low or when RoboVac finishes cleaning.
By default, RoboVac starts in Auto cleaning mode when it is turned on.
BoostIQ™ Feature
When the BoostIQ™ feature is enabled, RoboVac will automatically increase the suction power if it detects stronger power is needed to ensure the best clean. BoostIQ™ is ideal for cleaning thicker carpets and hard-to-sweep messes, which will reduce the total cleaning time, but increase the noise level. If the vacuuming noise caused by BoostIQ™ disturbs you, you can disable this feature. This feature only works in Auto and Single Room cleaning modes.
In Auto or Single Room cleaning mode, press (Fan Icon) on the remote control repeatedly to adjust the suction power level.
The corresponding icon is displayed on the remote control.

When RoboVac starts cleaning in Auto or Single Room mode the next time, it will clean according to the suction power level you previously selected.
Spot cleaning
RoboVac intensively cleans a specific area in a spiral pattern, useful if there is a concentrated area of dust or debris. In Spot mode, RoboVac will stop cleaning after 2 minutes.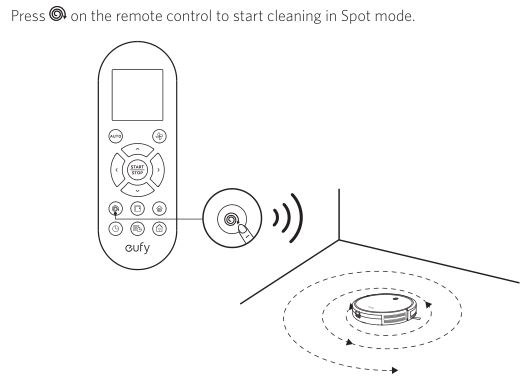 Edge cleaning
RoboVac reduces its speed when it detects a wall and then follows the wall to ensure the edge is cleaned thoroughly. In Edge mode, RoboVac will clean for 20 minutes and return to the Charging Base.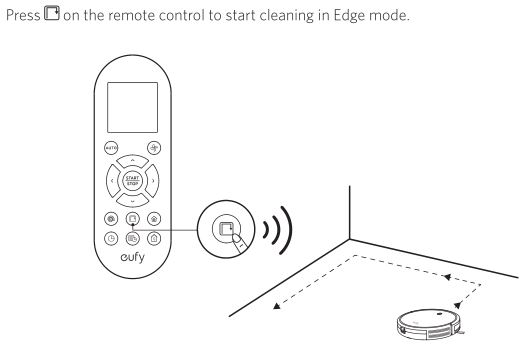 Single Room cleaning
RoboVac intensively cleans one single room and stops after 30 minutes. Select this mode only when one specific room needs to be cleaned. Make sure to confine RoboVac to the room by closing the door.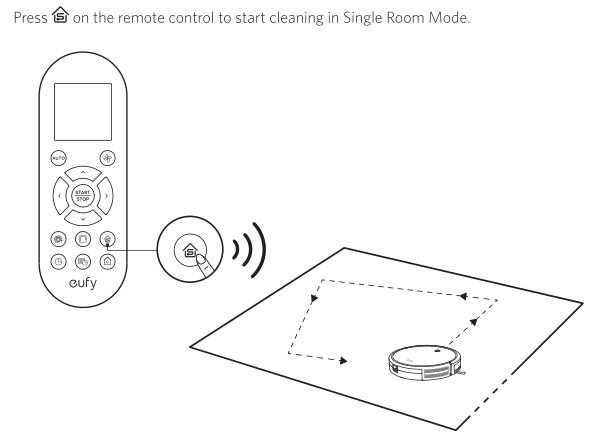 Manual cleaning
You can direct RoboVac to clean a particular area by using the directional buttons on the remote control.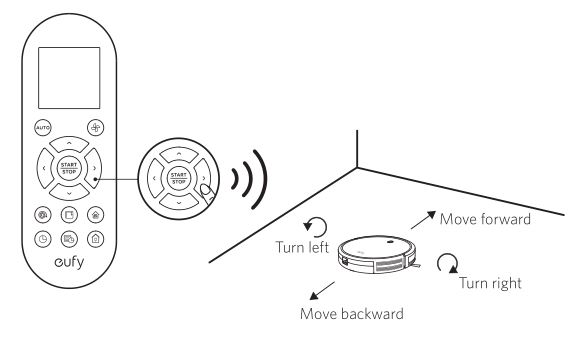 Set Time and Scheduled Cleaning
Set Time
Make sure the time is set correctly to your local time before setting a scheduled cleaning.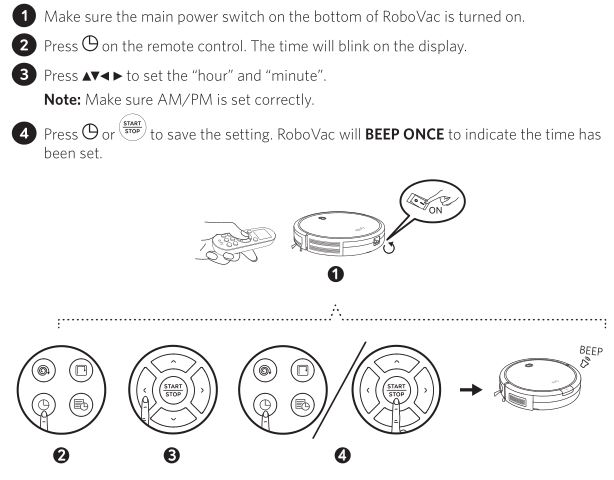 To ensure the time is set successfully, make sure RoboVac is turned on. You will hear a beep when the time has been set.
Set a Scheduled Cleaning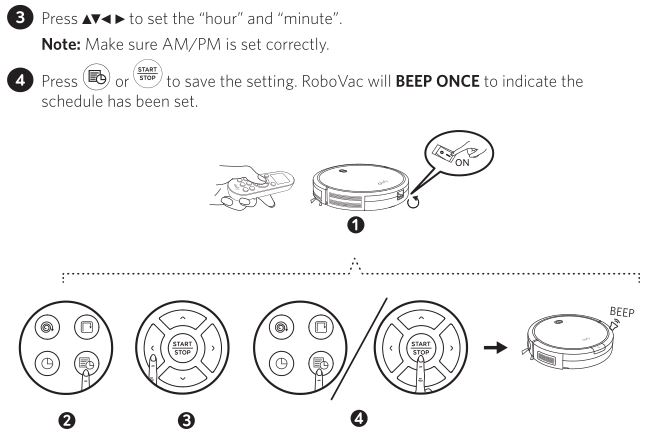 Cleaning and Maintenance
For optimal performance, follow the instructions below to clean and maintain RoboVac regularly. The cleaning/replacement frequency will depend on your usage habits of RoboVac.
Recommended cleaning/replacement frequency: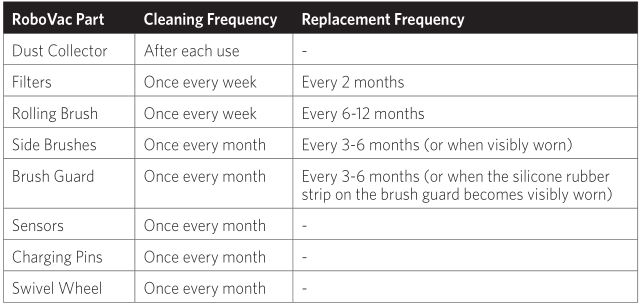 Clean the Dust Collector and Filters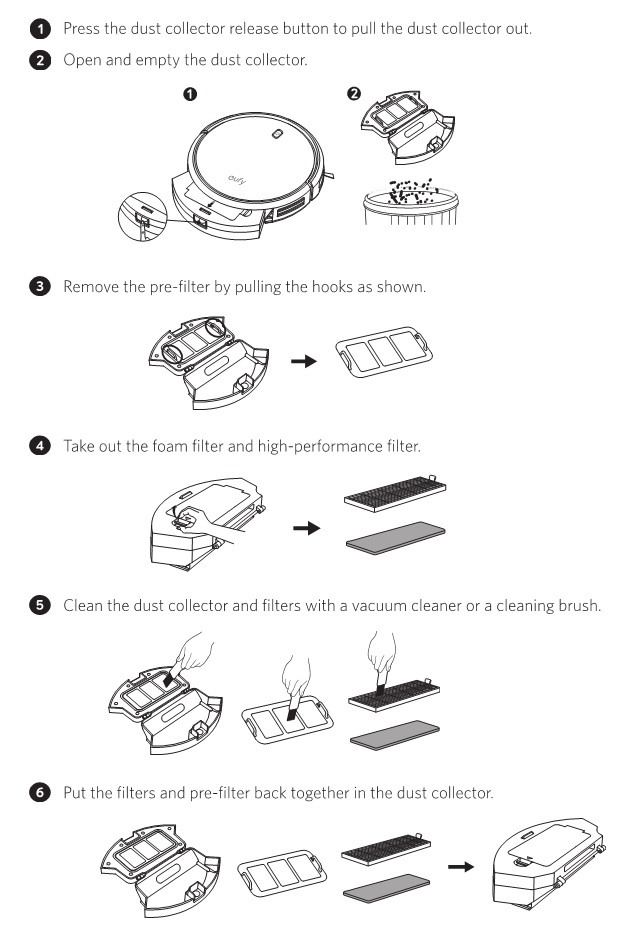 You can wash the dust collector, pre-filter and foam filter with water. Be sure to air-dry them thoroughly before reassembling them. Do not wash the high-performance filter with water, as it may damage the filter and reduce the suction power.
Clean the Rolling Brush
Pull on the release tabs to unlock the brush guard as shown.
Lift the rolling brush to remove.
Clean the rolling brush with the provided cleaning tool or a vacuum cleaner.
Reinstall the rolling brush by inserting the fixed protruding end first and then clicking into place.
Press down to snap the brush guard into place.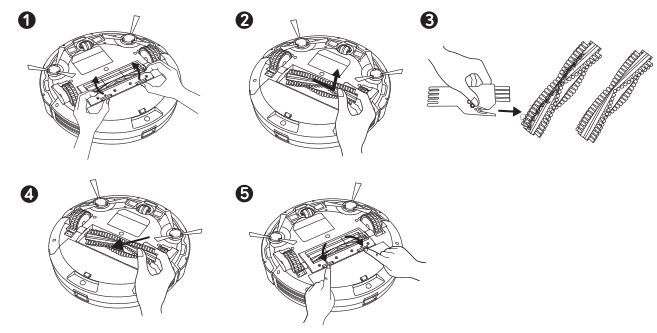 Clean the Side Brushes
Foreign substances, such as hair, can easily get tangled in the side brushes, and dirt may adhere to them. Be sure to clean them regularly.
Remove the side brushes.
Carefully unwind and pull off any hair or string that is wrapped between the main unit and the side brushes.
Use a cloth dampened with warm water to remove dust from the brushes or to gently reshape them.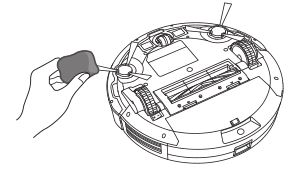 Only use the side brushes when they are completely dry.
Replace the Side Brushes
The side brushes may become bent or damaged after being used for a period of time.
Follow the instructions below to replace them.
Pull off the old side brushes and snap the new ones into place.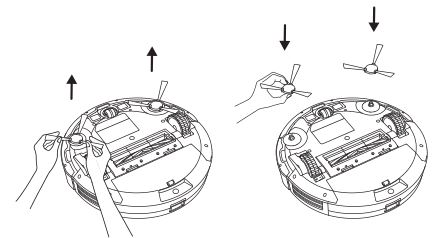 Clean the Sensors and Charging Pins
To maintain the best performance, clean the drop sensors and charging pins regularly.
Dust off the drop sensors and charging contact pins using a cloth or cleaning brush.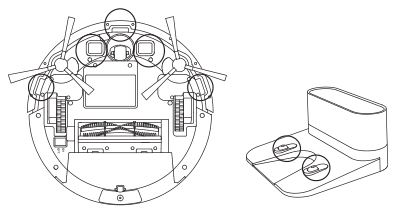 Clean the Swivel Wheel
Hair or dust particles can easily get entangled in the swivel wheel. Be sure to clean the swivel wheel periodically and as needed.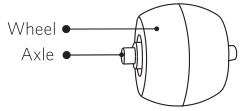 Pull out the swivel wheel.
Clean any hair or debris wrapped around the wheel or entangled inside the wheel cavity.
Reinstall the wheel and push in until it clicks into place.
You can clean the swivel wheel with water.
Use the swivel wheel only when it is completely dry.
Troubleshooting
FAQs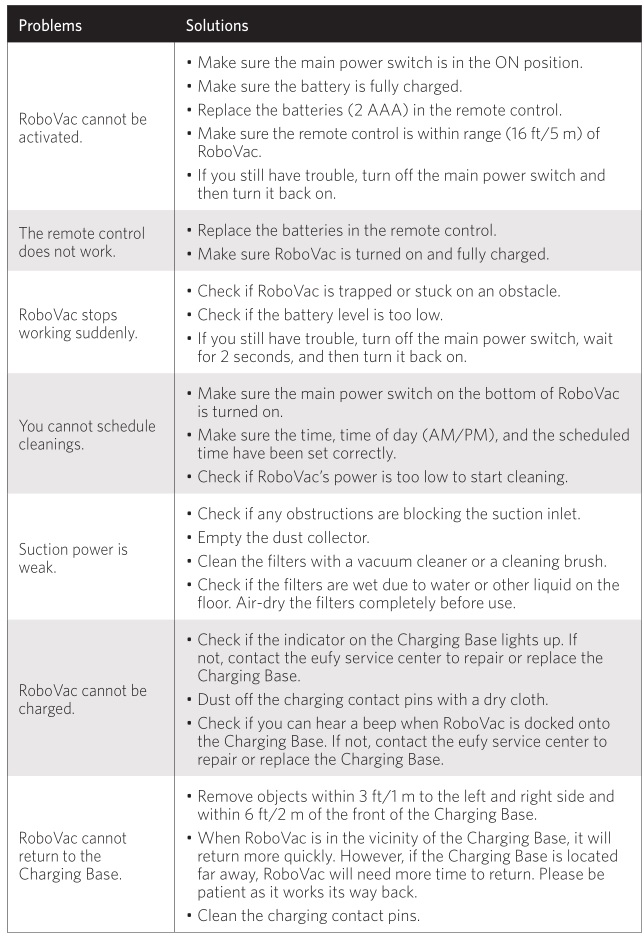 Error Tones
When RoboVac is in trouble, it will emit a series of short or long beeps and the red indicator on RoboVac will be solid or flashing.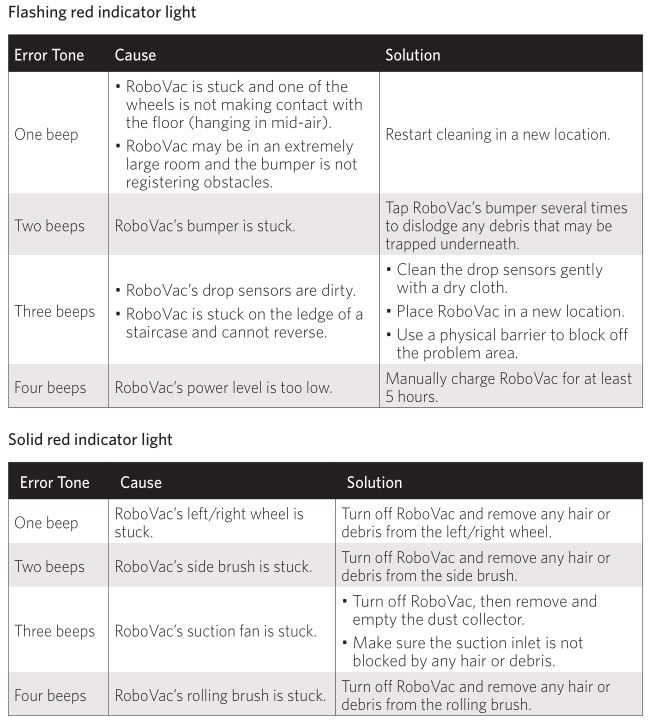 Specifications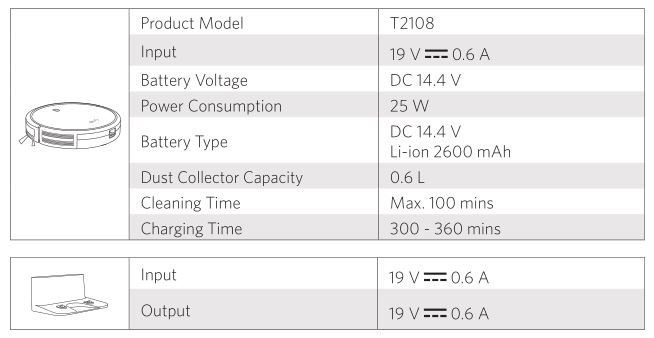 Customer Service