Frigidaire dishwashers are a great appliance for any home. They provide many different features and settings that can be customized to fit your needs and preferences. This manual will help you get started using your new Frigidaire dishwasher, and it provides instructions on how to use all the available settings and features. It contains a parts diagram and a table containing the different cycles further down too.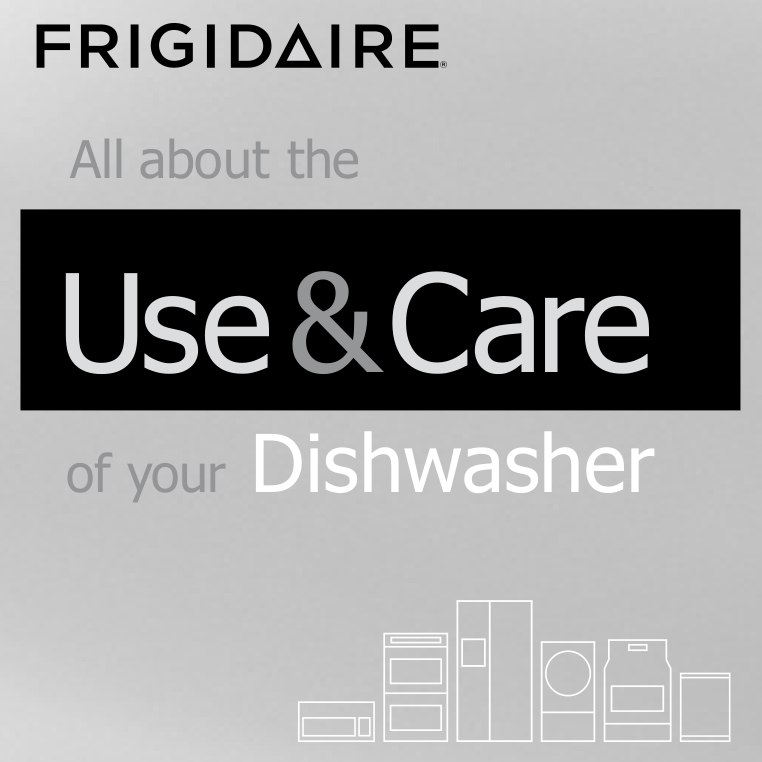 www.frigidaire.com USA 1-800-944-9044
www.frigidaire.ca Canada 1-800-265-8352
SAFETY INSTRUCTIONS

WARNING
When using your dishwasher, follow basic precautions, including the following:
For your Safety
Use your dishwasher only as instructed in this Use and Care Manual.
This Manual does not cover every possible condition and situation that may occur. Use common sense and caution when installing, operating and maintaining any appliance.
NSF-certified residential dishwashers are not intended for licensed food establishments.
THE DISHWASHER MUST BE ELECTRICALLY GROUNDED. This appliance must be connected to a ground metal, permanent wiring system, or an equipment-grounding conductor must be run with the circuit conductors and connected to the equipment-grounding terminal or lead on this appliance. Read the Installation Instructions for details.
This dishwasher is designed to operate on a regular house current (120V, 60Hz). Use a circuit equipped with a 15-ampere fuse or circuit breaker. Use a 20-ampere fuse if the dishwasher is connected with a food disposer.
Do not operate dishwasher unless all enclosure panels are in their proper place.
Keep young children and infants away from dishwasher when it is operating.
Do not let children abuse, sit, stand or play on the door or racks of a dishwasher.
To reduce the risk of injury, do not allow children to play in or on the dishwasher.
Use only detergents and rinse agents recommended for use in a dishwasher.
Store dishwasher detergent and rinse agents out of the reach of children.
If the dishwasher drains into a food disposer, make sure the disposer is completely empty before running the dishwasher.
Do not wash plastic items unless marked: "Dishwasher Safe" or equivalent. Check with manufacturer for recommendations, if not marked. Items that are not marked dishwasher safe may melt and create a potential fi re hazard.
When loading items to be washed:
-Locate sharp items and knives so that they are not likely to damage the door seal or tub.
-Load sharp items and knives with the handles up to reduce the risk of cut-type injuries.
Do not tamper with controls.
Use care unloading the dishware when the SANITIZE option has been selected. Contents may be hot to the touch immediately after the end of cycle.
Under certain conditions, hydrogen gas may be produced in a hot water system that has not been used for 2 weeks or more. HYDROGEN GAS IS EXPLOSIVE. If hot water system has not been used for such a period, before using dishwasher, turn on all hot water faucets and let water flow from each for several minutes. This will release any accumulated hydrogen gas. HYDROGEN GAS IS FLAMMABLE. Do not smoke or use an open flame during this time.
Do not store or use combustible materials, gasoline or other flammable vapors and liquids in the vicinity of this or any other appliance.
Disconnect electrical power to dishwasher before servicing.
Repairs should be done by a qualified technician.
To avoid entrapment and/or suffocation, remove door or door latch mechanism from any dishwasher that is discarded or not in use.

WARNING
To reduce the risk of fire, electrical shock or injury when using your dishwasher, follow the above basic precautions .

WARNING
This symbols will help alert you to such dangers as personal injury, burns, fi re and electrical shock.
SAVE THESE INSTRUCTIONS
FGID2466QF7A PRODUCT REGISTRATION
Thank you for choosing Frigidaire
This Use & Care Guide is part of our commitment to customer satisfaction and product quality throughout the service life of your new appliance.
We view your purchase as the beginning of a relationship. To ensure our ability to continue serving you, please use this page to record important product information.
---
Purchase Date
---
Model Number
---
Serial Number
Registering your product with Frigidaire enhances our ability to serve you. You can register online at www.frigidaire.com or by dropping your Product Registration Card in the mail.

NOTE
The dishwasher is programmed to remember your last cycle so you do not have to reset each time. To start the dishwasher using the same cycle and options selected on the previous wash, just press the START/CANCEL pad.

NOTE
Not all cycles and options available on all models.

NOTE
Very Important Information – Read Before Operating Your Dishwasher! Normal Operating Sounds
This dishwasher does not sound like most dishwashers – IT'S QUIETER.
Your Direct Feed Wash System dishwasher uses energy-efficient motors for the wash and drain portions of the cycle you select. Each cycle has a series of water fills and drains for washing and rinsing dishes. As each cycle begins, you may-or may not- hear the drain motor. The next sound you will hear is the splashing water as it enters the tub.
PLEASE BE ADVISED: If you compare this dishwasher to previous models, you may be surprised at what you DON'T hear.

NOTE
Why Energy Efficient Units run long cycles: Several factors are important to washing dishware. The energy use of the dishwasher was reduced by applying more of the factors that don't use so much energy and less of the ones that use more. As a result, you will see that the wash cycles take longer.