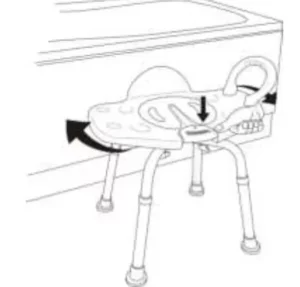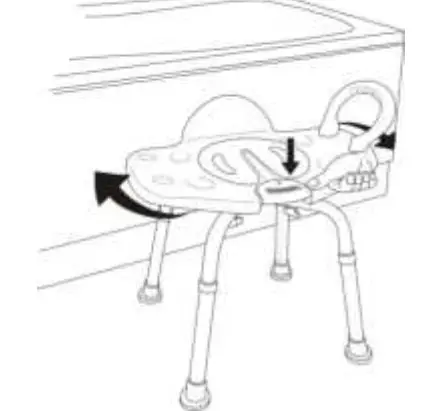 GIMA S.p.A.
Via Marconi, 1
20060 Gessate (MI) – Italy
www.gimaitaly.com
EXPORT
phone +39 02 953854209/221/225
fax +39 02 95380056
[email protected]
CODE 27733 SWIVEL SHOWER CHAIR USER'S MANUAL

WARNING: Be sure to read all information and directions before use.
▲ DO NOT install this equipment without first reading and understanding this instruction sheet.
▲ ALWAYS verify that the device is secure prior to use.
▲ ALWAYS observe the weight limit on the labelling of your product.
▲ ENSURE to follow all instruction required while operating this device.
ASSEMBLY/FITTING:

1. Put two legs cross to form right angle and screw on the knob in the center hole.
2. To screw assembly other knobs with the swivel seat.
3. Adjust the seat height.
4. Select one end for handle screwed on, and covers up the small lids on the other end.
OPERATION:

1. Adjust the seat height, Sit on, Push down the front bottom to swivel the top seat.
2. Turn around right or left with one hand holding on the handle.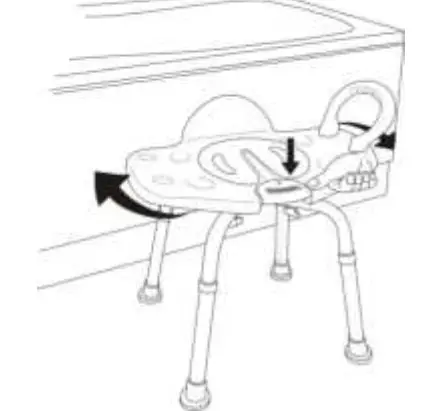 3. Hand off the front bottom.
4. Position lock at right angle location.
Importato da/Imported by/Importé par/Importado por Gima S.p.A.
Via Marconi, 1 – 20060 – Gessate (MI) – Italy
Made in China
Rev.2.02.20