Pedicure Spa Salon Footbath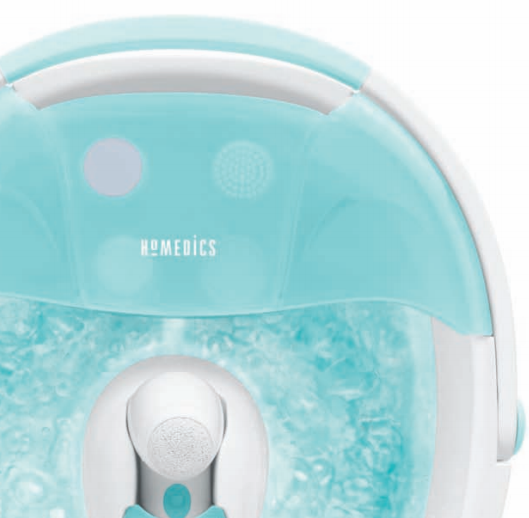 Instruction Manual and Warranty Information
HL-200
HL-200-1
Indulge your feet. Reduce daily Stress.
Thank you for purchasing Pedicure Spa, the HoMedics Salon Footbath. This, like all of HoMedics products, is built with high-quality craftsmanship and comes backed by our two-year limited warranty. Pedicure Spa is guaranteed to provide you pampering pedicures and soothing massage relief for years to come.
HoMedics is dedicated to bringing you better health through innovation. However, you should never substitute this, or any other manufacturer's product, for professional medical attention. Persistent ailments and symptoms could indicate a more serious condition.
IMPORTANT SAFETY INSTRUCTIONS:
WHEN USING ELECTRICAL PRODUCTS, ESPECIALLY WHEN CHILDREN ARE PRESENT, BASIC SAFETY PRECAUTIONS SHOULD ALWAYS BE FOLLOWED, INCLUDING THE FOLLOWING:
READ ALL INSTRUCTIONS BEFORE USING.
DANGER—TO REDUCE THE RISK OF ELECTRIC SHOCK:
Always unplug the appliance from the electrical outlet immediately after using and before cleaning.
WARNING – TO REDUCE THE RISK OF BURNS, ELECTRIC SHOCK, FIRE OR INJURY TO PERSONS:
Close supervision is necessary when this appliance is used by, on or near children, invalids, or disabled persons.
DO NOT operate this appliance if it has a damaged cord or plug, if it is not working properly, if it has been dropped or damaged or dropped into water. Return the product to HoMedics Service Center for examination and repair.
Keep cord away from heated surfaces.
An appliance should never be left unattended when plugged in. Unplug from outlet when not in use, and before putting on or taking off parts.
DO NOT operate under blanket or pillow. Excessive heating can occur and cause fire, electric shock or injury to persons.
DO NOT carry this appliance by supply cord or use cord as a handle.
NEVER operate the appliance with the air openings blocked. Keep the air openings free of lint, hair and the like.
NEVER drop or insert any object into any opening.
DO NOT use outdoors.
DO NOT operate where aerosol (spray) products are being used or where oxygen is being administered.
DO NOT immerse in water or any other liquid.
To disconnect, turn all controls to the off position, then remove the plug from outlet.
Use this appliance only for its intended use as described in this manual.
DO NOT use attachments not recommended by HoMedics.
DO NOT attempt to stand on or in your HoMedics footbath. Use only while seated.
This appliance is designed for personal, non-professional use only. This appliance should be used only for personal non-professional uses.
Use heated surfaces carefully. May cause serious burns. Do not use over insensitive skin areas or in the presence of poor circulation. The unattended use of heat by children or incapacitated persons may be dangerous.
SAVE THESE INSTRUCTIONS
SPECIAL WARNINGS
Do not reach for an appliance that has fallen into water. Unplug it immediately.
Do not use while bathing or showering. Use only in a dry area.
Do not place or store appliance where it can fall or be pulled into a tub or sink.
Do not place in or drop into water or other liquid.
Do not attempt to plug or unplug unit while feet are in the water.
Use appliance on a dry sturdy level surface.
If you have any concerns regarding your health, consult your doctor before using your HoMedics footbath.
Consult your doctor before using in case of illness or medical condition, including but not limited to pacemaker use and pregnancy.
DO NOT use this unit for longer than 30 minutes at a time. Extensive use could cause excessive evaporation of the water, and / or cause the product to overheat. Should this occur, discontinue use and allow the unit to cool before operating.
Always unplug the unit from the electrical outlet immediately after using and before cleaning.
If you experience pain in a muscle or joint for a prolonged period of time, discontinue use and consult your doctor. Persistent pain could be a symptom of a more serious condition.
Never use any footbath on open wounds, discolored areas, or any area of the body that is swollen, burned, inflamed or where skin eruptions or sores are present.
Use of this product should be pleasant and comfortable. Should pain or discomfort result, discontinue use and consult your physician.
Never use while sleeping or drowsy.
Always unplug the unit when filling or moving the unit.
Ensure that your hands are dry when operating the controls or removing the plug.
This product should NEVER be used by any individual suffering from any ailments that would limit the user's capacity to operate the controls.
This product should NEVER be used by any individual suffering from any ailments that would limit or altogether inhibit the user's capacity to feel or have any sensation in the body part that the product is being used for.
Consult your doctor before using this unit if you have diabetes, as diabetes can contribute to foot problems including decreased feeling or circulation to the feet. Given the existing risk of foot problems for diabetics, this unit must not be used prior to consulting your doctor.
Servicing of Double-Insulated Products
In a double-insulated product, two systems of insulation are provided instead of grounding. No grounding means is provided on a double-insulated product, nor should a means for grounding be added to the product. Servicing a double-insulated product requires extreme care and knowledge of the system and should be done only by qualified service personnel. Replacement parts for a double-insulated product must be identical to the parts they replace. A double-insulated product is marked with the words "DOUBLE INSULATION" or "DOUBLE INSULATED" The symbol "

" may also be marked on the product.
Polarized Plug
To reduce the risk of electric shock, this appliance has a polarized plug (one blade is wider than the other). This plug will fit in a polarized outlet only one way. If the plug does not fit fully in the outlet, reverse the plug. If it still does not fit, contact a qualified electrician to install the proper outlet. Do not change the plug in any way.
All servicing of this footbath must be performed by authorized HoMedics service personnel.
Pedicure Spa Footbath Features
Exclusive Pull-Out Pedicure Spa System
EasyTote™ Handle helps fill, carry and empty with ease
Super Quiet technology for complete relaxation
5 professional pedicure attachments – Dry Heel Reducer, Stone Pumice, Finishing Pumice, Nail Brush and Nail Buffer
Double the Bubbles™ to massage and soothe tired feet
Massaging Sea Grass™ invigorates the soles of your feet
Comfort gel footrest provides soft cushioning comfort for pedicures
Convenient attachment storage
Toe-touch controls
Raised nodes in floor reinvigorate tired, sore feet
Heat helps maintain water temperature
Instructions for Use
Ensure that the unit is unplugged before filling with water. Lift the carry handle into the full upright position (Fig 2) and carry to a water faucet. Fill with warm water to the fill line located on the inside of the tub (Fig 1). When finished, carry tub to a flat, steady surface for use and place handle in resting position (Fig 2).
NOTE: Heat will only help to maintain the temperature of water placed inside the footbath. It will not heat cold water. For a warm water massage, fill the unit with warm water.
Plug the unit into a 120 volt household outlet.
Sit down in a comfortable position. With the touch of your toe, press the on/off button (Fig 1) to enjoy a warm bubble massage. The LED will illuminate to indicate it has been selected. Place your feet in the spa. Press again to turn the feature off.
To use the Pull-Out Pedicure Tool:
a. Select the desired attachment from the covered storage (Fig 1):
Dry Heel Reducer: Removes rough spots and reduces dry skin on your heels
Stone Pumice: Exfoliates the heels and balls of your feet to smooth and soften dry skin
Finishing Pumice: Gently exfoliates to provide a smooth finish
Nail Brush: Use to cleanse and exfoliate your feet
Nail Buffer: Smooths and shines nails
b. Simply place the attachment on the pull-out pedicure center post (Fig 1).
c. Press the on/off button on the tool (Fig 1).
d. When finished turn the tool off and remove the attachment. Place the attachment back into the covered storage area and close the lid.
e. Using the Side Tabs (Fig 1) lift the Comfort Gel Footrest out of the center console (Fig 1). Place the Pull-Out Pedicure Tool and cord back into console and secure to suction cup.
f. Put Comfort Gel Footrest back into console.
Enjoy a deep penetrating massage by sliding feet back and forth over the Massaging Sea Grass™, or you can remove the Sea Grass and rejuvenate with the raised nodes on the footbath floor.
To empty: First, unplug the unit. Lift the carry handle into the full upright position and take the footbath to the closest drain.Tip the unit, allowing water to pour out along the drain spout. DO NOT pour water over the control panel (Fig 1).
Caution: To avoid injury and irreparable damage, always remain seated when using this footbath. Never stand on or in the unit.
CAUTION: THIS UNIT CAN ONLY RUN WITH WATER IN IT. DO NOT USE WITHOUT WATER.
CAUTION: DO NOT FILL WATER OVER THE FILL LINE
Maintenance
To Clean
Unplug the unit and allow it to cool before cleaning. Clean only with a soft, damp cloth and mild cleansing agent.
After cleaning, wipe surfaces with a dry cloth.
Never use strong abrasives, detergents or cleansing agents.
Periodically straighten cord if it becomes twisted.
To Store
Unplug the appliance from the outlet and allow to cool and dry.
Gently wrap the power cord around the feet and secure with the cord hook.
Store in its box or a clean, dry place.
Do not hang the unit by the power cord.
This appliance is designed for household use only.