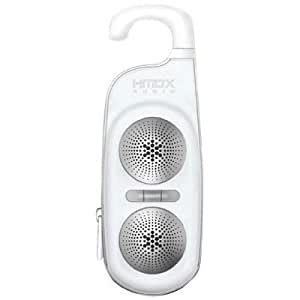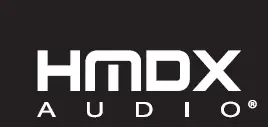 SHOWER SPEAKER USER MANUAL
IMPORTANT SAFEGUARDS:
When using an electrical appliance, basic precautions should always be
followed, including the following:
READ ALL INSTRUCTIONS BEFORE USING
• Close supervision is necessary when this appliance is used by, or near children, invalids or disabled persons.
• WARNING: Do not place speakers too close to ears. May cause damage to ear drums, especially in young children.
• Use this appliance only for its intended use as described in this manual. Do not use attachments not recommended by HMDX AUDIO.
• HMDX AUDIO is not liable for any damage caused to iPod/MP3 player or any other device.
• Do not place or drop into water or any other liquid. This product is not water proof. Do not submerge.
• Not for use by children. THIS IS NOT A TOY.
• Turn off appliance when not in use.
• Never operate this appliance if it has a damaged cable or housing. If it is not working properly, if it has been dropped or damaged, return it to HMDX AUDIO Service Center for examination and repair.
• Keep away from heated surfaces.
Register Your Product At:
www.hmdxaudio.com
Your valuable input regarding this product will help us create
the products you will
want in the future.
SAVE THESE INSTRUCTIONS
Caution: Please read all instructions carefully before operating.
• Never leave the appliance unattended, especially if children are present.
• Never cover the appliance when it is in operation.
• This unit should not be used by children without adult supervision.
• Always keep the appliance away from high temperature and fire.
Battery Precautions
• Use only the size and type of batteries specified.
• When installing batteries, observe proper +/- polarities. Incorrect installation of battery may cause
damage to the unit.
• Do not mix different types of batteries together (e.g., alkaline with carbon-zinc or old batteries with
new ones).
• If the unit is not going to be used for a long period of time, remove batteries to prevent damage due to
possible battery leakage.
• Do not dispose of batteries in fire. Batteries may explode or leak.
• Clean the battery contacts and also those of the device prior to battery installation.
• Remove used batteries promptly.
• Dispose of batteries per local regulations.
This product contains small parts that may present a choking hazard for young children.
Caution: All servicing of this product must be performed by authorized HMDX AUDIO Service Personnel only.
Mail to: HMDX AUDIO Service Center, Dept. 168
43155 W Nine Mile Rd.
Suite 3
Novi, MI 48375
E-mail: [email protected]
Phone: 1-800-466-3342 (8:30am-7pm EST M-F)
BATTERY INSTALLATION
• Unzip the unit to locate the battery compartment.
• Remove the battery cover and insert three "AAA"
alkaline batteries using the correct polarity direction
indicated on the bottom of the compartment.
• Replace battery cover. Be sure it clicks shut.
OPERATING INSTRUCTIONS
• Unzip the unit.
• Plug the Audio Input Jack into the headphone input
of an iPod/MP3 player or other audio device.
• Carefully place small audio device such as
iPod MP3 player in storage pocket. Zip shut.
• Rezip the unit until closed. Do not operate unzipped.
• Push the Power Button located on the outside of
the product so the power symbol lights up, indicating
that the speaker is ON.
• When the audio device is in play mode, the music
will sound from the unit's speakers. Press the "–" or "+"
button on the unit to adjust the volume.
NOTE: You may need to adjust the volume
on external device too
• Close the unit and zipper shut.
• When finished, push the Power Button to turn the speaker OFF.
NOTE: You must also turn OFF your audio device.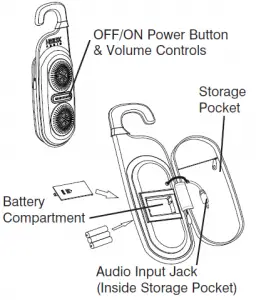 LIMITED 90 DAY WARRANTY
HMDX AUDIO sells its products with the intent that they are free of defects in manufacture and workmanship for a period of 90 days from the date of original purchase, except as noted below. HMDX AUDIO warrants that its products will be free of defects in material and workmanship under normal use and service. This warranty extends only to consumers and does not extend to Retailers. To obtain warranty service on your HMDX AUDIO product, mail the product and your dated sales receipt (as proof of purchase), postpaid, to the following address: HMDX AUDIO Service Center, Dept. 168, 43155 W. Nine Mile Rd., Suite 3, Novi, MI 48375. No COD's will be accepted. HMDX AUDIO does not authorize anyone, including, but not limited to, Retailers, the subsequent consumer purchaser of the product from a Retailer or remote purchasers, to obligate HMDX AUDIO in any way beyond the terms set forth herein. This warranty does not cover damage caused by misuse or abuse; accident; the attachment of any unauthorized accessory; alteration to the product; improper installation; unauthorized repairs or modifications; improper use of electrical/power supply; loss of power; dropped product; malfunction or damage of an operating part from failure to provide manufacturer's recommended maintenance; transportation damage; theft; neglect; vandalism; or environmental conditions; loss of use during the period the product is at a repair facility or otherwise awaiting parts or repair; or any other conditions whatsoever that are beyond the control of HMDX AUDIO. This warranty is effective only if the product is purchased and operated in the country in which the product is purchased. A product that requires modifications or adoption to enable it to operate in any other country than the country for which it was designed, manufactured, approved and/or authorized, or repair of products damaged by these modifications is not covered under this warranty.
THE WARRANTY PROVIDED HEREIN SHALL BE THE SOLE AND EXCLUSIVE WARRANTY. THERE SHALL BE NO OTHER WARRANTIES EXPRESS OR IMPLIED INCLUDING ANY IMPLIED WARRANTY OF MERCHANTABILITY OR FITNESS OR ANY OTHER OBLIGATION ON THE PART OF THE COMPANY WITH RESPECT TO PRODUCTS COVERED BY THIS WARRANTY. HMDX AUDIO SHALL HAVE NO LIABILITY FOR ANY INCIDENTAL, CONSEQUENTIAL OR SPECIAL DAMAGES. IN NO EVENT SHALL THIS WARRANTY REQUIRE MORE THAN THE REPAIR OR REPLACEMENT OF ANY PART OR PARTS WHICH ARE FOUND TO BE DEFECTIVE WITHIN THE EFFECTIVE PERIOD OF THE WARRANTY. NO REFUNDS WILL BE GIVEN. IF REPLACEMENT PARTS FOR DEFECTIVE MATERIALS ARE NOT AVAILABLE, HMDX AUDIO RESERVES THE RIGHT TO MAKE PRODUCT SUBSTITUTIONS IN LIEU OF REPAIR OR REPLACEMENT.
This warranty does not extend to the purchase of opened, used, repaired, repackaged and/or resealed products, including but not limited to sale of such products on Internet auction sites and/or sales of such products by surplus or bulk resellers. Any and all warranties or guarantees shall immediately cease and terminate as to any products or parts thereof which are repaired, replaced, altered, or modified, without the prior express and written consent of HMDX AUDIO. This warranty provides you with specific legal rights. You may have additional rights which may vary from state to state and country to country. Because of individual state/country regulations, some of the above limitations and exclusions may not apply to you.
For more information regarding our product line in the USA, please visit: www.hmdxaudio.com
© 2010 HMDX AUDIO and its affiliated companies, all rights reserved. HMDX AUDIO® is a registered trademark of HMDX AUDIO and its affiliated companies, all rights reserved.