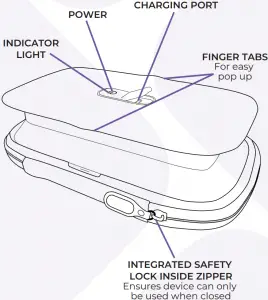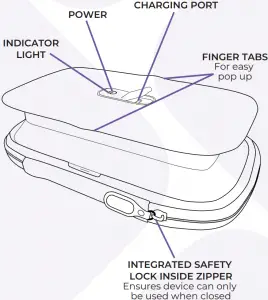 Charging takes 2-3 hours for a full charge.
To charge your case, use the included charging cable.
Plug the small end (micro USB) into the case charging port, beneath the protective cover. Plug the USB end into a computer or USB wall charger.
The power icon of the case will show flashing green when charging. When the case is fully charged, the LED will turn solid green.

QS-SANPH100 MADE IN CHINA
Unzip the case (Fig. 1).
Place your device on the flat surface, opposite the LEDs (Fig. 1).
Zip the case closed (Fig. 2).
Make sure the zipper is completely closed, and the zipper pull is positioned magnetically in the on position (Fig. 2).
Pull up the pop-up mechanism using the finger tabs (Fig. 3).
Push the power button to turn on the sanitizing cycle (Fig. 4). NOTE: If the case pops closed when pushing the power button, then pop it back up. The LED indicator will flash blue, indicating sanitizing is in progress (Fig. 4).
When the blue light turns off, the cleaning cycle is complete. Unzip and remove device from the case.
Flip and repeat to sanitize both sides.
NOTE: The case will not work if it is not completely closed and the zipper pull situated magnetically in the on position.


Solid red
At the end of the sanitizing cycle, solid red for 3 seconds and then off: 20%-30% battery left and can sanitize phone
Solid red for 3 seconds when the power button is pressed: <20% battery left and cannot sanitize phone
Flashing red for 3 seconds
Case not zipped closed properly
Solid green
Flashing blue
Flashing green