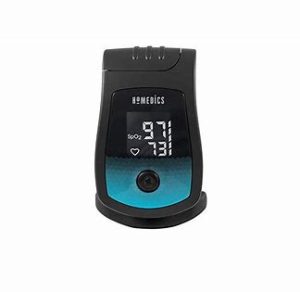 Deluxe Pulse Oximeter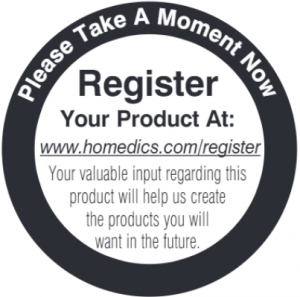 ABOUT PULSE OXIMETERS
This pulse oximeter uses Optimetrix™ technology, which utilizes revolutionary optical sensor technology to measure both blood oxygen saturation ( SpO2%) levels and pulse rate. By placing the finger into the sleeve and one-touch of a button, this device will send both red and infrared lights into the skin to collect data and display your blood oxygen and pulse rate.
NAME/FUNCTION OF EACH PART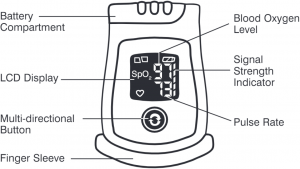 Other Accessories Included: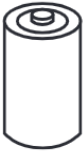 1 "½ AA" Lithium Battery (included in the unit)
Storage Pouch
Lanyard
Note: When changing the orientation of the screen, the pulse rate will be shown on the top near the blinking Pulse Rate Icon, and the blood oxygen level will be shown on the bottom of the LCD display.
DISPLAY EXPLANATIONS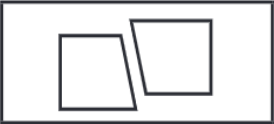 Sensor Off Indicator: Appears when the finger has been removed from the finger sleeve.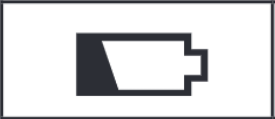 Weak Battery Symbol: Flashes when battery should be replaced.

Pulse Rate: Shows the pulse rate per minute.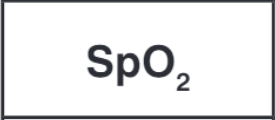 SpO2 Indicator: Shows the blood oxygen saturation level value on a scale of 70 to 99%.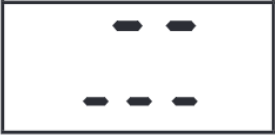 Calculating: Device is calculating blood oxygen saturataion (SpO2%).
REPLACING BATTERY
The battery compartment is located on the top of the unit. Remove battery cover by pressing down and sliding the battery cover off. (fig. 1) Fig. 1
Install or replace the battery according to the polarity indicator located inside the compartment. Use only 3.6V "½ AA" sized Lithium batteries. (fig. 2) Fig. 2
Replace the battery cover by inserting it back into place. (fig. 3) Fig. 3
Replace the batteries if:
The weak battery symbol appears on the display.
Nothing appears on the display after the finger is inserted into the sleeve and the button is pressed.
Note: Batteries are hazardous waste. Do not dispose of them together with the household garbage.
MEASUREMENT PROCEDURE
If you are using this pulse oximeter for the first time, please remove the protective film from the screen and remove the pull tab from the battery door.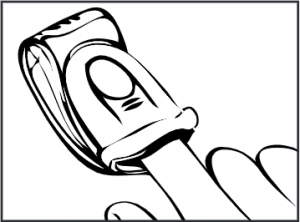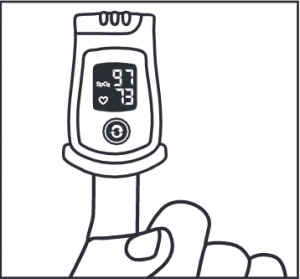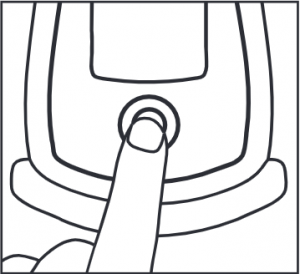 Fig. A Fig. B Fig. C
Hold the pulse oximeter so that the picture of the finger nail on the finger sleeve is facing up.
Gently place any finger into the finger sleeve as shown in the diagram (fig. A). Slightly press on the sides of the finger sleeve to ease the finger inside.
Turn the hand over so that the LCD screen is now facing you and your finger is pointed up (fig. B).
Push the Multi-directional button to initiate readings (fig. C).
Continue to vertically hold the pulse oximeter to enable readings
To change the direction of the LCD screen display by 180°, press the Multi-directional button for up to two (2) seconds.
Note: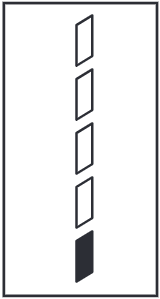 Signal strength should be greater than one bar to indicate a proper reading (fig. D).
In the event of weak signal strength, please switch fingers and/or hand and try again.
For greatest accuracy, limit hand motion during measurement.
When the finger is removed, the pulse oximeter will turn off after 10 seconds.
IMPORTANT PRODUCT NOTICES AND SAFETY INSTRUCTIONS
Although the readings from this device are for reference only, the Mayo Clinic (http://mayoclinic.com/health/hypoxemia/MY00219) suggests that normal readings are between 95 to 100% under most circumstances. Readings under 90% are considered low.
This is a home healthcare product only and is solely intended for sports and recreational use. It is not intended to serve as a substitute for the advice of a physician or medical professional.
The readings from this pulse oximeter are for reference only. Consult a healthcare professional for interpretation of your pulse oximeter measurements. Contact a physician if you have or suspect any medical problem. Do not change your medications without the advice of your physician or healthcare professional.
The pulse display is not suitable for checking the frequency of pacemakers.
Use the pulse oximeter only for its intended use.
Please keep this device away from children. Small parts such as battery and battery door could be hazardous if swallowed.
The lanyard could cause strangulation in conditions when twisted around the neck.
This pulse oximeter should not be used where alarms are required when taking measurements.
For greatest accuracy, wait 10 minutes after exercising, bathing, eating, drinking beverages with alcohol or caffeine, or smoking to measure blood oxygen level.
Use only 3.6V "½ AA" Lithium battery for power supply.
If there is any damage to the product, including blurring of the LCD display, please contact HoMedics Consumer Relations at 1-800-466-3342.
Do not use cellular phones or other radio frequency producing devices near the working device as it may interfere with proper operation of the pulse oximeter.
Not for use by or on persons under the age of 18 years old.
CARE, MAINTENANCE and CLEANING
Use a cotton swab with isopropyl alcohol solution (70%) to clean the inside of the finger sleeve or the outside of the unit.
use any other liquid or sprays on the oximeter for cleaning purposes.
Under normal usage conditions, this device does not require calibration or technical maintenance other than infrequent replacement of the battery.
Leaky batteries can damage the unit. Remove the battery when the unit will not be used for a long time.
This product should only be used on the fingers.
disassemble this device. If in need of repair, refer to the warranty section of this manual.
use the product if the finger sleeve changes color or is no longer able to secure on finger.
subject this device to extreme shocks (do not drop on floor).
drop or insert any object into any opening.
immerse the unit in water as this will result in damage to the unit.
subject this device to extreme temperatures, humidity, moisture, or direct sunlight. Protect from dust.
If the unit is stored near freezing, allow it to acclimate to room temperature before use.
This monitor may not meet its performance specifications if stored or used outside of these temperature and humidity ranges:
Storage Environment Temperature
-4°F ~ 158°F
(-20°C ~ 70°C)
Humidity: Less than 95%
Operation Environment Temperature
39°F ~ 107°F
(4°C ~ 42°C)
Humidity: Less than 95% non-condensing non-condensing
TROUBLESHOOTING
If any abnormality arises during use, please check the following points:
SYMPTOMS : POSSIBLE CAUSES : CORRECTION
Pulse Rate or SpO2 is not appearing. : Position of the finger is not correct. : Reposition the finger into the correct position and measure again.
The pulse oximeter will not power on. : Battery has run down. : Replace the battery with a single 3.6V "½ AA" Lithium battery.
Screen orientation is upside down. : Viewing angle needs to be adjusted. : Press the Multi-directional button

for up to 2 seconds and the screen will rotate 180°.
PRODUCT SPECIFICATIONS
Effective Measuring Range
Saturation 70 to 99%
Pulse Rate 40 to 250 bpm
Resolution 1 digit
Accuracy
Saturation (70%-99%) ±2% or ±2 digits
Pulse Rate ±3% or ±3 digits
Display
Saturation 2 characters
Pulse Rate 3 characters
Signal Indications: Flashing Heart Icon, Sensor 'Off' and Signal intensity strength, battery indication – near empty
Power Requirements 3.6V "½ AA" size Lithium battery
Battery life up to 300 Hours

Type BF Applied Part

Spot Measurement No alarms
For service or repair, do not return this unit to the retailer. Contact HoMedics Consumer Relations at:
Email: [email protected]
Phone:1-800-466-3342
Business Hours: 8:30 am -7 pm ET Monday-Friday
LIMITED TWO YEAR WARRANTY
HoMedics sells its products with the intent that they are free of defects in manufacture and workmanship for a period of two years from the date of original purchase, except as noted below. HoMedics warrants that its products will be free of defects in material and workmanship under normal use and service. This warranty extends only to consumers and does not extend to Retailers.
To obtain warranty service on your HoMedics product, contact a Consumer Relations Representative by telephone at 1-800-466-3342 for assistance. Please make sure to have the model number of the product available.
HoMedics does not authorize anyone, including, but not limited to, Retailers, the subsequent consumer purchaser of the product from a Retailer or remote purchasers, to obligate HoMedics in any way beyond the terms set forth herein. This warranty does not cover damage caused by misuse or abuse; accident; the attachment of any unauthorized accessory; alteration to the product; improper installation; unauthorized repairs or modifications; improper use of electrical/power supply; loss of power; dropped product; malfunction or damage of an operating part from failure to provide manufacturer's recommended maintenance; transportation damage; theft; neglect; vandalism; or environmental conditions; loss of use during the period the product is at a repair facility or otherwise awaiting parts or repair; replacement batteries or any other conditions whatsoever that are beyond the control of HoMedics. This warranty is effective only if the product is purchased and operated in the country in which the product is purchased. A product that requires modifications or adoption to enable it to operate in any other country than the country for which it was designed, manufactured, approved and/or authorized, or repair of products damaged by these modifications is not covered under this warranty.
THE WARRANTY PROVIDED HEREIN SHALL BE THE SOLE AND EXCLUSIVE WARRANTY. THERE SHALL BE NO OTHER WARRANTIES EXPRESS OR IMPLIED INCLUDING ANY IMPLIED WARRANTY OF MERCHANT-ABILITY OR FITNESS OR ANY OTHER OBLIGATION ON THE PART OF THE COMPANY WITH RESPECT TO PRODUCTS COVERED BY THIS WARRANTY. HOMEDICS SHALL HAVE NO LIABILITY FOR ANY INCIDENTAL, CONSEQUENTIAL OR SPECIAL DAMAGES. IN NO EVENT SHALL THIS WARRANTY REQUIRE MORE THAN THE REPAIR OR REPLACEMENT OF ANY PART OR PARTS WHICH ARE FOUND TO BE DEFECTIVE WITHIN THE EFFECTIVE PERIOD OF THE WARRANTY. NO REFUNDS WILL BE GIVEN. IF REPLACEMENT PARTS FOR DEFECTIVE MATERIALS ARE NOT AVAILABLE, HOMEDICS RESERVES THE RIGHT TO MAKE PRODUCT SUBSTITUTIONS IN LIEU OF REPAIR OR REPLACEMENT.
This warranty does not extend to the purchase of opened, used, repaired, repackaged and/or resealed products, including but not limited to sale of such products on Internet auction sites and/or sales of such products by surplus or bulk resellers. Any and all warranties or guarantees shall immediately cease and terminate as to any products or parts thereof which are repaired, replaced, altered, or modified, without the prior express and written consent of HoMedics.
This warranty provides you with specific legal rights. You may have additional rights which may vary from state to state. Because of individual state regulations, some of the above limitations and exclusions may not apply to you.
For more information regarding our product line in the USA, please visit: www.homedics.com
Distributed by

HoMedics, LLC
3000 N Pontiac Trail
Commerce Township, MI
48390
Printed in China
©2018 HoMedics, LLC. All Rights Reserved. HoMedics is a registered trademark of HoMedics, LLC.
Pulse Oximeter – PX-130
IB-PX130
Part# 90380000
Cat# 10387901