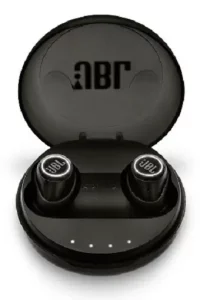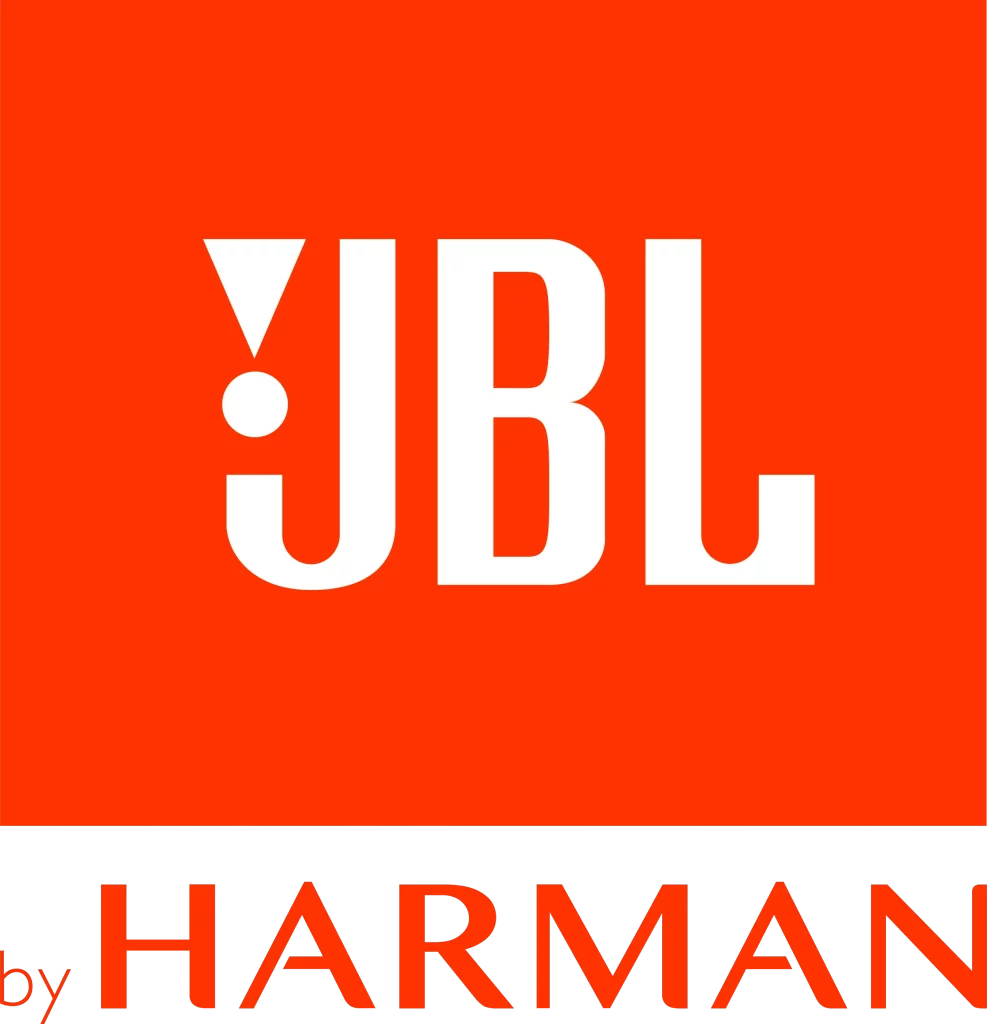 JBL Free Wireless Earbuds Manual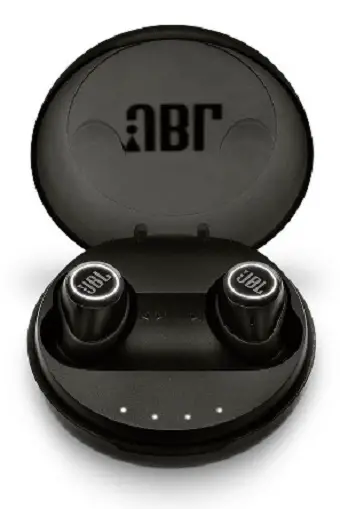 JBL Free Wireless Earbuds
Customize your fit
a. Mix and match ear tips and silicone sleeves for a perfect fit and audio performance.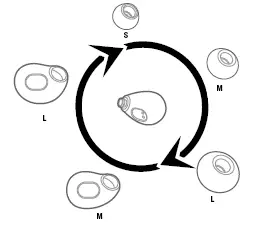 b. Installation

Other Top JBL earbuds Manuals:
JBL Live Pro+ TWS True Wireless Noise Cancelling Earbuds User Guide
JBL WAVE300TWS True Wireless Earbuds User Guide
JBL Pro TWS True Wireless Noise Cancelling Earbuds User Guide
Wireless Device Pairing
a. First time pairing with device:
Step 1 – Ensure to give the ear pieces a full charge before initiating pairing.
*Ear pieces and charging case are packed separately.

Step 2 – Remove right ear piece from case, it will turn on automatically, entering pairing mode (alt. blue/white).

Step 3 – From device, go to Bluetooth menu.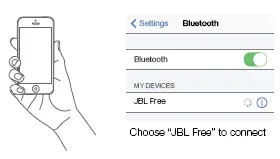 Step 4 – Remove left ear piece from case, it will automatically connect with the right ear piece.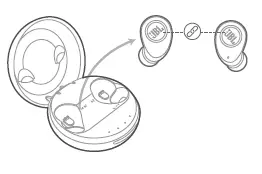 b. From second time onwards: Wireless connections are automatically established when the headphones are taken out of the case.
c. Ear pieces automatically power off and recharge when put in the charging case.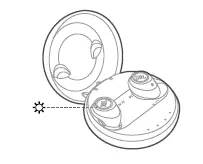 * To turn on ear pieces manually, long press the button on ear piece for 5s.
Buttons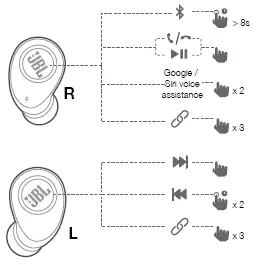 Manual power on and off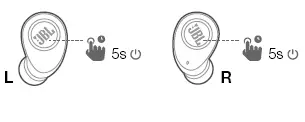 Charging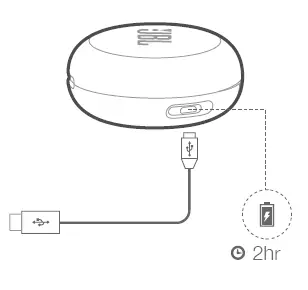 Manual controls for special situations
a. Manual Bluetooth pairing to device when ear pieces do not pair automatically.
Step 1 – Long press (>8s) right ear piece button when powered off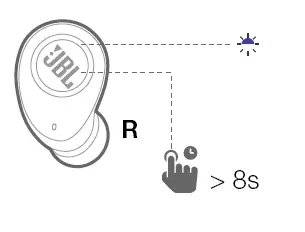 Step 2 – Choose JBL Free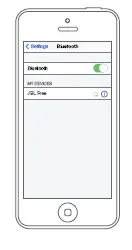 Choose "JBL Free" to connect
b. Manual pairing of left and right ear pieces when connection is lost.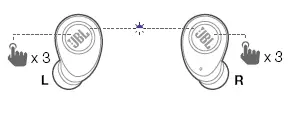 c. Manual power off.

LED Behaviors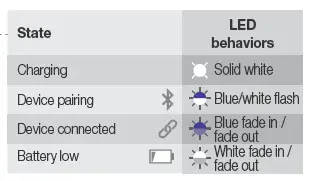 Model: JBL Free X

Bluetooth version: 4.2

Support: A2DP V1.3, AVRCP V1.5, HFP V1.6

Headset Battery type: Lithium-ion polymer (3.7V, 85mAh)

Bluetooth transmitter power < 9.5dBm

Bluetooth transmitter frequency range: 2.402 – 2.480GHz

Bluetooth transmitter modulation: GFSK, π/4 DQPSK, 8DPSK

Dynamic drivers: 5.6mm

Frequency Response: 10Hz – 22 KHz

Charging case battery: 1,500 mAH (est)

Earbuds Battery life: Up to 4 hours

Charging time: < 2 hours

Compatibility: Use with Phones, Tablets, Computers

Weight : 99g
IC RF Exposure Information and Statement
The SAR limit of Canada (C) is 1.6 W/kg averaged over one gram of tissue. Device types:
(IC: 6132A-JBLFREEX) has also been tested against this SAR limit According to this standard, the highest SAR value reported during product certification for head use is 0.033W / kg.
The device was tested for typical bodily operations where the product was kept 5 mm from the head.
To maintain compliance with IC RF exposure requirements, use accessories that maintain a separation distance of 0mm between the user's head and the back of the headset. The use of belt clips, holsters and similar accessories shall not contain metal parts in its assembly. Use of accessories that do not meet these requirements may not comply with IC RF exposure requirements and should be avoided.
Head operation
The device was subjected to a typical head manipulation test. In order to comply with RF exposure requirements, a minimum separation distance of 0 cm must be maintained between the user's ear and the product (including the antenna). Head exposure that do not meet these requirements may not meet RF exposure requirements and should be avoided. Use only the supplied or approved antenna.
FCC AND IC STATEMENT FOR USERS
THIS DEVICE COMPLIES WITH PART 15 OF THE FCC RULES. OPERATION IS SUBJECT TO THE FOLLOWING TWO CONDITIONS:
THIS DEVICE MAY NOT CAUSE HARMFUL INTERFERENCE, AND
THIS DEVICE MUST ACCEPT ANY INTERFERENCE RECEIVED, INCLUDING INTERFERENCE THAT MAY CAUSE UNDESIRED OPERATION. CAN ICES-3 (B) / NMB-3 (B). FEDERAL COMMUNICATION COMMISSION INTERFERENCE STATEMENT
THIS EQUIPMENT HAS BEEN TESTED AND FOUND TO COMPLY WITH THE LIMITS FOR A CLASS B
DIGITAL DEVICE, PURSUANT TO PART 15 OF THE FCC RULES. THESE LIMITS ARE DESIGNED TO PROVIDE REASONABLE PROTECTION AGAINST HARMFUL INTERFERENCE IN A RESIDENTIAL INSTALLATION. THIS EQUIPMENT GENERATES, USES AND CAN RADIATE RADIO FREQUENCY ENERGY
AND, IF NOT INSTALLED AND USED IN ACCORDANCE WITH THE INSTRUCTIONS, MAY CAUSE HARMFUL INTERFERENCE TO RADIO COMMUNICATIONS. HOWEVER, THERE IS NO GUARANTEE THAT
INTERFERENCE WILL NOT OCCUR IN A PARTICULAR NSTALLATION. IF THIS EQUIPMENT DOES CAUSE HARMFUL INTERFERENCE TO RADIO OR TELEVISION RECEPTION, WHICH CAN BE DETERMINED BY TURNING THE EQUIPMENT OFF AND ON, THE USER IS ENCOURAGED TO TRY TO CORRECT THE INTERFERENCE BY ONE OR MORE OF THE FOLLOWING MEASURES:
REORIENT OR RELOCATE THE RECEIVING ANTENNA.
INCREASE THE SEPARATION BETWEEN THE EQUIPMENT AND RECEIVER.
CONNECT THE EQUIPMENT INTO AN OUTLET ON A CIRCUIT DIFFERENT FROM THAT TO WHICH THE RECEIVER IS CONNECTED.
CONSULT THE DEALER OR AN EXPERIENCED RADIO/TV TECHNICIAN FOR HELP.
INSTRUCTIONS FOR USERS ON REMOVAL, RECYCLING AND DISPOSAL OF USED BATTERIES FOR PRODUCTS WITH A BUILT-IN BATTERY THAT LASTS FOR THE LIFETIME OF THE PRODUCT,
REMOVAL MAY NOT BE POSSIBLE FOR THE USER. IN THIS CASE, RECYCLING OR RECOVERY CENTERS HANDLE THE DISMANTLING OF THE PRODUCT AND THE REMOVAL OF THE BATTERY. IF, FOR ANY REASON, IT BECOMES NECESSARY TO REPLACE SUCH A BATTERY, THIS PROCEDURE MUST BE PERFORMED BY AUTHORIZED SERVICE CENTERS.
IN THE EUROPEAN UNION AND OTHER LOCATIONS, IT IS ILLEGAL TO DISPOSE OF ANY BATTERY WITH HOUSEHOLD TRASH. ALL BATTERIES MUST BE DISPOSED OF IN AN ENVIRONMENTALLY SOUND MANNER. CONTACT YOUR LOCAL WASTE-MANAGEMENT OFFICIALS FOR INFORMATION REGARDING THE ENVIRONMENTALLY SOUND COLLECTION, RECYCLING AND DISPOSAL OF USED BATTERIES. WARNING: DANGER OF EXPLOSION IF BATTERY IS INCORRECTLY REPLACED. TO REDUCE RISK OF FIRE OR BURNS, DON'T DISASSEMBLE, CRUSH, PUNCTURE, SHORT EXTERNAL CONTACTS, EXPOSE TO TEMPERATURE ABOVE 60°C (140°F), OR DISPOSE OF IN FIRE OR WATER. REPLACE ONLY WITH SPECIFIED BATTERIES.
THE SYMBOL INDICATING 'SEPARATE COLLECTION' FOR ALL BATTERIES AND ACCUMULATORS SHALL BE THE CROSSED-OUT WHEELED BIN SHOWN BELOW:

IN CASE OF BATTERIES, ACCUMULATORS AND BUTTON CELLS CONTAINING MORE THAN 0.0005% MERCURY, MORE THAN 0.002% CADMIUM OR MORE THAN 0.004% LEAD, SHALL BE MARKED WITH THE CHEMICAL SYMBOL FOR THE METAL CONCERNED: Hg, Cd, OR Pb RESPECTIVELY. PLEASE REFER TO THE BELOW SYMBOL:
WARNING
DO NOT ATTEMPT TO OPEN, SERVICE, OR DISASSEMBLE THE BATTERY | DO NOT SHORT CIRCUIT | MAY EXPLODE IF DISPOSED OF IN FIRE | RISK OF EXPLOSION IF BATTERY IS REPLACED BY AN INCORRECT TYPE | DISPOSE OR RECYCLE USED BATTERIES ACCORDING TO THE INSTRUCTIONS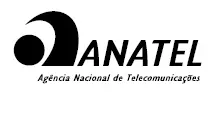 The Bluetooth® word mark and logos are registered trademarks owned by Bluetooth SIG, Inc. and any use of such marks by HARMAN International Industries, Incorporated is under license. Other trademarks and trade names are those of their respective owners.
Questions about your JBL Free Wireless Earbuds? Post in the comments!
Download JBL Free Wireless Earbuds Manual [PDF]
FAQS
Can you use one earbud at a time or do you have to use both all the time?
You can use only one but both have to be connected. You can't put one back in the case because then, both will disconnect. I usually place the other one in my pocket when I want to use only one. This works out pretty well.
Can my wife wear one an i wear one while we walk so we can listen to same music
Yes. The right side is the main, with the mic for calls. The left is the slave unit. The left only works when the right is in use. If you only use one ear bud, it has to be the right.
How loud is the volume? Also how easy are the controls?
These headphones aren't skull candies. So they're not made to blow your ear off. They're made with quality of sound in mind. When you have them fitted properly, you won't hear anything from the outside so the volume doesn't need to be high. As far as controls, if you have it fitted properly, it's fine. But if not, clicking that button will shove it into your ear. Not comfy.
How long is the battery life span?
Battery life is 4 hours max.
Compatible with MacBook?
I was able to get these to connect to my MacBookPro after disconnecting my keyboard and mouse and reconnecting after these connected through the bluetooth. It was process to figure out, but it finally worked.
Can you workout with them?
Yes you can… BUT, you need to make sure you have a proper fit with the silicone pieces. Do a head shake test before you go do activities
How is bass sound or quality of sound from these?
These buds have a wider frequency response than any of the others I have researched: 10-22,000 hz vs. the usual 20-20000 hz. Below 20 hz is inaudible for most people. But the feels the vibration. You can feel i in the great rumbling excitement of a large pipe organ. I read that that the Blackpool (UK) Tower organ reaches down to 4 hz. I'm very happy with the sound here in all the ranges and I am intrigued with how the extra 10 hz might boost the bass.
Can you leave your phone in the car and still be able to answer your calls ?
the bluetooth has a range at around 8m. The phone must be near of headphone within this range.
Will it work with alexa?
Yes its good
Are this compatible with android phones
This does work for Android as long as Bluetooth 4.2 is supported.
Where can i get replacement ear tips?
You can always buy it from them and overpay. Or you can just buy a generic brand. They all fit. It's a universal fit, I've been able to use tips from other earpieces on my jbls. I recommend getting foam ones if you're gonna spend good money. They stay in longer and are more comfortable.
Are these Sweat/Water-proof?
Our JBL Free is rated IPX5 which can stand water splashing at any angle.
Wireless charging available?
The wireless charger will charge about 4 times before it needs to be plugged in and charged. So…yes…wireless charging.
Is there anywhere to buy a replacement charging case for these? Please help.
You can visit: JBL.com
How good is the fit for biking while wearing these?
I use these on my mountain bike daily. Only one time has the left headphone popped out. They are very nice!
Are they waterproof?
No
Video