The Maytag Top Loading Washing Machine allows you to use less water while washing clothes. This instructions manual walks you through operating the washer with visual diagrams to help out.
Maytag Top Loading Washing Machine User Manual
OPERATING INSTRUCTIONS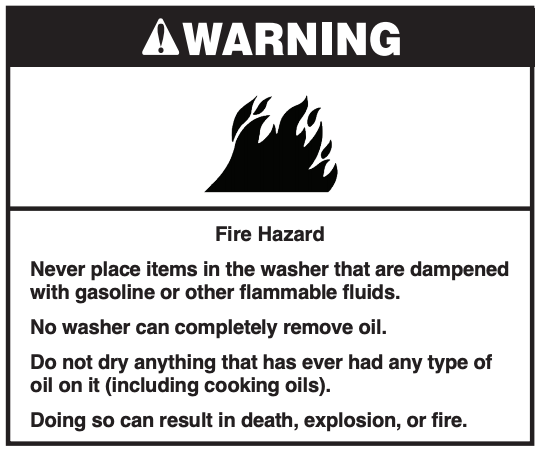 WARNING: To reduce the risk of fire, electric shock, or injury to persons, read the IMPORTANT SAFETY INSTRUCTIONS, located in your appliance's Owner's Manual, before operating this appliance.
Quick Start
STEP 1. SORT & LOAD LAUNDRY
See Loading Recommendation section below.
STEP 2. ADD THE DETERGENT & LAUNDRY PRODUCTS TO DISPENSERS*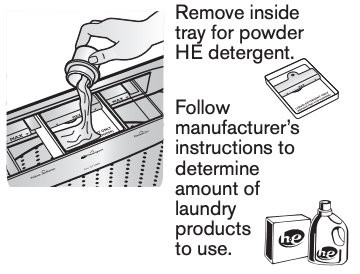 STEP 3. PRESS POWER BUTTON TO TURN ON THE WASHER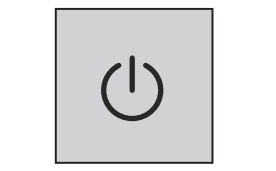 STEP 4. SELECT THE DESIRED CYCLE FOR YOUR LOAD*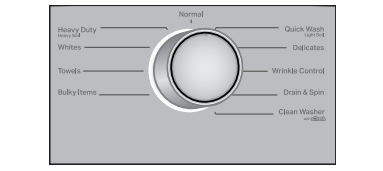 STEP 5. ADJUST CYCLE SETTINGS, IF DESIRED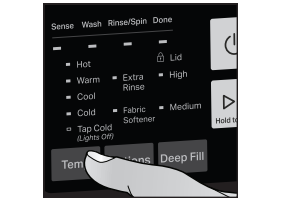 STEP 6. SELECT ADDITIONAL OPTIONS*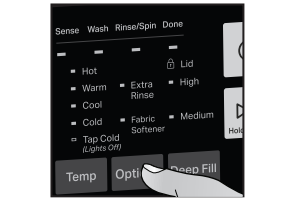 STEP 7. PRESS, HOLD, AND RELEASE HOLD TO START BUTTON TO BEGIN CYCLE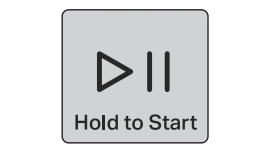 *NOTE: Not all cycles, settings or options are available with all models.
CONTROL PANEL AND FEATURES

POWER
Press "POWER" button to turn on/off or to stop/cancel a cycle.

CYCLE KNOB
Turn knob to select desired cycle. See "Cycle Guide" online for detailed cycle descriptions.

HOLD TO START BUTTON
Press, hold, and release the "Hold to Start" button to start cycle.
Press during a cycle to pause cycle and unlock lid.
NOTE: If machine is spinning it may take longer to unlock lid.
CYCLE MODIFIERS (Not all modifiers are available on all cycles) TEMP
Press "Temp" button to modify the cycle's available temperatures (Tap Cold, Cold, Cool, Warm, Hot).
TAP COLD
Pressing the "Temp" button will toggle through available temperature options. When no lights in the temperature column are illuminated the selected temperature is "Tap Cold".
RINSE OPTIONS
Press "Options" button to modify the cycle to add Fabric Softener and/or Extra Rinse.
FABRIC SOFTENER
Press "Options" button until LED next to Fabric Softener is illuminated to let the machine know when you have added fabric softener to the appropriate dispenser.
EXTRA RINSE
Press "Options" button until LED next to Extra Rinse is illuminated to add a deep rinse after your main rinse has completed. Available on most cycles. To run a "Rinse & Spin" cycle, select the "Drain & Spin" cycle and turn on "Extra Rinse" option.
DEEP FILL
Press to add more water to the washer from the cycle's auto sensed level (Auto, Medium, High).
AUTO OPTION
Pressing the "Deep Fill" button will toggle through available water level options. When no lights are in the column are illuminated the selected water level is "Auto". Auto adjusts the water level for each load based on load size to provide efficient cleaning.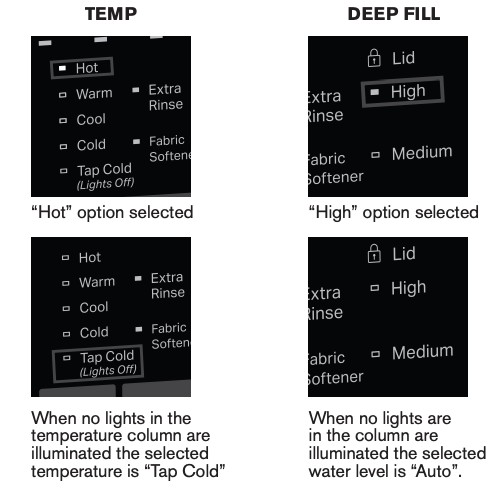 LOADING RECOMMENDATION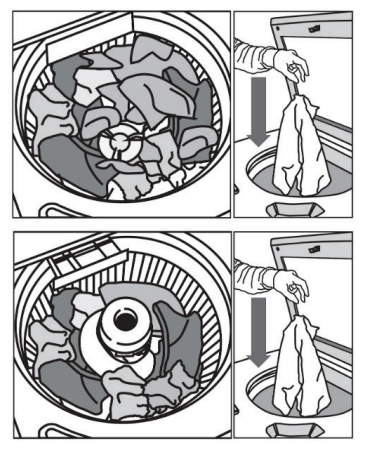 For best performance, it is recommended to load items by dropping them in loose heaps evenly around the washplate and agitator. Do not lay items length-wise around the washplate or agitator.
MORE WATER WHEN YOU WANT IT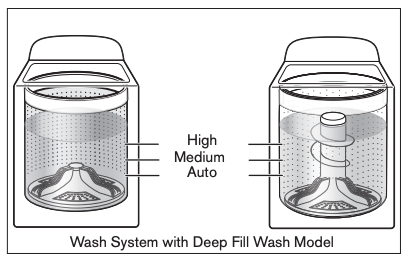 AUTO SENSING and DEEP FILL
The washer will adjust the water level to the optimal amount for a High Efficiency wash of the detected load size.
Press "Deep Fill" button to add more water to the wash load.
There are three levels of deep water "Auto", "Medium", and "High".
Not all levels available on all cycles.
CLEANING WITH LESS WATER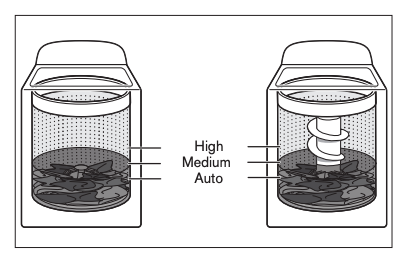 As the washer dampens and moves the load, the level of the items will settle in the basket.
This is normal, and does not indicate that more items should be added.
IMPORTANT: You will not see a washer basket full of water as with your past agitator-style washer. It is normal for some of the load to be above the water line.
FAQs
What is a "Tap Cold" temperature?
A "Tap Cold" temperature is a cold water rinse that is used to cool the load. This is especially helpful in warm weather. STEP 8. SELECT ADDITIONAL OPTIONS* STEP 9. PRESS, HOLD, AND RELEASE HOLD TO START BUTTON TO BEGIN CYCLE *NOTE: Not all cycles, settings or options are available with all models.
Are Maytag top load washers any good?
The Maytag MVWC565FW top load washer is a good choice if you need a large machine to get the job done. It uses more water than a front-loading machine, especially with the pre-soak and deep-fill programs, however, it boasts a good choice of wash cycles.
How long do Maytag top load washers last?
Another manufacturer which expects their washing machines to last for 10 years. As long as you are cleaning the machine regularly and using the self-clean cycle, you can expect it to last longer.
Is Maytag worth the money?
Maytag has been a household name for well over a century, with a solid rep as an affordable and reliable appliance brand. The company's washer and dryer sets are among its most popular products. Like every product Maytag manufactures, these sets offer a lot of value for your money, and they're remarkably affordable.
Do you put laundry detergent in first or last?
If you have a regular top-loading machine, it's best to fill your washer with water first, then add your detergent, then add your clothes. This helps evenly distribute the detergent in the water before it hits your clothes. Remember that the nicer you are to your washer and dryer the longer they'll last.
Why is my Maytag washer so slow?
Often times it is a restricted water flow issue, and inlet water lines have small screen inserts which get clogged with sediment, sounds like this is more likely than anything, and easy to clear, just disconnect water hoses and check filters.
Which washing machine has least problems?
Appliance repair technicians and our product experts agree: Whirlpool is the most reliable washing machine brand in the U.S.
Are Maytag and Whirlpool the same?
As one of the longest-standing and most reputable major appliance brands in the industry, Maytag has been a part of the Whirlpool corporation since 2006. Since this merger took place 15 years ago, these brands have become a constant in quality and reliability.
Is Whirlpool made in China?
In fact, 80 percent of Whirlpool Corporation appliances are made in the United States and sold in the United States. We make more appliances in the U.S. than any other appliance manufacturer. We are a worldwide company and manufacture appliances all over the world.
What brands does Maytag make?
In major appliances, Maytag was among the top three companies in the North American market, offering a full line of washing machines, dryers, dishwashers, cooktops, refrigerators, and ranges under the Maytag, JennAir, Amana, and Magic Chef brands.
Is Whirlpool washer made in USA?
The Whirlpool Corporation's history in America dates all the way back to 1911, when their first washer was produced. Flash forward to today, Whirlpool has 9 production plants located across the East Coast and Midwest.
Which is better Whirlpool or Maytag?
Both brands' washers intersect when it comes to smart capabilities and durability, but in the end, Maytag washing machines boast greater value across top-load and front-load models, as they stock more premium features compared to Whirlpool washers of a similar price.
What is the most dependable washing machine brand?
Whirlpool, LG, and Samsung are the most reliable brands of washers. Yale Appliance found that less than 7% of the sales of these units required servicing. J.D. Power also ranks Samsung and LG as the highest-ranking manufacturers in customer satisfaction.
Which appliance brand is most reliable?
Whirlpool is the top choice for a reliable French door refrigerator brand, according to the J.D. Power's report. KitchenAid and Samsung follow in second and third place, respectively. Another notable finding: The Puls report also named Whirlpool as the overall most reliable home-appliance brand.