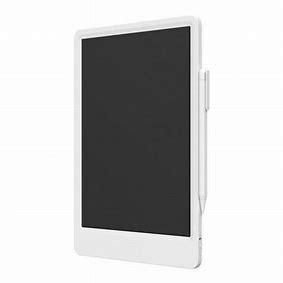 Mi LCD Writing Tablet 13,5" User Manual
Read this manual carefully before use and retain it for future reference.
Product Overview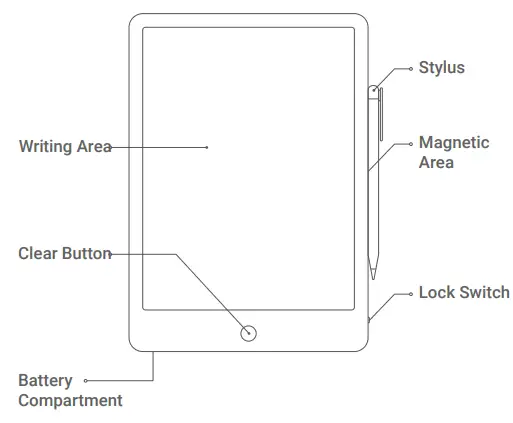 Writing Area
It is easy to write, doodle, and draw on the writing area. In order to achieve a better writing experience and avoid screen damage, please use the stylus included with this tablet.
Magnetic Area
The sides of the tablet and the stylus are equipped with a magnetic function for easy storage.
Clear Button
Press this button to clear the screen content, when the lock switch is set to.
Lock Switch
To enable the clear function, set the lock switch to
To disable clear function, set the lock switch to
Note: The lock switch is set to by default.
Battery Compartment
A button cell battery CR2025 comes with the writing tablet. If the battery is depleted, please replace is as
soon as possible.
Daily Care and Maintenance
This tablet contains electronic components and a button cell battery. Surface stains can be wiped clean with a soft, dry cloth.
Keep the tablet in a cool place. Do not use this tablet in dusty and humid environments with emperatures above 40°C or below 5°C.
Do not expose this tablet to strong light or UV light.
Warnings
Do not expose this tablet to fire or water.
Do not use sharp or hard objects on the writing area so as to avoid scratching it.
Do not bend the tablet to avoid damaging it.
Do not attempt to disassemble the tablet yourself. Please contact after-sales service if there is an issue.
The battery used in this tablet is a non-rechargeable battery. Do not try to charge it.
This tablet contains small parts such as a battery, battery cover. The small parts are not toys, do not allow children to play with them to prevent the risk of suffocation.
WEEE Information

All products bearing this symbol are waste electrical and electronic equipment (WEEE as in directive 2021/19/EU) which should not be mixed with unsorted household waste. Instead, you should protect human health and the environment by handing over your waste equipment to a designated collection point for the recycling of waste electrical and electronic equipment, appointed by the government or local authorities. Correct disposal and recycling will help prevent potential negative consequences to the environment and human health. Please contact the installer or local authorities for more information about the location as well as the terms and conditions of such collection points.
Specifications
Mi LCD Writing Tablet 13.5"
Net Weight: 0,345 kg (including battery)
Battery Type: Button cell battery (CR2025)
Item Dimensions: 318 × 225 × 7 mm
Materials: ABS, polymer Liquid Crystal Display (LCD)
Manufactured for: Xiaomi Communications Co., Ltd.
Manufactured by: Nanjing Jiqidao Intelligent Technology Co., Ltd. (a Mi Ecosystem company)
Address: Jiulonghu International Corporate Headquarters, No.19 Suyuan Avenue,
Economic and Technical Development Zone, Jiangning District, Nanjing, China
For further information, please go to www.mi.com
Importer:
Beryko s.r.o.
Na Roudné 1162/76, 301 00 Plzeň
www.beryko.cz