This digital user manual for the MPOW 059 Headphones provide an overview of how to use the device, set it up and pair it as well as other FAQs.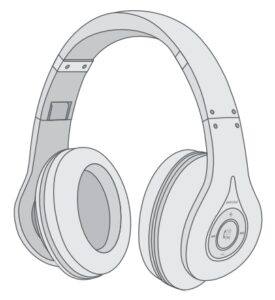 Package Contents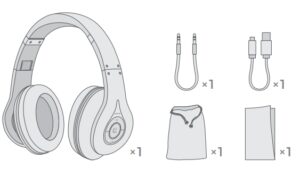 Headphone Diagram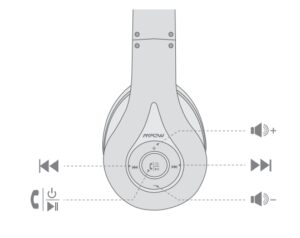 Pairing

With the headphone, off, press the center button for about 4-5 seconds until the red and blue indicators take turns flashing.
Turn on the Bluetooth function on your phone.
Search for the Bluetooth devices and select " MPOW-059″.
How To Control Headphones
Play/ Pause/ Make a Call/Answer a Call/ Hang up a Call/ Reject a Call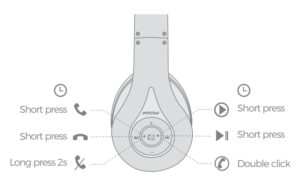 Clearing Pairing Information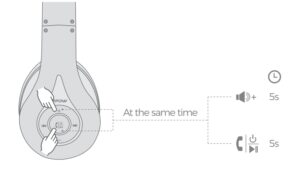 Volume/Music Control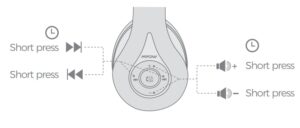 Charge Battery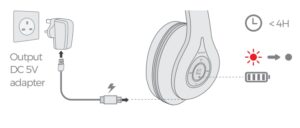 Safety Notice
Do not disassemble or modify the headphone for any reason, otherwise, It may damage the headphone.
Please keep the equipment along with all the accessories out of the reach of children and pets.
Do not put the device in an environment in which the temperature is too low or too high ( Below 0℃ or over 45℃).
Please do not wet the device, for the liquid can cause serious damage to the device.
Please do not operate the device in thunderstorm weather.
Operation is subject to the following three conditions:
This device may not cause harmful interference.
This device must accept any interference received, including interference that may cause undesired operation.
This device has been evaluated to meet general RF exposure requirements. The device can be used in portable exposure condition without restriction.
Note:
This equipment has been tested and found to comply with the limits for a Class B digital device, pursuant to part 15 of the FCC Rules. These limits are designed to provide reasonable protection against harmful interference in a residential installation. This equipment generates, uses and can radiate radio frequency energy and, if not installed and used in accordance with the instructions, may cause harmful interference to radio communications.
However, there is no guarantee that interference will not occur in a particular installation. If this equipment does cause harmful interference to radio or television reception, which can be determined by turning the equipment off and on, the user is encouraged to try to correct the interference by one or more of the following measures:
Reorient or relocate the receiving antenna.
Increase the separation between the equipment and the receiver.
Connect the equipment into an outlet on a circuit different from that to which the receiver is connected.
Consult the dealer or an experienced radio/TV technician for help.
Further support can be found at: https://www.xmpow.com/