You can learn all about the Nooie WiFi 360-degree Pet & Baby Monitor using this free guide. It contains instructions on how to setup and maintain the device.

Nooie Baby Monitor, WiFi Pet Camera Indoor, 360-degree Wireless IP Camera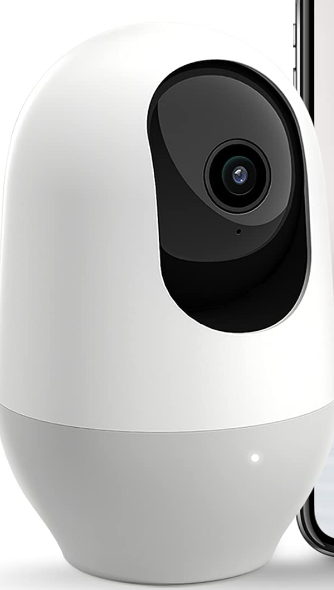 Specifications
DIMENSIONS: 4.9 X 3.07 X 3.07 inches
WEIGHT: 2 ounces
VIEW RANGE: 158 degrees
NIGHT VISION: 10m/32 ft
RESOLUTION: 2K/H.264
WATERPROOF: IP65
WIFI:4G/5G
BRAND: Nooie
The Nooie Baby Monitor Camera is the perfect budget-friendly motion-detecting camera to monitor your home, baby, elders, pets, and business. They come with 360 degrees of motion tracking and sound detection. The Nooie baby monitor comes with cloud storage or local SD storage options. The monitoring camera features a 1080P HD lens and two 940nm infrared LEDs. It has the ability to provide a night vision of up to 32 ft or 10m. It also comes with a status light which can turn off or on as per your wish.
In addition to 24/7 monitoring, it also features two-way audio, allowing you to listen and talk to family or friends. It comes with a built-in anti-noise mic and speaker. The camera is easy to set up and install. It is simple to control and is compatible with a 2.4GHz WIFI network. The camera offers a micro-SD card or cloud subscription service to store the recordings. The cloud service can be subscribed by signing up to the Nooie App. The Nooie App can be downloaded from the App Store or Google store.
What's in the Box?
Nooie Cam 360 x 1
Power adaptor x 1
Wall Mount and screws x 1
User Manual x 1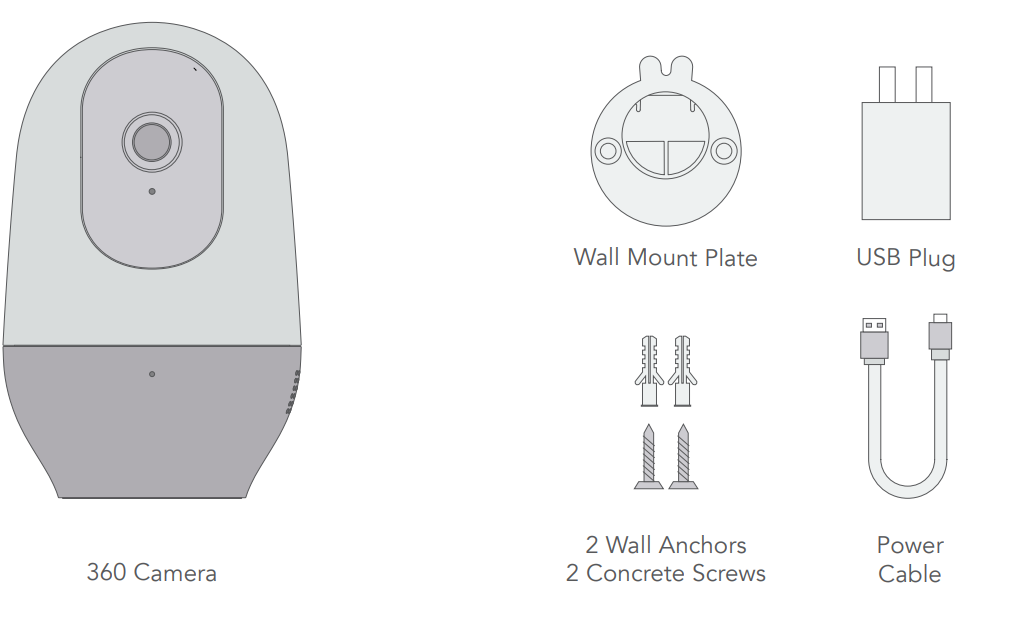 Look Closer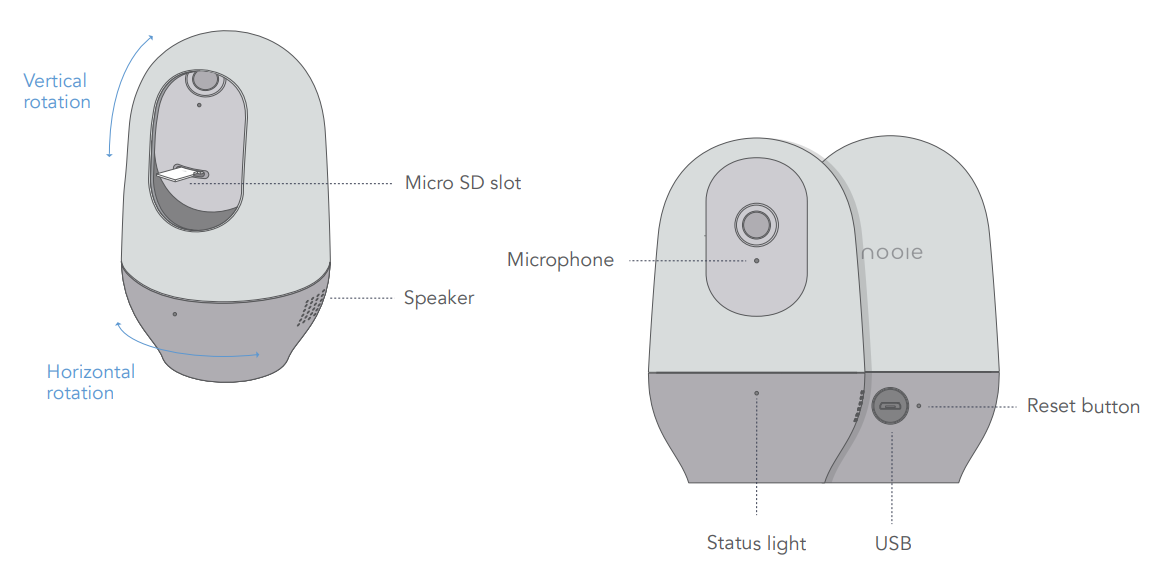 Wall Mount
Attach the wall mount piece to the bottom of the camera.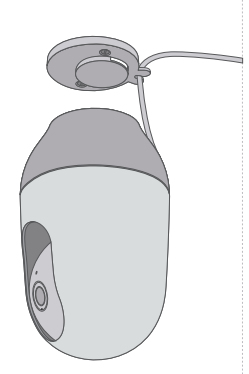 How to Set up
Download Nooie Cam App and create an account.
Connect the camera to a power outlet and wait for 15 seconds until red status light flashes.
Open the app and click "Add Camera" on front page.
Follow the instructions on the app, until you hear the sound prompt, enjoy the Nooie Cam!
Note: 5GHz network is not supported.
Light Indications
Solid red light: The device is powered on and initialized.
Flashing red light: The device is ready to connect.
Flashing white light: Connection is in progress.
Flashing between white and red light: Wi-Fi account or password is wrong, please reconnect.
Solid white light: The device is working properly.
Warranty Terms
30-day return policy & 2-year limited warranty.
Timely customer service via s
Lifetime professional tech support is provided by Nooie.
FAQs
Can it insert an SD card?
Yes, it can support a class 6 or above Micro SD card, from 4gb to 128gb.
Would this camera work well for a baby camera monitor?
Yes, this will work completely fine for a baby camera monitoring with its 360 degrees rotation and two-way audio features.
Does the Nooie camera support share video with my friend?
Yes, you can share the viewing access to other devices using the Nooie App.
Can I mount this camera to a wall or ceiling?
Yes, it can be mounted to a wall or ceiling. It comes with mount piece, screws and anchors.
Is this camera Battery powered?
No, it requires to be plugged in.
Can you use multiple units together, for example if I wanted to put 1 downstairs and 1 upstairs?
Yes, you can use multiple cameras. This can be done by using the Nooie app. You can add cameras and name them as well.
Can I use web browser to view the video or does it need to be only through the application?
Till date, it can only be accessed by the app.
Can this camera be mounted upside down from the ceiling?
Yes, it can be mounted upside down from the ceiling using the provided mount.
How many cameras does the Nooie app support?
The Nooie App can support up to three cameras at once.
Does this work without electricity also?
No, it can't work without electricity and requires to be plugged in to work.
What kind of power cord does this camera use?
The camera uses a USB A to charge the block.
I have an iPhone 7 Plus will it work well with it?
Yes, the Nooie app is compatible with iPhone 7+
How to increase the volume of apps?
To increase the volume on the app, use the phone volume controls.
Does this camera have night vision?
Yes, the camera has a decent night vision.