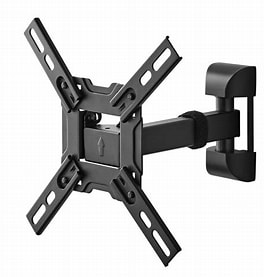 onn 100027964 Full Motion TV Wall 
Mount User Guide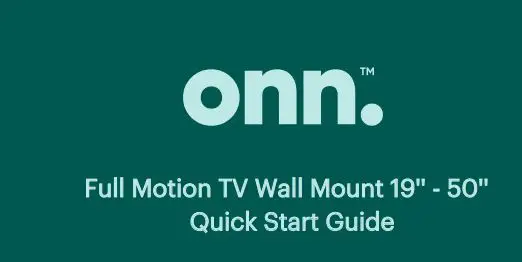 But Wait…There's More!
What size TV does this TV Wall Mount support?
Your TV should be between 19" and 50" screen size.
What is the maximum TV weight this Wall Mount will support?
Your TV should not be over 77 Ibs.
What TV VESA pattern will this Wall Mount support?
75mm x 75mm, 100mm x 100mm, 100mm x 200mm, 150mm x 150mm, 200mm x 100mm, 200mm x 200mm, 200mm x 300mm, 200mm x 400mm, 300mm x 200mm, 300mm x 300mm, 300mm x 400mm, 400mm x 200mm, 400mm x 300mm, 400mm x 400mm.
Which type of walls can the plastic anchors be used for installation?
Only use on concrete, stone or masonry walls.
Can this product be used outdoors?
Using this product outdoors could lead to product failure and/or personal injury.
The Fine Print
CAUTION: Don't use with products over 77 Ibs to avoid injury or instability.
Thank you for your purchase.
This Limited Warranty covers any defects in material or workmanship for purchases made in the U.S.A. and Canada, and excludes claims from conditions, malfunctions or damage not resulting from defects in material or workmanship. The warranty duration is one year.
Keep your original proof of purchase (store receipt). If you find the product is defective, damaged or missing parts after inspection, DO NOT return to the store.
Need help? We're here for you every day from 7 a.m. – 9 p.m. CST. Give us a call at 1-888-516-2630
Please keep the Product Guide for future use.
What's in the Box?
Check to make sure you have everything below.
A. Assembled Wall Plate (x1)
B. Extension arm (x4)
C. Hanging template (x1)
D. M7x55mm Lag bolt (x3)
E. Concrete anchor (x3)
F. M6x8mm screw (x4)
G. Allen wrench (x1)
H1. M4x12mm screw (x4)
H2. M6x12mm screw (x4)
H3. M8x20mm screw (x4)
H4. M4x30mm screw (x4)
H5. M6x35mm screw (x4)
H6. M8x35mm screw (x4)
I1. M6x17mm spacer (x4)
I2. M8x22mm spacer (x4)
I3. M8x10mm spacer (x4)
I4. M4/M8x2.5mm spacer(x8)
J1. M4 washer (x4)
J2. M6 washer (x4)
Get to Know Your Full Motion Mount
Let's Get Started!
Here's what you'll need to get set up (not included):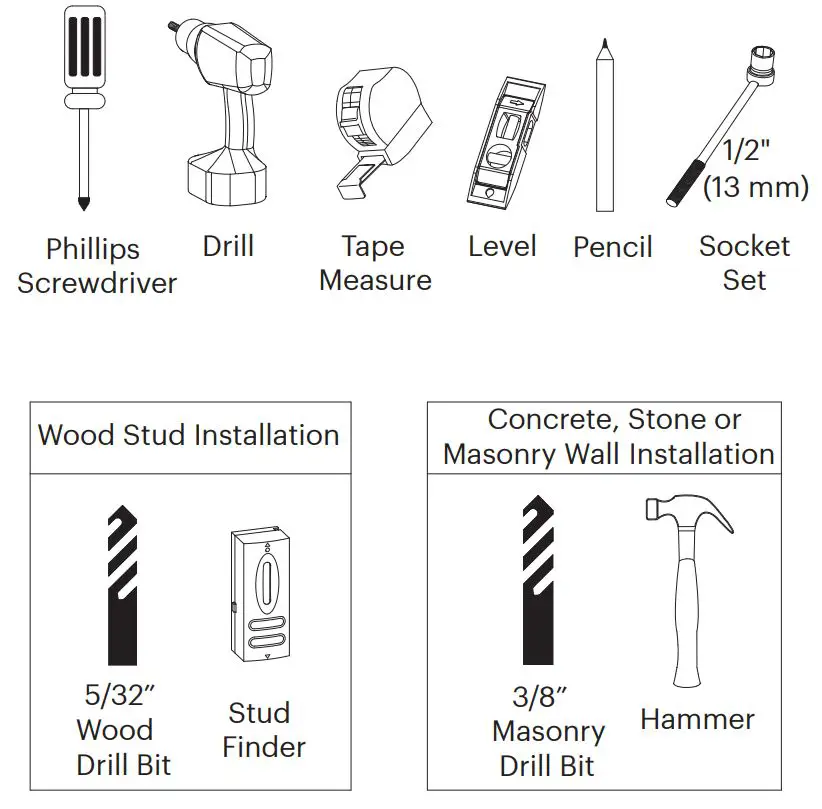 Step 1 – Attach Face Plate or TV Plate to TV
Choose proper screws that fit your particular TV mounting holes. Use spacers and washers as needed since they are not always required. You will have screws, spacers and washers leftover. Discard all unused hardware after you have completed TV mount installation.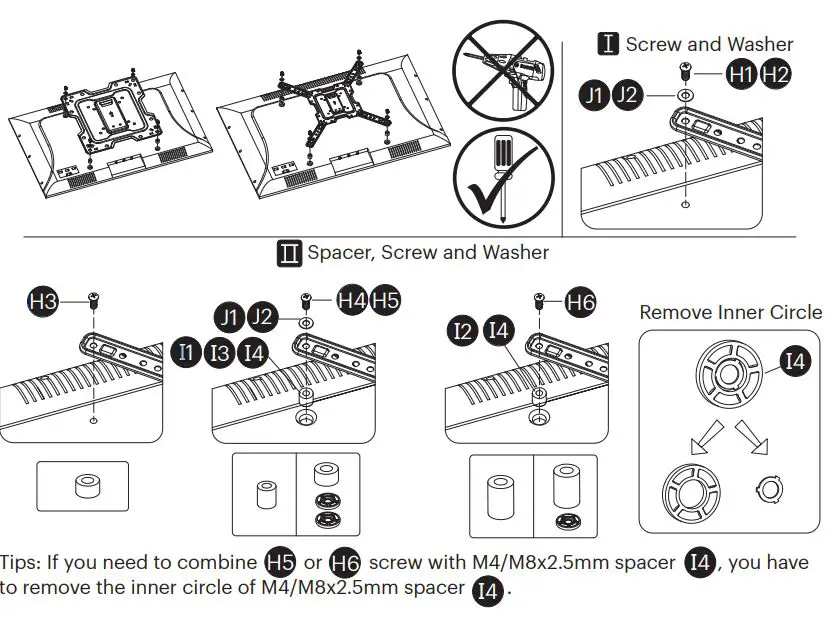 Step 2 – Attach Wall Plate to Wall
Hold Hanging template C at desired position, pre-drill marked 3 holes and attach wall plate to wall. –For wood stud mounting, only use M7x55mm Lag bolts D . –For concrete, stone or masonry wall, use both M7x55mm Lag bolts D and Concrete anchors E .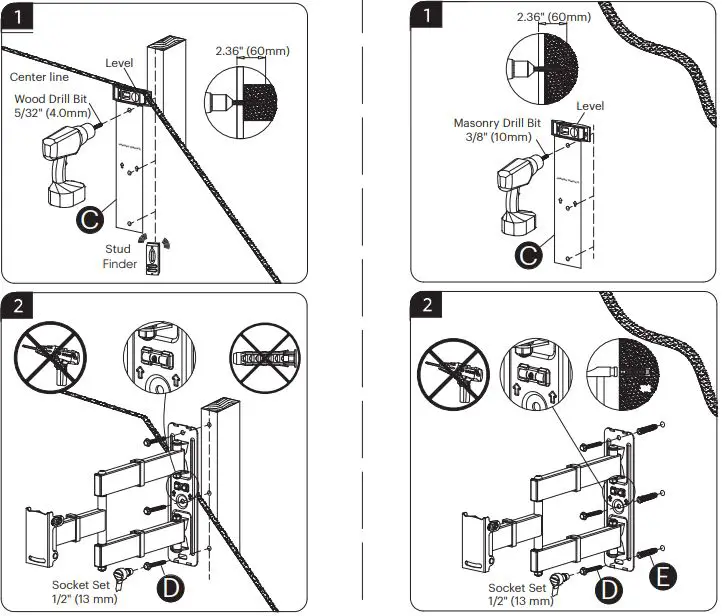 Step 3 – Hang TV on Wall Plate
This step requires 2 or more people to complete. One person to hold the TV and others to tighten the locking screws. See Product Guide for details.
Adjust the tilt and swivel angle by placing your hands on both sides of TV, gently pulling or pushing.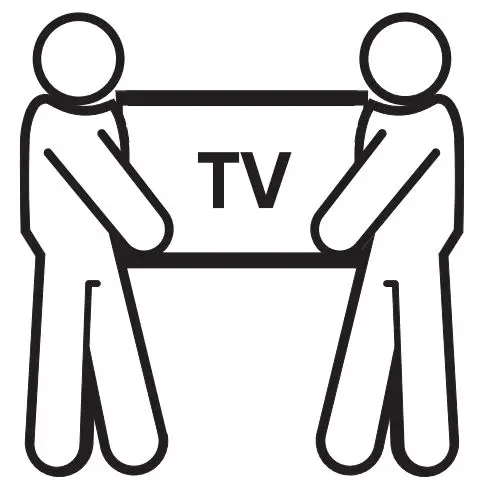 We'd love to hear from you. Scan with your Walmart app and let us know what you think.
This document is intended only for use as a reference for the individual or entity to which it is being presented and which is privileged and confidential. No reproduction or distribution is permitted without the consent of rap International Corporation.