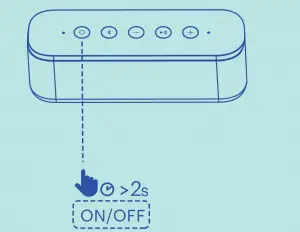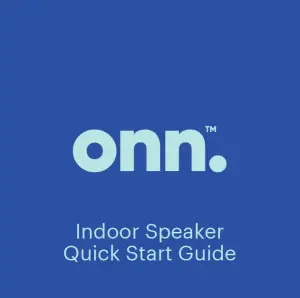 What's in the Box?
Check to make sure you
have everything below.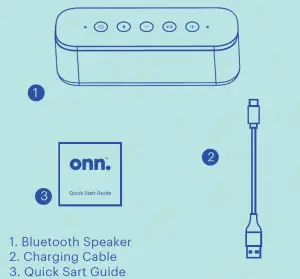 Get to Know Your indoor speaker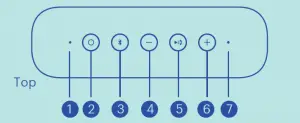 LED indicator
Power switch
Bluetooth
Volume down
Play/Pause/
Speakerphone
Volume up
Microphone
Aux in
Reset
Charging port
Power
Long press to power on / off the speaker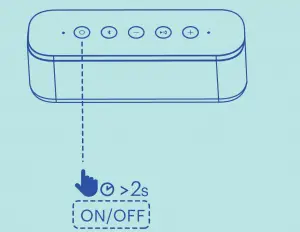 Bluetooth® Connection
Activate the Bluetooth function on your
device and search Bluetooth devices,
then select "onn. Indoor SPK MD GRY"
to start connecting.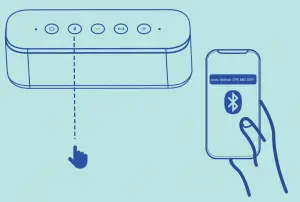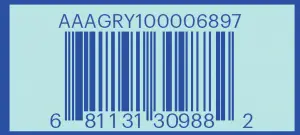 We'd love to hear from you. Scan
with your Walmart app and let us
know what you think.
Aux Connection
Use a 3.5mm cable (not included) to connect the
speaker to another audio source. Press Play on
the device and adjust the volume on the unit to
obtain the desired volume.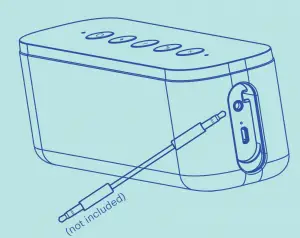 Answer calls
Short press to answer the call
Long press to reject the call
Party Sync Mode
Power on one speaker and hold Bluetooth
button 3 seconds to enter into pairing mode,
this device will be the master. The second
device will connect
automatically to the master when turned on.
After the two speakers are paired together, use
your mobile device to pair with the master
speaker utilizing the Bluetooth pairing method.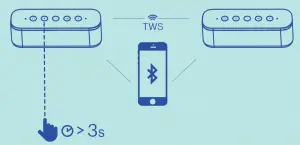 But Wait … There's More!
The Party Sync Mode also applied to another
onn speaker.
Need help?
We're here for you every day
7 a.m. – 9 p.m. CST.
1-888-516-2630
Give us a call!
The Fine Print
USER MANUAL INSERTS FOR FCC ID
Warning: Changes or modifications to this
unit not expressly approved by the party
responsible for compliance could void the
user's authority to operate the equipment.
NOTE: This equipment has been tested and
found to comply with the limits for a Class B
digital device, pursuant to Part 15 of the FCC
Rules. These limits are designed to provide
reasonable protection against harmful interference
in a residential installation. This equipment
generates, uses and can radiate radio
frequency energy and, if not installed and used
in accordance with the instructions, may cause
harmful interference to radio communications.
However, there is no guarantee that interference
will not occur in a particular installation. If
this equipment does cause harmful interference