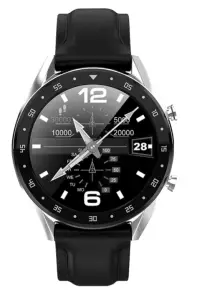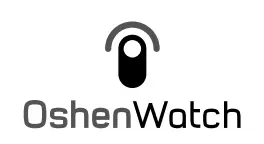 Instruction Manual
Connecting Your OshenWatch
First, download and install the app on your IOS or Android device by searching for "Fundo" on the App Store or Google Play Store.
Turn on your phone Bluetooth
Now, on your OshenWatch Luxe, navigate to the Bluetooth menu by swiping right from the left side of the screen. Scroll until you see "BE then connect to your
Go to the Bluetooth list in your phone, connect 1L7′.
Enter the app, go to 'More > Add device > L7_LE'. Make sure that notifications are enabled for Fundo App for your Oshen Watch Luxe to work correctly
After initial installation, your OshenWatch and device will sync automatically
Note for Android users: Please ensure that the app is running in the background and that permissions are enabled to ensure OshenWatch works as
Included with Purchase
1 x OshenWatch Luxe
1x Charging Cable
1 x Instruction Manual
Quick-Start Guide
If your OshenWatch is asleep, press the bottom button to wake it up.
– You can also turn the device on and off by holding the bottom button.
– The bottom button is also used to go back to the main menu.
The top button gives you easy access to the pedometer, as well as your calorie count and distance for the day.
Swipe left or right from the main clock interface to enter the main menu. Swipe up and down to view the available functions.
Swipe down from the top to access the status bar, which lets you know if your Bluetooth is connected, the battery level, and gives you options to toggle the Bluetooth or mute your
Clock Calibration
After syncing with your phone, your OshenWatch will automatically sync with the time provided by your device.
Setting Up Your OshenWatch
Personal Profile
The first thing you need to do when setting up your OshenWatch is to ensure your personal profile is set correctly. It will help to more accurately measure things such as calorie count and help you set daily goals.
To do this, go to Fundo > Me > User information.
Push Notifications
Your OshenWatch can receive push notifications from many of your favorite apps. Please ensure that your apps are capable of generating notifications and that the app has been granted permission to view those notifications.
You can also set your OshenWatch to vibrate upon receiving a new notification from your desired apps. To do this, go to Oshen Watch main menu > Setting > Sound > Alert type.
For Android users, the app must also be given permission to run in the background for these features to work correctly.
Clock Type
To change between one of the 7 pre-installed clock faces, long-press the middle of the screen. Swipe left and right until you find your favorite, then press "OIC
OshenWatch Luxe Apps and Their Functions Dialer
With the dialer, you can quickly and easily use your OshenWatch Luxe to make phone calls. Just punch in the phone number and your phone will instantly connect to the call.
Call Logs
Use this to view and scroll through the most recent entries to your call log.
Phone Book
If you can't remember someone's phone number off the top of your head, you can access your contacts and start a call from there. Ensure that you have enabled Contacts Permissions on your device for this to work properly.
Messaging
View your latest messages with this handy device (not support iOS system)
Bluetooth
Set up your connection with your phone, or switch phones using this interface. You will see a list of available devices, as well as previously-connected devices.
Notifications
Here, you can view your latest notifications. Ensure that your device has enabled Notifications Permissions in order for this function to work.
Sleep Monitor
OshenWatch Luxe will be ready to monitor your sleep from 9:00 pm to 9:00 am. You can see your sleep duration and sleep quality. You can also view your sleep history by swiping up from the bottom of your OshenWatch Luxe.
Heart Rate
Once your OshenWatch Luxe is wrapped firmly around your wrist, you can use the Heart Rate function to test and track your heart rate. Swipe down from the top of your device to view previous readings.
ECG
You can view your ECG readings with this device, which will sync with your phone app so you can view historical data.
Blood Pressure
Ensure your OshenWatch Luxe is wrapped firmly around your wrist. From here. use this function to measure your blood pressure.
Oxygen Level
Ensure your OshenWatch Luxe is wrapped firmly around your wrist. From here. use this app to measure your oxygen level. A healthy person will have a blood oxygen level between 94% to 100%.
Running
This is the most amazing feature of the Oshen­Watch Luxe; it combines all the useful features of an exercise watch into one. When you start the app, it will display:
Total time running
Calories burned
Distance ran
Steps per minute
Speed
Heart rate (swipe up to view)
To stop tracking, press the "Running" icon at the bottom, and it will give you an option to pause or stop the run. Once finished, you will be presented with your final workout totals.
Pedometer
Here, you can track the cumulative number of steps walked, distance traveled, and calories burned. Swipe up from the bottom to access history, goals, and physical information (height, weight, gender). The pedometer will automatically reset at midnight every night.
Camera
When your OshenWatch is synced with your phone, you can use it as a remote shutter to take photos remotely. Navigate to the "Camera" and you will have a one-click shutter button available. For this to work, ensure you have files/storage/ photo album permissions enabled for the app on your phone.
Bluetooth Music
Here, you can use simple controls to navigate your music library. Pause or skip tracks or adjust the volume so you can get your ideal workout.
And OshenWatch
If you happen to lose your OshenWatch, use the "Find Device" located on the app on your phone. Your OshenWatch will vibrate and ring, making it easier to find. You can also find your device using the same feature located in your OshenWatch apps.
Theme
Here, you can choose between two backdrops for the menu.
Motion
OshenWatch Luxe has a built-in accelerometer that can read your arm motions for bonus functionality. You can turn these features on and off to fully customize your experience.
Flip to mute alarms
Wake up when the device is turned towards you
Scroll through the menu by flipping your wrist
Flip to the mute incoming call
Backlight Options
Here, you can set the brightness, as well as the amount of time it takes before the screen turns itself off.
Setting an Alarm
Up to 5 alarms can be set with OshenWatch Luxe.
Stopwatch
Use this stopwatch to record time. Start and pause the stopwatch by pressing the icon on the left. Reset the stopwatch back to zero by pressing the icon on the right.
Calculator
A simple calculator that provides all the necessary functions.
Calendar
A simple calendar app that displays the current date. You can also view the monthly calendar and scroll through the months by swiping up and down.
Language
You can change the language options here. By default, it is synced to your device language, but you can select a different language if you want. The available languages are:
English
French
Spanish
Portuguese (Portugal)
Portuguese (Brazil)
Italian
German
Turkish
Russian
Settings
The settings in this menu include:
Bluetooth
– Power and device visibility
Clock
Turning on screen for notifications
Sound
– Ringtones
– Alert type (Sound, vibrate, mute)
Volume
Units (Metric/Imperial)
Device reset
Display
About
Sedentary Reminder
If you find yourself sitting for long periods of time. you can use the OshenWatch Luxe Sedentary Reminder to alert you to get up and move around.
Fundo App
Your Fundo app comes with a great variety of measurement tools, tracking tools, and analytics that you can take advantage of to improve your health. Here is a quick rundown of all the features you can take advantage of using your Android or iOS device.
"Me" Page
Here, you can set your profile so the fitness apps can take the most accurate measurements possible. You will also see your daily stats, including steps, distance, and calories burned. You can also see your best-ever days, averages, and the data from the previous week.
Analysis Page
For a more in-depth look at your step and sleep statistics, look no further than this page.
Click this button to sync your device
Click this button to expand your viewing to see your stats from a monthly or yearly perspective
Fundo Page
The Fundo page is accessed by tapping the Fundo icon in the middle of the bottom toolbar. Here, you can view your personal bests for different activities (walking, running, hiking, marathon).
You can also keep track of your stats for things like Steps, Sleep, Heart Rate, and more by swiping left and right.
Reports Page
You can use this menu to view an at-a-glance report of all your health metrics day by day.
"More" Page
All of your settings and miscellaneous features can be found here.
Product Specifications
Battery Capacity
300mAh
Runtime
Up to 48 hours
Connection Type
Bluetooth 3.0 & 4.0
System Requirements
Android 5.0 or later, iOS 8.0 or later
Charging Cable
Use the magnetic charging cable and let it
stick to the 4 dots on the back of the watch.
Caution
OshenWatch is not waterproof, so we do not suggest wearing it while swimming or bathing.
OshenWatch will not work properly if it does not have a stable connection to your phone. It is also advised to enable all the required permissions as outlined in this manual for optimal use.
Do not expose OshenWatch to direct sunlight or extreme temperatures.
If OshenWatch keeps crashing and restarting, try clearing the app's cache and storage. If all else fails, reset the device by navigating to the option on your app or phone.
Keep the charging pins of the charging cable away from any conducting materials. Otherwise, it may cause a short circuit.
The device complies with the European Directives 2014/30/EU.
At the end of its service life, this product may not be disposed of in the normal household waste, but rather must be disposed of at a collection point for recycling electrical and electronic devices. The materials are recyclable according to their labeling. You make an important contribution to protecting our environment by reusing, recycling, or utilizing old devices in other ways. Please ask the municipal administration where the appropriate disposal facility is located. Subject to change.