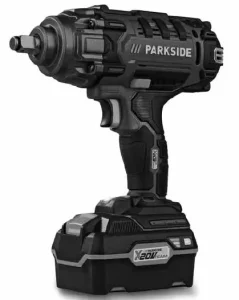 PARKSIDE 20-Li A1 Cordless Vehicle Impact Wrench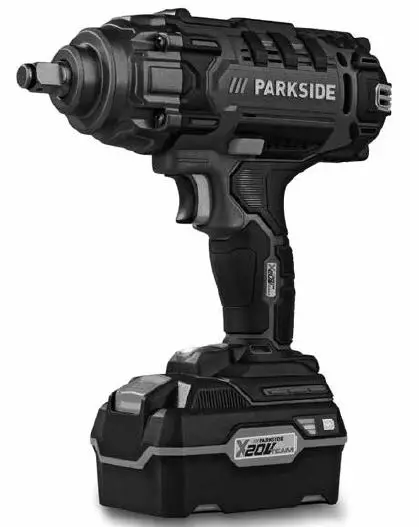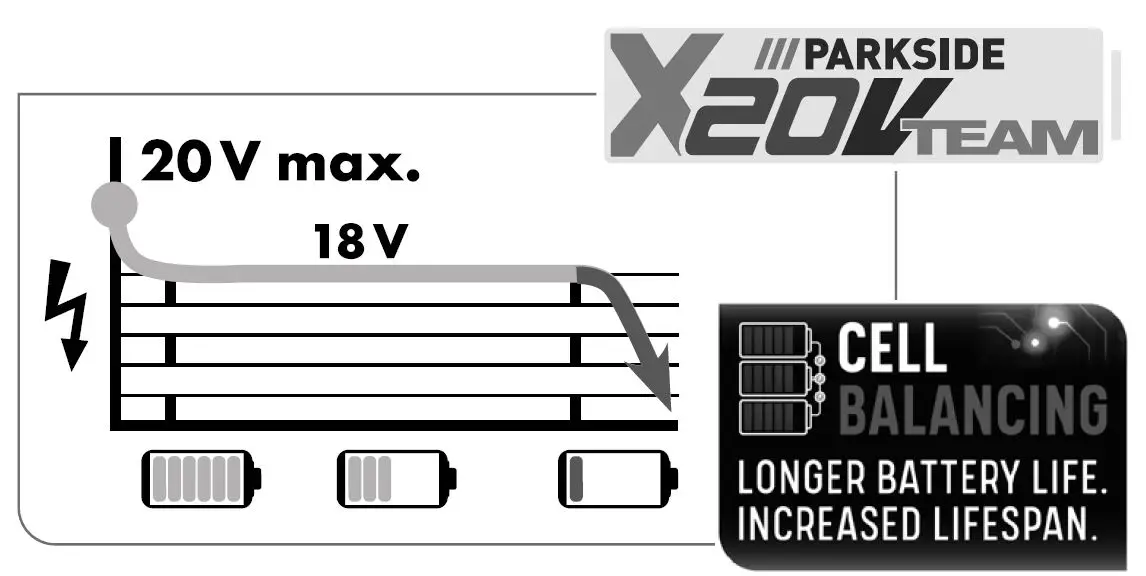 High-performance Li-Ion battery
Cell Balancing – longer battery life, increased battery lifespan.
Higher battery resources due to evenly used cells.
Maximises the charge potential.
All Parkside tools and the chargers PLG 20 A1/PLG 20 A4/PLG 20 C1/PLG 20 A2/ PLG 20 A3/PLG 20 C3/PDSLG 20 A1 of the X20V Team series are compatible with the PAP 20 A1/PAP 20 A2/PAP 20 A3/PAP 20 B1/PAP 20 B3 battery pack.
Charging times Charging currents
2 Ah

Battery pack

PAP 20 A1/B1

3 Ah

Battery pack

PAP 20 A2

4 Ah

Battery pack

PAP 20 A3/B3

max. 2.4 A

Charger PLG 20 A1/A4/C1

60 min

2,4 A

90 min

2,4 A

120 min

2,4 A

max. 3.5 A

Charger PLG 20 A2

45 min

3,5 A

60 min

3,5 A

80 min

3,5 A

max. 4.5 A

Charger PLG 20 A3/C3

35 min

3,8 A

45 min

4,5 A

60 min

4,5 A

max. 4.5 A

Charger PDSLG 20 A1

35 min

3,8 A

45 min

4,5 A

60 min

4,5 A
CORDLESS VEHICLE IMPACT WRENCH 20V PASSK 20-Li A1
Introduction
Congratulations on the purchase of your new appli-ance. You have chosen a high-quality product. The operating instructions are part of this product. They contain important information about safety, usage and disposal. Before using the product, please familiarise yourself with all operating and safety instructions. Use the product only as described and for the range of applications specified. Please also pass these operating instructions on to any future owner.
Intended use
This appliance is intended for screwing in and unscrewing screws as well as for tightening and loosening nuts. The appliance has a clockwise/anticlockwise rotation, a 1/2" external square drive bit holder and an LED working light. The light on this appliance is intended to illuminate the immediate working area of the appliance. The rotary impact function of the appliance enables the power of the motor to be converted into uniform rotary impacts. The impact mechanism comes into effect during tightening and loosening.
The appliance is designed for use by adults. Young people under 16 years of age may only use the appliance under supervision. The manufacturer accepts no liability for damages caused by improper use or incorrect operation of the appliance.
Use this product only as described and for the areas of applications specified. The appliance is not intended for commercial use. Any other usage or modification of the appliance is deemed to be improper and carries a significant risk of accidents. The manufacturer accepts no responsibility for damage(s) attributable to misuse.
Features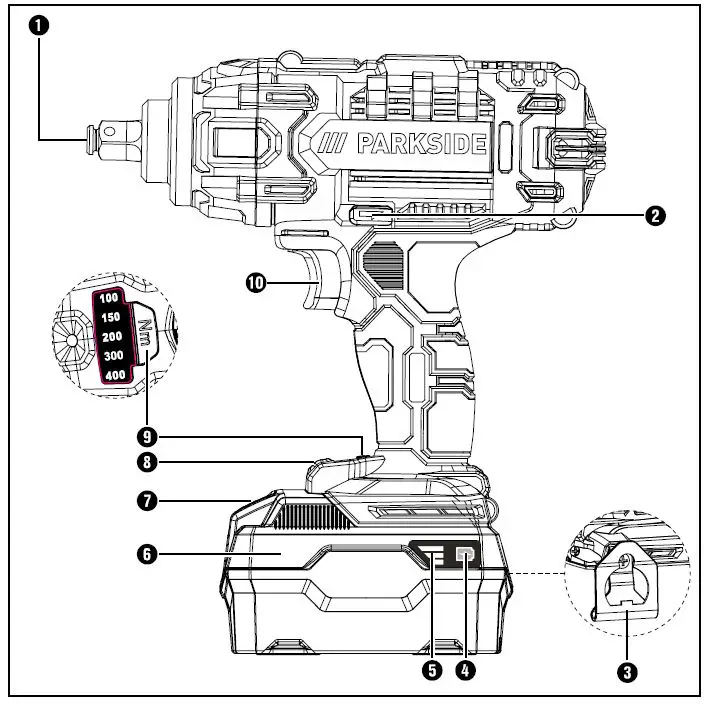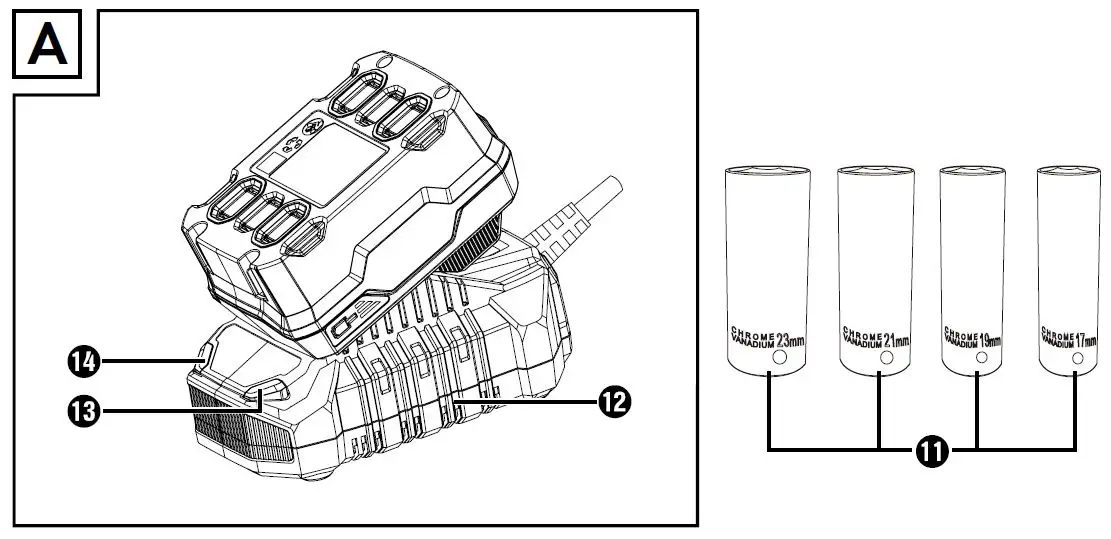 Tool holder
Rotation direction switch/lock
Belt clip
Battery charge level button
Battery display LED
Battery pack
Release button for the battery pack
LED work light
Torque preselection button
ON/OFF switch / speed control
Sockets (17/19/21/23 mm)
High-speed charger
Red charge control LED
Green charge control LED
Package contents
1 cordless vehicle impact wrench 20V
PASSK 20-Li A1
1 high-speed battery charger PLG 20 C3
1 rechargeable battery PAP 20 B3
4 sockets (17/19/21/23 mm)
1 belt clip
1 carrying case
1 set of operating instructions
Technical data
Cordless vehicle impact wrench 20V PASSK 20-Li A1
Rated voltage 20 V (DC)
Idle speed 0–2300 rpm
Rated stroke rate 0–3000 rpm
Max . torque 400 Nm
Torque selectable at 5 levels 100/150/200/ 300/400 Nm
Tool holder 1/2"
Rechargeable battery PAP 20 B3
Type LITHIUM ION
Rated voltage 20 V (DC)
Capacity 4 Ah/80Wh
Cells 10
NOTE Note that the full performance of the unit can only be achieved if the PAP 20 A3/PAP 20 B3 battery is used.
High-speed battery charger PLG 20 C3
INPUT
Rated voltage 230–240 V ∼, 50 Hz (AC)
Rated power
consumption 120 W
Fuse (internal) 3.15 A T3.15A
OUTPUT
Rated voltage 21.5 V (DC)
Rated current 4.5 A
Charging time approx. 60 min
Protection class II / (double insulation)
Noise emission value
Noise measurement value determined in accordance
with EN 62841. The A-rated noise level of the power tool is typically:
Sound pressure level LPA = 93.6 dB (A)
Uncertainty K KPA = 3 dB
Sound power level LWA = 104.6 dB (A)
Uncertainty K KWA = 3 dB
Vibration emission value
Total vibration values (vector total of three directions) determined in accordance with EN 62841:
Tightening screws and nuts of maximum permissible
size ah = 9.425 m/s2
Uncertainty K = 1.5 m/s2
Wear hearing protection!
NOTE
The vibration emission values and the noise emission values given in these instructions have been measured in accordance with a standardised test procedure and can be used for comparison of the power tool with another tool.
The specified total vibration values and the noise emission values can also be used to make a provisional load estimate.
WARNING!
Depending on the manner in which the power tool is being used, and in particular the kind of workpiece that is being worked, the vibration and noise emission values can deviate from the values given in these instruc-tions during actual use of the power tool.
Try to keep the load as low as possible. Measures to reduce the vibration load are, e.g. wearing gloves and limiting the working time. Wherein all states of operation must be included (e.g. times when the power tool is switched off and times where the power tool is switched on but running without load).
General power tool safety warnings
WARNING! Read all safety warnings, instructions, illustrations and specifications provided with this power tool. Failure to follow all instructions listed below may result in electric shock, fire and/or serious injury.
Save all warnings and instructions for future reference.
The term "power tool" in the warnings refers to your mains-operated (corded) power tool or battery-operated (cordless) power tool.
Work area safety
a) Keep work area clean and well lit. Cluttered or dark areas invite accidents.
b) Do not operate power tools in explosive atmospheres, such as in the presence of flammable liquids, gases or dust. Power tools create sparks which may ignite the dust or fumes.
c) Keep children and bystanders away while operating a power tool. Distractions can cause you to lose control.
Electrical safety
Power tool plugs must match the outlet. Never modify the plug in any way. Do not use any adapter plugs with earthed (grounded) power tools. Unmodified plugs and matching outlets will reduce risk of electric shock.
Avoid body contact with earthed or ground-ed surfaces, such as pipes, radiators, ranges and refrigerators. There is an increased risk of electric shock if your body is earthed or grounded.
Do not expose power tools to rain or wet conditions. Water entering a power tool will increase the risk of electric shock.
Do not abuse the cord. Never use the cord for carrying, pulling or unplugging the power tool. Keep cord away from heat, oil, sharp edges or moving parts. Damaged or entan-gled cords increase the risk of electric shock.
When operating a power tool outdoors, use an extension cord suitable for outdoor use. Use of a cord suitable for outdoor use reduces the risk of electric shock.
If operating a power tool in a damp location is unavoidable, use a residual current device (RCD) protected supply. Use of an RCD reduces the risk of electric shock.
Personal safety
Stay alert, watch what you are doing and use common sense when operating a power tool. Do not use a power tool while you are tired or under the influence of drugs, alcohol or medication. A moment of inattention while operating power tools may result in serious personal injury.
Use personal protective equipment. Always wear eye protection. Protective equipment such as a dust mask, non-skid safety shoes, hard hat or hearing protection used for appropriate conditions will reduce personal injuries.
Prevent unintentional starting. Ensure the switch is in the off-position before connecting to power source and/or battery pack, picking up or carrying the tool. Carrying power tools with your finger on the switch or energising power tools that have the switch on invites ac-cidents.
Remove any adjusting key or wrench before turning the power tool on. A wrench or a key left attached to a rotating part of the power tool may result in personal injury.
Do not overreach. Keep proper footing and balance at all times. This enables better control of the power tool in unexpected situations.
Dress properly. Do not wear loose clothing or jewellery. Keep your hair and clothing away from moving parts. Loose clothes, jewellery or long hair can be caught in moving parts.
If devices are provided for the connection of dust extraction and collection facilities, ensure these are connected and properly used. Use of dust collection can reduce dust-related hazards.
Do not let familiarity gained from frequent use of tools allow you to become complacent and ignore tool safety principles. A careless action can cause severe injury within a fraction of a second.
Power tool use and care
Do not force the power tool. Use the correct power tool for your application. The correct power tool will do the job better and safer at the rate for which it was designed.
Do not use the power tool if the switch does not turn it on and off. Any power tool that cannot be controlled with the switch is dangerous and must be repaired.
Disconnect the plug from the power source and/or remove the battery pack, if detachable, from the power tool before making any adjustments, changing accessories, or storing power tools. Such preventive safety measures reduce the risk of starting the power tool accidentally.
Store idle power tools out of the reach of children and do not allow persons unfamiliar with the power tool or these instructions to operate the power tool. Power tools are dangerous in the hands of untrained users.
Maintain power tools and accessories. Check for misalignment or binding of moving parts, breakage of parts and any other condition that may affect the power tool's operation. If damaged, have the power tool repaired before use. Many accidents are caused by poorly maintained power tools.
Keep cutting tools sharp and clean. Properly maintained cutting tools with sharp cutting edges are less likely to bind and are easier to control.
Use the power tool, accessories and tool bits etc. in accordance with these instructions, taking into account the working conditions and the work to be performed. Use of the power tool for operations different from those intended could result in a hazardous situation.
Keep handles and grasping surfaces dry, clean and free from oil and grease. Slippery handles and grasping surfaces do not allow for safe handling and control of the tool in unexpected situations.
Battery tool use and care
Recharge only with the charger specified by the manufacturer. A charger that is suitable for one type of battery pack may create a risk of fire when used with another battery pack.
Use power tools only with specifically designated battery packs. Use of any other battery packs may create a risk of injury and fire.
When battery pack is not in use, keep it away from other metal objects, like paper clips, coins, keys, nails, screws or other small metal objects, that can make a connection from one terminal to another. Shorting the battery terminals together may cause burns or a fire.
Under abusive conditions, liquid may be ejected from the battery; avoid contact. If contact accidentally occurs, flush with water. If liquid contacts eyes, additionally seek medical help. Liquid ejected from the battery may cause irritation or burns.
Do not use a battery pack or tool that is damaged or modified. Damaged or modified batteries may exhibit unpredictable behaviour resulting in fire, explosion or risk of injury.
Do not expose a battery pack or tool to fire or excessive temperature. Exposure to fire
or temperature above 130 °C (265°F) may cause explosion.
Follow all charging instructions and do not charge the battery pack or tool outside the temperature range specified in the instructions. Charging improperly or at temperatures outside the specified range may damage the battery and increase the risk of fire.
CAUTION! RISK OF EXPLOSION! Never charge non-rechargeable batteries!
Protect the rechargeable battery from heat, for example from continuous exposure to sunlight, fire, water and moisture. There is a risk of explosion.
Service
Have your power tool serviced by a qualified repair person using only identical replacement parts. This will ensure that the safety of the power tool is maintained.
Never service damaged battery packs.
Service of battery packs should only be performed by the manufacturer or authorized service providers.
Safety instructions specifically for impact screwdrivers
Wear hearing protection when impact screwing. Exposure to loud noise can lead to hearing loss.
Secure the workpiece! A workpiece securely held by a clamping device or vice is much safer than one held in your hand.
Hold the power tool firmly. High torques can occur for brief periods while tightening and loosening screws.
Wait until the power tool has come to a stand-still before putting it down. The tool can jam, this leading to loss of control of the power tool.
Hold the power tool by the insulated gripping surfaces, when performing an operation where the screw could come into contact with hidden wiring. Contact between the screw or attached tool and a live wire may cause exposed metal parts of the power tool to become live and give the operator an electric shock.
Safety guidelines for battery chargers
This appliance may be used by children aged 8 years and above and by persons with limited physical, sensory or mental capabilities or lack of experience and knowledge, provided that they are under super-vision or have been told how to use the appliance safely and are aware of the potential risks. Do not allow children to use the appliance as a toy. Cleaning and user maintenance tasks must not be carried out by children unless they are supervised.
The charger is suitable for indoor use only.
ATTENTION!
This charger can only charge the follow-ing batteries: PAP 20 A1/PAP 20 A2/PAP 20 A3/PAP 20 B1/PAP 20 B3.
A current list of battery compatibility can be found at www.lidl.de/Akku
WARNING!
To avoid potential risks, damaged mains cables should be replaced by the manufacturer, their customer service department or a similarly qualified person.
Original accessories/auxiliary equipment
Use only accessories and auxiliary equipment specified in the operating instructions and which are compatible with the appliance.
WARNING! Do not use any accessories which are not recommended by PARKSIDE. This can lead to an electric shock and fire.
Before use
Charging the battery pack (see fig. A)
CAUTION! Always pull out the power plug before you remove the battery pack from or connect the battery pack to the charger.
NOTE:
Never charge the battery pack if the ambient temperature is below 10°C or above 40°C. If a lithium-ion battery is to be stored for an extended period, the charge level should be checked regularly. The optimum charge level is between 50% and 80%. The storage climate should be cool and dry and the ambient temperature should be between 0°C and 50°C.
Connect the battery pack 6 to the high-speed battery charger 12 (see Fig. A).
Insert the power plug into the socket. The control LED 13 lights up red.
The green LED 14 indicates that the charging process is complete and the battery pack 6 is ready for use.
CAUTION!
If the red control LED 13 flashes, this means that the battery pack 6 has overheated and cannot be charged.
If the red and green control LEDs 13 14 both flash, this means that the battery pack 6 is defective.
Push the battery pack 6 back into the appliance.
Switch off the charger for at least 15 minutes between successive charging sessions. Also disconnect the power plug from the mains power socket.
Attaching/disconnecting the battery pack to/from the appliance
Attaching the battery pack
Push the rotation direction switch 2 into the middle position (lock). Push the battery pack 6 into the handle until it clicks into place.
Removing the battery pack
Press the release button 7 and remove the battery pack 6.
Checking the battery charge level
Press the battery charge level button 4 to check the status of the battery (see also main diagram).
The status/remaining charge will be shown on the battery display LED 5 as follows:
RED/ORANGE/GREEN = maximum charge RED/ORANGE = medium charge
RED = low charge – charge the battery
Use
Switching on and off
Switching on
To start the appliance, press the ON/OFF switch 10 and keep it pressed in.
The LED working light 8 lights up when the ON/OFF switch 10 is depressed lightly or fully. This provides illumination of the work area in poor lighting conditions.
Switching off
Release the ON/OFF switch 10 to switch off the appliance.
Setting/preselecting the rotation speed/tightening torque
Press the torque preselection button 9 to select the required torque in stages.
Press the ON/OFF switch 10 lightly for a low speed/tightening torque. Increasing the pres-sure increases the speed/tightening torque.
The tightening torque depends on the selected speed/torque preselection and impact duration.
NOTE
However, to tighten lug nuts, the smallest torque setting must be selected to avoid over tightening.
The integrated motor brake ensures rapid stoppage.
CAUTION! The tightening torque actually attained must always be checked with a torque wrench!
Changing the direction of rotation
Change the direction of rotation by pressing the rotation direction switch 2 towards the left or right.
Fitting the socket
Push one of the supplied sockets " onto the tool holder 1.
Maintenance and cleaning
WARNING! RISK OF INJURY! Always switch off the appliance and remove the battery before carrying out any work on the appliance.
The appliance is maintenance-free.
The appliance must always be kept clean, dry and free from oil or grease.
Never allow liquids to get into the appliance.
Use a soft, dry cloth to clean the housing. Never use petrol, solvents or cleansers which can damage plastic.
If a lithium-ion battery is to be stored for an extended period, the charge level should be checked regularly. The optimum charge level is between 50% and 80%. The optimum storage environment is cool and dry.
NOTE: Replacement parts not listed (such as carbon brushes, switch) can be ordered via our service hotline.
Disposal

The packaging is made from environmentally friendly material and can be disposed of at your local recycling plant.

Do not dispose of power tools in your normal domestic waste!
European Directive 2012/19/EU requires that worn-out power tools be collected separately and recycled in an environmentally compatible manner.

Do not dispose of batteries in your normal household waste!
Remove the batteries from the appliance before disposal. Defective or worn-out rechargeable batteries must be recycled according to Directive 2006/66/EC. Take the battery pack and/or appliance to a nearby collection facility.
Please consult your local authorities regarding suitable disposal of worn-out power tools/battery packs.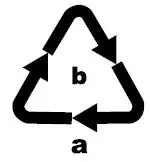 Dispose of the packaging in an environmentally friendly manner. Note the labelling on the packaging and separate the packaging material components for disposal if necessary. The packaging material is labelled with abbreviations (a) and numbers (b) with the following meanings:
1–7: plastics, 20–22: paper and cardboard, 80–98: composites.

Your local community or municipal authorities can provide information on how to dispose of the worn-out product.
Kompernass Handels GmbH warranty
Dear Customer,
This appliance has a 3-year warranty valid from
the date of purchase. If this product has any faults, you, the buyer, have certain statutory rights. Your statutory rights are not restricted in any way by the warranty described below.
Warranty conditions
The warranty period starts on the date of purchase. Please keep your receipt in a safe place. This will be required as proof of purchase.
If any material or manufacturing fault occurs within three years of the date of purchase of the product, we will either repair or replace the product for you or refund the purchase price (at our discretion). This warranty service requires that you present the defective appliance and the proof of purchase (receipt) within the three-year warranty period, along with a brief written description of the fault and of when it occurred.
If the defect is covered by the warranty, your product will either be repaired or replaced by us. The repair or replacement of a product does not signify the beginning of a new warranty period.
X 12 V and X 20 V Team Series battery packs come with a 3-year warranty valid from the date of purchase.
Warranty period and statutory claims for defects
The warranty period is not prolonged by repairs effected under the warranty. This also applies to replaced and repaired components. Any damage and defects present at the time of purchase must be reported immediately after unpacking. Repairs carried out after expiry of the warranty period shall be subject to a fee.
Scope of the warranty
This appliance has been manufactured in accordance with strict quality guidelines and inspected meticulously prior to delivery.
The warranty covers material faults or production faults. The warranty does not extend to product parts subject to normal wear and tear or to fragile parts which could be considered as consumable parts such as switches or parts made of glass.
The warranty does not apply if the product has been damaged, improperly used or improperly maintained. The directions in the operating instructions for the product regarding proper use of the product are to be strictly followed. Uses and actions that are discouraged in the operating instructions or which are warned against must be avoided.
This product is intended solely for private use and not for commercial purposes. The warranty shall be deemed void in cases of misuse or improper handling, use of force and modifications/repairs which have not been carried out by one of our authorised Service centres.
The warranty period does not apply to
Normal reduction of the battery capacity over time
Commercial use of the product
Damage to or alteration of the product by the customer
Non-compliance with safety and maintenance instructions, operating errors
Damage caused by natural hazards
Warranty claim procedure
To ensure quick processing of your case, please observe the following instructions:
Please have the till receipt and the item number (e.g. IAN 12345) available as proof of purchase.
You will find the item number on the type plate on the product, an engraving on the product, on the front page of the operating instructions (below left) or on the sticker on the rear or bottom of the product.
If functional or other defects occur, please contact the service department listed either by telephone or by e-mail.
You can return a defective product to us free of charge to the service address that will be provided to you. Ensure that you enclose the proof of purchase (till receipt) and information about what the defect is and when it occurred.
You can download these instructions along with many other manuals, product videos and installation software at www.lidl-service.com
WARNING!
Have the power tool repaired by the service centre or a qualified electrician and only using genuine replacement parts. This will ensure that the safety of the appliance is maintained.
Always ensure that the power plug or the mains cable is replaced only by the manufacturer of the appliance or its customer service. This will ensure that the safety of the appliance is maintained.
Service
Service Great Britain
Tel.: 0800 404 7657
E-Mail: [email protected]
Importer
Please note that the following address is not the service address. Please use the service address provided in the operating instructions.
KOMPERNASS HANDELS GMBH BURGSTRASSE 21
44867 BOCHUM
GERMANY
www.kompernass.com
Translation of the original Conformity Declaration
We, KOMPERNASS HANDELS GMBH, document officer: Mr Semi Uguzlu, BURGSTR. 21,
44867 BOCHUM, GERMANY, hereby declare that this product complies with the following standards, normative documents and EC directives:
Machinery Directive
(2006/42/EC)
EC Low Voltage Directive (charger only)
(2014/35/EU)
EMC (Electromagnetic Compatibility)
(2014/30/EU)
RoHS Directive
(2011/65/EU)*
* The manufacturer bears full responsibility for compliance with this conformity declaration. The object of the declaration described above complies with the requirements of the Directive 2011/65/EU of the European Parliament and Council of 8 June 2011 on the limitations of use of certain dangerous substances in electrical and electronic appliances.
Applied harmonised standards
EN 62841-1:2015
EN 62841-2-2:2014
EN 60335-1:2012/A2:2019
EN 60335-2-29:2004/A11:2018
EN 62233:2008
EN 55014-1:2017
EN 55014-2:2015
EN IEC 61000-3-2:2019
EN 61000-3-3:2013/A1:2019
EN 50581:2012
Type/appliance designation: Cordless vehicle impact wrench 20V PASSK 20-Li A1
Year of manufacture: 01–2021
Serial number: IAN 354238_2010
Bochum, 18/01/2021
Ordering a replacement battery
If you want to order a replacement battery for your appliance, you can do so easily via the Internet on www.kompernass.com or by telephone.
Due to limited stocks, this item may sell out in a relatively short time.
NOTE Online ordering of replacement parts is not possible in all countries. In this case, please contact the Service hotline.
Telephone ordering
Service Great Britain Tel.: 0800 404 7657
To ensure that your order is processed swiftly, have the article number of your appliance to hand (e.g. IAN 354238) in case of questions. The article number can be found on the type plate or the title page of these instructions.