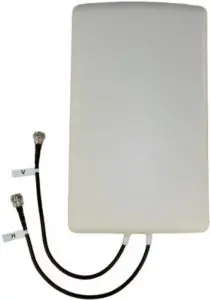 proxicast 4G/LTE Cross-Polarized Panel Antenna User Guide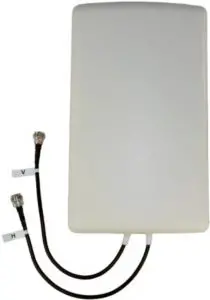 Ordering Information
Part No. ANT-129-001
Description: Proxicast 4G/LTE CrossPolarized (MIMO) 7-10 dBi Fixed-Mount Panel Antenna
Applications
High Gain Directional Signal Enhancement
4G/LTE Modems, Routers & Hotspots
Poor Signal Coverage Areas
Indoor or Outdoor Use
Home / Office / Commercial Installations
Product Features
Cross-Polarized MIMO Elements for Improved Signal Quality & Performance
Wide Beamwidth for Easy Positioning
Weatherproof, Compact & Light-weight
N Female Connectors
Pole or Wall Mountable
Compatible with all 4G/LTE Networks
Compatible with most 4G/LTE Modems/Routers
General Description
Proxicast's dual polarized directional LTE MIMO antenna is ideal for signal enhancement in virtually any cellular application.
It is compatible with all 3G and 4G/LTE data services from Verizon, AT&T, Sprint, T-Mobile, Bell Mobility, Rogers, Telus and most other cellular operators worldwide.
The antenna incorporates two separately fed ultra wideband elements in a single housing which focus radio energy into a 75 degree beam enabling connection to distant cell towers. The elements are set at 45 degree angles to provide cross-polarized multiple input / multiple output (MIMO) connectivity for LTE radio equipment resulting in higher performance.
With appropriate adapter cables (not included), this antenna is compatible with cellular modems, hotspots and routers from Cisco, Cradlepoint, Digi, Pepwave, Proxicast, Sierra Wireless and others.
The antenna's compact, light-weight rugged housing, heavy duty mounting hardware and corrosion-resistant materials make it ideal for outdoor applications including building rooftops, utility poles, or surveillance trailers.
Electrical Specifications
Parameter
Rating
Frequency Range

698~960 MHz
1710~2170 MHz

Peak Gain
7 -10 dBi frequency dependent
Beam Width Horizontal
70° / 75°
Beam Width Vertical
75° / 60°
VSWR
≤1.8:1
Input Impedance
50 Ohm
Polarization
Vertical + Horizontal @ ±45° (90° relative)
Max Input Power
50 W
Ground Plane
Not Required
DC Grounded
No
Mechanical Specifications
Parameter
Rating
Connector Type
2x N Female (jack)
Cable Length
12 in (300mm) RG58U low-loss coax
Mounting
Pole or Wall – Pole Mounting Bracket included 1.2 in min, 2.0 in max dia pole (30 – 50 mm)
Dimensions
11.8 x 7.2 X 2.75 in (300 x 183 x 70 mm)
Materials

Radome: UV stabilized ABS plastic Connector: Brass
Mounting: Aluminum / Stainless
U-Bolts: Hot Dipped Galvanized Steel

Antenna Color
Ivory
Weight
1.4 lb (0.64 kg) excluding mounting hardware
Operating Temperature
-40°C to +60°C
Operation of this device outside the parameter ranges given above may cause permanent damage.
Radiation Patterns
| | |
| --- | --- |
| Horizontal (Azimuth) Plane | Vertical (Elevation) Plane |
| 698 MHz | |
| 2170 MHz | |
| 2700 MHz | |
Additional Product Images
Installation Instructions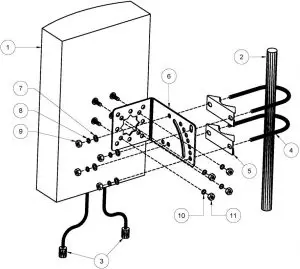 Antenna
Pole (Not included)
N Female Connector
M8 U Bolt (x2)
Clamp (x2)
Pole Mounting Plate
M5 X 10mm OD Flat Washer (x4)
M5 x 8mm OD Lock Washer (x4)
Nut (x4)
M5 x 8mm OD Lock Washer (x4)
Nut (x4)
Directional Antenna Installation Tips
Determine location of nearest cell tower for your carrier (see opensignal.org or cellreception.com).
Orient antenna so cables point downward.
Mount antenna to 2.0 inch max diameter mast or to wall as high as possible.
Point antenna toward cell tower.
Point away from:

other antennas
trees & buildings
large vertical metal or concrete objects

Adjust antenna position left/right and up/down tilt to find optimal signal.
Keep coax lead cable as short as possible & weatherproof all outdoor connectors.
Observe safety codes regarding lightning protection, grounding, and mast height.
Contact Information
For the latest specifications, additional product information, worldwide sales and information about Proxicast:
Web: www.proxicast.com
Tel: 1-877-777-7694
Email: [email protected]
Call: 1-412-213-2477
Proxicast
312 Sunnyfield Drive, Suite 200
Glenshaw, PA 15116 USA
For technical questions and application information:
Email: [email protected]
Important Notice
The information contained herein is believed to be reliable. Proxicast makes no warranties regarding the information contained herein. Proxicast assumes no responsibility or liability whatsoever for any of the information contained herein.
Proxicast assumes no responsibility or liability whatsoever for the use of the information contained herein. The information contained herein is provided "AS IS, WHERE IS" and with all faults, and the entire risk associated with such information is entirely with the user. All information contained herein is subject to change without notice.
The information contained herein or any use of such information does not grant, explicitly or implicitly, to any party any patent rights, licenses, or any other intellectual property rights, whether with regard to such information itself or anything described by such information. Proxicast products are not warranted or authorized for use as critical components in medical, life-saving, or life-sustaining applications, or other applications where a failure would reasonably be expected to cause severe personal injury or death.
© Copyright Proxicast, LLC. All rights reserved.
Visit: www.proxicast.com
Call: 1-877-777-7694