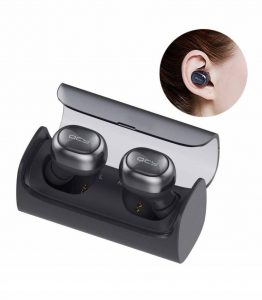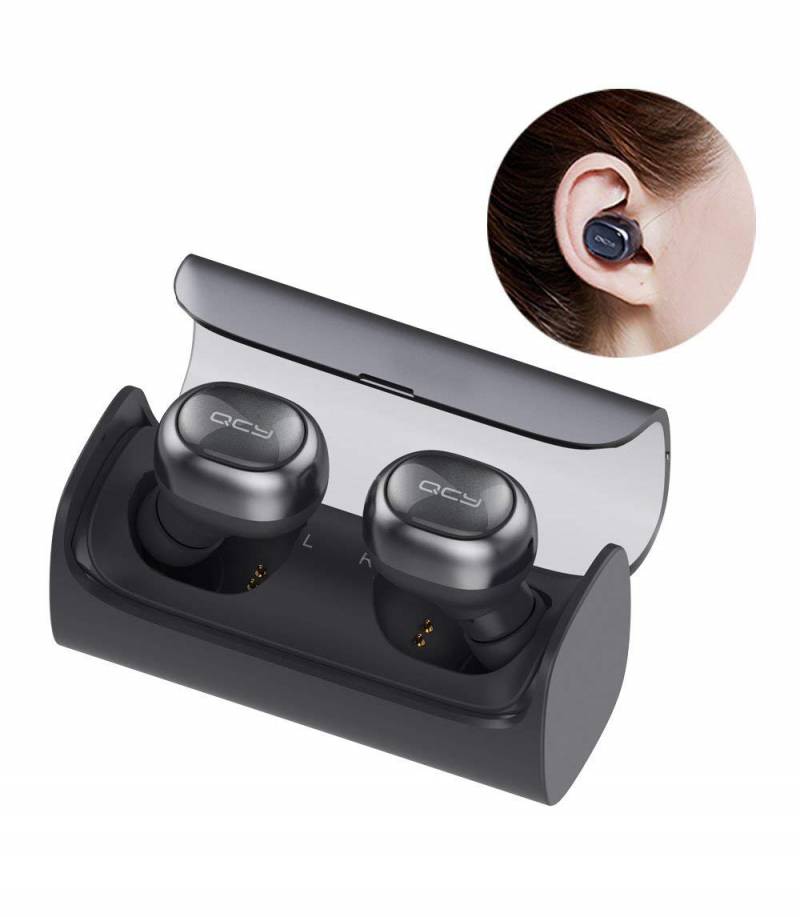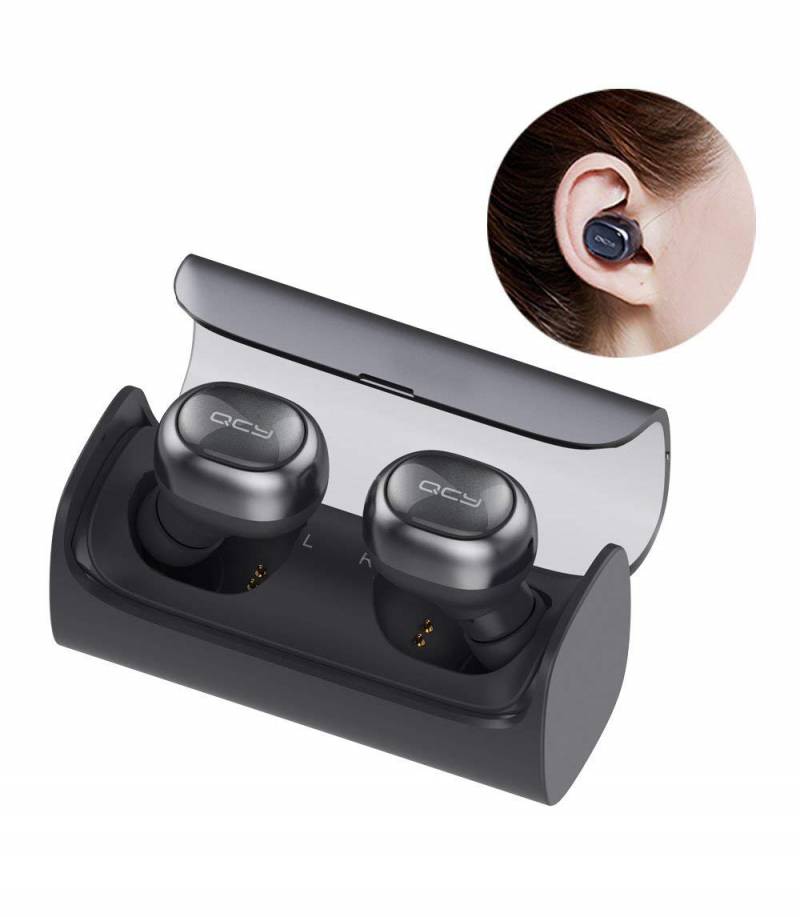 QCY
TWS Bluetooth Earphones
Model: QCY-Q29
Startup
A. Pick up and assemble one among them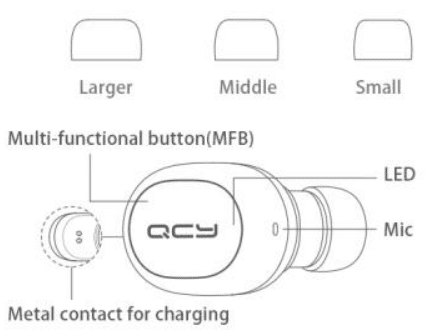 Middle size ear tip is suggested to try first as It suits most people
B. How to wear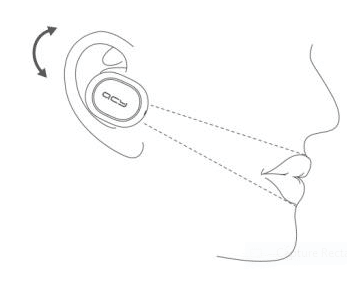 Adjust its end towards mouth
Mono Mode – Manual Pairing
(Mono Mode either of the two units can be used Independently)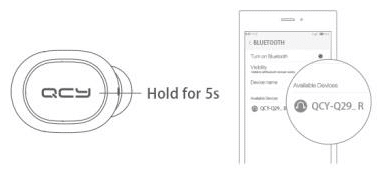 Main unit(R) will enter pairing mode once switched on (red and white Indicator lashes slowly) Hold MFB for is and Auxiliary unit(L) will enter pairing mode(red and white indicator Hashes slowly) Activate Bluetooth function on the phone, search and touch the pairing name to connect Pairing name: Left earphone(QCY-Q29L) Right earphone (OCY-Q29_R)
Stereo Mode -Maiden Using
(Stereo Mode: Connect the two units In series then use them as a pair of stereo earphone)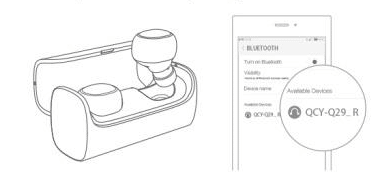 'fear off the stickers of both un s, then put the units Into the charging dock activating hem.
Get the main one out of the doc ,turn on cellphone's Bluetooth facility to search for QCY-029_R and touch It to connect
Pull the auxiliary unit(L) up then move the unit approaching the main one
Stereo Mode -Manual Pairing
(When the two units fail to pair with each other)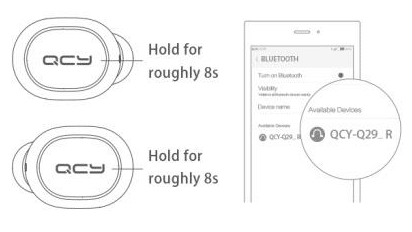 Pair the main unit(R) with cellphone at first
Turn the main one off when the process 1 is done successfully
Hold QCY button sof both unhurt. white indicator are on
Wait them to connect with each other
Stereo Mode – Manual Pairing(Alternative)
1. Take two units out and peel away their stickers. In power-off status, hold MFBs of the two units for 8s to enter pairing mode(white light is on constantly). Then, two units will be paired automatically in approximately 5s. At Met, switch off the main unit(P) and the auxiliary unit(l) will be turned off automatically.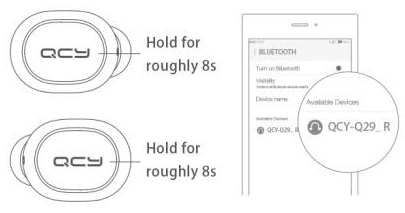 2. Hold MFB of the main unit(P) for 5s to enter searching mode(red and white light blinks alternately). Then turn on Bluetooth facility on cellphone to search for "(10,02g _R' and touch It to pair.
3. Switch on the auxiliary unit(3) by holding Its MFB for 3s( white light blinks). Approach it to the main unit(B). Then, both units will be paired with each other automatically In
Notes: If the main unit (PI have been connected with a Bluetooth device butte auxiliary unit(L)can not be connected with the main unit(13)automatically(two units fall to connect with each other), please switch off both of them then hold their MFBs together for appropriately Be to enter pairing mode.
Charging
Red Indicator will flash with voice prompt to imply the condition of low battery (White light Is on to show charging status while off, full charged)
Note: Red Light will flash when the earphone is inserted in the dock which means the connection works well.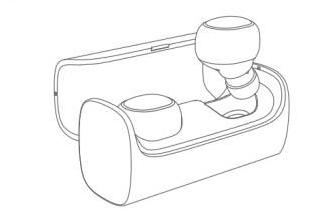 Put the units inside (charging contacts should be set Properly)
Charging for the Dock
Red indicator will be on when the dock Is charging, When it is full charged, blue indicator will be on instead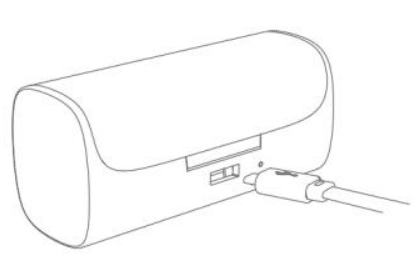 Charge It by USB cable
Mono Mode
Power-on
Hold MFB for roughly 3s(white light will be on) If the unit is charging in the dock, it will be activated whenever you take it out

Power-off
Hold MFB for roughly 3s(red light will be on)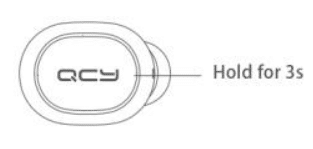 Reject a call
Hold MFB for is to reject an incoming call

Answer a call
Press MFB to answer an incoming call Press it again to end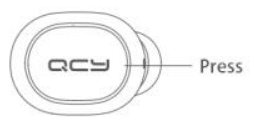 Redial
The last outgoing call Double press ME8 during stand-by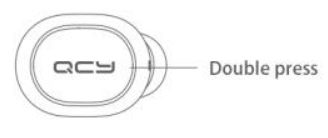 Mute
Double press MFR when you are on the call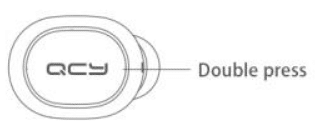 Three-way Talking
Activate call waiting facility on your phone(for more details please refer your phone's manual).
Whenever you are on the phone and there is an incoming call at the same time, please press MFB to answer the second one.
Supposing you have two incoming calls at the same time, the first one is talking while the second is holding, you may switch their statuses by double pressing MFB.
Pause/Resume Press
MFB to nausea resume when single unit is connected with cellphone.
Voice Control
Hold MFB for is to activate voice assistant.ilike Sid)
Switch Voice between Earphone and Cellphone Hold MFB for 1s to switch during calling.
Re-connection with cellphone in mono mode When single unit is power-of-tat first switch it on(white light Is on) then press MFB to re-connect with the last cellphone once connected(the unit has to be connected before)
Stereo
Mode Power-on Hold MPH for roughly 3s(white light will be on) If the units are charging In the dock, they will be activated whenever you take them out
Power-off
Two units are in series connection while the main unit(R) is connected with cellphone, hold MFB of either of them for about 4s, they will be switched off at the same time (red lights are on)
Media Sharing between two Units
Two units are in series connection while the main unit(R) is connected with cellphone, press MFB of either of them to play or pause music and you can enjoy songs by both units together Note: Only the main unit(R) is available to answer a call
How to Connect Units in Series and Share Media
When the main unit(R) Is charging In the dock, It will be activated and re-connect with cellphone by itself soon as you take It out from the dock. Pull the auxiliary unit(L) up and It will be tumed on and re-connect with the main unIt(R).
Suppose that two units fail to connect with each other, connect the main unit(R) with cellphone and play music then press MFB of the main unit)R) three times so as to re-connect It with the auxiliary unit(1).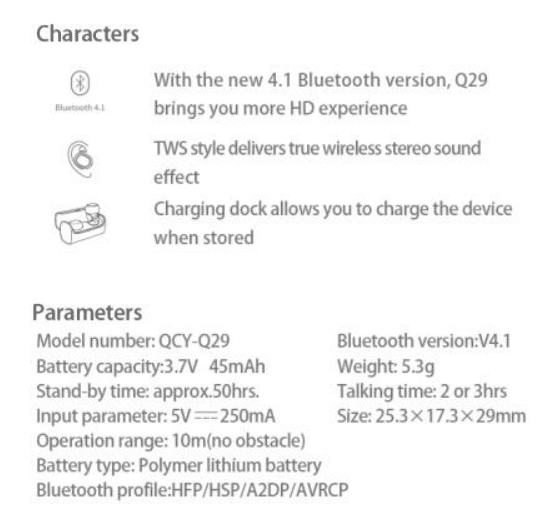 After Service and Support
Warranty period:
12 months following the purchase date.
Free service:
Under warranty, if there is any breakdown caused by manufacturing defects, please contact our dealers to enjoy free maintenance. You will always need this Warranty Card and your receipt or other proof of purchase to claim warranty
Free maintenance won' t be available under the followingcircumstances:
Without Warranty Card or intact maintenance label.
Damage caused by Improper disassembly or repair.
Damage resulting from liquid or dropping, and other artiflcialmechanical defects
Damage caused by any force majeure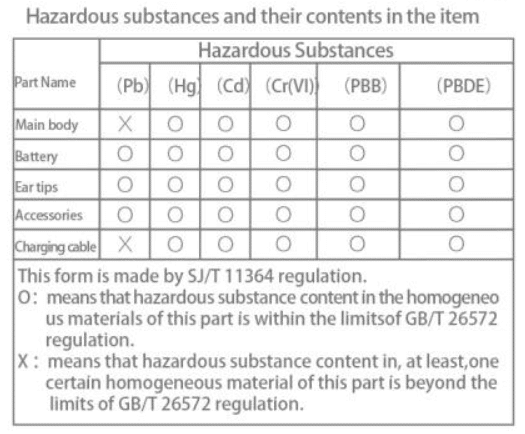 Lifespan:
As the booklet states, the eco-Iffespan of the item is 5 years while using It in normal ways. During the period, no dangerous material will be leaked. The item mustberecyded bythelocal law.
Tips
Before using the headset, please read the manual carefully and keep it for future references.
The headset need to be fully charged prior to first-time
If the headset is left unused for over two weeks, please recharge it periodically.
Please use the chargers made by qualified manufacturer.
1f the headset cannot be found by your phone, please check whether it is in pairing mode; if left unconnected for a long while, the headset will exit pairing mode, please re-enter the mode; If a procedure error of your phone occurs, reboot it; if a procedure error of the headset occurs, reboot or reset it.
If the two units can not connect with each other automatically when switched on. Please hold the MFB of both units until the white light Is on then move them approaching each other and wait for the connection completed.
Caveats
Never disassemble or modify your headset for any reasons to avoid any damages and danger.
Do not store the headset In extreme temperatures (under 0°C or over 45°C).
Avold using the indicator dose to the eyes of children or animals.
Do not use this headset during a thunderstorm to avoid Irregular function and increased risk of electric shock.
Do not use harsh chemicals or strong detergents to clean the headset.
Keep the headset dry.
Notes: Please arrange using time properly since your hearing may be damaged by using the device for a long time.
For any after service, please contact QCY customer-service
Perform standard: Q/HL 1-2016
Web: www.qcybluetooth.corn
Manufacturer. Dongguan Hele Electronics Co., Ltd.
Address: Dalingya Industrial Zone, Daojlao Town. Dongguan City, Guangdong ProWnce(QCY Environmental Zone,Dayaling No.S, Yuehui Road)