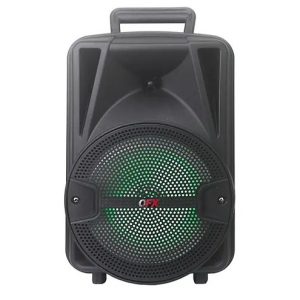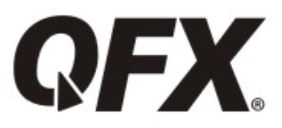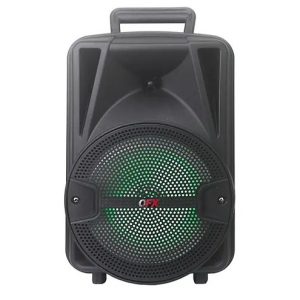 QFX BT-87 Portable Speaker
BACK PANEL
Power / VOLUME – & +
Charging Indicator
RED = Charging
Light off = Fully Charged
DC interface (5V)
MODE/LED.SW (Long press to turn on/off light; Lightly press to enter into selection for Bluetooth, FM Radio, AUX Input, USB)
Next track
Play/Pause & TWS (Wireless Bluetooth Connection: under Bluetooth mode, press TWS button for around 3 seconds to pairing another TWS speaker; Under FM mode, lightly press Play/Pause & TWS to enter into automatic scan and all the scanned radio stations will be saved automatically.)
Previous track
AUX input
USB input
MIC input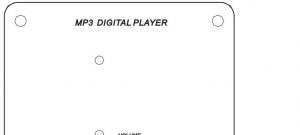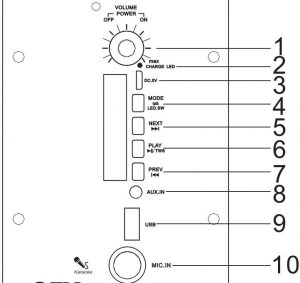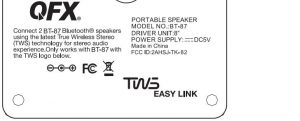 POWER SOURCE
Please charge the unit at least 4 hours before first time using.
Twist the dial clock wise fanticlockwise to switch on/off the unit.
CHARGE THE BATTERY
When the battery is charging, the CHARGE STATUS lights shows on the LED display is red.
After the battery has fully charged, the light turns off.
Connect the USB charge cable to the DC5V interface of the speaker firmly.
When the battery is fully charged, please disconnect the USB charge cable from the speaker.
The speaker works normally when charging.
POWER / VOLUME
Twist the dial clockwise fanticlockwise to increase / decrease the volume.
PREVIOUS / NEXT BUTTON
Under playing status, press PREVIOUS/NEXT button to get back to a previous or next song.
PAUSE/PLAY BUTTON
To stop playing the current track, please press PAUSE / PLAY button on the control panel.
Press it once again to continue playing.
MODE/LED.SW
Long press to tum on/off light. Lightly press to enter into playing mode selection
(Bluetooth, FM Radio, AUX Input, USB).
AUX IN JACK
Connect an audio cable to the AUX IN JACK of the speaker and to the audio output socket on the external audio devices such as MP3 player, discman, etc, then select LINE by pressing the MODE/LED.SW button on the control panel.
Play from an external audio device.
MIC IN JACK
Plug in microphone directly for playing.
USB JACK
Insert USB card directly for playing.
FM FUNCTION
Lightly press MODE/LIGHT button to switch to FM mode. Press PLAY/PAUSE button on control panel for automatic searching and saving the radio stations, by pressing PREVIOUS or NEXT you can select a previous or next radio station.
Bluetooth:
Lightly press MODE/LIGHT button on control panel to select Bluetooth mode. Simultaneously open the Bluetooth setting on your phone, tablet or any other Bluetooth enabled audio device and select "BT-87" (no need to match code),the unit and device will then connected via Bluetooth. Press the "NEXT SONG" and "PREVIOUS SONG" button on the control panel to select the song, press "PLAY / PAUSE" button to control the playing status.
TWS (TRUE WIRELESS STEREO) PARING 2 BT-87
Step 1 : Push the Mode button on both speaker until both speaker are in Bluetooth Mode. Display will show Bluetooth.
Step 2: When both speakers are in Bluetooth Mode. Push and hold the TWS button one of the
speakers for 3 seconds. You will hear a beep. The speakers will connect together. Next time you put both speakers in Bluetooth mode at the same time, they will connect automatically.
Step 3: On your Bluetooth settings on your device, find "QFX BT-87". If your TWS speaker paring was successful you should only see one ·aFX BT-87″ to choose from.
Select the "FX BT-87". Enjoy True Wireless Stereo (TWS) sound from your phone via Bluetooth.