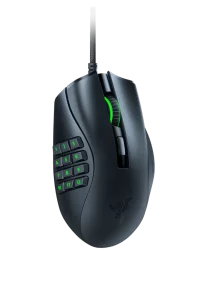 Razer Naga X Support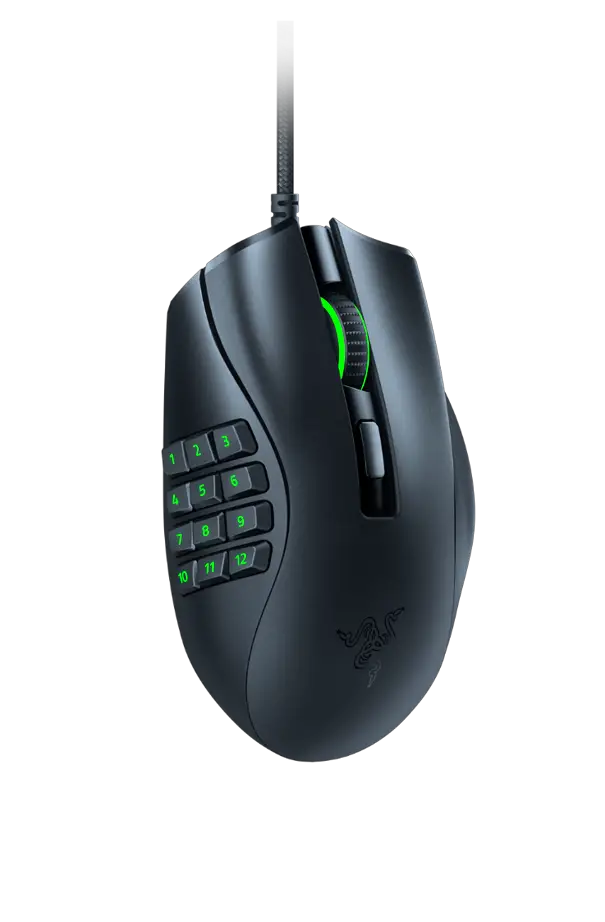 FAQ
At a Glance: Razer Naga X
Adapt & conquer. The Razer Naga X is an Ergonomic MMO gaming mouse with 16 programmable buttons designed for extended control. Whether you're mapping out the essentials or going all out with advanced macros, have all the commands you need at your fingertips and enjoy a degree of control that's tailor-made for any situation.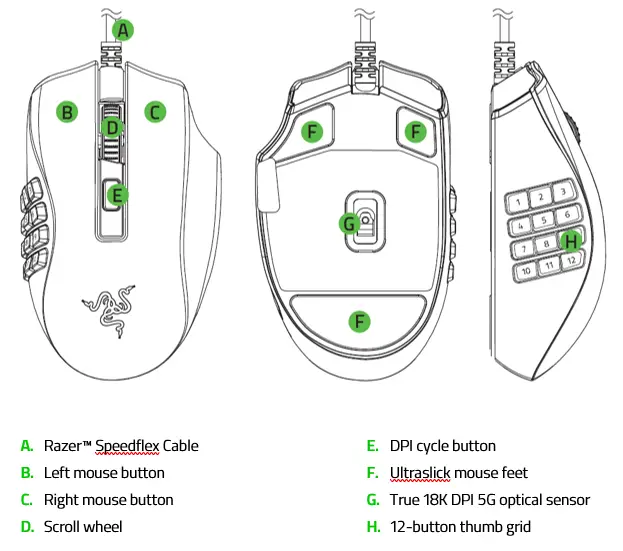 Device Layout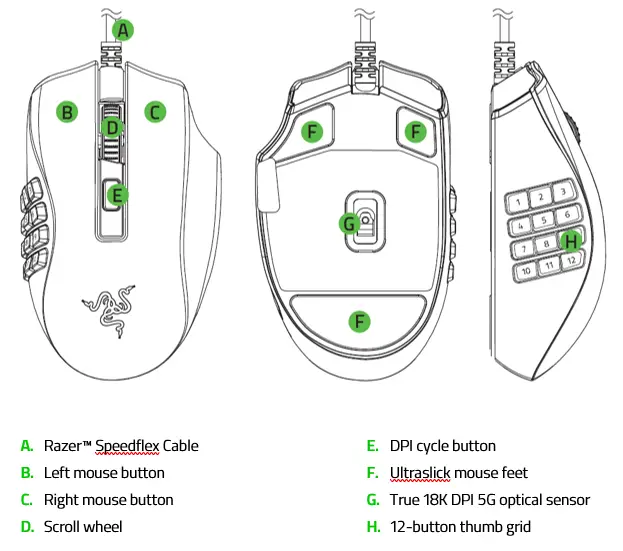 Full Technical Specifications
Sensitivity
True 18,000 dpi Razer 5G optical sensor with 99.4% resolution accuracy
Acceleration
Up to 450 inches per second (IPS) / 40 G acceleration
Ultrapolling
1000 Hz polling rate
Razer Synapse Support
Razer Synapse 3 enabled
On-the-Fly Sensitivity Adjustment
On-The-Fly Sensitivity Adjustment (Default stages: 400/800/1600/3200/6400)
Storage
On-board DPI and keymap storage
Design Factor
Ergonomic right-handed design
Approx. Dimensions

L: 4.69 in / 119 mm
W: 2.93 in / 74 mm
H: 1.69 in / 43 mm

Approx. Weight
3 oz / 85 g
(Excluding cable)
Gaming Console Compatibility
Compatible with Xbox One for basic input
Programmable Buttons
16 independently programmable buttons
Cable Type
Razer™ Speedflex cable 6 ft / 1.8 m
Razer Mechanical Switches
Razer™ Optical Mouse Switches rated for 70 million clicks
Scroll Type
Gaming-grade tactile scroll wheel
What kind of mouse is the Razer Naga X?
The Razer Naga X is an MMO gaming mouse that is capable of mapping out essential commands or even advanced macros to provide an extended control over your gaming.
What kind of sensor does the Razer Naga X have?
The Razer Naga X is equipped with 18,000 DPI Razer™ 5G Optical Sensor with 99.4% resolution accuracy.
What is the difference between the Razer Naga X's switch against other Razer Mice?
The Razer Naga X is equipped with a 2nd-gen Razer™ Optical Mouse Switch. Every click is actuated at 0.2ms with no debounce delay to give you quick, clean execution for up to 70 million clicks—a faster, more durable design that eliminates unintended double-clicking issues.
Will my Razer™ Naga X work on a console?
The Razer Naga X is compatible with Xbox One for basic input.
How many buttons can I program with the Razer™ Naga X?
The Razer Naga X has 16 independent and programmable buttons which can be programmed with various functions from basic controls to complex macros.
How To
How to register the Razer™ Naga X?
To register your Razer mouse, take note of the serial number found at the bottom of the device and input it in razerid.razer.com.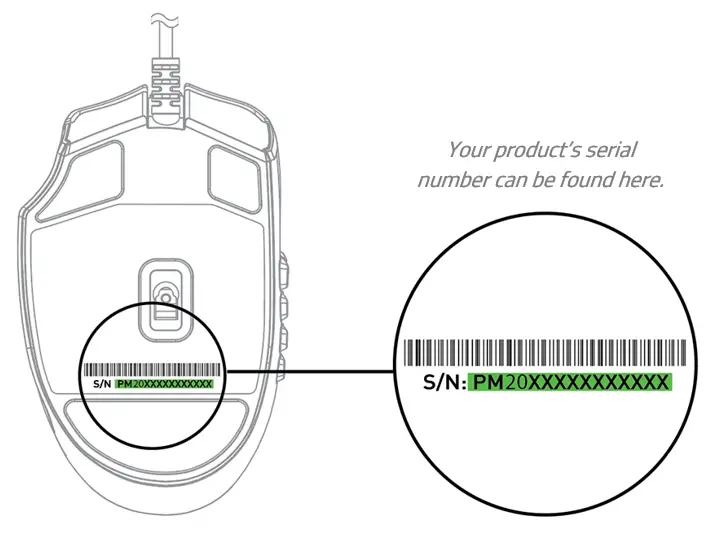 How to enable On-the-Fly Sensitivity on the Razer Mouse
On-the-Fly Sensitivity is one of the Razer Mouse' sensitivity features which enables the gamers to adjust their DPI level instantly without the need of opening Razer Synapse. With this feature, you can adjust your DPI with the similar effect as a DPI slider, in which the DPI increases or decreases by increments of 50, instead of the normal increments per sensitivity stage.
How to set-up On-the-Fly Sensitivity:
Open Razer Synapse 3 and click on your mouse.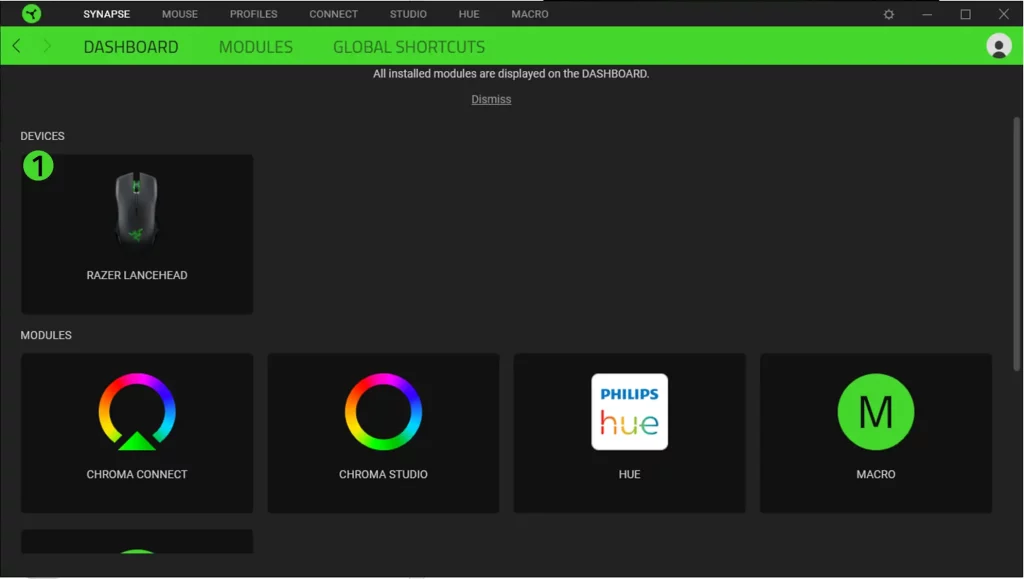 Once you're on the mouse window, go to "CUSTOMIZE" Tab.
Select the button you wish to program with the "Cycle Up/Down Sensitivity stages feature and click on it.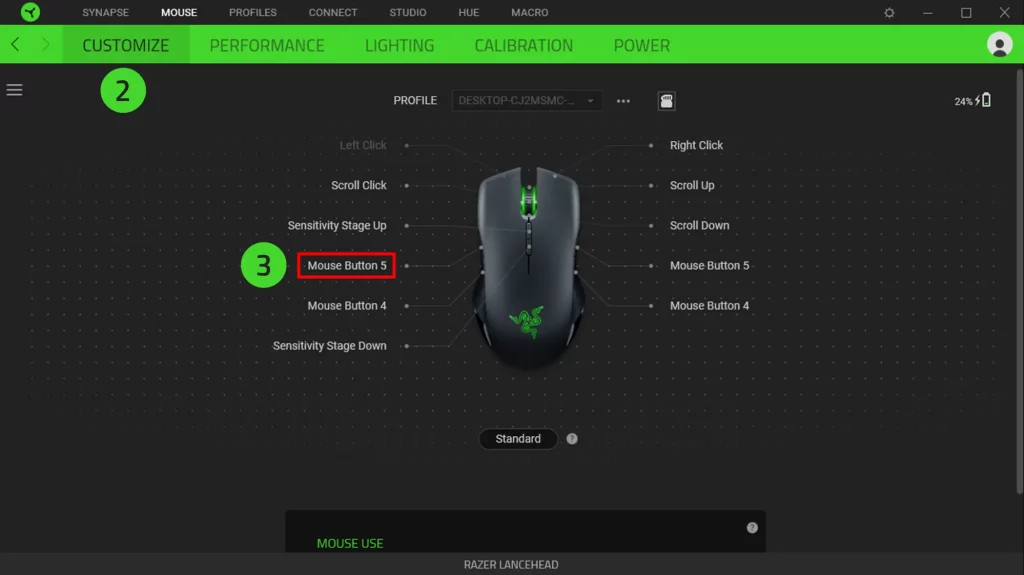 Customization options will appear on the left side of the window. Click on "SENSITIVITY".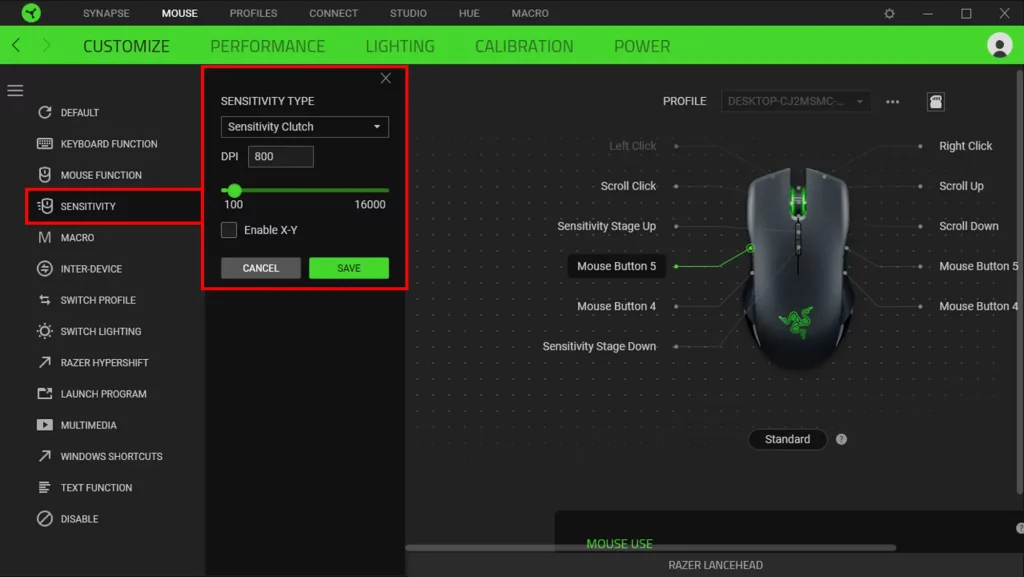 Open the dropdown box and select "On-the-Fly Sensitivity".
After selecting stage up/down, click on "SAVE" to complete the process.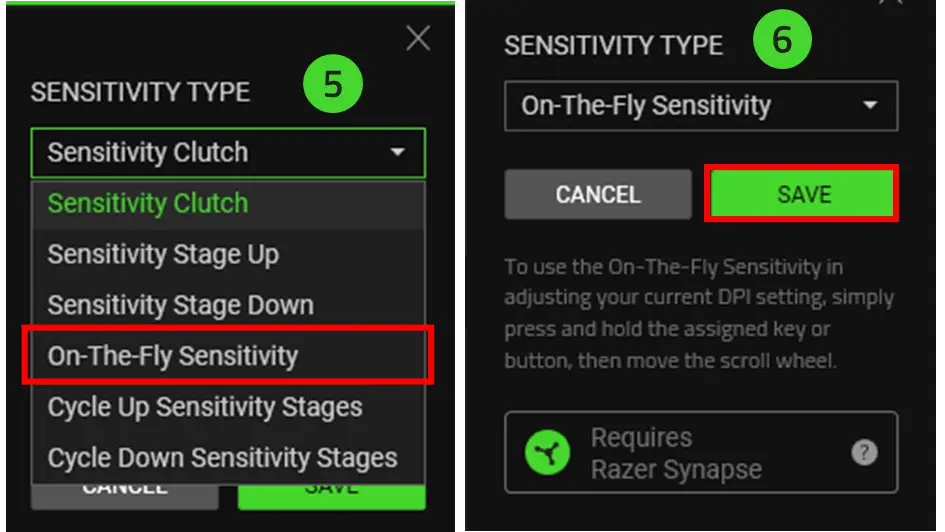 The programmed button will appear as "On-the-Fly Sensitivity" on the Device Layout of the mouse window.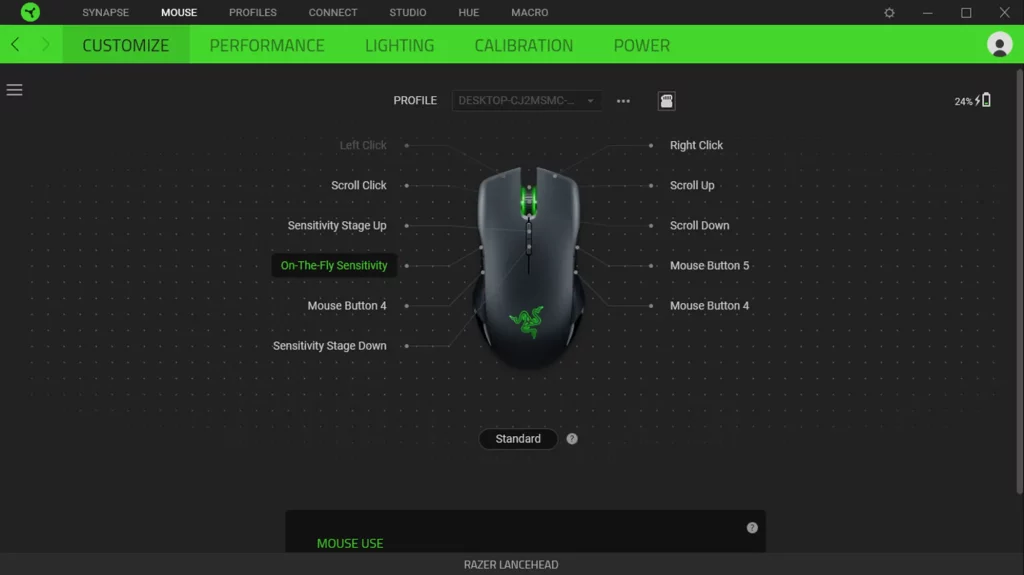 You can now use On-the-Fly Sensitivity by doing the following:
Press and hold the button programmed for On-the-Fly Sensitivity.
Roll the scroll wheel up to increase the DPI or down to decrease the DPI.
The adjustment will be locked in to where you released your programmed button.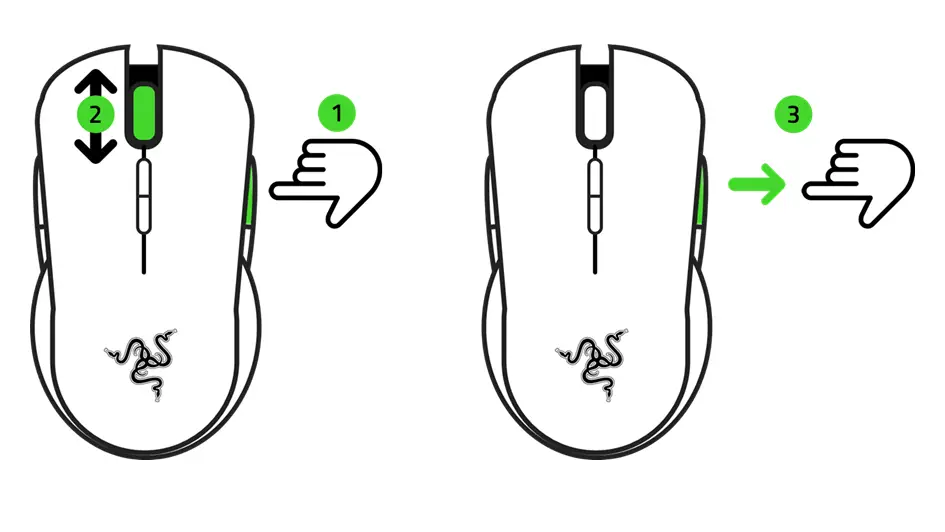 Troubleshooting
The Hypershift function bound to the number pad on the side button module continues to execute even after releasing the Hypershift modifier key but the number pad key is still pressed.
The number pad side module behaves the same way as the keyboard keys. Hence, it is expected to continue to execute until both Hypershift modifier key and number pad button are released.
Since updating my Windows OS, Razer Synapse no longer detects my device.
Please make sure you have installed the latest updates for Razer Synapse through Settings > Check for updates. If you've just installed Razer Synapse, please restart your PC. If there is no update available or you've completed the PC restart and your device is still not detected, please follow Razer Synapse troubleshooting here.
My Razer mouse pointer stutters or freezes
It is most likely due to a dirty sensor or surface you use your mouse on. Try cleaning the sensor using a Q-tip lightly coated with rubbing alcohol. Let the sensor dry for five minutes and test your mouse. Also clean the surface on which you use the mouse or use a good mouse mat, the Razer Goliathus Chroma for example. If it still does not work, your sensor may have been improperly calibrated when setting up surface calibration. With the mouse plugged in and put flat on your mouse mat, hold down the left-click, right-click, and mouse wheel button for 7 seconds to reset the surface calibration. If the issue persists, contact Razer Support.
My Razer mouse is not working properly when used with a KVM switch. How do I fix this?
We recommend plugging your Razer product directly into your computer. KVM switches are known to cause interruptions in communications between devices and computers. If your Razer product works when plugged directly into the computer, then it is operating correctly and the issue is most likely due to the KVM switch.
Software and Downloads
Do I need to install additional software or drivers to use the Razer Naga X?
You may use the standard mouse functions by simply connecting the Razer™ Naga X to your computer using the USB cable, USB dongle or Bluetooth connection. However, you will need to install Synapse 3 in order to enable advanced features such as macro recording, profile settings, Chroma customizations, and more.