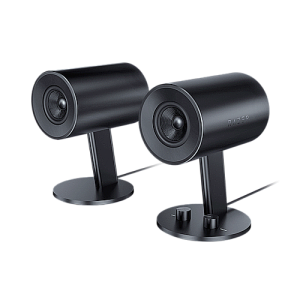 Razer Nommo Support
Common Questions
How do I position my Razer Nommo for best sound results?
The Razer Nommo satellites should be placed equal distance on the left and right with you in the center. Each satellite should be angled to face you directly for optimal sound projection.
How do I get the best possible sound settings for my Razer Nommo?
The Razer Nommo features independent volume and bass knobs. Adjust the level of each until you get the sound you like.
Can I fine-tune the EQ settings on my Razer Nommo?
The Razer Nommo has been designed to give you optimal balance of sound without the need for fine-tuning your audio. If you desire greater clarity and lower bass, please try to adjust the level of your bass knob to a desirable level.
Can I use my Razer Nommo with other devices besides my computer?
You can use the Razer Nommo with any devices that have a 3.5mm output jack for audio be it on your computer, TV or mobile phone.
How do I know which speaker is "left" or "right"?
The base of each speaker has left and right indicators.
Can I use the controls on the speaker when my headphones are connected?
Yes. You can adjust bass and volume levels on your headphones when connected.
Why is the audio output soft?
Make sure that the source volume is not low. Be careful to increase the volume of the source device slowly.
Why is there no audio?
Make sure input or aux input is properly connected to your source device. Also, make sure that you do not have any other device plugged into the headphone jack.
Why is the audio not loud enough?
We have automatic gain control in our speakers to protect the speakers and your ears.
Can I touch the drivers?
We recommend against touching the drivers as rough handling may cause damage.
Troubleshooting
How do I fix a sunken dust cover on my Razer Nommo Speakers?
To remedy a sunken dust cover, please follow the steps outlined below:
Take a piece of Scotch tape and stick one end of the tape on the cover.
Gently tug on the other end of the tape and pull out the sunken dust cover to its original shape.
"Switch off lighting when display is turned off" setting not working on the Razer Nommo. How do I fix this?
This issue has been fixed by a recent update uploaded on January 30, 2018. Please ensure that you have an updated version of Razer Synapse to resolve this issue.
To manually check for updates, you can check either of the following:
For Synapse 2: How do I manually check for updates on Razer Synapse 2.0?
For Synapse 3: How do I check for updates for Razer Synapse 3?
How to manually check for updates on Razer Synapse 2.0
Normally, Synapse will automatically provide a prompt when a new update is available. In the event that you missed or decided to skip the automatic prompt when it popped up, you can always check for available updates by following the steps outlined below:
Open Razer Synapse 2.0.
Click on the "cog" icon found in the upper-right corner of the screen.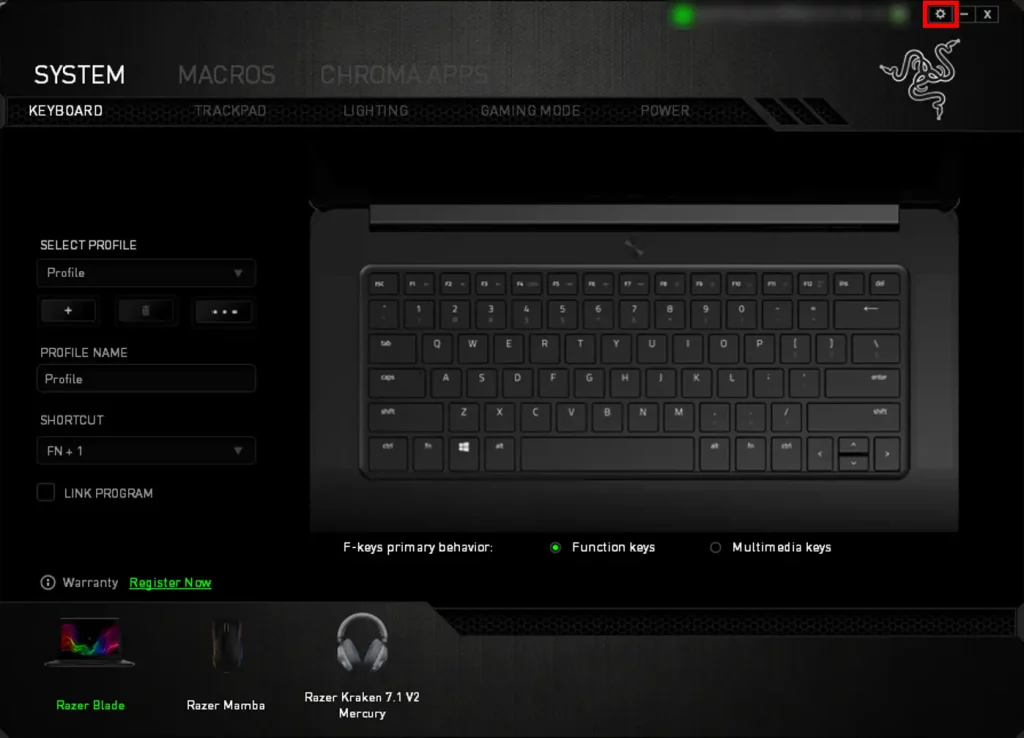 Click on "CHECK FOR UPDATES".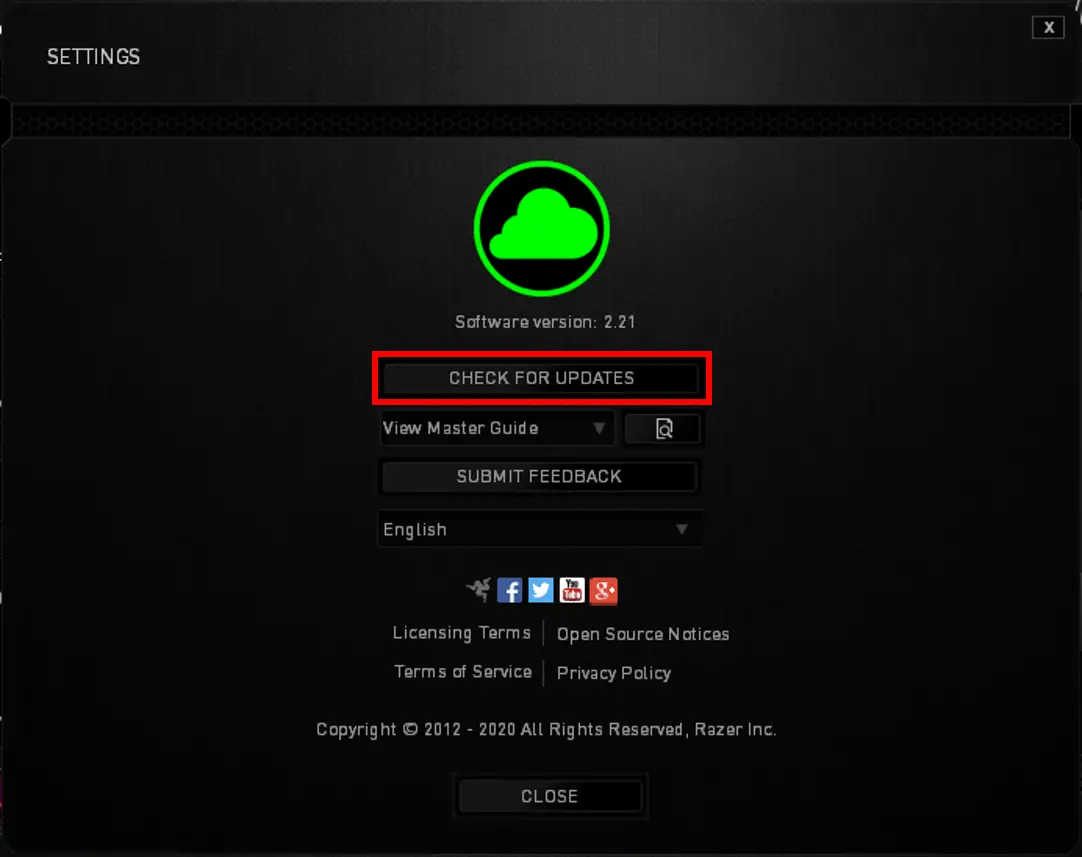 Click "UPDATE NOW" to update to the latest version of Razer Synapse 2.0.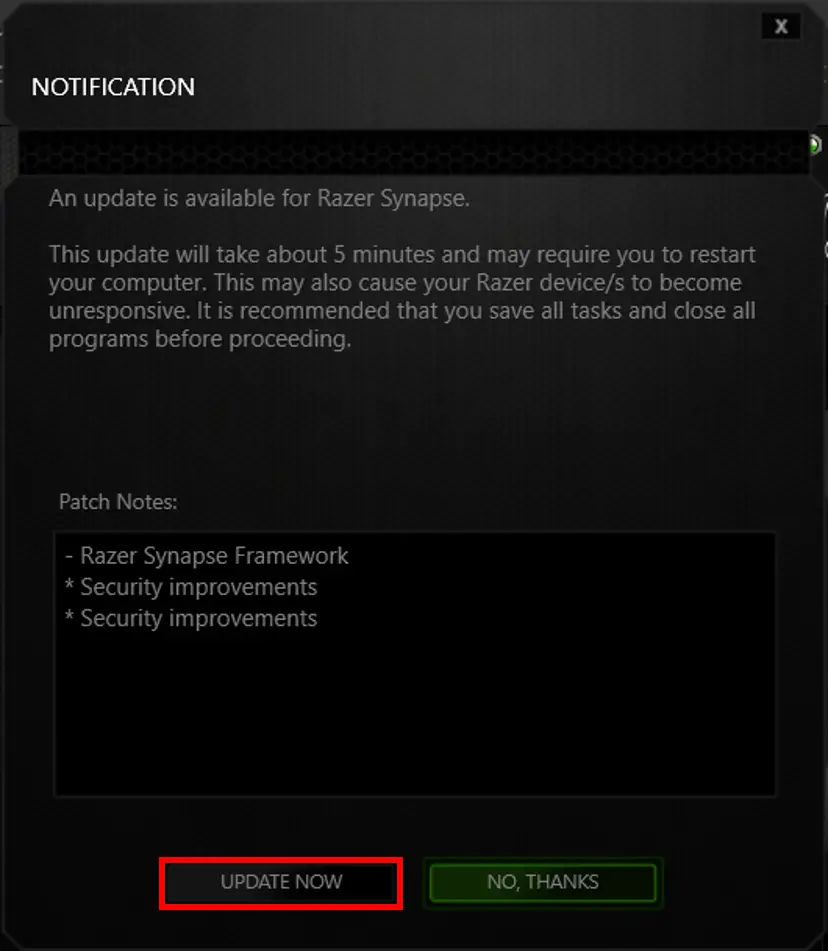 The update should start automatically.
Once completed, you should have the latest version of Synapse.
How to manually check for updates on Razer Synapse 3
It is important to keep your Razer software updated at all times. These updates contain important changes to improve the Synapse's performance, bug fixes and new features. To update Razer Synapse 3:
Expand the system tray by clicking the arrow found on the lower-right side of your desktop, and right-click on the Razer THS icon.
Select "Check for Updates" from the menu.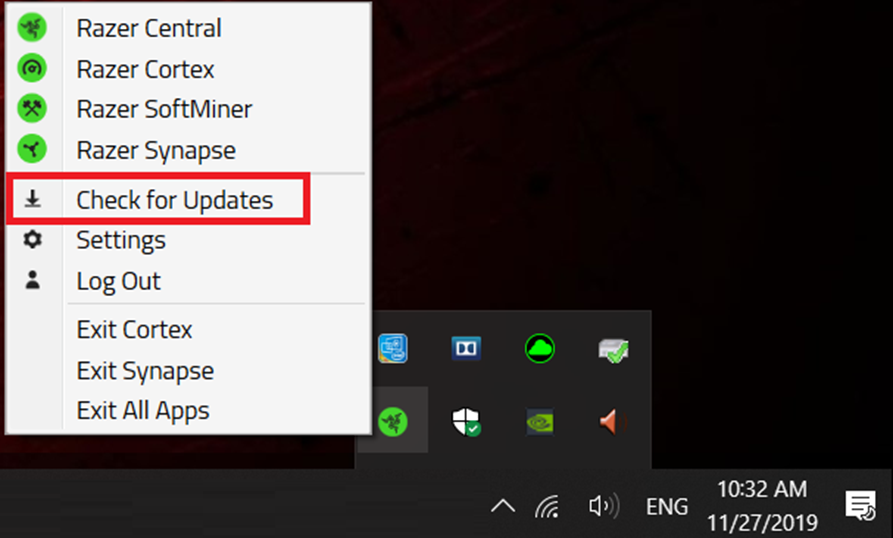 Click "CHECK FOR UPDATES". If there is a new update, click "UPDATE" to install.