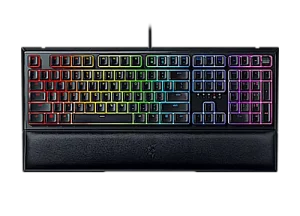 Razer Ornata V2 Support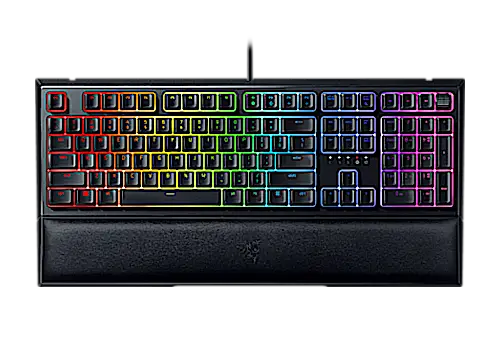 FAQ
At a Glance: Razer Ornata V2
The Razer Ornata V2 combines the tactile response of mechanical keys and the soft cushioned touch of a membrane rubber dome. It comes with a custom designed keycap that reduces the time it takes for your actions to register and allows your fingers to move freely. As a step up from its predecessor, the Razer Ornata V2 includes a multi-function digital wheel and dedicated media keys for absolute control.
Device Layout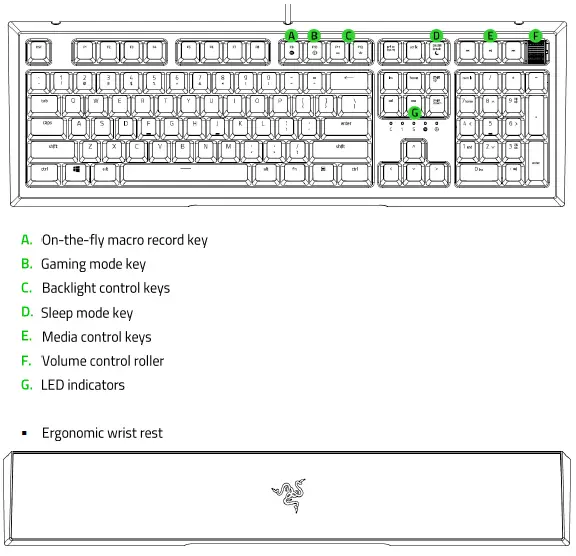 Full
Keyboard Type
Mecha-Membrane
Available switch type (s)
Mecha-Membrane
Backlighting
Razer Chroma™ customizable backlighting with 16.8 million color options
Key Roll-over
Yes
Anti-Ghosting
Yes
Gaming Mode
Yes
Fully Programmable Keys
Yes
Synapse
Synapse 3
On-the-fly Macro Recording
Yes
1000Hz Ultrapolling
Yes
Additional Game Keys
No
Audio Pass-Through
No
Dedicated Media Controls
Yes
USB Pass-Through
No
Wrist Rest
Yes
Cable Type
Non-detachable braided fiber cable
Approx. Dimensions

L: 18.2 in / 463 mm
W: 6 in / 153 mm
H: 1.3 in / 32.5 mm

Approx. Dimensions

(with Wrist Rest)

L: 18.2 in / 463 mm
W: 8.8 in / 224 mm
H: 1.3 in / 32.5 mm

Approx. Weight
2 lbs / 915 g
Approx. Weight

(with Wrist Rest)

2.7 lbs / 1215 g
How To
How do I remove the key from my Razer Ornata V2?
Razer does not recommend removing the keys from the Razer Ornata V2. Excessive force can damage the key itself. If you desire to clean under the key, Razer suggests holding the unit upside down and using compressed air from a can.
How can I modify or disassemble my Razer product?
We cannot help you in modifying or disassembling your Razer product since that will void the manufacturer's warranty on the unit.
How do I clean my Razer keyboard?
The overall finish can be cleaned with wipes generally used for cleaning your computer monitor or sunglasses. Ensure that the surface is free of large dust particles or debris before wiping the surface with any product. Wiping debris into the surface can lead to minor scratches on the surface of the unit.
If you wish to clean under the keycaps, Razer suggests holding the unit upside down and/or using compressed air from a can. We do not recommend removing the keycaps from your mecha-membrane switches.
We suggest unplugging the device from your computer before cleaning.
Note: Under no circumstances should you ever submerge the keyboard in any type of liquid. Submerging the keyboard in any liquid will void the warranty on your keyboard.
Troubleshooting
My Razer product does not work at startup after a cold start
Make sure that USB ports are not in hibernation mode.
Go to Windows Device Manager and click the arrow next to "Universal Serial Bus Controllers"
Right-click on any Root Hub and select "Properties."
​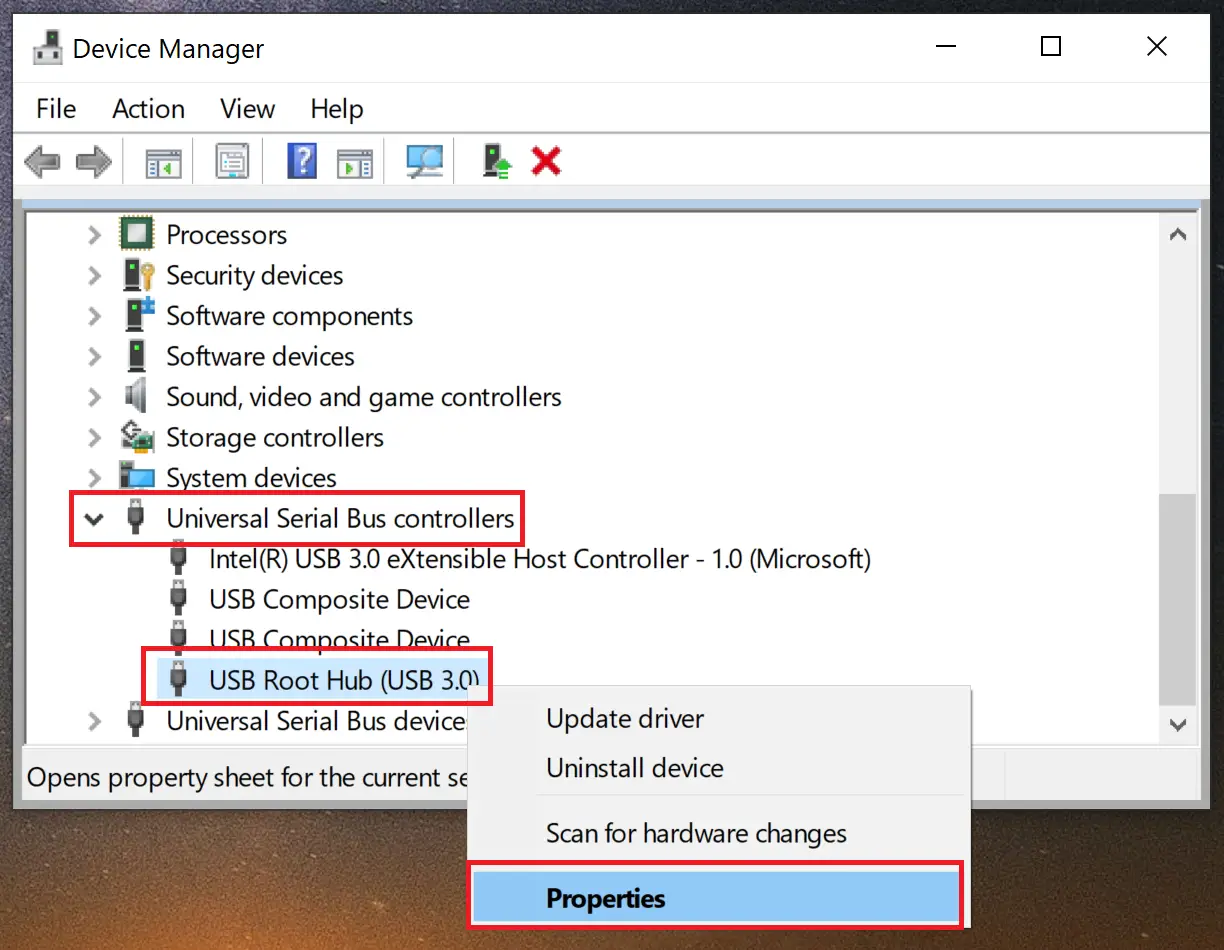 Click the "Power Management" tab and ensure that "Allow computer to turn off this device to save power" is ticked.
​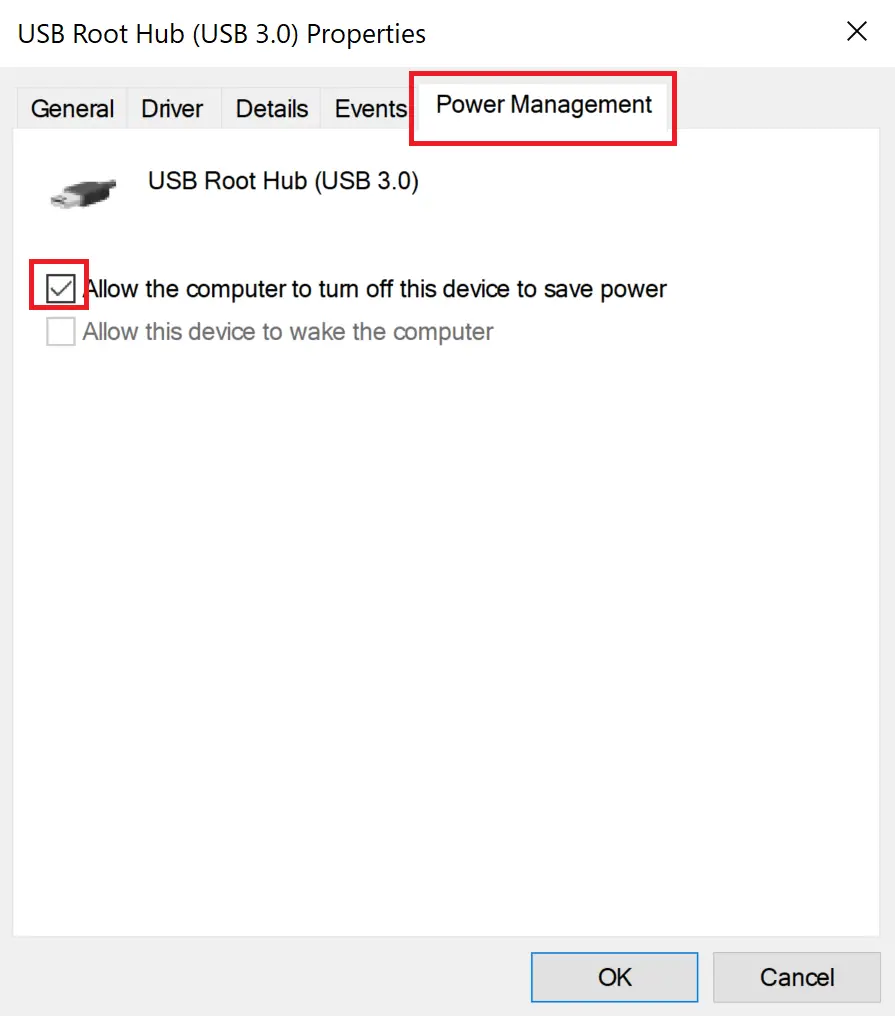 Proceed to do this under each Root Hub.
Fast-user switching between Windows accounts causes configuration on Razer product to become inactive.
This is a general problem with fast-user switching. The configuration of the product is unique and set for the logged-in user. Once you switch users, you will have to re-configure the product. There is no other workaround currently.
My Razer product does not work correctly with a specific program or game
If you are experiencing issues with the Razer device in an application, test the device in another application to confirm if the issue is specific to that application. If the Razer device functions properly in another application, then the program is likely the cause of the issue.
My Razer keyboard will not work properly when used with a KVM switch
We recommend plugging your Razer product directly into your computer. KVM switches are known to cause interruptions in communications between devices and computers. If your Razer product works when plugged directly into the computer, then it is operating correctly and the issue is most likely due to the KVM switch.
Software and Downloads
How many profiles can I save on my Razer keyboard?
You may save as many profiles as you want for the Razer Ornata V2 with Razer Synapse 3.
Can I use On-the-Fly Macro Recording without installing the drivers? Do I have to keep the application running by keeping the system tray icon open?
On-the-Fly Macro Recording only works when Synapse 3 is installed and running in the background. The system tray icon should show up in the Windows Taskbar. If you start the recording without Synapse 3, the LED for the On-the-Fly Macro Recording will blink three times and go off instead of remaining lit. Install Synapse 3 and allow it to run in the background to be able to use on-the-fly macro.