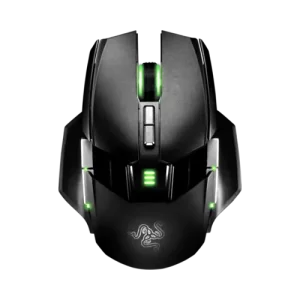 Razer Ouroboros Support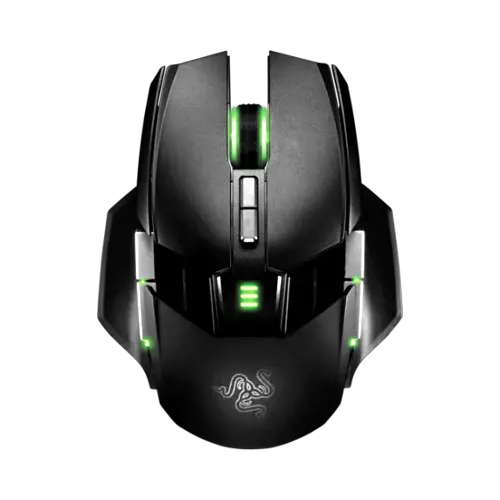 Common Questions
How can I modify or disassemble my Razer product?
Any attempt to modify or disassemble your Razer product will void the manufacturer's warranty.
How do I request or purchase replacement parts for my Razer product?
You can check our complete list of our current spare parts and accessories online, but if the item you need isn't listed, don't hesitate to contact our Customer Support team.
What are Master Acceleration and Master Sensitivity Control?
Master Acceleration lets you assign the same sensitivity for both the X and Y axis. Master Sensitivity Control allows for fine-tuning of specific X and Y axis sensitivity.
What buttons can I register for macros on Razer mice?
You can set macros to reflect the majority of keyboard keys except for the Windows keys and enhanced function keys. Mouse button presses are not programmable to macros.
Troubleshooting
The LEDs on my Razer Ouroboros are continuously blinking, what can I do?
If you see this happening ensure your battery is properly inserted and the correct battery is installed. (Do not use non-rechargeable batteries). Once you have confirmed that:
Unplug the mouse, then re-plug the mouse again
Wait for the mouse to respond
If the LEDs start blinking again, remove the battery immediately and contact our Online Chat Support.
How do I change the language of Configurator?
There is no option in the Customizer because the language used is based on the driver version installed on the computer. There is no selection enabled in the Customizer. To correct the issue, uninstall the software and download the appropriate driver from our website.
How does Razer measure the polling rate (ultrapolling) and response rates of their keyboards and mice?
Razer uses digital scopes and USB analyzers connected directly to the motherboard to obtain real and accurate measurements of polling rates.
Hardware
Are Razer products available in PS or 2 versions? Can I use the products with a USB to PS2 adapter?
Razer products are only available and supported in USB mode only. There are no plans to release a PS or 2 version, and they will not function properly using a USB to PS2 adapter.
How do I clean and maintain my Razer Mouse for optimum performance?
Try cleaning the sensor using a Q-Tip lightly coated with rubbing alcohol. Let the sensor dry for 5 minutes and try the mouse again.
For mice with surface calibration:
If it still doesn't work, your sensor may have been improperly calibrated when setting up surface calibration. With the mouse plugged in and flat on your mouse mat, hold down the left click, right click, and mouse wheel button for 7 seconds to reset surface calibration. If this does not work, contact our support team.
I cannot get the On-The-Fly sensitivity function to work on my Razer mouse. How do I set it?
If a button has been assigned to "On-The-Fly Sensitivity," pressing and holding the assigned button down while moving the scroll wheel up or down will produce a bar on the lower right-hand corner of your screen allowing you to adjust your sensitivity settings.
My Razer peripheral will not work properly when used with a KVM switch. How can I fix this?
We recommend plugging your Razer product directly into your computer. KVM switches are known to cause interruptions in communications between devices and computers. If your Razer product works when plugged directly into the computer, then it is operating correctly and the issue is most likely due to the KVM switch.
Software
My Razer product does not work at startup after a cold start, what should I do?
Ensure that USB ports are not in hibernation mode.
Go to your Windows "Device Manager" and click the + sign next to Universal Serial Bus Controllers. Click on any "Root Hub" and select "Properties".
Click the Power Management tab and ensure that "Allow computer to turn off this device to save power" and proceed to do this under each Root Hub.
From the Control Panel and Power Options, select the Hibernation Tab and deselect "Enable hibernate support".
My Razer product does not work correctly with a specific program or game. What should I do?
Test the device if the issue is persistent in other applications. If the device works fine, then the program is the cause of the issue. If this is the case, feel free to contact Customer Support to report the issue and see if there are any fixes or workarounds for the issue.
What is the difference between "driver" and "firmware" updates the Razer Support Site?
Drivers are installed onto your computer and allow your computer to communicate with your Razer product. Firmware updates are hardware level codes to be installed directly to the Razer device that can update, fix, or change the functionality of the product.
Where can I find drivers for my Razer product?
You may find your Razer product's drivers by going to its support page.
To see more general faqs for peripherals, go to the MICE FAQs.