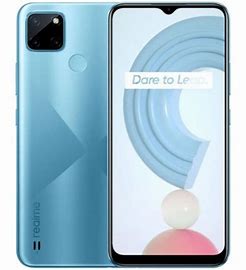 realme RMX3261 Smartphone
Greetings from realme mobile
This guide will show you how to use the phone and its important functions. You may also visit realme official website to get more information about the phone.
Warning
Do not place the phone or battery near or inside the heating equipment, cooking equipment, high-pressure vessels (such as microwave ovens, induction cooker, electric oven, heater, pressure cooker, water heater, gas stove, etc.) to prevent the battery from overheating which may lead to an explosion.
The original charger, data cable, and battery shall be used. Unapproved chargers, data cables, or batteries that are not certified by the manufacturer may result in electric shock, re, explosion, or other hazards.
When charging, please place the device in an environment that has a normal room temperature and good ventilation. It is recommended to charge the device in an environment with temperatures ranging from 5°C~35°C.
The back cover can't be removed.
How to use the phone
Press and hold the Power Button until the realme animation is displayed to start the phone. You can use the phone by following the instructions that appeared on the screen.
For more information, please visit realme official website:
https://www.realme.com/eu/
How to reboot the phone
Press and hold the Power Button and Volume Up Button at the same time until the realme boot animation is displayed to reboot the phone.
Standard accessories
You are provided with the following standard accessories: 1 Phone, 1 Charger, 1 USB data cable, 1 Safety Guide, 1 Quick Guide, 1 SIM Ejector Tool.
Performance parameters
RMX3261
16.5cm(6.5")
164.5×76.0x9.1(mm)
4880mAh/18.88Wh(Min)

5000mAh/19.35Wh(Typ)

13Megapixels+2Megapixels

+2Megapixels Rear 5Megapixels Front

0°C-35°C
SAR Values
FCC SAR
0.870W/kg(Head) 1.152W/kg(Body)
Radio Waves Specifications
Radio
Frequency
Max. Output Power
GSM
850MHz/900MHz
32.5±0.8dBm
1800MHz
30±0.8dBm
1900MHz
29.5±0.8dBm
WCDMA
Bands 1/2/4
23±0.8dBm
Bands 5/8
23.5±0.8dBm
LTE FDD
Bands 1/2/3/4/66
23±0.8dBm
Bands 5/8/12/17/26/28
23.3±0.8dBm
Band 7
22.5±0.8dBm
LTE TDD
Bands 38/41
23±0.8dBm
Bluetooth
2.4-2.4835GHz
6.5±3dBm(EIRP)
2.4G Wi-Fi
2.4-2.4835GHz
15±2.5dBm(EIRP)
NFC
13.56MHz
42dBuA/m@10m