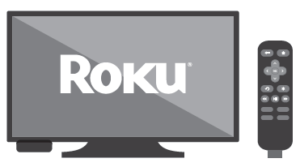 Roku Express User Guide [R1012]
© 2016 Roku, Inc. All rights reserved. ROKU and
the ROKU logo are the trademarks or registered
trademarks of Roku, Inc.
1. Connect your Roku® streaming player to your TV with the included High Speed HDMI® Cable or use your own cable.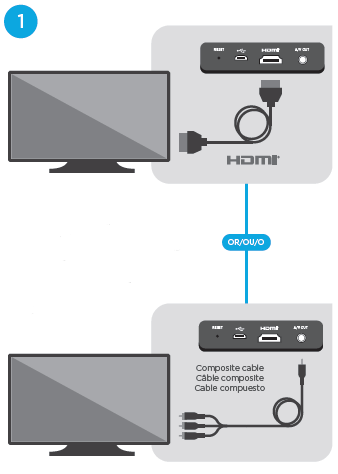 Or, connect with the included composite cable.
2. For best start-up time, use the included power adapter to connect to a wall outlet.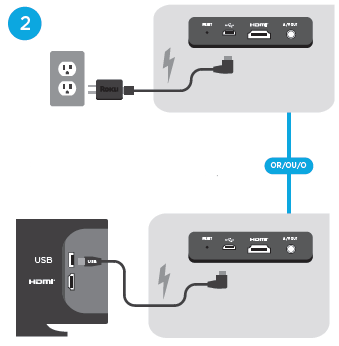 Or, connect the included USB cable to the USB port on your TV. USB power may not work with all TVs.
If you see a red light on your Roku player then the USB port on your TV is not providing enough power. Use the power adapter instead.
3. Insert the provided batteries into your remote, (-) negative side first.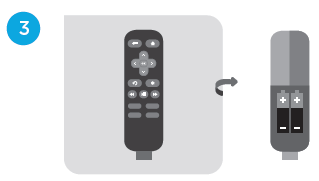 4. Remote must be within line of sight of your streaming player.



Do/Faire/Hace
Place your streaming player next to your TV.
Don't / Ne pas / No Hace
Don't place behind TV.

5. Use included adhesive strip to attach streaming player to your TV.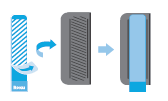 6. Finally, power on your TV, set the HDMI (or A/V) input to your Roku streaming player and press the Home button on your Roku remote.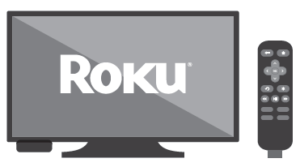 Roku® Streaming Player
Important Product Information
United States, Canada and Mexico
Introduction
The Roku streaming player which accompanies this Important Product Information ("Player") allows you to stream online entertainment to your TV. A Roku account is required to activate your Player. When you sign up for a Roku account, you will be asked to provide your contact information and a payment method so that you can easily rent movies or sign-up for additional services. Your authorization is required for any such charges. There are no equipment rental fees for owning a Player. However, a paid subscription or other form of payment may be required to access some channels or content. Channel availability is subject to change and varies by country. Check with each channel provider for specific bandwidth requirements to stream 720p, 1080p HD and 4K (if your Player supports 4K) content.
Safety Precautions
The Player has been designed with the highest concern for safety. However, any electrical device, if used improperly, has the potential for causing fire, electrical shock, property damage or personal injury. To help ensure accident-free operation, follow these guidelines:
• Observe all warnings, precautions and instructions.
• Regularly inspect the AC power adapter for damage.
• Stop use, unplug the AC power adapter from the electrical outlet and disconnect any other cables immediately, if the Player has been damaged, cracked or punctured, or if the Player functions in an abnormal manner, produces unusual sounds or smells or becomes too hot to touch.
• For more information on product safety and troubleshooting, please go to www.roku.com/support. Use and Handling
• Do not operate the remote using any vigorous or forceful motions or gestures.
• The remote control and the headphones are not toys. If your Player comes with a remote control and/or headphones, keep them both out of reach of children under the age of six.
• The product packaging may include plastic bags, cable ties and fasteners. Dispose of these properly and keep them out of reach of children, as they could present a choking hazard.
• Do not touch the Player or connected cables during an electrical storm.
• Do not allow liquid, small particles or other foreign objects to get into the Player or accessories.
• Do not expose the Player or accessories to liquid, smoke or steam.
• Do not expose the Player or accessories to high temperatures, high humidity or direct sunlight.
• Do not place the Player or the remote on the floor or in a place where they may cause someone to trip or stumble.
• Permanent hearing loss may occur if the Player or earpieces are used at high volume. To prevent possible hearing loss, limit the amount of time you use the Player or any earpieces at high volume.
• Do place your Player within range of your wireless network.
• Do not place your Player in an enclosed cabinet; it may interfere with the wireless signal.
• Do not place anything on top of your Player; it may cause the Player to overheat.
• Do not drop, crush or disassemble the Player.
• Do not attempt to repair your Player yourself. Disassembling the Player may cause damage not covered by the warranty.
Important Tips About Battery Handling
Inserting batteries: Be sure to insert each battery negative (-) side first, pushing it into the coil and then into the compartment. Never insert batteries positive (+) side first. Replacing batteries: Always replace dead batteries with two brand-new batteries from the same manufacturer. Never use damaged batteries. Disposal of batteries: Always dispose of batteries following federal guidelines or local ordinances. Do not dispose of used batteries in an open fire. Warning Signs: If your remote gets warm/hot during use, discontinue use and contact Roku Customer Support immediately at www.roku.com/support. There is a risk of explosion if a battery is replaced by an incorrect type.
Voice Search
For players and geographies which support voice search, please see the End User License Agreement and Privacy Policy for further information located at www.roku.com/legal.
The License Agreement
The applicable software license terms for the Player is at www.roku.com/legal. Use of the Player constitutes your agreement to those license terms and the limited warranty set forth below for your country. If you disagree and you are within the allowable time period for returns under Roku's return policy (if purchased from Roku) or the applicable return policy of the authorized distributor (if purchased from such distributor), you may return the Player to the place where you obtained it for a refund, subject to the terms of the applicable return policy.