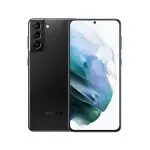 SAMSUNG Galaxy A32 5G Cricket Smartphone

Getting to know your Galaxy A32 5G
Phone setup
Inserting a SIM/microSD card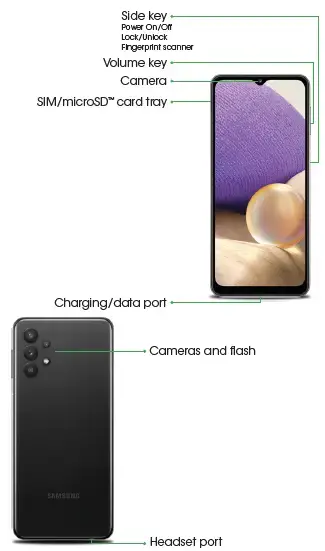 Use the SIM tool to open the SIM/microSD card tray.
Place the SIM card and the optional microSD card (sold separately) into the tray with the gold contacts facing down.
Before turning on your phone, charge it fully.
Use only charging devices and batteries approved by Samsung. Samsung accessories are designed for your device to maximize battery life. Using other accessories may invalidate your warranty and may cause damage.
Smart Switch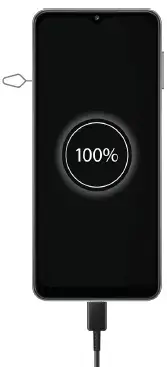 A sure and secure way to move your data to your Galaxy. Whether you're coming from an iOS or Android platform, you can easily transfer your data with Smart Switch. From your new Galaxy device, tap Settings > Accounts and backup > Bring data form old device and follow the prompts. For more information visit Samsung.com/us/smart-switch.
Touch screen
Navigating your phone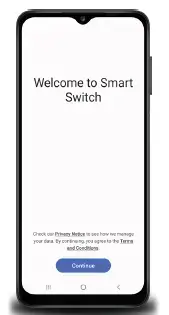 From the home screen, swipe up to access Apps.
Tap Recent to view recently viewed apps.
Tap Back to return to the previous screen.
Tap Home at any time to return to the main Home screen.
Press and hold to launch Google Assistant.
Notification panel
Get quick access to alerts, including new messages, emails, and software updates.
Swipe down to view the Notification panel.
Swipe down to display additional Quick settings.
Swipe right to clear individual notifications, or tap Clear to clear all notifications..
Personalize
Tap and hold a blank space on a home screen to personalize: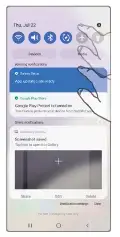 Wallpaper: Change the look of the Home and Lock screens with a variety of wallpapers.
Themes: Change the look for system screens and icons.
Widgets: Quickly drag a widget to an empty space on a Home screen for quick access to applications.
To move a widget, hold and drag it to a new location
To delete a Home screen, touch and hold the screen, and then tap .
From the app panel, to add an app to the Home screen, press and hold the app and then tap Add to Home.
Calls and voicemail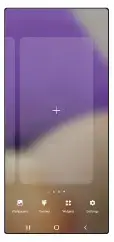 HD Voice capable
Enjoy crystal clear conversations with HD Voice!
Make a call
From the home screen, tap Phone .
Select an option to place a call:

Keypad: Manually enter telephone number.
Recents: Return or retry a previous call.
Contacts: Call from your address book.
Call waiting
To answer a new call while you have a call in progress
Check voicemail
From the home screen, tap Phone .
Press and hold Voicemail
Messages
Send a message

From the home screen, tap Messages > New message .
Enter a phone number or contact name in the Recipient field.
Tap Enter message and enter your text or touch and hold to create an audio message.

Tap to attach an image from the Gallery, capture an image or record a video.
Tap or more attachment options
Tap to add an emoticon
Tap to add a sticker
Tap to add a GIF
Tap for speech to text
Tap for keyboard settings
Tap for additional features

Tap to send the message.
Email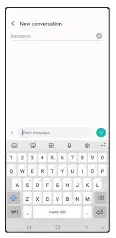 Email setup
From the home screen, swipe up for Apps, and then tap the Google folder > Gmail .
Tap GOT IT > Add an email address and follow the prompts to setup.
Create and send an email message
From the home screen, swipe up for Apps, and then tap the Google folder > Gmail .
In the top right, tap your profile picture to switch between accounts.
Tap Compose and enter your content.
Tap o add attachments.
Tap to send message.
Useful apps
These services make using Cricket even better and easier!
myCricket: Access billing, make a quick payment, view usage and access support from the palm of your hand.
Visual Voicemail: Quickly view, access and play back your voicemail messages, easily save important numbers to your Favorites lists and respond to messages by calling back or texting.
theSCOOP: Get news, local weather, sports scores, entertainment and more right to your phone.
Samsung Members: Get expert support, community connections, insider tips & exclusive perks.
Visit Samsung.com/us/support/owners/app/samsung-members for more information.
Camera and video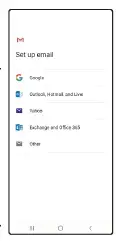 Take a picture
From the home screen
TAP to take a photo.
Pinch to zoom in or out.
Tap or swipe up to take selfies.
Swipe right or left to select a shooting mode.
Record a video
From the home screen, tap Camera , then swipe left for VIDEO.
Tap to start recording.
Tap or swipe up to record selfies.
Tap to capture a picture while recording.
Tap to pause recording.
Tap to end recording.
Share a Picture or Video
After taking a picture, tap the Image viewer at the bottom of the screen.
Select the photo or video you want to share, and then tap Share .
Select the desired option to share your photo or video and follow the prompts.