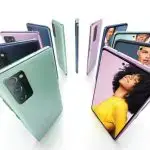 SAMSUNG Galaxy S21 FE 5G Smartphone

SAMSUNG Galaxy S21 FE 5G Smartphone
Quick Start Guide
SAMSUNG Galaxy S21 FE 5G

GH68-53776A Printed in Korea
Getting to know your Galaxy S21 FE 5G
Unlock your phone
Press the Side key and swipe up on the screen.


To view the User Manual on the device, tap Settings

> Tips and help

.
Phone setup
Your SIM card may be pre-installed.
Insert a SIM card
Use the SIM tool to open the SIM tray and insert the SIM card into the tray with gold contacts facing up.
Charge your phone
Before turning on your phone, charge it fully.

Use only charging devices and batteries approved by Samsung. Samsung accessories are designed for your device to maximize battery life. Using other accessories may invalidate your warranty and cause damage.
Smart Switch
Easily transfer photos, videos, music, apps, and more with Samsung Smart Switch™. Select Smart Switch during setup, or open it later from the Home screen by swiping up for Apps and tapping Settings > Accounts and backup

> Bring data from old device.

Visit samsung.com/smartswitch to learn more.
Touch screen
Navigate your phone
From the Home screen, swipe up or down to access Apps.
Tap Recent to view recently viewed apps.
Tap Home at any time to return to the main Home screen.
Tap Back to return to the previous screen.
Notification panel
Swipe down from the top of the display to get quick access to alerts including new messages, emails, and software updates.

Personalize
To personalize your home screen with apps, widgets, and themes, tap and hold a blank space on a home screen.
To move or delete a widget from a Home screen:
To move a widget or app, hold and drag it to a new location
To delete a widget or app, hold then tap Remove.
Messages
Send a message

From the Home screen, tap Messages > New message .
Enter a phone number or contact name in the Recipient field.
Tap Enter the message and enter your text or touch and hold to create an audio message.
Tap to send the message.
Email
Email setup

From the Home screen, swipe up for Apps and then tap the Microsoft folder > Outlook .
Tap ADD ACCOUNT and follow the prompts to sign in.
Create and send an email message
From the home screen, swipe up for Apps, and then tap Outlook .
Tap to compose a message.
Tap to send a message.
Camera and video
Take a Picture
From the Home screen, tap Camera

.
Tap to take a photo.
Pinch to zoom in or out.
Tapcapture a wider area.
Tap or swipe up to take selfies.
Swipe right or left to select a shooting mode.
Record a Video
From the Home screen, tap Camera

, then swipe left for VIDEO.
Tap to start recording.
Tap or swipe up to record selfies.
Tap to capture a picture while recording.
Tap capture a wider area.
Tap to pause recording.
Tap to end recording.
Note: Press the Side key twice to quickly launch the camera.
Bixby
Bixby helps you unlock the full potential of your Samsung device. By learning what you like and working with your favorite apps.
To launch Bixby, press and hold the Side key and follow the prompts.

Apps and features
These apps and features make using your phone even better!

myCricket: Access billing, make a quick payment, view usage, and access support.

Visual Voicemail: Quickly view, access, and playback your voicemail messages, easily save important numbers to your Favorites lists, and respond to messages by calling back or texting.

theSCOOP: Get news, local weather, sports scores, entertainment, and more right to your phone.
More information
On the web
Detailed support information, including device specifications and the full user manual, are available at cricketwireless.com/support/devices.
On the phone
Call Customer Care at 1-855-246-2461
or
Dial 611 from your phone
Accessories
Cricket offers a full line of accessories. For more information, visit cricketwireless.com/shop/accessories or visit your local Cricket retailer.
© 2021 Samsung Electronics America, Inc. Samsung & Samsung Galaxy have registered trademarks of Samsung Electronics Co., Ltd. Appearance of the device may vary. If you use a screen protector, make sure it allows for use of touch-screen features.
© 2021 Cricket Wireless LLC. All rights reserved. Cricket and the Cricket logo are trademarks under license to Cricket Wireless LLC.
FAQ'S
How do I turn on my phone?
Press and hold the Power key.
How do I turn off my phone?
Press and hold the Power key for a few seconds until the Power off prompt appears. Tap OK to turn off your phone.
How do I lock my screen?
Press and hold the Power key, tap Lock screen . Tap Lock screen again to unlock your screen.
How do I unlock my screen?
To unlock your screen, tap Lock screen . If you have set a pattern, PIN, or password, enter it. If you have not set a screen lock, press the Home key to return to the Home screen.
How do I use my phone's features?
Touch an item on the screen to open it. For example, touch a contact's name to open that contact's details. To return to the previous screen, touch Back . To move from one item to another in a menu or list, swipe left or right. To select an item, tap it. To open a submenu or make a selection from a list of items, tap Menu . To close an open menu or submenu, tap Close . To scroll through menus or lists of items, flick up or down on the screen. For example, flick up on the Music Player widget to display all songs in your music library. Some widgets may not support scrolling. You can also use two fingers to scroll up and down on some screens (for example, when viewing photos).
How do I use widgets?
Touch and hold an empty area of your Home screen until icons start moving. Drag an icon over another icon to create a folder containing both widgets (for example, drag Contact and Phone together). Touch and hold an icon in a folder until it starts shaking; drag it out of the folder onto your Home screen (for example, drag Phone out of Contacts). Touch and hold an icon in a folder until it starts shaking; drag it into another folder (for example, drag Phone into Contacts).
How do I change my wallpaper?
Touch Home to display your Home screens and then touch Menu > Wallpapers .
How do I add widgets?
Touch Home to display your Home screens and then touch Menu > Add widgets .
What is Smart Stay?
Smart Stay uses facial recognition technology to determine whether you are looking at your phone's display so that it can automatically keep the display active while you are looking at it. When Smart Stay is turned on and you are looking at the display face-on with your eyes open for more than 10 seconds without touching the display or pressing any buttons (except Back ), your phone will not turn off if you are using battery power or if you are connected to power via USB cable. However, if you look away from the display
Is the S21 FE waterproof?
Like most premium phones from Samsung, the Galaxy S21 FE has an IP68 rating for dust and water resistance. This is as good as the rating found on the Galaxy S21 Ultra.
What is the difference between Samsung S21 5g and S21 FE 5g?
The Galaxy S21 FE also uses Samsung's Dynamic AMOLED technology and has Full HD Plus resolution, the same as the Galaxy S21. However, the pixel density, or number of pixels per inch, is lower than the Galaxy S21's since the S21 FE's screen is larger, but the difference isn't noticeable
Does Samsung S21 FE have fingerprint sensor?
Similar to the S21 and S20 FE, the Galaxy S21 FE's fingerprint sensor is an optical one that resides underneath the display. On the lock screen and when logging into certain apps, a fingerprint icon appears towards the bottom of the display where the sensor is.
VIDEO


SAMSUNG Galaxy S21 FE 5G Smartphone
www://samsung.com/pk/