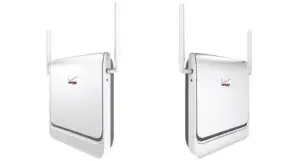 User Manual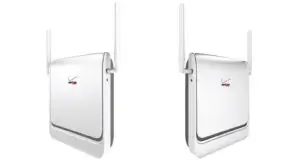 Samsung Wireless Network Extender EP68-00520A
Before You Begin
To use a Verizon Wireless Network Extender you need:
An always-on broadband Internet connection with a minimum speed of 1 MB (3.1 Mbps to support the maximum EVDO data rate.)
An available Ethernet port on either your broadband modem or a router connected to the
modem.
If you are deploying a cluster of Network Extenders and/or your local network uses VLAN and/or static IP addressing, refer to the user guide located at: www.verizonwireless.com/networkextender/business.
NOTE: If you are connecting your Network Extender to a router, please ensure that it supports Virtual Private Networking (VPN). Most routers support this functionality, but if you are unsure of your router's capabilities, refer to the manual that came with your router.
Your Network Extender package should contain the components shown below: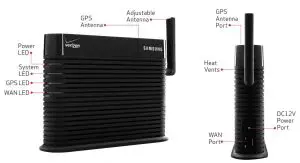 Connecting Your Network Extender
Place the Network Extender near a window in a central location. For best results, place the Network Extender in an elevated location, such as the top of a bookshelf or tall cabinet. If you use a Wi-Fi router, keep the Network Extender at least two feet away from it.
Connect one end of the included Ethernet cable to an open port on the router (1) and connect the other end to the WAN port located at the rear of the Network Extender (2).
Plug the power supply connector into the DC 12V power port located at the rear of the Network Extender (3).
Insert one end of the power cord into the power supply and then plug the other end into an available outlet (4).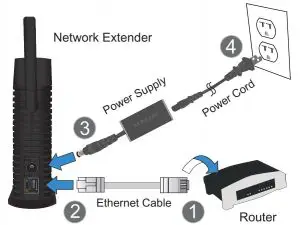 Confirming Network Extender Operation

* For more information, see "External GPS Antenna" in the User Manual.
NOTE: Allow 3 – 5 minutes for the Network Extender to complete the startup sequence and detect both its connections and available communications. When the Network Extender is powered up, it may take as long as one hour for GPS acquisition. Your Network Extender is ready for use when all four LEDs are blue.
Troubleshooting
What if my GPS LED is still red after one hour?
If the GPS LED is still red after one hour, you need to relocate the GPS antenna to receive a stronger signal. See "External GPS Antenna" in the User Guide.
How do I know my phone is connecting through the Network Extender?
When dialing #48 on your wireless phone, an announcement will tell you if you are within range of the Network Extender. In addition, you will hear a short double tone on your wireless phone whenever making or receiving a call.
The tone is played at the beginning of the call.
Optional Accessories
A wall and ceiling bracket mount is available to allow for the unit to be conveniently mounted on the wall or ceiling.
Power over Ethernet adaptor
For More Information
2014 Verizon Wireless. All rights reserved. Verizon Wireless is a trademark of Verizon Trademark Services LLC.