Keypad Deadbolt BE365 Installation Manual
Prepare for Installation
IMPORTANT NOTES
DO NOT use a power drill for installation!
Use a screwdriver to remove product from packaging.
Install and test lock with door open to avoid being locked out.
Pay special attention to step 1. If lock is installed with the cam in the wrong position, the lock will not function properly!
a. Check door dimensions.
See consumer.schlage.com/Service-Support for door preparation instructions if dimensions are different.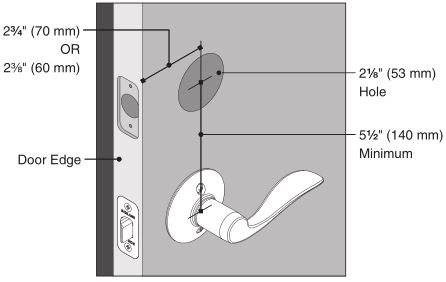 b. Adjust bolt length, if necessary.
Measure the dimension shown. If the measurement is 2Cv" (70 mm), extend the bolt.
Customer Service
Calling From: U.S.A.
(888) 805-9837
c. Change faceplate, if necessary.
Choose the drawing that matches your door edge. If the hole has no mortise, change to the circular faceplate.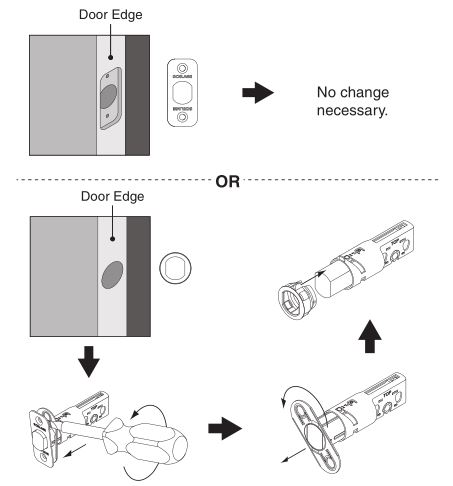 Install Lock
Rotate baseplate cam to correct position.
Install bolt.
Install keypad.
Route wire through hole in baseplate.
Install baseplate.
Connect wire and 9V battery.
Place battery in holder and tuck wires.
Install cover.
Install reinforcement plate and strike into door jamb.
Test Lock
Lock (extend bolt).For troubleshooting information, go to schlage.com/faqs-keypad.
Unlock (retract bolt).
Quick Programming Reference
Adding User Codes*

* These four numbers must be different from the first four numbers of the programming code.
Deleting User Codes

Changing the Programming Code*

* The first four numbers must be different from all of the User Codes currently in the lock.
More Programming, Warranty, and Registration Information
For more programming, warranty, and service information, go to schlage.com/faqs-keypad, or use a mobile device with the code below: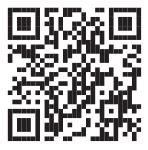 Register your product at RegisterMySchlage.com, or use a mobile device with the code below:

---