The Sharper Image Lighted Water Speakers are the perfect addition to any pool setting. The speakers can be submerged up to 1 meter of water, and will play music for hours without running out of battery life. This user manual will help you get started with your new speakers. These instructions can show you how to set up your speakers and subwoofer to get the best sound possible.
LIGHTED DANCING WATER SPEAKERS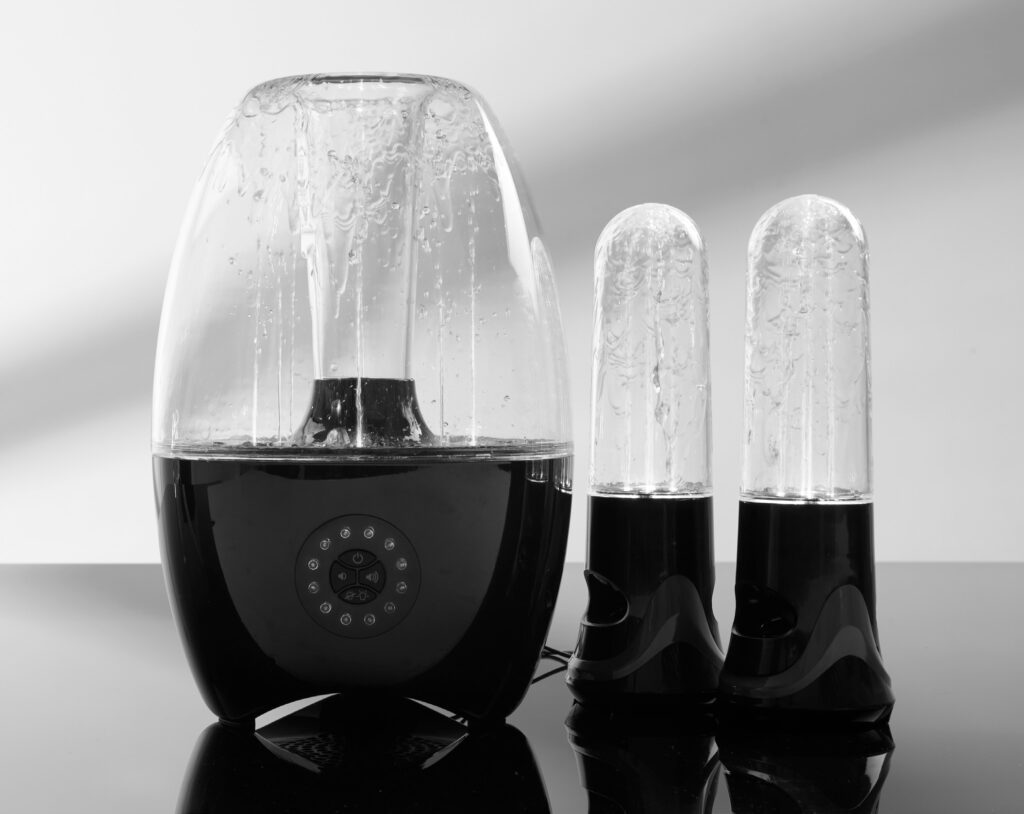 Thank you for purchasing the Sharper Image Lighted Dancing Water Speakers.
Please take a moment to read this guide and store it for future reference.
FEATURES
2.1-Ch Bluetooth speaker system
Wireless range 30 ft.
Sleek, futuristic design
Hypnotic spinning water motion
Multicolored LED lights (Red/Yellow/Blue/Green)
Powerful subwoofer with 2 full-range satellite speakers
Durable, clear acrylic with non-toxic liquid contents
Compatible with all Bluetooth-enabled devices
Compatible with non-Bluetooth devices via 3.5mm line-in jack
Includes 3.5mm audio cable
OVERVIEW
Subwoofer
Satellite Speaker
Satellite Speaker
CONTROL PANEL
INSTALLATION
Place the unit on a flat, stable surface.
Connect the satellite speakers to the base (subwoofer).
Connect the AC adapter to the power jack on the base (subwoofer).
Plug the AC adapter into an AC outlet.
Turn ON the device.
Press the Play/Pause button for 2 seconds to enter pairing mode.
Turn ON the Bluetooth function of your phone or tablet.
Pair your mobile device with the Lighted Dancing Water Speakers ("SI AUDIO"). NOTE: You may use the included 3.5mm audio cable to connect your non-Bluetooth device (CD player, laptop, video game console, TV, etc.) to the Audio In jack on the back of the subwoofer.
WARNINGS
RISK OF FIRE OR ELECTRIC SHOCK!
Ensure that air can circulate freely through the ventilation holes on this unit.
Allow at least 2" to 4" clearance around this unit.
Never expose this unit to direct sunlight, naked flames or excessive heat.
Never place this unit on other electrical equipment.
Keep away from this unit during a lightning storm.
Never remove the casing of this unit. There are no user-serviceable parts.
Keep this unit away from water, moisture and liquid-filled objects.
Do not immerse in water or any other liquid.
Do not operate this unit if the cords appear frayed or damaged. Contact Sharper Image
Customer Service immediately.
SPECIFICATIONS
Bluetooth 3.0+ EDR
Wireless Frequency 2.4Ghz
Supply Voltage DC 5V 3A
Rated Power (subwoofer) 5W / 80
Rated Power (satellite) 3W x 2 / 40
Frequency Response Range 60Hz to 8KHz
Bass Unit ⌽220mm*325.5mm
Treble Unit ⌽90mm*268mm
Operating Temperature 0°C to 40°C
Storage Temperature -15° C to 60° C
Storage Humidity 20% to 90% RH
Dimensions (subwoofer) 8.7" L x 8.7" W x 12.8" H
Dimensions (satellite) 3.5" L x 3.5" W x 10.6" H
WARRANTY / CUSTOMER SERVICE
Sharper Image branded items purchased from SharperImage.com include a 1-year limited replacement warranty. If you have any questions not covered in this guide, please call our Customer Service department at 1 (877) 210-3449. Customer Service agents are available Monday through Friday, 9:00 a.m. to 6:00 p.m. ET.