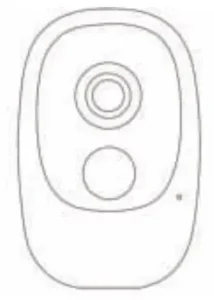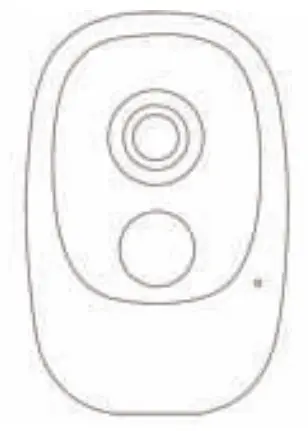 Smart 1080P Full HD Battery Camera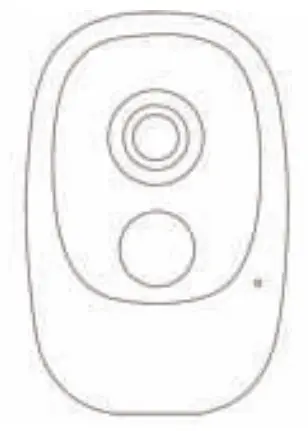 * Thanks for purchasing and using our product. Please read this quick start guide before using, and keep it for future reference.
* Manual contents are subject to change without notice in accordance with our policy of continuous product improvement.
What's in The Box
Please consult below checklist for all the components.
Battery camera
USB Cable
Bracket
User Guide
Screw & Tools
Meet the Battery Camera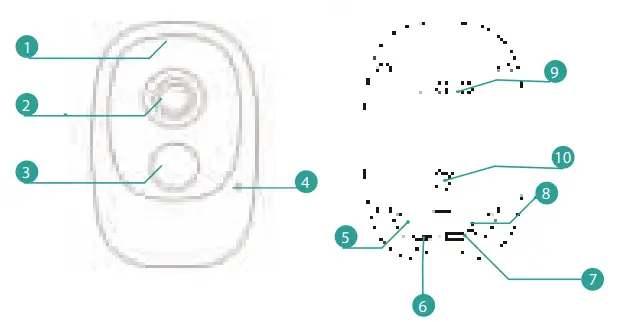 Indicating LED
2MP camera
PIR Motion Sensor
Microphone
SD Card Slot
Micro USB Port
Power
Reset
Speakers
Bracket slot
Battery Charging
The batteries inside the Battery camera not fully charged in accordance with transportation safety regulations. Please charge the batteries with a USB compatible wall charger (not included) and the provided USB cable for about 8~10 hours prior to installation.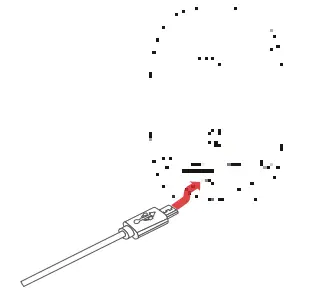 Download the App
Download and install the app from Google PlayTM or the App Store™. The App is also available by scanning the QR codes on the right, using your QR code scanner in your smart phone.
Google PlayTM is a trademark of Google Inc. App Store™ is a service mark of Apple Inc.
Wi-fi Set Up
Before you start the Wi-Fi configuration, please note below:
The Battery camera works with 2.4 GHz Wi-Fi, but not with 5 GHz Wi-Fi.
Avoid using special characters or symbols like , either in your Wi-Fi name or password.
Perform the configuration near your Wi-Fi router.
Launch the APP and register an account with your mobile phone number of email ID. Then start the Wi-Fi
Before you start the Wi-Fi configuration, please note below: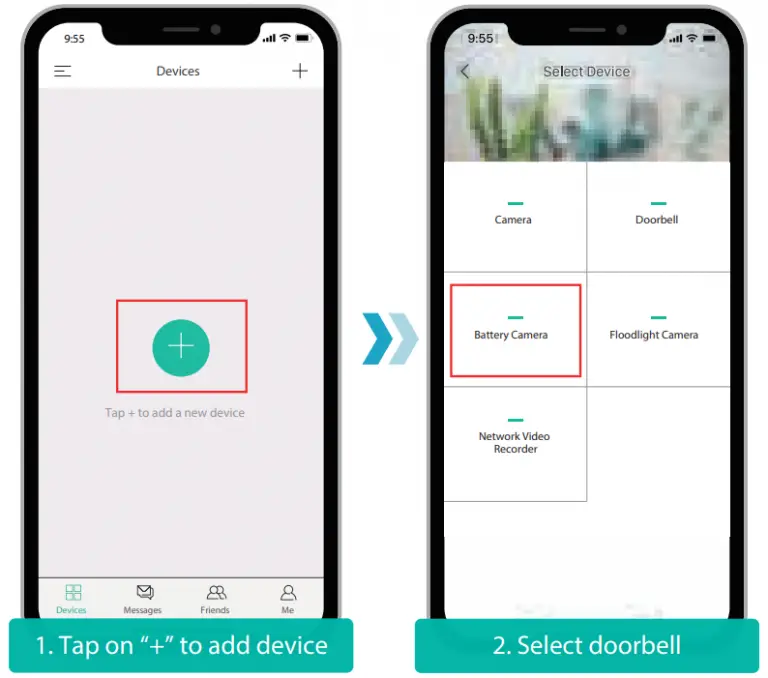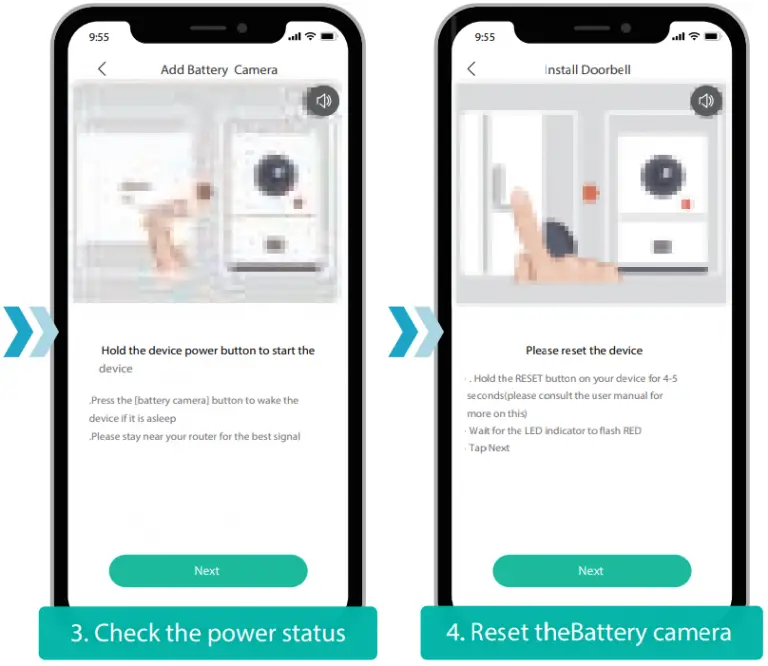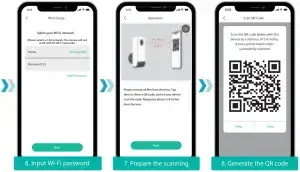 Run A Test
After setup, tap on the live view window in the app for a test. Then take your doorbell outside to the installation spot and run a test there. Make sure the installation spot is covered by strong 2.4 GHz Wi-Fi signal.
If the video quality from the Battery camera outside is not as good as it was indoors, you may need to move your router closer to your installation spot, or invest in an Wi-Fi extender.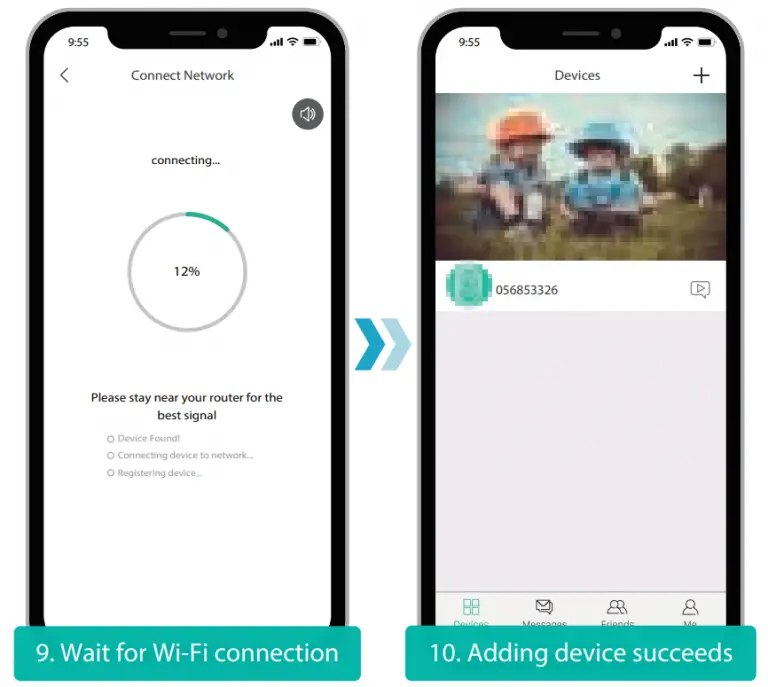 Live View Interface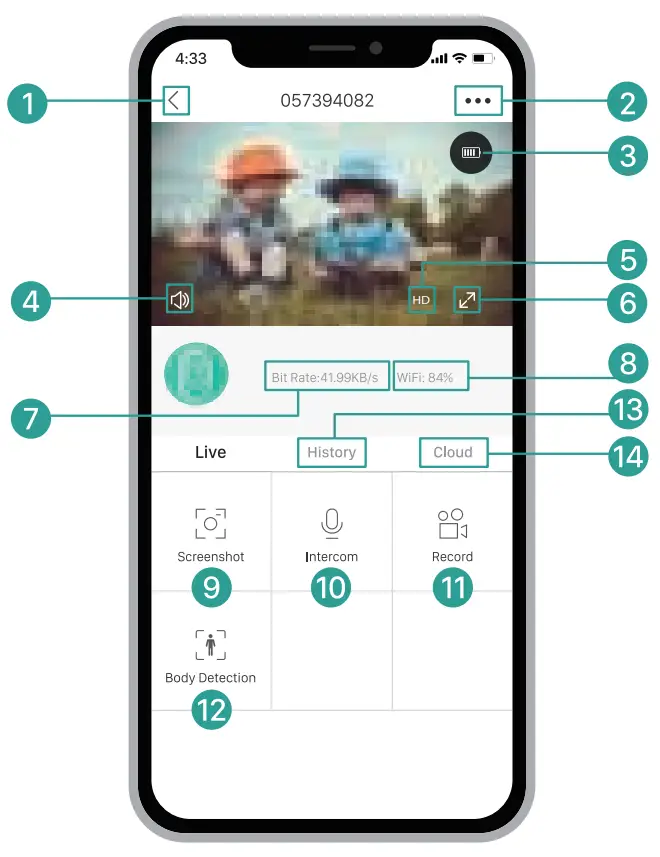 Quit live viewing
Setting menu
Battery status
Volume on/of
HD/SD switch
Wi-Fi signal status
Stream bit rate
Wi-Fi signal status
Screenshot button
Speak to the scene
Record on the phone
Body detection on/off
Notification history
Cloud storage service
Local recording
Video Calendar
Screenshot Function
Alarm events recording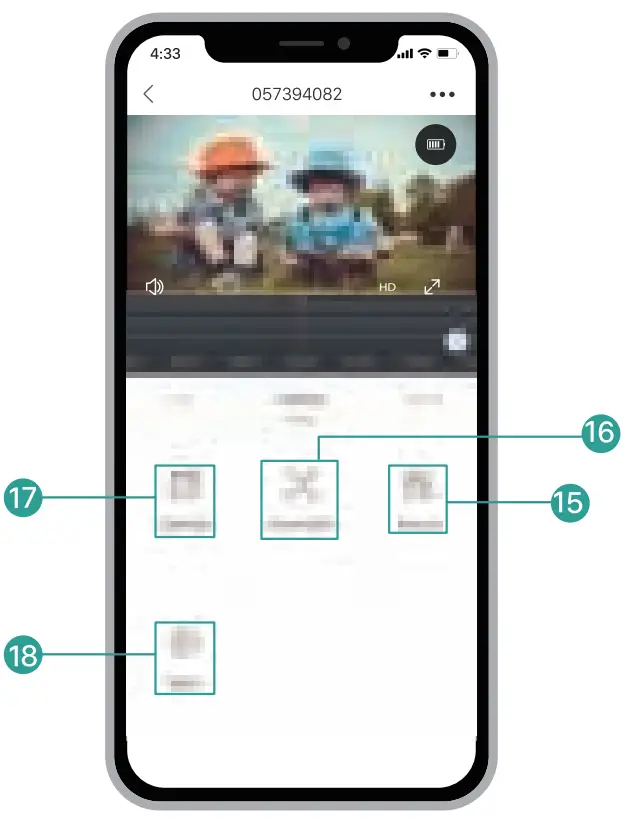 Specification
Video and Audio
| | |
| --- | --- |
| Image Sensor | 1/2.7" CMOS (2.0MP) |
| OS | HI silicon Lite-OS |
| Resolution | 1920 × 1080 px |
| Stream | HD/SD dual stream |
| Infrared LED | High power IR LED with ICR |
| Lenses | 1.7mm/F2.0 |
| Angle of view | 130° |
| Min. illumine | Color: 0.01 Lux; B&W: 0.001Lux |
| WDR | Digital WDR |
| Audio | 2-way audio with noise cancellation |
Storage
| | |
| --- | --- |
| Storage Type | Micro SD Card (Max 128G) |
| Cloud storage | Support |
| Recording | Triggered by PIR motion sensor |
Network
| | |
| --- | --- |
| Wifi Frequency | 2.4 GHz ~ 2.4835 GHz |
| Standards | IEEE 802.11 b/g/n |
| Live View Speed | Within 3 ~ 4 Sec |
APP
| | |
| --- | --- |
| App Name | CloudEdge |
| OS | iOS, Android |
| Remote View | Within 2~4 sec |
| Notification | Push notification within 2~4 sec |
General
| | |
| --- | --- |
| Working Temp. & Humidity | -20℃ ~ 50℃; (No condensation) |
| Power Source | Lithium 18650 Battery (3.5V, 3000 mAh) × 2 |
| Standby Current | 300μA |
| Working Current | 250mA |
| Standby Time | 4 ~ 6 Months |
| Working Time | 2 ~ 3 Months (20 times wake up per day) |
| Battery Charging | DC5V 1A~2A (Micro USB Port) |
| Firmware Upgrade | OTA (on the air) |
| Dimension (mm) | 61× 41 × 135 |
| Weight (g) | 235 |
Trouble shooting
A1: ①.Device works with 2.4GHz Wi-Fi only, but not support 5GHz Wi-Fi. ②.Wi-Fi network is not good, try to keep the camera near the Wi-Fi router when setting up. ③.The Wi-Fi password is wrong. Please check if there are special characters in the password, or the network is specially encrypted.
A2: Please check the user manual of your Router or call the network operator for help.
A3: You can view the camera from anywhere, if your camera is well connected to the internet.
A4: It supports SD card recording as well as cloud storage. You can activate the cloud storage service in App.
A5: When the memory card is full, the camera automatically erase the oldest footage.
A6: Sorry, this model does not support Google Home or Alexa.
A7: Please check the network connection of your phone and the Wi-Fi router. If the network signal is not strong, you may need to move your router closer to the device, or invest in an extender.
A8: Yes, sure. Recording is triggered by detected motions. You can set up the sensitivity or disable motion detection in the setting menu.
A9: Battery charger is not included. Please charge the batteries with a USB compatible charger(DC5V 1A~2A) for about 8-10 hours.
A10: Yes, you can add more than one device at the same residence.
FCC Statement
This device complies with part 15 of the FCC rules. Operation is subject to the following two conditions: (1) this device may not cause harmful interference, and (2) this device must accept any interference received, including interference that may cause undesired operation.
Changes or modifications not expressly approved by the party responsible for compliance could void the user's authority to operate the equipment.
NOTE: This equipment has been tested and found to comply with the limits for a Class B digital device, pursuant to part 15 of the FCC Rules. These limits are designed to provide reasonable protection against harmful interference in a residential installation. This equipment generates uses and can radiate radio frequency energy and, if not installed and used in accordance with the instructions, may cause harmful interference to radio communications. However, there is no guarantee that interference will not occur in a particular installation. If this equipment does cause harmful interference to radio or television reception, which can be determined by turning the equipment off and on, the user is encouraged to try to correct the interference by one or more of the following measures:
Reorient or relocate the receiving antenna.
Increase the separation between the equipment and receiver.
Connect the equipment into an outlet on a circuit different from that to which the receiver is connected.
Consult the dealer or an experienced radio/TV technician for help.
The device has been evaluated to meet general RF exposure requirement. The device can be used in portable exposure condition without restriction.