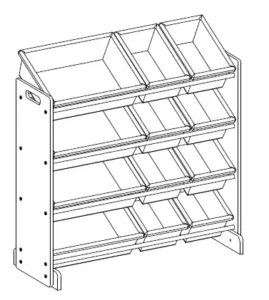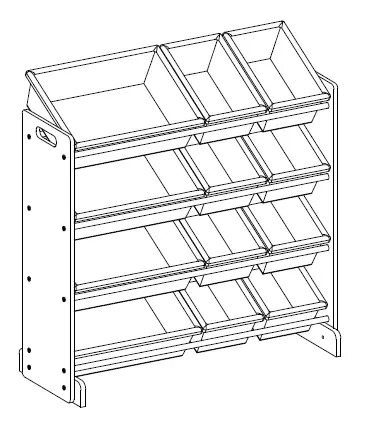 SONGMICS Toy Organiser Playroom Display Stand Instructions
General Guidelines
Please read the following instruction carefully and use the product accordingly.
Please keep this manual and hand it over when you transfer the product.
This summary may not include every detail of all variations and considered steps. Please contact us when further information and help are needed
Notes
This item is only intended to store toys and books. Any uses that do not match the above description or unauthorized changes and modification are not permitted. Otherwise, it may result in personal injury or breakage of the product. The product must be assembled and used strictly in accordance with the provisions of the manual. The seller does not assume any responsibility or liability with respect to any damage caused by incorrect assembly or improper use.
Please check parts according to the instruction after unpacking, if there are defective, broken or missing parts, please contact us immediately.
It is recommended to mount the article by 2 adults and wear gloves during assembly to avoid scratching by the sharp edges; also, please take other necessary safety protection measures during assembly.
Please re-check the screws to make sure connection points remain firm once the assembly is completed; check the condition of the screws and parts regularly.
It is recommended to secure this item to the wall to avoid serious bodily injury caused by the tilt; all furniture over 60 cm should be fixed to the wall with the attached security accessories.
It is recommended to use this item under the adult supervision.
Please keep the shelf empty when assembling or disassembling this item.
For daily care, clean with a damp cloth first, and then wipe with a dry cloth.
Please do not use this item in a humid place, otherwise, the wooden parts may become damaged.
Please keep this item far away from fire or direct heat sources during use.
Warnings
It is not allowed to tread or climb on this item.
It is not intended for use by children under 3 years of age. Children are not allowed to climb or play on this item during use to avoid serious bodily injury caused by the tilt.
The lack or change of parts may cause malfunction, please do not change or remove any parts of it.
During the assembly process, keep all small parts out of the reach of children. It may be fatal if swallowed or inhaled.
To avoid potential danger of suffocation, keep all parts and packaging (films, plastic bags and foam, etc.) away from babies and small children.
SONGMICS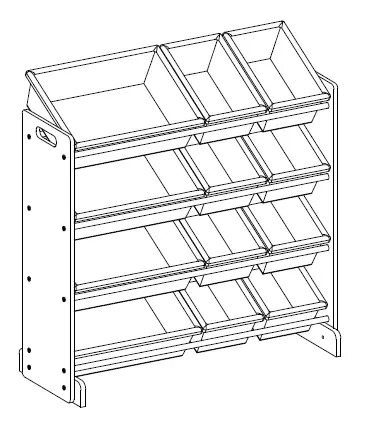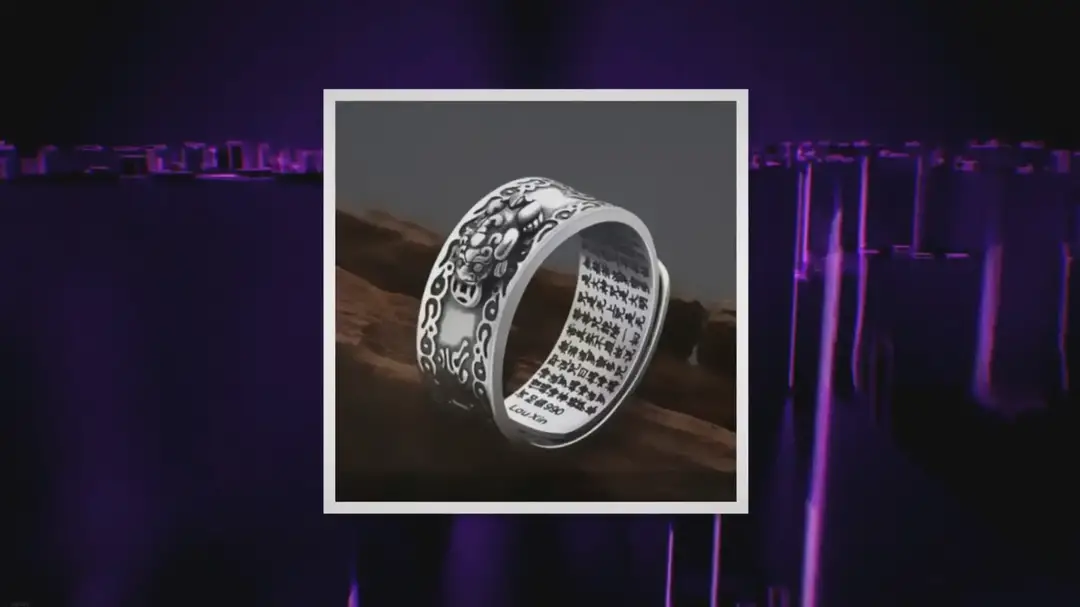 SONGMICS