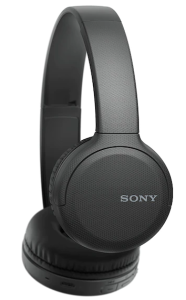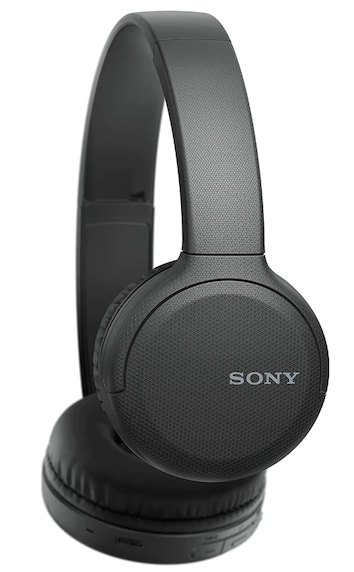 Sony Wireless Headphones WH-CH510 Headphones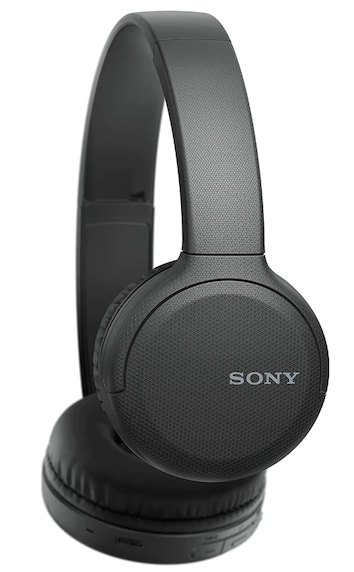 Specifications
DIMENSIONS: 7.75 x 6.75 x 1.63 inches,
WEIGHT: 11.2 ounces,
FREQUENCY RANGE: 20Hz-20kHz,
DRIVER UNIT: 30mm,
MANUFACTURER: Sony
Sony is a well-known Japanese and one of the largest manufacturers of consumer and professional electronics. It is famous mainly for its image sensing and processing device and holds a 55 percent share in that market. The Sony wireless headphones WH-CH510 are decent headphones that have an upgraded quality of sound and a better audio performance at a decent budget as compared to previous models.
DESIGN
The design of these headphones is very basic. They come in all black, white and blue colors. They have the on-ear simple design and they don't have luxurious look. They are lightweight with no padding on the headband and the padding on the ears is also moderate. They are made of a cheap material and have an adjustable headband. These headphones are mediocrely stable for people who wish to work out while wearing these, which makes them not the best option for working out. In addition to this these also have three large buttons to control the various features of the headphones.
SOUND QUALITY
Despite their low price, the bass produced by them is clear. The high levels are a bit louder than they should be and the mids. are a little suppressed, however they still provide an over all good sound.
BATTERY
These headphones have an outstanding battery life of about 31 to 32 hours on a single charge. They support quick charging using the type C USB charging cable.
OTHER FEATURES
The Sony Wireless Headphones also have noise isolation feature. However, this noise isolation is passive which means they don't have any electronically built noise cancellation features. They also have a built-in microphone which does the job finely. It also has some physical controls in the form of large buttons on the earcup to carry out the different activities.
What's in the Box?
Sony Wireless Headphones x 1
USB Charging Cable x 1
User Manual x 1
How to Turn on the Sony Wireless Headphones WH-CH510?
Press and hold for 2 seconds the Power button. The headphones will enter pairing mode and can be connected to your device using the steps mentioned later. The LED will flash blue light indicating the device has turned on.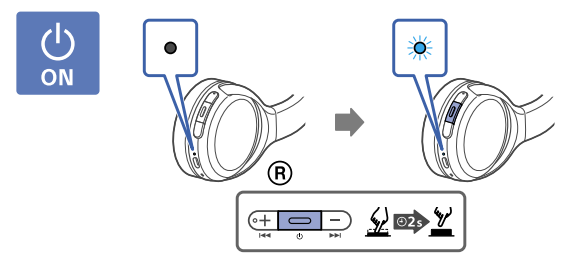 How to charge the Sony Wireless Headphones WH-CH510?
You can charge the headphones by simply connecting the provided USB charging cable to the wall charger. When charging the LED will show red light. Once completely charged the light will go off. The headphones take about 4 hours and 30 minutes to fully charge.

How to Connect the Headphones to your device?

Press the power button and hold for 7 seconds. The LEDs will flash blue light twice.
Turn on the Bluetooth of your device and look for "WH-CH510" and connect to it.
Once connected the LED will turn solid blue.
How to Adjust Volume and Control Tracks on the Sony Headphones?

To Play/Pause tracks: Press once the Power button.
To adjust the Volume: Use the + and – buttons.
To go to Next Track: Press and hold the + button for 1.5 seconds.
To go to Previous Track: Press and hold the – button for 1.5 seconds.
How to Turn off the Sony Wireless Headphones WH-CH510?
Press the Power button and hold for 2 seconds. The LED will turn off.
How to Answer/Hang-up Calls using the Sony Headphones?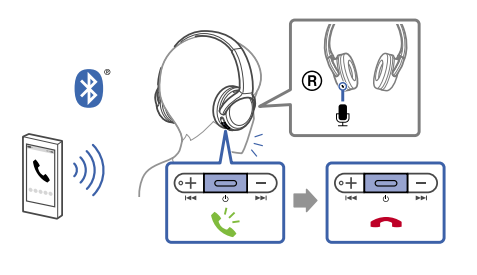 Press the power button once to answer an incoming call.
Press the power button once to hang up the call.
How to activate the Voice Assistant?

PROS
Good Sound Quality
Good Battery Life
Good Stability
Lightweight
CONS
Lacks padding on the headband
Cheap Look and Feel
VERDICT
If you are a Sony user and looking for some high-end Sony headphones, it is suggested to look for other options. If you are interested in budget friendly Sony headphones that provide the basics as well as some additional features of headphones such as easy control and good sound quality these headphones are a good option for you.
FREQUENTLY ASKED QUESTIONS
What version of Bluetooth does this have?
The Bluetooth version of these headphones is 5.0.
Do these have a 3.5 headphone jack?
No, these headphones are purely wireless and don't support a 3.5mm audio jack.
Do these support wideband HFP?
Yes, they support wideband HFP.
How much playtime with a full charge?
The playtime depends on the usage, but the following is the claimed provided playtime when fully charged

Bluetooth connection
Music playback time (AAC): Max. 35 hours
Music playback time (SBC): Max. 32 hours
About 90 minutes of music playback is possible after 10 minutes of charging.
Communication time: Max. 30 hours
Standby time: Max. 200 hours

Do these headphones pair with a Sony home stereo system that has NFC?|
Yes, they pair with Sony Home Stereo.