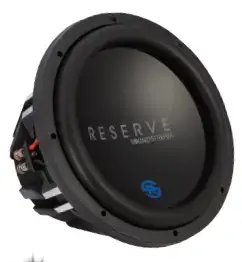 SOUNDSTREAM Car Audio Subwoofer User Manual
Thank you for choosing Soundstream subwoofers, designed & engineered in the U.S.A. This product combines innovative technology with the finest materials to
consistently deliver absolutely state of the art performance, sound quality, reliability, and value. This Reserve subwoofer reflects our commitment to offer you unparalleled
performance and quality for years of dependable service and listening enjoyment.
In recent years, our subwoofers have evolved to meet various performance and placement goals, keeping your, the Soundstream fanatic, suggestions in mind. New for 2020, we introduce Reserve subwoofers, available exclusively to our Soundstream Reserve dealers. Premium materials & performance characteristics
include over saturated 12mm top plate and t-yoke, high density poly-ether foam surround, & a massive 900w 3" voice coil. High density Spruce pulp cone and double
polycotton blend suspension hold everything together. These behemoths are not for the faint-hearted.
FEATURES, PARAMETERS, and SPECIFICATIONS
Overcompensating Motor Structure for Increased Magnetic Strength 12mm T-Yoke & Top Plate Improve Low Frequency Harmonics Vented T-Yoke & Frame Reduces Voice Coil Heat Build-up Non-Magnetic Non-Resonate Die-Cast Aluminum Frame 3" 4-Layer Voice Coil w/ Spring Loaded Wire Terminals High-Temperature Tolerance Adhesives Resist Thermal Failure Non-Transfer Spruce Pulp Cone w/ UV & Chemical Protection Stitched and Glued Surround/Cone Joints for Strongest Bonding Extended Excursion Poly-ether Foam Surround w/ UV Protection Dual Poly-Cotton Suspension Dampen Violent Accelerations 1-pc Gasket/Trim Ring w/ Concealed Mounting Holes Included
| | | |
| --- | --- | --- |
| Specification | RSW.122 | RSW.152 |
| Fs (Hz) | 30.3 | 26.0 |
| Qms | 7.262 | 6.446 |
| Vas (ft3) | 1.21 | 3.08 |
| Cms (mm/N) | .05710 | .08939 |
| Mms (g) | 322.5 | 419.8 |
| Xmax (mm) | 16.5 | 16.5 |
| Xmech (mm) | 37.5 | 53.5 |
| Qes | .897 | 1.046 |
| Re (Ω) | 3.6 | 3.6 |
| Z (Ω) | 4 | 4 |
| BL (Tm) | 8.268 | 10.860 |
| MAX Power | 2,000w | 2,600w |
| RMS Power | 1,000w | 1,300w |
| Qts | .799 | .900 |
| NO (%) | .103 | .142 |
| Efficiency (1w/1m) | 82.1dB | 83.5dB |
| Impedance | DVC 2 Ω | DVC 2 Ω |
Vehicle conditions, amplifier, music preferences, & other variables make it difficult to give you exact dimensions for an enclosure deisgn. For enclosure
designs tailored to your specific needs, please contact us at tech-support@ soundstream.com, or 1-800-724-1377. All enclosures should be made of .75" (3/4") material only. When possible, make the baffle 1.5" (1 ½) thick and add .75" (3/4") to the depth of the enclosure to compensate. All volumes INCLUDE vent/port and subwoofer displacements. DO NOT change the volume unless you plan on adding a substantial amount DO NOT change the volume unless you plan on adding a substantial amount
of bracing. For added performance, applying a coat of fiberglass resin to the interior walls will greatly improve sealing the enclosure. Adding a thin layer of poly-fill will improve response by smoothing out reflections within the enclosure. Below are recommended enclsoure designs and their expected performance:
RSW.12
RSW.12 Recommended Sealed Enclosures
RSW.12 Recommended Ported Enclosures
Volume (ft3)
QTC
Tuning (Hz)
Volume (ft3)
Round Port
Tuning (Hz)
Min.
0.75
.884
52.5
1.75
4" x 15.25"L
33.3
Opt.
1.00
.785
50.3
2.00
4" x 14.5"L
31.1
Max.
1.25
.725
49.5
2.25
4" x 14"L
29.3
RSW.15
RSW.15 Recommended Sealed Enclosures
RSW.15 Recommended Ported Enclosures
Volume (ft3)
QTC
Tuning (Hz)
Volume (ft3)
Round Port
Tuning (Hz)
Min.
1.50
.914
44.3
3.00
(2) 3" x 9.75"L
31.3
Opt.
2.00
.812
42.3
4.00
(2) 4" x 15.75"L
28.5
Max.
2.50
.749
41.6
5.00
(2) 4" x 13"L
26.8
DIMENSIONS