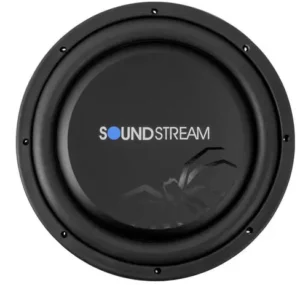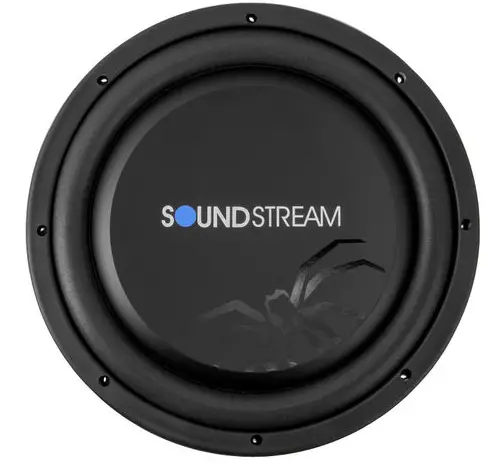 SOUNDSTREAM Shallow Mount Car Stereo Subwoofer
A new addition for 2017, Picasso shallow subwoofers combine performance and value. These shallow subwoofers perform best in small sealed enclosures, with minimal power requirements, thanks to efficiencies in cone and suspension design.
FEATURES, PARAMETERS, and SPECIFICATIONS
Pressed Spruce Pulp Cone w/Polypropylene Coating Protection
High Density Polyether Foam Surround w/ UV & Cheical Protection
2.00" 4-Layer 4-ohm Voice Coil w/ Large Gauge Wire Increases Power Handling
Nickel Plated 8ga Spring-Loaded Compression Wire Terminals
Poly-Cotton Composite Suspension Dampen Violent Accelerations
Formed Steel Subwoofer Frame with Black Powder Coat Finish
1-pc Gasket Trim Ring w/ Concealed Mounting Holes Included
Stitched Voice Coil Leads Prevent Potential Damage
High-Temperature Tolerance Adhesives Resist Thermal Failure
6mm T-Yoke & Top Plate Improve Low Frequency Dynamics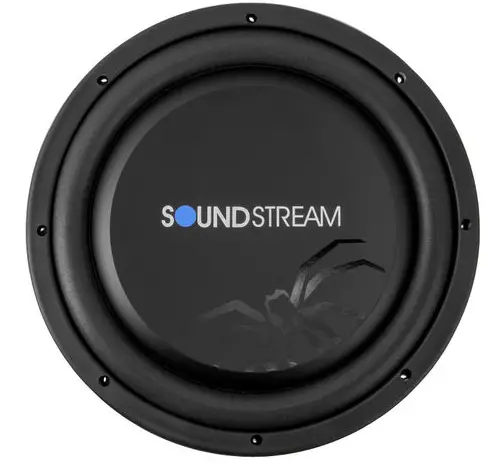 Specification
PSW.104
PSW.124
Fs (Hz)
49.54
32.60
Qms
8.312
6.728
Vas (ft3)
0.59
1.58
Cms (mm/N)
.104
.119
Mms (g)
99.09
200.67
Xmax (mm)
10
Xmech (mm)
15
Qes
1.201
.954
Re (Ω)
3.20
3.20
Z (Ω)
4
4
BL (Tm)
9.07
11.74
MAX Power
500w
600w
RMS Power
250w
300w
Qts
1.049
.836
Efficiency (1w/1m)
84.2dB
84.0
Impedance
4Ω
4Ω
ENCLOSURE DESIGN and WOOFER INSTALLATION
Vehicle conditions, amplifier, music preferences, & other variables make it difficult to give you exact dimensions for an enclosure deisgn. For enclosure designs tailored to your specific needs, please contact us at [email protected], or 1-800-724-1377.
All enclosures should be made of .75" (3/4") material only. When possible, make the baffle 1.5" (1 ½) thick and add .75" (3/4") to the depth of the enclosure to compensate. All volumes INCLUDE vent/port and subwoofer displacements.
DO NOT change the volume unless you plan on adding a substantial amount of bracing. For added performance, applying a coat of fiberglass resin to the interior walls will greatly improve sealing the enclosure. Adding a thin layer of poly-fill will improve response by smoothing out reflections within the enclosure.
Below are recommended enclsoure designs and their expected performance:
Recommended Sealed Enclosures PSW-104
Recommended Sealed Enclosures PSW.124
Airspace
QTC
Tuning
Airspace
QTC
Tuning
Min.
0.50 ft3
1.55
50.9Hz
0.75 ft3
1.47
40.2Hz
Opt.
0.75 ft3
1.40
46.9Hz
1.00 ft3
1.34
37.4Hz
Max.
1.00 ft3
1.31
44.5Hz
1.25 ft3
1.26
35.7Hz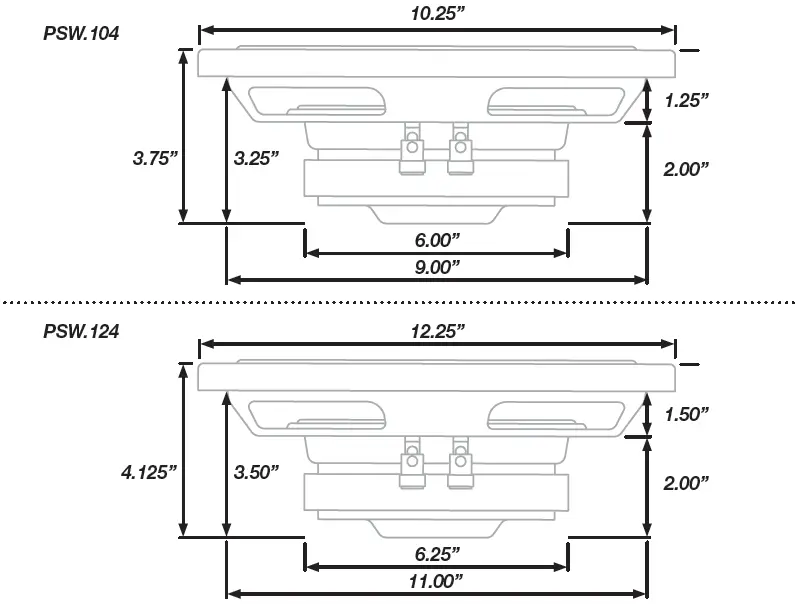 LIMITED 90-DAY CONSUMER WARRANTY
LIMITED TWO-YEAR CONSUMER WARRANTY WITH PURCHASE AND INSTALLATION BY A SOUNDSTREAM AUTHORIZED RETAILER
Soundstream promises to the original purchaser, to repair or replace this product with a new or refurbished unit (at Soundstream's sole and absolute discretion) should it prove to be defective in workmanship or material under normal use, for a period of two-years from the date of purchase from the Soundstream authorized retailer, PROVIDED the product was purchased and installed by a Soundstream authorized retailer. During this two-year period, there will be no charge for product repair or replacement, PROVIDED the unit is returned to Soundstream, return shipping pre-paid, along with the required proof of installation, the bill of sale or other dated proof of purchase, and the consumer's contact information.
If the unit is installed by anyone other than a Soundstream authorized retailer, the warranty period will be 90-days from the date of purchase. This warranty is nontransferable and does not apply to any unit that has been modified or used in a manner contrary to its intended purpose, and does not cover damage to the unit caused by installation or removal of the unit. During this 90-day period, there will be no charge for the repair or replacement PROVIDED the unit is returned to Soundstream, return shipping prepaid, along with the bill of sale or other dated proof of purchase and the consumer's contact information.
This warranty is void if the product has been damaged by accident or unreasonable use, neglect, improper service or other causes not arising out of defects in materials or construction. This warranty does not cover the elimination of externally generated static or noise, or the correction of antenna problems or weak reception, damage to speakers, accessories, electrical systems, cosmetic damage or damage due to negligence, misuse, failure to follow operating instructions, accidental spills or customer applied cleaners, damage due to environmental causes such as floods, airborne fallout, chemicals, salt, hail, lightning or extreme temperatures, damage due to accidents, road hazards, fire, theft, loss or vandalism, damage due to improper connection to equipment of another manufacturer, modification of existing equipment, or Product which has been opened or tampered for any reason. Units which are found to be damaged by abuse resulting in thermally damaged voice coils are not covered by this warranty but may be replaced at the absolute and sole discretion of Soundstream. Unit must be returned to Soundstream, postage pre-paid, with bill of sale or other dated proof of purchase bearing the following information: consumer's name, telephone number, and address, authorized retailer's name and address, and product description. Please contact Soundstream warranty office at 800-724-1377, email to [email protected], or visit Soundstream.com/warranty to obtain a Return Authorization Number prior to shipping the product.
Note: This warranty does not cover labor costs for the removal and reinstallation of the unit. IN ORDER FOR THE TWO-YEAR WARRANTY TO BE VALID, YOUR UNIT MUST BE SHIPPED WITH PROOF OF PURCHASE & INSTALLATION BY A SOUNDSTREAM AUTHORIZED RETAILER. ALL UNITS RECEIVED BY SOUNDSTREAM FOR WARRANTY REPAIR WITHOUT PROOF OF SOUNDSTREAM AUTHORIZED DEALER INSTALLATION AND PURCHASE WILL BE COVERED BY THE LIMITED 90-DAY WARRANTY.
BY PURCHASING THIS PRODUCT, ALL WARRANTIES INCLUDING BUT NOT LIMITED TO EXPRESS WARRANTY, IMPLIED WARRANTY, WARRANTY OF MERCHANTABILITY, FITNESS FOR PARTICULAR PURPOSE, AND WARRANTY OF NON-INFRINGEMENT OF INTELLECTUAL PROPERTY ARE EXPRESSLY EXCLUDED TO THE MAXIMUM EXTENT ALLOWED BY LAW, AND SOUNDSTREAM NEITHER ASSUMES NOR AUTHORIZES ANY PERSON TO ASSUME FOR IT ANY LIABILITY IN CONNECTION WITH THE SALE OF THE PRODUCT. SOUNDSTREAM HAS ABSOLUTELY NO LIABILITY FOR ANY AND ALL ACTS OF THIRD PARTIES INCLUDING ITS AUTHORIZED DEALERS OR INSTALLERS. BY PURCHASING THIS PRODUCT, THE CONSUMER AGREES AND CONSENTS THAT ALL DISPUTES BETWEEN THE CONSUMER AND SOUNDSTREAM SHALL BE RESOLVED IN ACCORDANCE WITH CALIFORNIA LAWS IN LOS ANGELES COUNTY, CALIFORNIA. Some states do not allow limitation on how long an implied warranty lasts. In such states, the limitation or exclusions of this Limited Warranty may not apply. Some states do not allow the exclusion or limitation of incidental or consequential damages. In such states, the exclusion or limitation of this Limited Warranty may not apply to you. This Limited Warranty gives you specific legal rights, and you may have other rights which vary from state to state.