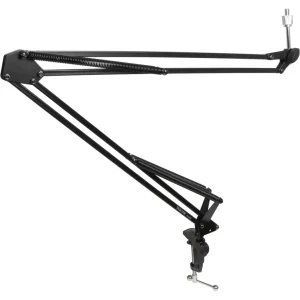 TASCAM Adjustable Microphone Arm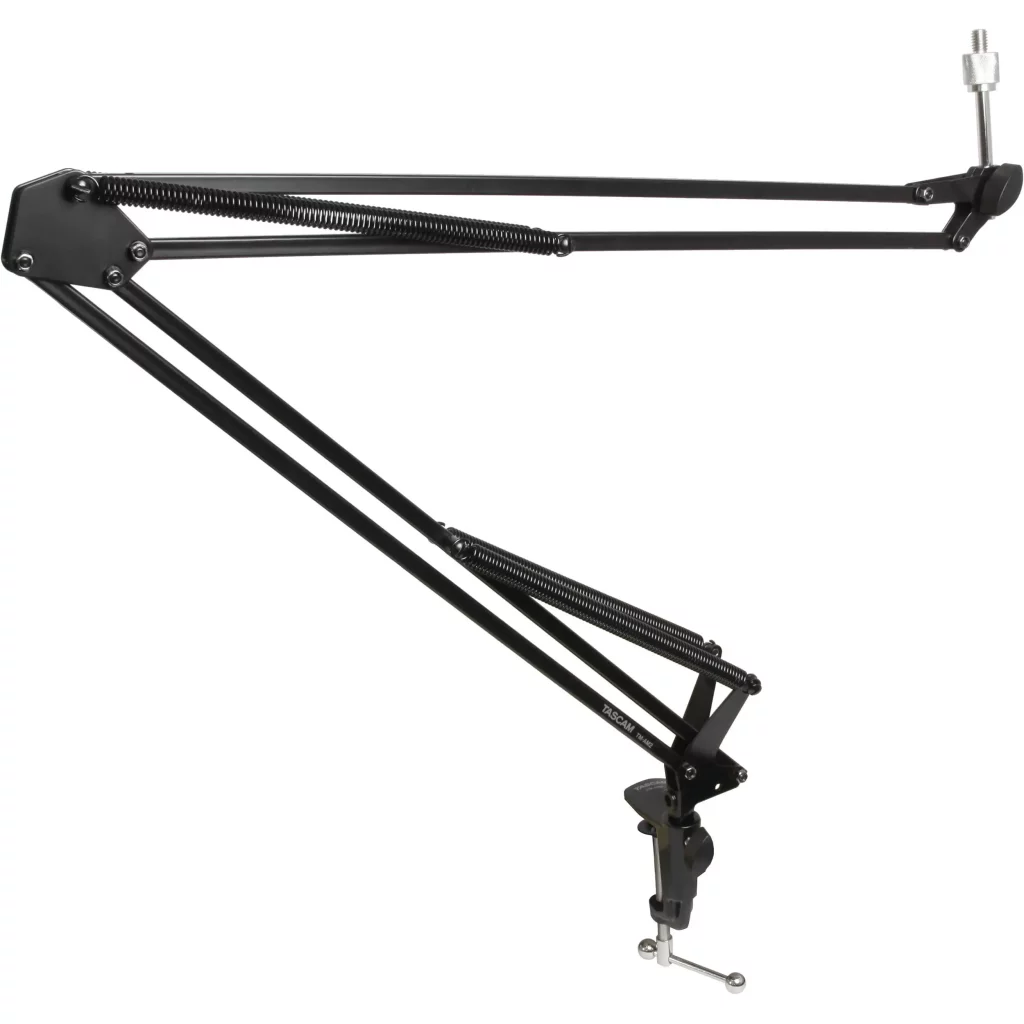 Description
Boom Scissor Arm Stand
Maximum Table Thickness: Less Than 2-5/32" inch (55 mm)
Foldable design
Included items
This product includes the following components. Open the package carefully to prevent damage to the main unit. Keep the box and other packing materials for transport in the future. If any of the included parts are missing or appear to have been damaged during shipping, please contact TASCAM.
TM-AM2 (Mic stand with desk clamp)…………………………………………x 1
Thread Adapter (5/8" Female to 3/8" Male)…………………………………x 1
Owner's manual (this manual) including warranty…………………………………………………………………………x 1
Cleaning the unit
Use a soft dry cloth to wipe the unit clean. Do not use chemically-treated cleaning cloths, thinner, alcohol or similar substances to wipe the unit. Doing so could damage the surface or cause discoloration.
Trademarks
TASCAM is a trademark of TEAC Corporation, registered in the U.S. and other countries.
Other company names, product names and logos in this document are the trademarks or registered trademarks of their respective owners.
Product registration
Customers in the USA, please visit the following TASCAM website to register your TASCAM product online. https://tascam.com/us/
Using the TEAC Global Site
You can download updates for this unit from the TEAC Global Site: http://teac-global.com/
In the TASCAM Downloads section, select the desired language to open the Downloads website page for that language..
About TASCAM customer support service
TASCAM products are supported and warrantied only in their country/region of purchase.
To receive support after purchase, on the TASCAM Distributors list page of the TEAC Global Site (http://teac-global.com/), search for the local company or representative for the region where you purchased the product and contact that organization.
When making inquiries, the address (URL) of the shop or web shop where it was purchased and the purchase date are required.
Moreover, the warranty card and proof of purchase might also be necessary.
Names and function of parts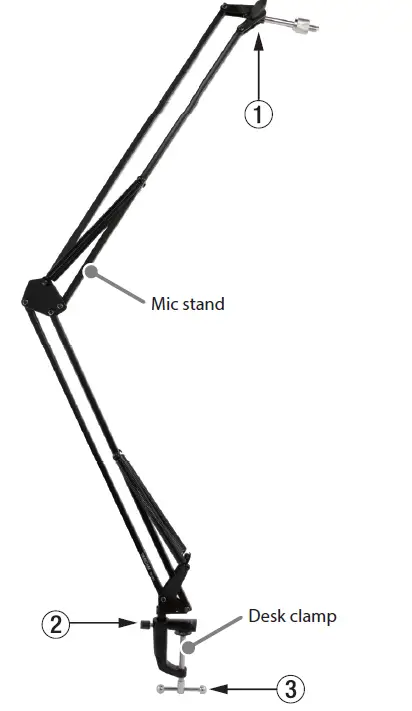 Mic angle adjustment screw
Mic stand attachment screw
Desk clamp attachment handle
Mic centering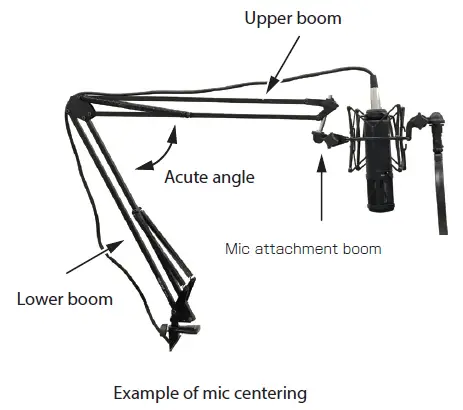 Mics can be centered as you like. Please pay attention to the following, however, to enable more stable centering.
Stability can be increased by angling the lower boom so that it is not perpendicular and setting the upper and lower booms so that they are at an acute angle. When setting a mic in a high position, we recommend starting by attaching the mic stand to a location that is itself high.
When using a heavy mic, such as a TASCAM TM-280, angle the mic attachment boom downward. In this setup with the mic suspended, the load on the mic angle adjustment screw is reduced and stability is increased.
Specifications
Attachable mic weight: 1.4 kg or less
Clamp attachment width: 55 mm or less
Stand dimensions:
Upper boom: 520 mm
Lower boom: 520 mm
Maximum height in perpendicular use: about 950 mm
Weight: 1.1kg
WARRANTY
In the United States
This warranty gives you specific legal rights and you may also have other rights which vary from state to state. This warranty is only valid within the country the unit was originally purchased.
WHAT IS COVERED AND WHAT IS NOT COVERED
Except as specified below, this warranty covers all defects in materials and workmanship in this product. The following are not covered by the warranty:
Damage to or deterioration of the external cabinet.
Damage resulting from accident, misuse, abuse or neglect.
Damage resulting from failure to perform basic daily maintenance and/or calibration or otherwise resulting from failure to follow instructions contained in your owner's manual.
Damage occurring during shipment of the product. (Claims must be presented to the carrier)
Damage resulting from repair or attempted repair by anyone other than TEAC or an authorized TASCAM service station.
Damage resulting from causes other than product defects, including lack of technical skill, competence, or experience of the user.
Damage to any unit which has been altered or on which the serial number has been defaced, modified or is missing.
WHO IS COVERED UNDER THE WARRANTY
This warranty may be enforced only by the original purchaser. This warranty is not valid if the product was purchased through an unauthorized dealer.
LENGTH OF WARRANTY
All parts except heads and disk drives are warranted for one (1) year from the date of original purchase. Heads and disk drives are warranted for ninety (90) days from date of original purchase. Labor is warranted for ninety (90) days from date of original purchase.
WHAT WE WILL PAY FOR
We will pay all labor and material expenses for items covered by the warranty. Payment of shipping charges is discussed in the next section of this warranty.
HOW YOU CAN GET WARRANTY SERVICE
Your unit must be serviced by an authorized TASCAM service station in the United States. (This warranty is not enforceable outside the U.S.) If you are unable to locate an authorized TASCAM service station in your area, please contact us. We either will refer you to an authorized service station or instruct you to return the unit to the factory. Whenever warranty service is required, you must present a copy of the original dated sales receipt from an Authorized TASCAM Dealer.
You must pay any shipping charges if it is necessary to ship the product to service. However, if the necessary repairs are covered by the warranty, we will pay return surface shipping charges to any destination within the United States.
LIMITATION OF IMPLIED WARRANTIES
Any implied warranties, INCLUDING WARRANTIES OF MERCHANTABILITY AND FITNESS FOR A PARTICULAR PURPOSE, are limited in duration to the length of this warranty.
EXCLUSION OF DAMAGES
TEAC's liability for any defective product is limited to repair or replacement of the product, at TEAC's option. TEAC shall not be liable for:
Damages based upon inconvenience, loss of use of the product, loss of time interrupted operation or commercial loss; or
Any other damages, whether incidental, consequential or otherwise.
Some states do not allow limitations on how long an implied warranty lasts and/or do not allow the exclusion or limitation of incidental or consequential damages, so the above limitations and exclusions may not apply to you.
To locate an Authorized Service Center in Your Area
CALL 1-323-726-0303
Europe
This product is subject to the legal warranty regulations of the country of purchase. In case of a defect or a problem, please contact the dealer where you bought the product.
In other countries/areas
This warranty gives you specific legal rights, and you may also have other rights that vary by country, state or province.
If you have a warranty claim or request, please contact the dealer where you bought the product.
If you require repair services for your TASCAM equipment, please contact the dealer where the product was purchased from or the TASCAM Distributor in your country. A list of TASCAM Distributors can be found on our website at : http://teac-global.com/