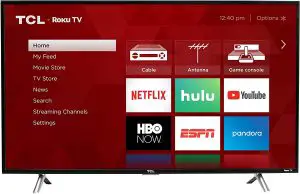 TCL S-Series S301/ S303/ S305 Roku TV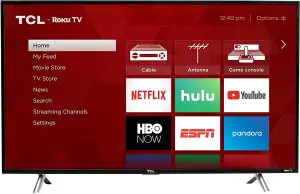 Important Information

CAUTION


RISK OF ELECTRIC SHOCK.
DO NOT OPEN.

This symbol indicates that this product incorporates double insulation between hazardous main voltage and user accessible parts. When servicing, use only identical replacement parts.
Caution: To reduce the risk of electric shock, do not remove cover (or back). No user serviceable parts inside. Refer servicing to qualified service personnel.

This symbol indicates "dangerous voltage" inside the product that presents a risk of electric shock or personal injury.

This symbol indicates important instructions accompanying the product.
WARNING: To reduce the risk of fire or electric shock, do not expose this product to rain or moisture. This product should not be exposed to dripping or splashing. No objects filled with liquids, such as vases, should be placed on the apparatus.
WARNING: The TV is unstable if it is not properly attached to the base or mounted to the wall. Please follow the base or wall mounting instructions provided in the User's Guide to ensure your safety.
Warning: The batteries shall not be exposed to excessive heat such as sunshine, fire or the like. Model No. Serial No. Purchase Date Dealer/Address/Phone Refer to the identification/rating label located on the back panel of your product for its proper operating voltage.
Cable TV Installer: This reminder is provided to call your attention to Article 820-40 of the National Electrical Code (Section 54 of the Canadian Electrical Code, Part 1) which provides guidelines for proper grounding and, in particular, specifies that the cable ground should be connected to the grounding system of the building as close to the point of cable entry as practical.
Important: This television is a table model and is designed to sit on a firm, flat surface. Don't place the TV on soft carpeting or similar surface because the ventilation slots on the bottom of the unit will be blocked, resulting in reduced lifetime from overheating. To assure adequate ventilation for this product, maintain a spacing of 1 inch from the top and side of the TV receiver and 2 inches from the rear of the TV receiver and other surfaces.
Also, make sure the stand or base you use is of adequate size and strength to prevent the TV from being accidentally tipped over, pushed off, or pulled off. This could cause personal injury and/or damage to the TV. Refer to the Important Safety Instructions on the next page.
The Power

button on this TV and your remote control puts the TV into a very low-power standby mode but will not completely turn the power off. In order to completely shut the power off, you will need to disconnect the power cord from the outlet. The mains plug/appliance coupler is used to completely turn off the device. If you prefer to completely turn off the device, you should install the TV in a manner that allows you to disconnect the power cord when desired.
Product Registration
Please register your TCL TV purchase on-line at www.tclusa.com. It will make it easier to contact you should it ever be necessary. Registration is not required for warranty coverage.
Product Information
Keep your sales receipt to obtain warranty parts and service and for proof of purchase. Attach it here and record the serial and model numbers in case you need them. These numbers are located on the product.
Warning: Changes or modifications to this unit not expressly approved by the party responsible for compliance could void the user's authority to operate the equipment. Keep the apparatus at least 8 inches away from the human body.
| | |
| --- | --- |
| Input | Signal Compatibility |
| Antenna/Cable | 480i, 480p, 720p, l080i (NTSC, ATSC, and QAM formats) |
| Composite Video | 480i, 576i |
| HDMI | 480i, 480p, 720p/60Hz, 1080i/60Hz, 1080p/60Hz, 576i/p, 1080i/p/50Hz |
For the best viewing experience, remove the energy guide label from the TV front panel or TV screen before use.
Model No. _____________
Purchase Date _____________
Serial No. _____________
Dealer/Address/Phone _____________
Important Safety Instructions
Read these instructions.
Keep these instructions.
Heed all warnings.
Follow all instructions.
Do not use this apparatus near water.
Clean only with dry cloth.
Do not block any ventilation openings. Install in accordance with the manufacturer's instructions.
Do not install near any heat sources such as radiators, heat registers, stoves, or other apparatus (including amplifiers) that produce heat.
Protect the power cord from being walked on or pinched particularly at plugs, convenience receptacles, and the point where they exit from the apparatus.
Only use attachments/accessories specified by the manufacturer.
Use only with the cart, stand, tripod, bracket, or table specified by the manufacturer, or sold with the apparatus. When a cart is used, use caution when moving the cart/apparatus combination to avoid injury from tip-over.
Unplug this apparatus during lightning storms or when unused for long periods of time.
Refer all servicing to qualified service personnel. Servicing is required when the apparatus has been damaged in any way, such as power-supply cord or plug is damaged, liquid has been spilled or objects have fallen into the apparatus, the apparatus has been exposed to rain or moisture, does not operate normally, or has been dropped.
For safe operation of the apparatus, observe these installation requirements: Keep at least 2 inches of ventilation space between the rear cover of the apparatus and the wall. Keep at least 1 inch of ventilation space between the apparatus and all other surfaces. Do not allow any of the apparatus' ventilation openings to be blocked by objects that might obstruct them, such as; newspapers, curtains, table-cloths or any other objects. Do not expose the apparatus to any external heat sources. Do not place any heat sources such as candles, lamps, etc. on the apparatus. Do not expose the device to high levels of humidity or to any possible sources of moisture. When disposing of used batteries from the remote control, consult local regulations regarding proper disposal.
If an outside antenna or cable system is connected to the product, be sure the antenna or cable system is grounded so as to provide some protection against voltage surges and built up static charges. Section 810 of the National Electrical Code, ANSI/NFPA No. 70-2011 (Section 54 of Canadian Electrical Code, Part 1) provides information with respect to proper grounding of the mast and supporting structure, grounding of the lead in wire to an antenna-discharge unit, size of grounding conductors, location of antenna discharge unit, connection to grounding electrodes, and requirements for the grounding electrode. See following example: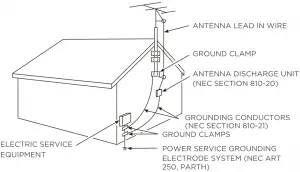 What's in the box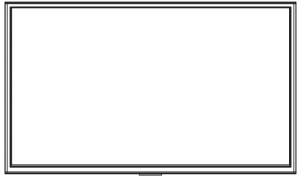 TCL · Roku TV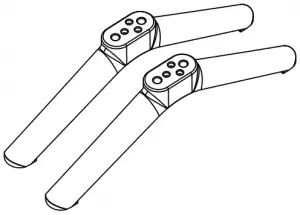 TV stands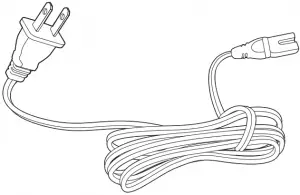 Removable power cable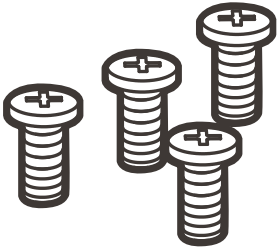 4 x TV stand screws (Phillips)
(ST4X20mm for 28"/32")
(ST4X25mm for 40"/43")
(M5X35mm for 49")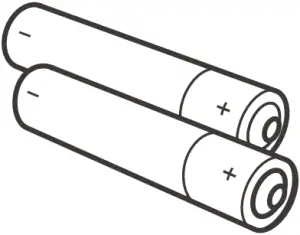 2 x AAA batteries for remote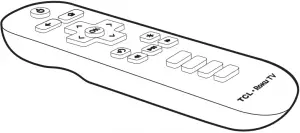 TV remote
What you need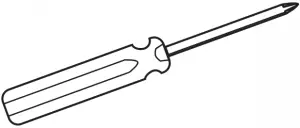 Phillips head screwdriver
Make the most of your Smart TV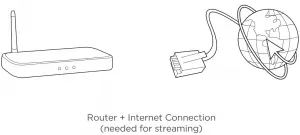 For additional support , please see User Manual at: www.TCLUSA.com/support
Key things to know: A paid subscription or other payments may be required for some streaming channels. Channel availability subject to change and varies by country.
Step 1: Set up your TV
Ready for the step-by-step? You're only minutes away from TV bliss!
Remove your TV from the box
Be careful, it's heavy!
To use the stand
A. To prevent damage to the screen, carefully place your TV on a soft, cushioned surface.
B. Put the column of the stands into the TV, align the stands with the screw holes located on the TV.
C. Secure the stands to the TV with four (4) screws.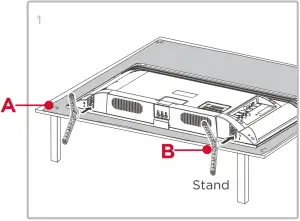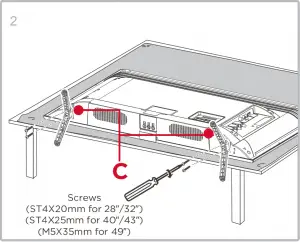 To mount on a wall
If you are mounting your tv to the wall, don't attach the stands
To mount your TV to the wall, purchase a VESA wall mount
Models of 28" or 32" or 40" or 43"
Purchase a VESA 100×100 mount (requires qty. 4 M4x12 screws)
Models of 49"
Purchase a VESA 200×200 mount (requires qty. 4 M6x16 screws)
The VESA number is the horizontal and vertical measurement of the mounting holes. For example, 200X200 refers to the fact that the mounting measurements are 200mm horizontally and 200mm vertically.
Follow the instructions that come with the wall mount.
Your wall mount must be able to bear a minimum of five times the TV's net weight to avoid causing damage.
Warning:
Never place a television set in an unstable location. A television set may fall, causing serious personal injury or death. Many injuries, particularly to children, can be avoided by taking simple precautions such as:
Using cabinets or stands recommended by the manufacturer of the television set.
Only using furniture that can safely support the television set.
Ensuring the television set is not overhanging the edge of the supporting furniture.
Not placing the television set on tall furniture (for example, cupboards or bookcases) without anchoring both the furniture and the television set to a suitable support.
Not placing the television set on cloth or other materials that may be located between the television set and supporting furniture.
Educating children about the dangers of climbing on furniture to reach the television set or its controls.
If your existing television set is being retained and relocated, the same considerations as above should be applied.
Step 2: Power up
In this step, we'll make sure all systems are GO!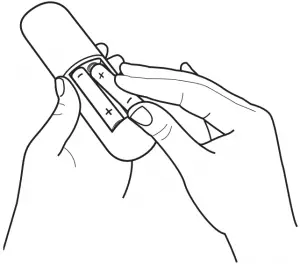 Power your TV remote by inserting
the included batteries.
Connect your power cable to the TV,
then plug it in to the wall outlet.
Connect other devices by referencing port label and descriptions on the bottom of page 6.
Power Tip! Always replace depleted batteries with two same brand-new batteries from the same manufacturer. Never use damaged batteries.
If your remote gets warm/hot during use, discontinue use and contact customer support immediately at www.TCLUSA.com/support.
Step 3: Grab your remote
The TV remote should feel right at home in your hand. We designed it to be incredibly intuitive for watching TV and navigating on-screen menus.
Here's some buttons you should know about
A. POWER Turn TV on and off
BACK Return to previous screen
HOME Return to Roku Home screen
VOLUME Raise and lower volume
INSTANT REPLAY Replay the last few seconds.
OPTIONS View more options
RWD SCAN Rewind streaming video, scroll left one page at a time
FWD SCAN Fast forward streaming video, scroll right one page
at a time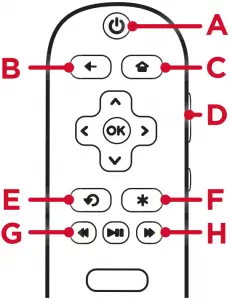 Tip! The

button gives you easy access to picture settings, display options, and more. Try it on every screen!
Step 4: Get to know your TV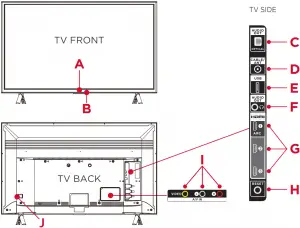 A. STATUS LIGHT / REMOTE RECEIVER: Point your TV remote here. Glows when the TV is in standby, flashes when the TV is busy, flashes once with each button press of the remote control.
B. POWER and OPTIONS BUTTONS: Found on the bottom surface of the TV for easy use.
C. OPTICAL (AUDIO OUT): Connect an optical cable to an external digital audio system.
D. CABLE/ANTENNA IN: Connect an outdoor VHF/UHF antenna or Cable TV feed.
E.USB PORT: Connect a USB device to access your personal photos, music and movies.
F. HEADPHONE OUT: Connect headphones or other external speakers.
G. 3 HDMI® PORTS: Highest Quality audio/video connection. Connect cable box, Blu-ray player, gaming console, or other devices to your TV using HDMI cables.
HDMI ARC PORT: Connect HDMI ARC (audio return channel) capable audio devices like sound bars or AV receivers.
H. RESET BUTTON: Press and hold for factory reset. Careful, you will lose all your settings!
I. A/V IN If your device isn't able to connect using HDMI®, connect to your TV using standard red/white/yellow cables.
J. AC POWER: Plug your power cord here
Step 5 Complete guided setup
Establish your network connection
It's the final stretch—hurray!
Let's Connect
Your TV will automatically detect wireless networks in your area. Have your network name and password handy and follow the easy on-screen instructions for the highest performance connection.
Once you're connected, your TV will automatically update with the latest software—plus you can start streaming the entertainment you know and love. Unlike other TVs, your new TCL • Roku TV automatically receives regular software updates in the background when it's connected to the internet. This allows it to give you a better and better experience.
If you aren't ready to connect your TV to a wireless network, you can still use it as a regular TV
And setup is done…congratulations!
Continue using the remote to personalize your Home screen and channel line up, stream movies, and so much more.
If you have an antenna or cable connected, just click the tuner tile to watch broadcast TV channels. The fun has just begun!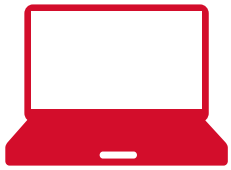 Your Roku account: During Guided Setup, you'll be prompted to create your Roku account online at roku.com/link. Your TV will generate a unique code that links your TV to your new account.
Roku accounts are free, and while a valid credit card is recommended, it is not required. If you choose to register with a credit card, you will be able to seamlessly rent movies, TV shows and download apps without having to enter in your credit card information each time. A unique PIN can be added to the account to prevent unauthorized purchases.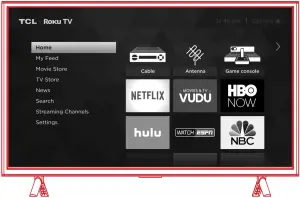 Roku TV menu may vary and subject to change
Connecting brings out your TV's full potential!
You'll have access to more than 3,000 streaming channels*.
Make any night a movie night
More than 35,000 movies to choose from, across all major streaming movie channels like Netflix, Amazon Video, Google Play, VUDU, and more.*
Get in the groove
Stream music from one of 120 music channels like Pandora, VEVO and Spotify. Access your entire MP3 collection instantly with Amazon Cloud Player or the Roku Media Player.
Explore your passions
In addition to popular streaming channels like HBO NOW, SHOWTIME, PBS Kids, and FOX Now , your TCL Rok TV also offers hundreds of streaming channels to fuel your passions including fitness, cooking, religion, outdoors, international programming, and much more.
Enjoy FREE trials of popular channels
Your TCL • Roku TV comes loaded with special offers, including free** trials from popular streaming channels.
TTE Technology, Inc. ("TTE") Limited Warranty
All LCD/LED Models.
What your warranty covers: Defects in materials or workmanship to the original owner of this TCL product when purchased as new from an Authorized Dealer of TCL brand products in the United States and packaged with this warranty statement.
New LCD/LED Televisions (Non-Commercial Use)
For how long after your purchase:
One (1) year from date of purchase for parts and labor for non commercial use.
New LCD/LED Televisions (Commercial Use)
For how long after your purchase:
Six (6) months from date of purchase for parts and labor for commercial use. Commercial use includes, but is not limited to, the use of this product in a commercial or business environment, the use of this product in an institution or for institutional purposes, or other commercial purposes including rental purposes.
What we will do:
At TTE's discretion, (1) pay an Authorized TCL Service Center for both labor charges and parts to repair your television, or (2) replace your television with a new or refurbished / remanufactured equivalent value product. The decision to repair or replace will be made solely by TTE. See "How to get service".How to get service:
Call 1-877-300-8837.
Please have your original purchase receipt or proof of purchase (bill of sale or receipted invoice), the unit's date of purchase, place of purchase and model/serial number ready. The model/serial number information can be found on the back of your unit.
A representative will troubleshoot your problem over the telephone. If it is determined that your unit requires service, the service location will be at the sole discretion of TTE based upon the TTE Limited Warranty Statement.
At the sole discretion of TTE, television screen sizes 43" and smaller will either be repaired at an Authorized TCL Service Centre or directly exchanged for a new or refurbished/remanufactured unit. At the sole discretion of TTE, television screen sizes 44" through 55" or larger will either be repaired at an Authorized TCL Service Center or repaired in home.
If repaired at an Authorized TCL Service Center, a pre-paid shipping label will be provided and TTE will pay for return shipping.
Proof of purchase in the form of a bill of sale or receipted invoice from an Authorized Dealer which is evidence that the product is within the warranty period must be presented to obtain warranty service.
PRE-AUTHORIZATION MUST BE OBTAINED BEFORE (1) SENDING ANY PRODUCT TO AN AUTHORIZED TCL SERVICE CENTER, OR (2) OBTAINING ANY IN-HOME REPAIR/REPLACEMENT/RENTAL SERVICES.
What your warranty does not cover:
Customer instruction. (Your Owner's Manual describes how to install, adjust, and operate your unit. Any additional information should be obtained from your Authorized Dealer).
Installation and related adjustments, or damage resulting from installation.
Damage resulting from non-approved installation methods.
Signal reception problems not caused by your unit.
Damage from misuse, abuse, neglect, normal wear and tear, cosmetic damage, mishandling, faulty installation, or power line surges.
Markings or images on the television's panel resulting from viewing fixed images (including but not limited to certain 4:3 images on wide screen televisions, or data or images in fixed screen locations from banners, video games, or certain broadcast networks).
A television that has been modified or incorporated into other products.
A unit purchased or serviced outside the USA.
A unit sold in "As-Is", "Factory Reconditioned", "Factory Re-Certified", or "Refurbished" condition or with faults.
Acts of nature or God, such as but not limited to earthquake or lightning damage.
Special, incidental or consequential damages.
Product Registration:
Please register your TCL purchase on-line at www.tclusa.com. It will make it easier to contact you should it ever be necessary. Registration is not required for warranty coverage.
LIMITATION OF WARRANTY
The warranty stated above is the only warranty applicable to this product. No verbal or written information given by TTE technology, INC., its agents or employees shall create a guaranty or in any way increase or modify the scope of this warranty. Repair or replacement as provided under this warranty is the exclusive remedy of the consumer. TTE technology, INC. Shall not be liable for special, incidental, or consequential damages resulting from the use of this product or arising out of any breach of any express or implied warranty on this product. This disclaimer of warranties and limited warranty are governed by the laws of the state of California. Except to the extent prohibited by applicable law, any implied warranty of merchantability or fitness for a particular purpose on this product is limited to the applicable warranty and warranty period set forth above. This warranty is subject to change without notice. Please visit www.Tclusa.Com to view the most current version.
How State Law relates to this warranty:
Some states do not allow the exclusion or limitation of incidental or consequential damages, or limitations on how long an implied warranty lasts, so the above limitations or exclusions may not apply to you.
This warranty gives you specific legal rights, and you also may have other rights that vary from state to state.
If you purchased your unit outside the United States or seek warranty coverage outside the United States:
This warranty does not apply. Contact your dealer for warranty information
Service calls which do not involve defective materials or workmanship are not covered by this warranty. Costs of such service calls are the sole responsibility of the purchaser.
Broadcasting and Operating Environment
Broadcasting system
US System NTSC-M
ATSC standard (8VSB), QAM
Receiving Channels
VHF2-13 UHF14-69 CATV
14-36 (A)-(W)
37-59 (AA)-(WW)60-85 (AAA)-(ZZZ)
86-94 (86)-(94)95-99 (A-5)-(A-1)
100-135 (100)-(135)
01 (4A)
Tuner type
Frequency synthesized
Operating Temperature
5°C to 35°C (41°F to 95°F)
Operating Humidity
20% to 80%, non-condensing
Storage Temperature
-15°C to 45°C (5°F to 113°F)
Storage Humidity
10% to 90%, non-condensing
Troubleshooting
Having trouble completing the guided setup? Don't worry, it's usually an easy fix.
Cannot connect to wireless network (Wi-Fi)
Select the correct wireless network name and verify the password entered (case sensitive).
Relocate the router from objects that interfere with performance (cordless phones, baby monitors, etc. ).
Reboot the router by disconnecting the power for
My picture is too small (black bars on the side)
Play your movie/video and press the (*) asterisk button.
Select Picture Size, select the picture size of your preference.
Problems connecting my cable/satellite box or antenna through a coax cable
For best performance, use the HDMI connection. If not available, then:
Make sure the cable connections to the TV and your device are securely fastened.
Select cable/satellite box or antenna TV input.
Select "start finding channels" and follow the on-screen instructions to perform a full channel scan
How to install the Remote Control Mobile App
The free Roku app allows you to use your mobile device as a full functioning remote control with voice search & keypad.
Download the Roku app to your phone or tablet through Google Play or iTunes.
Simply search for "Roku App" and choose the Roku app by Roku Inc.
Follow the onscreen prompts and you're on your way!
What is the remote code for programming my Universal or Cable/Satellite box remote control
Please visit www.tclusa.com/remotecodes
How do I turn the Text-to-Speech (TTS) audio guide on or off?
Press "*" key on the remote controller four times to turn the audio guide on or off.
OR
Select "Settings" at home screen
Select "Accessibility"
Select "Audio Guide" and turn it on or off

This product incorporates HDMI technology.
HDMI, the HDMI logo, and High-Definition Multimedia Interface are trademarks or registered trademarks of HDMI Licensing LLC.

Manufactured under license from Dolby Laboratories.
Dolby, Dolby Audio, and the double-D symbol are trademarks of Dolby Laboratories.
FCC Information
This equipment has been tested and found to comply with the limits for a Class B digital device, pursuant to Part 15 of the FCC Rules. These limits are designed to provide reasonable protection against harmful interference in a residential installation. This equipment generates, uses, and can radiate radio frequency energy and, if not installed and used in accordance with the instructions, may cause harmful interference to radio communications. However, there is no guarantee that interference will not occur in a particular installation. If this equipment does cause harmful interference to radio or television reception, which can be determined by turning the equipment off and on, the user is encouraged to try to correct the interference by one or more of the following measures:
Reorient or relocate the receiving antenna.
Increase the separation between the equipment and receiver.
Connect the equipment into an outlet on a circuit different from that to which the receiver is connected.
Consult the dealer or an experienced radio/TV technician for help. This Class B digital apparatus complies with Canadian ICES-003.
This device complies with part 15 of the FCC Rules. Operation is subject to the following two conditions:
(1) This device may not cause harmful interference, and
(2) this device must accept any interference received, including interference that may cause undesired operation.
ELECTRONICS RECYCLING INFORMATION FOR CONSUMERS
TCL strives to provide a high level of service to our customers and in the communities we serve, and recommends that consumers always look for a recycling or reuse alternative to throwing away televisions and other electronics.
We encourage customers to recycle end-of-life electronic devices using one of the many convenient methods available today. In many states TCL has programs in place to enable consumers to drop-off recycle televisions free of charge. For Information on electronics recycling in all 50 states, including drop off locations, please visit the "Electronics Recycling" area of the TCL USA website at www.tclusa.com
DO NOT RETURN TO STORE
WE ARE READY TO HELP
contact us first with any questions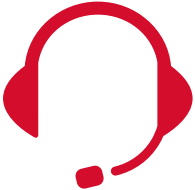 TCL SUPPORT:
www.tclusa.com/support
1-877-300-8837
TAKE CARE WHEN REMOVING THE TV