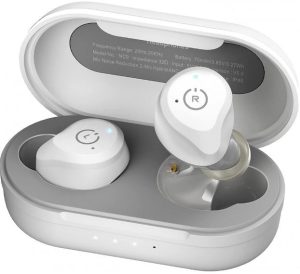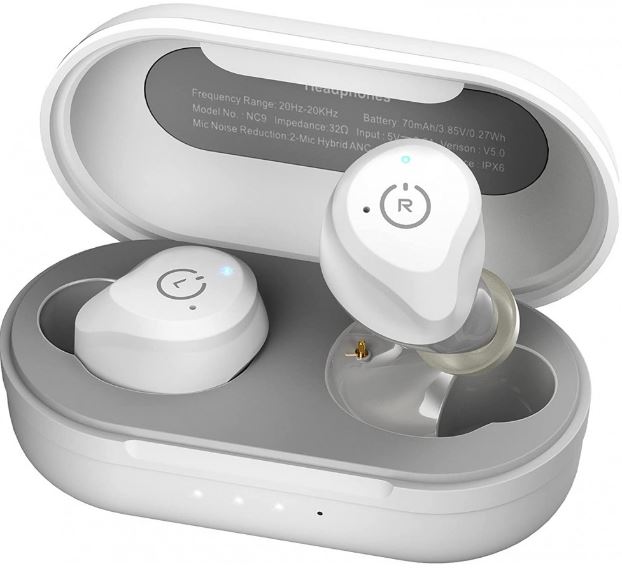 TOZO NC9 Earbuds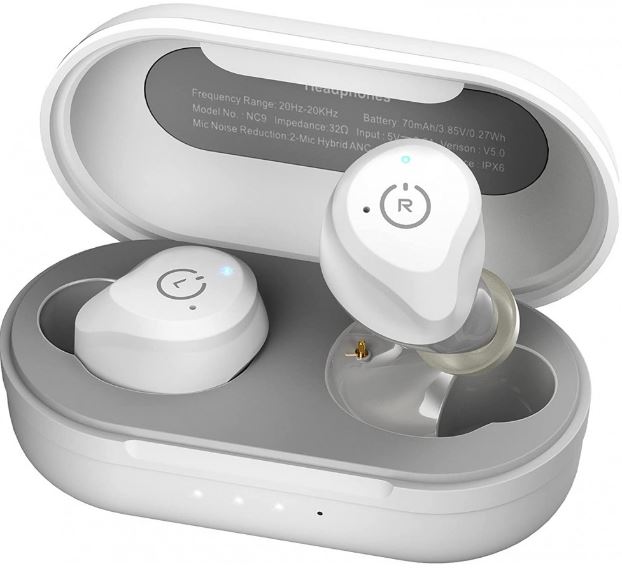 TOZO NC9 Earbuds
NC9
ANC Wireless Earbuds
Thank you for purchasing the TOZO authentic product. For more latest product, parts and accessories, please visit: www.tozostore.com For any assistance please contact Email: [email protected]
Product Description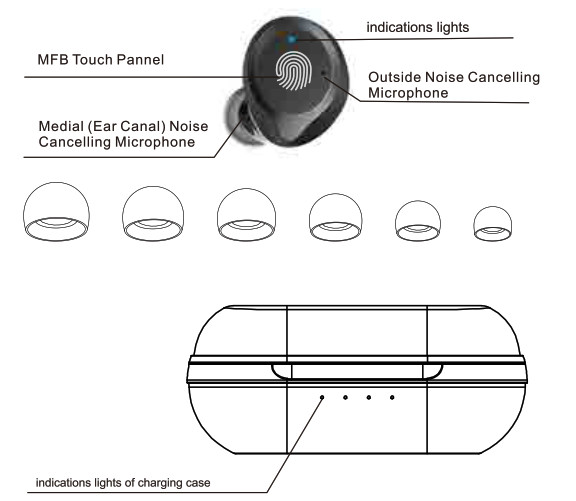 Wearing Steps
Step1: Ensure sounds hole downward, then place earbuds into ear.
Step2: Rotate the earbud back to the auricle side to fit snugly.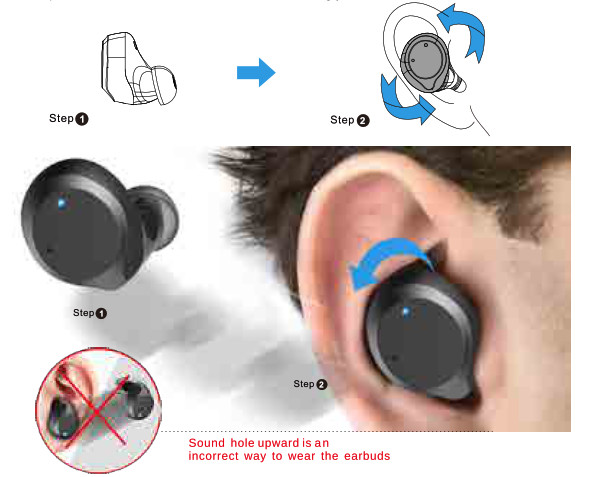 Operation of earbuds
How to pair
1. Take out the 2 earbuds from charging case, they will power on automatically and will connect each other automatically within 10 seconds.
2. The two earbuds flash red and blue alternately.(Pairing Mode)
3. Search for pairing name [TOZO-NC9] and select it.
Another method of Turning on & Turning off
Turn on: Tap and hold the Touch Control on borh earbuds for over 3 seconds.
Turn off:
1.Touch the Control button 5 seconds will turn off when earbuds in playless status.
2.The earbuds will turn off automatically after it is disconnected for more than 5 minutes.
Reset
If you accidentally get only one earbud work, or fails to pair earch other, please reset it:
1. Delete all TOZO-NC9 records on the phone, then turn off the Bluetooth.
2. Holding both earbuds button for 5 seconds till red lights on to turn off earbuds.
3. Holding the MFB Touch Panel on each of the earbuds for another 5 seconds till blue light turn on and off, and then clicking the MFB Touch Panel on each of the earbuds twice quickly, the reset process will be done when the Purple light on for is, then two earbuds flash red and blue alternately.

Switch between noise-control modes
Click the left earbud to switch the ANC Noise Cancellation/Transparency mode. The ANC function are not available when using single earphone.
Note: If the electromagnetic interference signal is strong in your area, it may affect the Bluetooth connection, and the earbuds will be silent or disconnected, please reconnect it or change the place of use.
Active Noise Cancellation Mode (ANC Mode)
With Active Noise Cancellation, an outward-facing microphone detects external sounds, which your TOZO NC9 earbuds then counter with anti-noise, canceling the external sounds before you hear them. An inward-facing microphone listens inside your ear for unwanted internal sounds, which your TOZO NC9 earbuds also counter with anti-noise.

Transparency Mode
Transparency mode can enhance the voice frequency band and improve the perception of the surrounding sound, so you can hear what's going on around you without taking off the earbuds. Active Noise Cancellation and Transparency mode work best when your TOZO NC9 fits well and wearing correctly.

Detailed Function List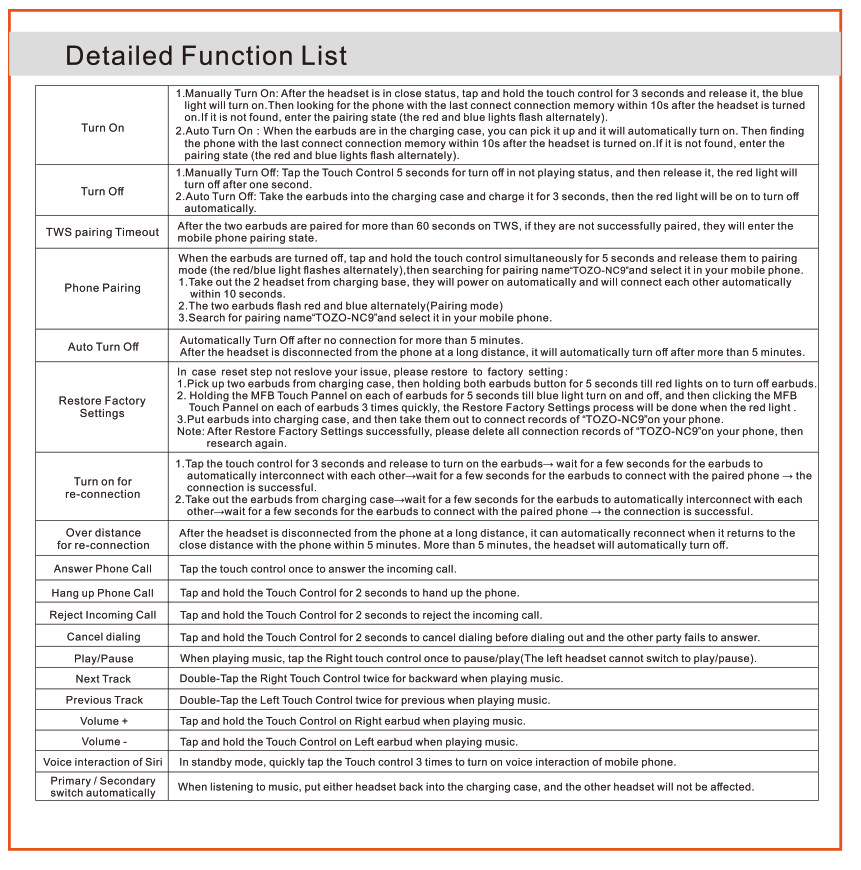 Function List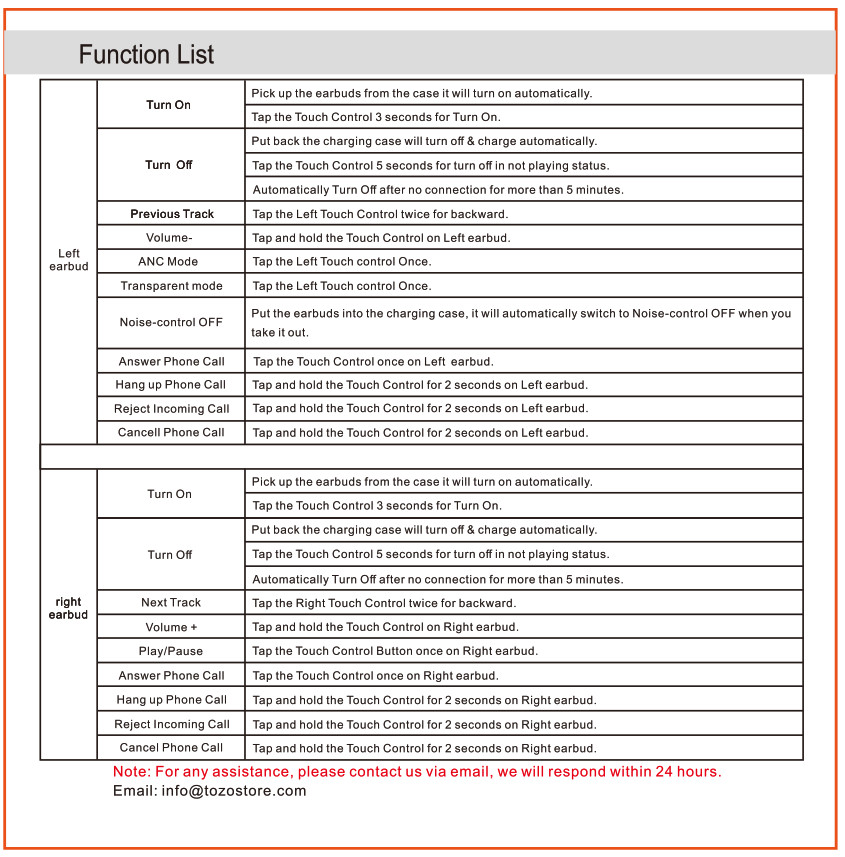 TOZO NC9 Earbuds User Manual – Download [optimized]
TOZO NC9 Earbuds User Manual – Download
FAQ'S
Why does my earbud not power on?
Please charge the earbuds for at least 2 hours before using.
Why does my earbuds not connect with my phone?
Please make sure your phone is compatible with Bluetooth V4.1, and the earbuds are already connected to the phone successfully.
Why can't I hear any sound when I use the earbuds?
Please check if the battery is fully charged, if yes, please try to reset it. If still no sound, please contact us.
How do I activate TOZO noise Cancelling?
Click the left earbud to switch the Active Noise Cancellation/Transparency mode. The Active Noise Cancellation function are not available when using single earphone.
Which TOZO earbuds have the longest battery life?
The TOZO T6 Wireless Earbuds have battery battery life than the TOZO T10 Bluetooth 5.0 Wireless Earbuds. While TOZO T6 can last for over 6 hours in a single charge, TOZO T10 can last for only 4 hours in a single charge.
What is the difference between the TOZO earbuds?
The TOZO T6 Truly Wireless are better truly wireless headphones than the TOZO T10 Truly Wireless. The T6 are more comfortable, have better controls, a better-balanced sound profile, better battery life, a smaller case, and come with more different tip options.
How do I know when TOZO earphones are charged?
Charging
Put the earbuds into the charging case, they will power off & be charged automatically. When the red LED lights up, it means that the earbuds are being charged from charging case.
The red light will turn off when the earbuds are fully charged.
Why are my TOZO earbuds blinking?
They are in pairing or discovery mode. This means your headphones are looking for another Bluetooth device to connect with. Sometimes, headphones in pairing mode are trying but failing to connect with another device. They're running into an error during pairing, so they blink red and blue to let you know.
Can you wear TOZO earbuds in the shower?
The earbuds and case both come equipped with a nano-coating that makes this possible. While we can't recommend them for swimming, you can feel fine about getting them soaked in water or sweat.
Why is one of my TOZO earbuds not working?
The two earbuds have to reset at a same time. (With press for 5 seconds to turn off earbuds, release the hand, then press both earbud`s button at a same time and hold for 15 Seconds until purple light flash twice, reset done.)
Why wont my earbuds turn on?
If the power on the headphones is not turning on, the battery may not be inserted correctly or the battery may need to be replaced. Check the following items to troubleshoot this issue. IMPORTANT: If model-specific information is needed to complete any of the steps, refer to the instructions supplied with the product.
Why did my wireless earbuds stop working?
If your headphones' battery is low, it may have trouble pairing—and I've even found some Bluetooth headphones stay turned on when in the case, meaning they'll drain down to 0 percent faster than you expect. Try plugging them in and charging them fully before pairing, even if they say they have some battery left.
Why is Bluetooth not finding devices?
It's usually because the device's own Bluetooth is switched off, or isn't in pairing mode. Check the user manual to find out how to make it discoverable by turning on pairing mode. With some headphones, it's a case of holding the power button down for longer, but with other devices there's a dedicated Bluetooth button.
TOZO NC9 Earbuds
www://tozostore.com/