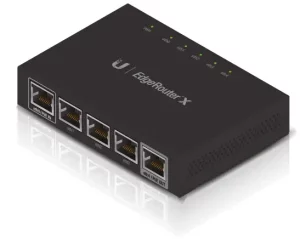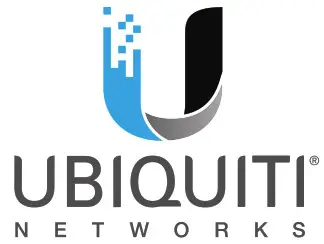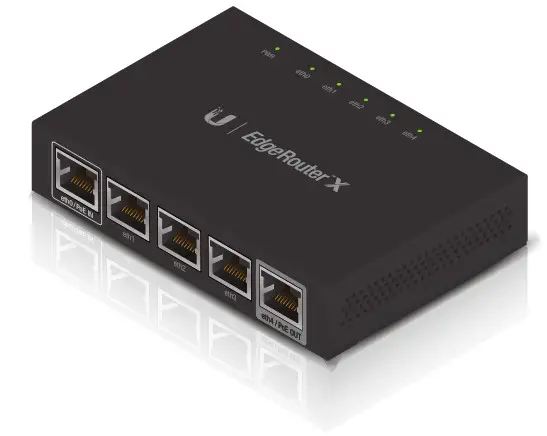 Advanced Gigabit Ethernet Router
Model: ER-X
QUICK START GUIDE
Introduction
Thank you for purchasing the Ubiquiti Networks® EdgeRouter ™ X. This Quick Start Guide is designed to guide you through installation and also includes warranty terms.
Package Contents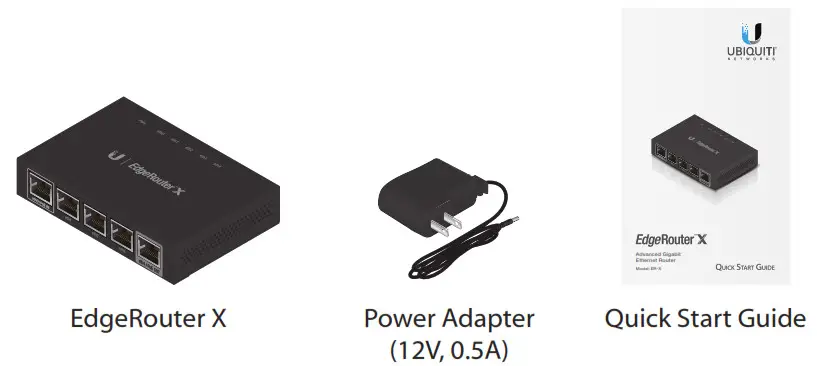 Installation Requirements
For indoor applications, use Category 5 (or above) UTP cabling approved for indoor use.
For outdoor applications, shielded Category 5 (or above) cabling should be used for all wired Ethernet connections. To enhance ESD protection, attach a ground wire (not included) to the back panel of the EdgeRouter X.
We recommend that you protect your networks from harmful outdoor environments and destructive ESD events with industrial-grade, shielded Ethernet cable from Ubiquiti Networks. For more details, visit www.ubnt.com/toughcable
WARNING: To reduce the risk of fire or electric shock, do not expose the EdgeRouter X to rain or moisture.
Note: Although the cabling can be located outdoors, the EdgeRouter X itself should be housed inside a protective enclosure.
TERMS OF USE: All Ethernet cabling runs must use CAT5 (or above). It is the customer's responsibility to follow local country regulations, including operation within legal frequency channels, output power, indoor cabling requirements, and Dynamic Frequency Selection (DFS) requirements.
Hardware Overview
Top Panel


LED
State
Status
Power
Off
Power Off
Green
Power On
eth0‑eth4
Off
No Link
Green
Link Established at 10/100/1000 Mbps
Flashing Indicates Activity
Front Panel


| | |
| --- | --- |
| Port | Description |
| eth0/PoE In | RJ45 port accepts 24V passive PoE and supports a 10/100/1000 Ethernet connection. |
| eth1‑3 | RJ45 ports support 10/100/1000 Ethernet connections. |
| eth4/PoE Out | RJ45 port supports passive PoE passthrough and a 10/100/1000 Ethernet connection. |
Passive PoE Passthrough
The EdgeRouter X can be powered by either method:
Power adapter
24V passive PoE on the eth0/PoE In port
Passive PoE output on port eth4/PoE Out works as a passthrough and depends on the input power source.
If the included Power Adapter (12V, 0.5A) is used, there may not be sufficient passthrough to power another device because the EdgeRouter X can consume up to 5 watts on its own.
We recommend using a more powerful input power source (not included); here are a few examples of viable power input options for passive PoE passthrough:
Power Input
Passive PoE Passthrough
24V passive PoE (on eth0/PoE In)*
≈23V, 5W
12V, 1A
(ERLite-3 Power Adapter)
≈11V, 5W
24V, 2.5A
(ERPoe-5 Power Adapter)
≈23V, 11W
* Not compatible with 24V, 1A Gigabit PoE Adapter.
Back Panel
Button
Description
Reset
There are two methods to reset the
EdgeRouter X to factory defaults:
Runtime Reset (Recommended)
The EdgeRouter X should be running after bootup is complete. Press and hold the Reset button for about 10 seconds until the eth4 LED starts flashing and then becomes solidly lit. After a few seconds, the LED will turn off, and the EdgeRouter X will automatically reboot.
Power‑on Reset
1. Disconnect the Power Adapter from the EdgeRouter X.
2. Press and hold the Reset button while connecting the Power Adapter to the EdgeRouter X. Keep holding the button until the eth4 LED starts flashing and then stops flashing after a few seconds.
| | |
| --- | --- |
| Detail | Description |
| Ground | ESD grounding for enhanced ESD protection. The ground wire and screw with washer are not included (recommended screw size: M3-0.5 x 4 mm). |
| Power | Connect the Power Adapter. |
Hardware Installation
Place the EdgeRouter X on a flat, horizontal surface or mount it on a wall (mounting screws not included).

WARNING: FAILURE TO PROVIDE PROPER VENTILATION MAY CAUSE FIRE HAZARD. KEEP AT LEAST 20 MM OF CLEARANCE NEXT TO THE VENTILATION HOLES FOR ADEQUATE AIRFLOW.
Connecting Power
Follow the appropriate instructions for your installation:
Connecting Power Using the Power Adapter
Connect the Power Adapter to the Power port of the EdgeRouter X. Then plug the Power Adapter into a power outlet.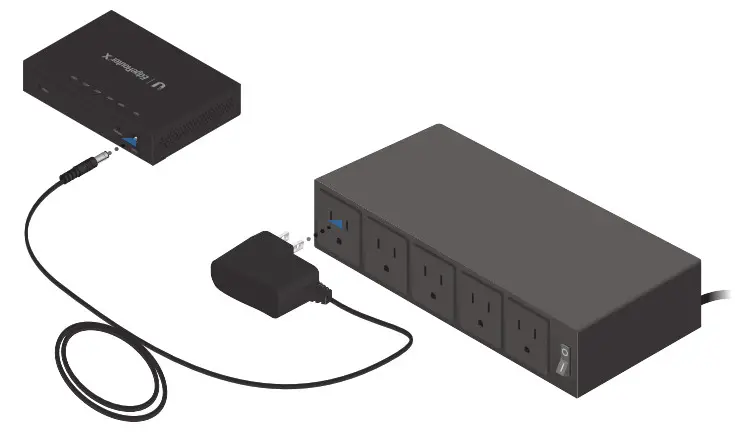 Connecting Power Using PoE
Connect the PoE cable of a PoE switch or adapter to the eth0/PoE In port of the EdgeRouter X.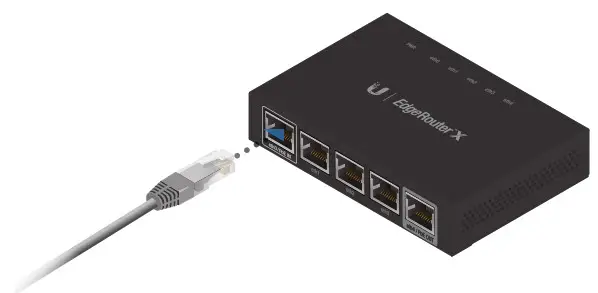 Accessing the Configuration Interface
Follow the appropriate instruction for your installation:
• If you are using the Power Adapter, then connect an Ethernet cable from the Ethernet port of your host system to the port labeled eth0/PoE In on the EdgeRouter X.
• If you are using PoE, then connect your host system to the PoE switch or adapter.

Configure the Ethernet adapter on your host system with a static IP address on the 192.168.1.x subnet.
Launch your web browser. Type https://192.168.1.1 in the address field. Press enter (PC) or return (Mac).

The login screen will appear. Enter ubnt in the Username and Password fields. Read the Ubiquiti License Agreement, and check the box next to I agree to the terms of this License Agreement to accept it. Click Login.

The EdgeOS Configuration Interface will appear, allowing you to customize your settings as needed. You can click the Wizards tab to access the Setup Wizard. For more information, refer to the EdgeOS User Guide, which is available at documentation.ubnt.com/edgemax
Specifications
EdgeRouter X
Dimensions
110 x 75 x 22 mm (4.33 x 2.95 x 0.87″)
Weight
175g (6.17 oz)
Max. Power Consumption
5W
Power Input
12VDC, 0.5A Power Adapter (Included) or 24V Passive PoE
Power Supply
External AC/DC Adapter
Supported Voltage Range
9 to 26VDC
Button
Reset
LED
Power, Ethernet 0‑4
Processor
Dual-Core 880 MHz, MIPS1004Kc
System Memory
256 MB DDR3 RAM
Code Storage
256 MB NAND
Certifications
CE, FCC, IC
Wall‑Mount
Yes
Operating Temperature
-10 to 45° C (14 to 113° F)
Operating Humidity
10 to 90% Noncondensing
Networking Interfaces
Data/PoE Input Port
Data Ports
Data/PoE Passthrough Port
(1) 10/100/1000 RJ45 Port
(3) 10/100/1000 RJ45 Ports
(1) 10/100/1000 RJ45 Port
Safety Notices
Read, follow, and keep these instructions.
Heed all warnings.
Only use attachments/accessories specified by the manufacturer.
WARNING: Failure to provide proper ventilation may cause fire hazard. Keep at least 20 mm of clearance next to the ventilation holes for adequate airflow.
WARNING: To reduce the risk of fire or electric shock, do not expose this product to rain or moisture.
WARNING: Do not use this product in location that can be submerged by water.
WARNING: Avoid using this product during an electrical storm. There may be a remote risk of electric shock from lightning.

Electrical Safety Information
Compliance is required with respect to voltage, frequency, and current requirements indicated on the manufacturer's label. Connection to a different power source than those specified may result in improper operation, damage to the equipment or pose a fire hazard if the limitations are not followed.
There are no operator serviceable parts inside this equipment. Service should be provided only by a qualified service technician.
This equipment is provided with a detachable power cord which has an integral safety ground wire intended for connection to a grounded safety outlet.
a. Do not substitute the power cord with one that is not the provided approved type. Never use an adapter plug to connect to a 2-wire outlet as this will defeat the continuity of the grounding wire.
b. The equipment requires the use of the ground wire as a part of the safety certification, modification or misuse can provide a shock hazard that can result in serious injury or death.
c. Contact a qualified electrician or the manufacturer if there are questions about the installation prior to connecting the equipment.
d. Protective earthing is provided by Listed AC adapter. Building installation shall provide appropriate short-circuit backup protection.
e. Protective bonding must be installed in accordance with local national wiring rules and regulations.
Limited Warranty
UBIQUITI NETWORKS, Inc ("UBIQUITI NETWORKS") warrants that the product(s) furnished hereunder (the "Product(s)") shall be free from defects in material and workmanship for a period of one (1) year from the date of shipment by UBIQUITI NETWORKS under normal use and operation. UBIQUITI NETWORKS' sole and exclusive obligation and liability under the foregoing warranty shall be for UBIQUITI NETWORKS, at its discretion, to repair or replace any Product that fails to conform to the above warranty during the above warranty period. The expense of removal and reinstallation of any Product is not included in this warranty. The warranty period of any repaired or replaced Product shall not extend beyond its original term.
Warranty Conditions
The above warranty does not apply if the Product:
(I) has been modified and/or altered, or an addition made thereto, except by Ubiquiti Networks, or Ubiquiti Networks' authorized representatives, or as approved by Ubiquiti Networks in writing;
(II) has been painted, rebranded or physically modified in any way;
(III) has been damaged due to errors or defects in cabling;
(IV) has been subjected to misuse, abuse, negligence, abnormal physical, electromagnetic or electrical stress, including lightning strikes, or accident;
(V) has been damaged or impaired as a result of using third party firmware;
(VI) has no original Ubiquiti MAC label, or is missing any other original Ubiquiti label(s); or
(VII) has not been received by Ubiquiti within 30 days of issuance of the RMA.
In addition, the above warranty shall apply only if: the product has been properly installed and used at all times in accordance, and in all material respects, with the applicable Product documentation; all Ethernet cabling runs use CAT5 (or above), and for outdoor installations, shielded Ethernet cabling is used, and for indoor installations, indoor cabling requirements are followed.
Returns
No Products will be accepted for replacement or repair without obtaining a Return Materials Authorization (RMA) number from UBIQUITI NETWORKS during the warranty period, and the Products being received at UBIQUITI NETWORKS' facility freight prepaid in accordance with the RMA process of UBIQUITI NETWORKS. Products returned without an RMA number will not be processed and will be returned freight collect or subject to disposal. Information on the RMA process and obtaining an RMA number can be found at: www.ubnt.com/support/warranty.
Disclaimer
EXCEPT FOR ANY EXPRESS WARRANTIES PROVIDED HEREIN, UBIQUITI NETWORKS, ITS AFFILIATES, AND ITS AND THEIR THIRD PARTY DATA, SERVICE, SOFTWARE AND HARDWARE PROVIDERS HEREBY DISCLAIM AND MAKE NO OTHER REPRESENTATION OR WARRANTY OF ANY KIND, EXPRESS, IMPLIED OR STATUTORY, INCLUDING, BUT NOT LIMITED TO, REPRESENTATIONS, GUARANTEES, OR WARRANTIES OF MERCHANTABILITY, ACCURACY, QUALITY OF SERVICE OR RESULTS, AVAILABILITY, SATISFACTORY QUALITY, LACK OF VIRUSES, QUIET ENJOYMENT, FITNESS FOR A PARTICULAR PURPOSE AND NON-INFRINGEMENT AND ANY WARRANTIES ARISING FROM ANY COURSE OF DEALING, USAGE OR TRADE PRACTICE IN CONNECTION WITH SUCH PRODUCTS AND SERVICES. BUYER ACKNOWLEDGES THAT NEITHER UBIQUITI NETWORKS NOR ITS THIRD PARTY PROVIDERS CONTROL BUYER'S EQUIPMENT OR THE TRANSFER OF DATA OVER COMMUNICATIONS FACILITIES, INCLUDING THE INTERNET, AND THAT THE PRODUCTS AND SERVICES MAY BE SUBJECT TO LIMITATIONS, INTERRUPTIONS, DELAYS, CANCELLATIONS AND OTHER PROBLEMS INHERENT IN THE USE OF COMMUNICATIONS FACILITIES. UBIQUITI NETWORKS, ITS AFFILIATES AND ITS AND THEIR THIRD PARTY PROVIDERS ARE NOT RESPONSIBLE FOR ANY INTERRUPTIONS, DELAYS, CANCELLATIONS, DELIVERY FAILURES, DATA LOSS, CONTENT CORRUPTION, PACKET LOSS, OR OTHER DAMAGE RESULTING FROM ANY OF THE FOREGOING. In addition, UBIQUITI NETWORKS does not warrant that the operation of the Products will be errorfree or that operation will be uninterrupted. In no event shall UBIQUITI NETWORKS be responsible for damages or claims of any nature or description relating to system performance, including coverage, buyer's selection of products (including the Products) for buyer's application and/or failure of products (including the Products) to meet government or regulatory requirements.
Limitation of Liability
EXCEPT TO THE EXTENT PROHIBITED BY LOCAL LAW, IN NO EVENT WILL UBIQUITI OR ITS SUBSIDIARIES, AFFILIATES OR SUPPLIERS BE LIABLE FOR DIRECT, SPECIAL, INCIDENTAL, CONSEQUENTIAL OR OTHER DAMAGES (INCLUDING LOST PROFIT, LOST DATA, OR DOWNTIME COSTS), ARISING OUT OF THE USE, INABILITY TO USE, OR THE RESULTS OF USE OF THE PRODUCT, WHETHER BASED IN WARRANTY, CONTRACT, TORT OR OTHER LEGAL THEORY, AND WHETHER OR NOT ADVISED OF THE POSSIBILITY OF SUCH DAMAGES.
Note
Some countries, states and provinces do not allow exclusions of implied warranties or conditions, so the above exclusion may not apply to you. You may have other rights that vary from country to country, state to state, or province to province. Some countries, states and provinces do not allow the exclusion or limitation of liability for incidental or consequential damages, so the above limitation may not apply to you. EXCEPT TO THE EXTENT ALLOWED BY LOCAL LAW, THESE WARRANTY TERMS DO NOT EXCLUDE, RESTRICT OR MODIFY, AND ARE IN ADDITION TO, THE MANDATORY STATUTORY RIGHTS APPLICABLE TO THE LICENSE OF ANY SOFTWARE (EMBEDDED IN THE PRODUCT) TO YOU. The United Nations Convention on Contracts for the International Sale of Goods shall not apply to any transactions regarding the sale of the Products.
Compliance
FCC
Changes or modifications not expressly approved by the party responsible for compliance could void the user's authority to operate the equipment. This device complies with Part 15 of the FCC Rules. Operation is subject to the following two conditions:
This device may not cause harmful interference, and
This device must accept any interference received, including interference that may cause undesired operation.
NOTE: This equipment has been tested and found to comply with the limits for a Class A digital device, pursuant to part 15 of the FCC Rules. These limits are designed to provide reasonable protection against harmful interference when the equipment is operated in a commercial environment. This equipment generates, uses, and can radiate radio frequency energy and, if not installed and used in accordance with the instruction manual, may cause harmful interference to radio communications. Operations of this equipment in a residential area is likely to cause harmful interference in which case the user will be required to correct the interference at his own expense.
Industry Canada
CAN ICES-3(A)/NMB-3(A)
This Class A digital apparatus complies with Canadian CAN ICES-3(A).
CAN ICES-3(A)/NMB-3(A)
Cet appareil numérique de la classe A est conforme à la norme NMB-3(A) Canada.
Australia and New Zealand

Warning: This is a Class A product. In a domestic environment this product may cause radio interference in which case the user may be required to take adequate measures.
CE Marking
CE marking on this product represents the product is in compliance with all directives that are applicable to it.

RoHS/WEEE Compliance Statement


European Directive 2012/19/EU requires that the equipment bearing this symbol on the product and/or its packaging must not be disposed of with unsorted municipal waste. The symbol indicates that this product should be disposed of separately from regular household waste streams. It is your responsibility to dispose of this and other electric and electronic equipment via designated collection facilities appointed by the government or local authorities. Correct disposal and recycling will help prevent potential negative consequences to the environment and human health. For more detailed information about the disposal of your old equipment, please contact your local authorities, waste disposal service, or the shop where you purchased the product.
Declaration of Conformity
Hereby, UBIQUITI NETWORKS, declares that this UBIQUITI NETWORKS device, is in compliance with the essential requirements and other relevant provisions of Directives 2014/30/EU, 2014/35/EU.
Online Resources
Support support.ubnt.com
Community community.ubnt.com
Downloads downloads.ubnt.com

www.ubnt.com
©2014-2016 Ubiquiti Networks, Inc. All rights reserved. Ubiquiti, Ubiquiti Networks, the Ubiquiti U logo, the Ubiquiti beam logo, EdgeMAX, EdgeOS, EdgeRouter, and TOUGHCable are trademarks or registered trademarks of Ubiquiti Networks, Inc. in the United States and in other countries. All other trademarks are the property of their respective owners.
www.4Gon.co.uk [email protected] Tel: (0)0330 088 0295 Fax: +44 (0)1245 808299