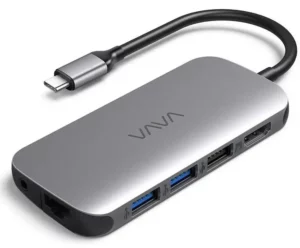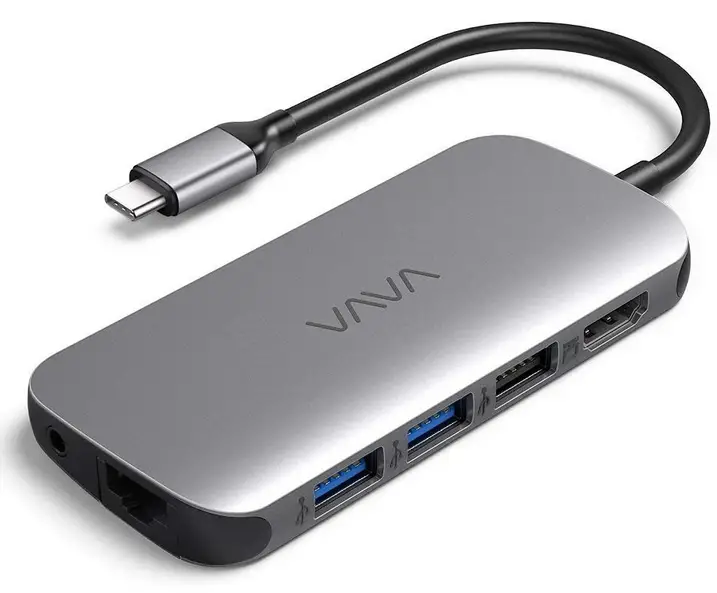 VAVA VA-UC016 USB C Hub 9 in 1 Adapter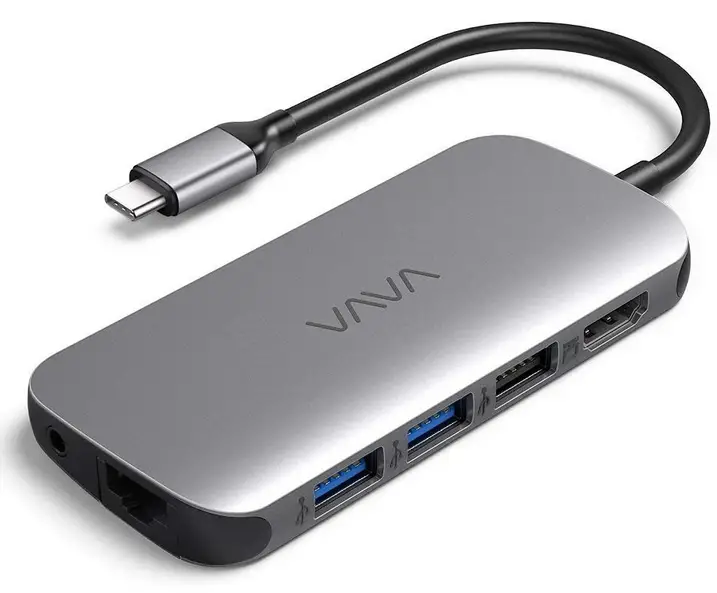 Product Diagram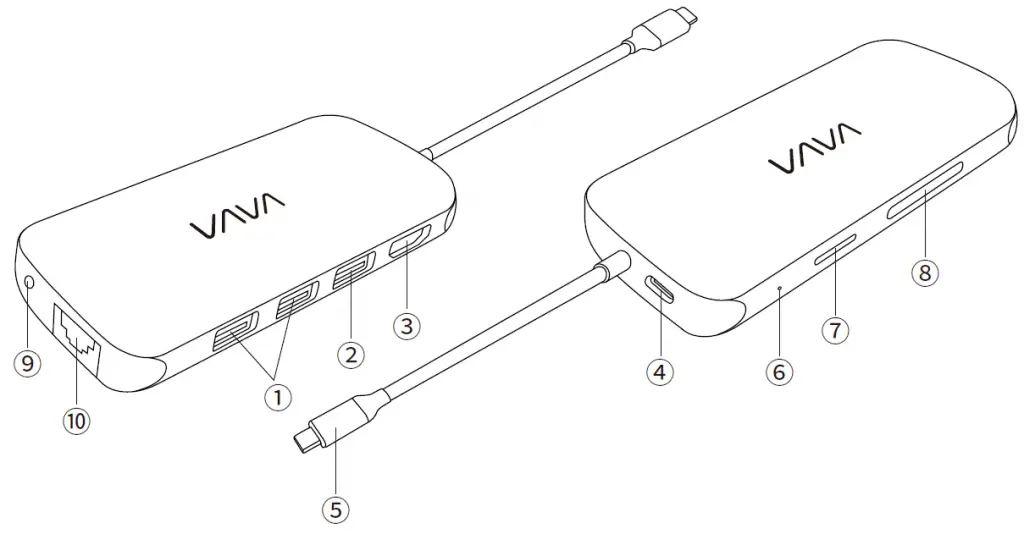 USB 3.0 Ports
USB 2.0 Port
4K HDMI Port
USB PD Port
USB-C Connector
LED Indicator
Micro SD 3.0 Slot
SD 3.0 Slot
Audio Port
RJ45 Ethernet Port
Caution
Keep away from water, fire, humidity or hot environments.
Do not drop the device from great heights.
Do not attempt to disassemble, modify or fix this device by yourself.
Features
USB-C Connector: Compatible with all Type-C devices that support USB3.1 /PD3.0 /DP1.2
SD / Micro SD 3.0 Slot: Connect your SD / micro SD card
USB 2.0 Port: Connect your wireless mouse or keyboard without 2.4Ghz interference
USB 3.0 Port: Support high speed data transfer for connection to flash drives when also supporting peripherals like mouse, keyboard, etc.
HDMI Port: Connect to HDTV, projector or monitor (4K@30hz or 2K@60hz)
PD Port: Power delivery fast charging for your laptop
RJ45 Ethernet: 1000 / 100 / 10Mbps network connection
Audio Port: Connect your speaker or headphones
Supported Operation Systems
Windows / Mac / Unix / Chromebook
Note:

This hub does not work with earlier OS versions (like Windows XP, Win7, Win8, Mac 10.6-10.8, Linux, etc.). For such OS version, please refer to the Driver Installation section.
This hub supports most of the USB C devices based on standard protocol (USB3.1 / PD3.0 / DP1.2). Yet the USB C ports of some devices only support part of the functions. Please check your device's specifications when using.
Compatible Devices (USB 3.1 / PD 3.0 / DP 1.2 Supported)
Supports most of the USB C devices based on standard protocol
(USB3.1 / PD3.0 / DP1.2):
Google Pixelbook or other Chromebooks with USB C port
Apple MacBook / Pro (2016 / 2017 / 2018)
Apple iMac / iMac Pro (21.5'', 27'')
Apple MacBook Air 2018
Only PD 3.0 Supported Device
iPad Pro 2018 (DP 1.2 supported)
Asus ZenPad 3S
Only USB 3.1 Supported Devices
Asus ZenBook3 / Transformer3 Pro
Samsung TabPro
Wacom MobileStudio Pro 16
Asus ZenBook3
Other USB C devices that support DP 1.2 or run under enough battery
Note:
This USB-C hub supports pass-through charging of up to 100W. However, a 45W adapter may be too low for both the hub and laptop / computer. If charging is not started, please change to an adapter with higher output.
The USB 3.0 ports transfer data at a rate up to 5Gbps, however the actual rate is limited by the USB transfer rate of the connected devices.
Driver Installation
For the Ethernet port use, this hub is plug-and-play and requires no driver for Windows 8.1 or higher, Mac OS 10.9 or higher version, or Unix.
For other operation system versions, please go to this link, download and install the driver: https://www.realtek.com/en/component/zoo/category/network-interface-controllers-10-100-1000m-gigabit-ethernet-usb-3-0-software
Specifications
USB-C Cable
Power Delivery (PD) V3.0, 9V / 12V / 15V / 20V, 5A 100W Max

No charging if the computer's Type-C port does not support PD connection.
DisplayPort (DP) V1.2a
Video play is not available if the computer's type-C port does not support DP connection.
5Gbps max. data transfer speed for USB 3.1 Gen1

SD / Micro SD 3.0 Slot
Support Secure Digital V1.0 / V1.1 / V2.0 / SDHC / SDXC (Capacity up to 2TB); V3.01 UHS-I (Ultra High Speed): SDR12 / SDR25 / SDR50 / DDR50 / SDR104
USB PD Port
Power Delivery (PD) V3.0, 9V / 12V / 15V / 20V, 5A 100W Max
USB 2.0 Port
480Mbps / 12Mbps max for USB 2.0 / 1.1
Max 5V / 1.36A for 2 USB 3.0 ports and SD port; When connecting power adapter:

Max 5V / 1.5A for < 30W adapter
Max 5V / 1.8A for ≥ 30W adapter

USB 3.0 Ports
5Gbps / 480Mbps / 12Mbps max. for USB 3.0 / 2.0 / 1.1;
4K HDMI Port
Support connecting to monitor, TV and projector via HDMI port, up to 1080p at 60Hz or UHD 3840×2160 at 30Hz.
RJ45 Ethernet Port
10 / 100 / 1000Mbps; plug and play for Windows 8.1 / Mac OS 10.9 and higher versions
Audio Port
USB2.0, 48KHZ, 16bit Audio DAC
Cable Length
18cm / 7.1in
Surface Temperature
<55°C (full load)
Dimensions
28.8 x 4.7 x 1.4mm / 1.1 x 0.2 x 0.06in
Weight
84g / 3oz
Warranty
18-month warranty
Lifetime customer service
Tips for Use
POWER: This hub supports pass-through charging of up to 100W;however when connected to a standard 60W power adapter, the hub and the peripheral devices will use about 11W of power, thus the final charge supplied will be 49W which may not be enough for some laptops.
DO NOT CHARGE YOUR PHONE: It's recommended to use the USB ports only for data transfer, instead of charging iPads, tablets or smart phones.
HIGH POWER PERIPHERAL: Though it supports simultaneous flash drive use,to achieve best transfer rates, we recommend using only one at a time.
DISPLAY: To achieve optimal 3840 x 2160 resolution, use with a 4K screen display and HDMI 2.0 cables.
ETHERNET: For the max 1000Mbps network speed, a 1000Mbs LAN port router, a CAT5e cable and a high speed Ethernet driver is required.
OPERATING TEMPERATURE: When in use, the maximum working temperature of this USB-C hub can reach up to 131°F (55°C), which may feel hot to the touch, but is not abnormal (the chips can work at 161.6°F / 75°C).
DO NOT USE C-A ADAPTER: This USB-C hub does not work with laptops with USB-A inputs even if a C-to-A adapter is used since standard protocol used for USB-C devices deviate (e.g. Power Delivery).
ASIA PACIFIC
E-mail: [email protected](JP)
Tel: 03-5542-0238(10-18時/土日祝日を除く)
JP Importer: 株式会社SUNVALLEY JAPAN
Address: 〒104-0032東京都中央区八丁堀3丁目18-6 PMO京橋東9F
EUROPE
E-mail:
[email protected](UK)
[email protected](DE)
[email protected](FR)
[email protected](ES)
[email protected](IT)
EU Importer: ZBT International Trading GmbH
Address: Halstenbeker Weg 98C, 25462 Rellingen, Deutschland
NORTH AMERICA
E-mail: [email protected]
Tel: 1-888-456-8468 (Monday-Friday: 9:00 – 17:00 PST)
US Distributor: SUNVALLEYTEK INTERNATIONAL INC.
Address: 46724 Lakeview Blvd, Fremont, CA 94538
MANUFACTURER
Manufacturer: Shenzhen NearbyExpress Technology Development Co., Ltd.
Address: 333 Bulong Road, Shenzhen, China, 518129