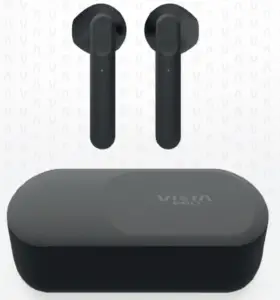 VIETA PRO MK009 Done 3 True Wireless Headphones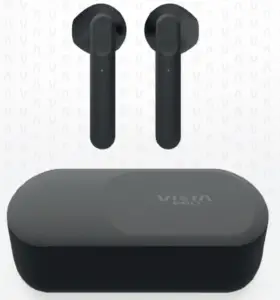 What's In The Box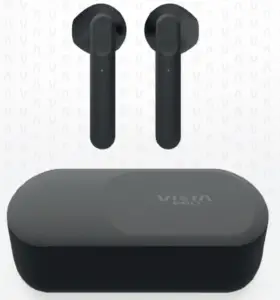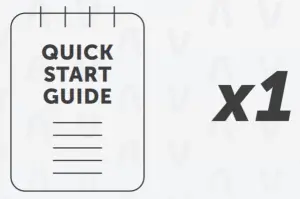 Charging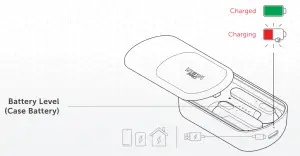 Power ON/OFF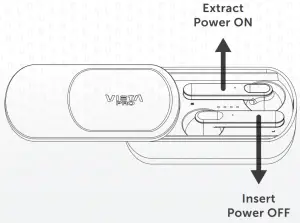 Bluetooth Connection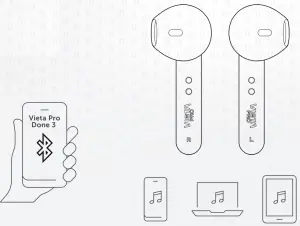 Buttons

Tech Specs
| | |
| --- | --- |
| Bluetooth® Versión | 5.1 |
| Support: | A2DP V1.3. AVRCP V1.5 |
| Transducer | Φ13.0 x 2.6±0.2mm. |
| Rated Power | 3 mW RMS |
| Frequency response | 20HZ – 10KHZ |
| Signal-to-noise ratio | > 85 dB. |
| Battery type | Lithium-ion polymer (3.7V 40mAh) |
| Battery charge time: | 1.5~2 Hours (5V/30mA) |
| Music Playtime: | 4 hours (50% volume), up to 20 hours of battery life |
| USB charge out: | 5V/320mA (Maximum) |
| Bluetooth® transmitter power: | 8dBm. |
| Bluetooth® transmitter frequency range: | 2,402 – 2,480 GHZ. |
| Bluetooth® transmitter modulation: | GFSK. π/4 DQPSK all packet |
| Dimensiones (W x D x H): | 75.03 x 45.03 x 23.05 mm. |
| Weight: | 47.40g |
To prolong Battery Lifespan, fully charge at least once every 3 months. Battery life will vary due to usage patterns and environmental conditions. Do not expose the Vieta Pro product to liquids without removing all cable connections and close the cap tightly. Do not expose Vieta Pro product to water while charging. It may result in permanent damage to the speaker or product, and power source.
Warranty
WHO IS PROTECTED BY THE WARRANTY.
This limited warranty (the "Limited Warranty") protects only the original end-user ("you" or "your"), and is not transferable and is applicable only in the country (excluding EEA member states and the Russian Federation) in which you originally purchased your Vieta Pro product (the "Product"). Any attempt to transfer this warranty shall immediately make this warranty void.
LIMITED WARRANTY.
FRAMASON AUDIO S.A. is the manufacturer and through its local subsidiary, warrants to you that the Product (including components provided in/with the Product) will be free from defects in workmanship and materials for a period of ONE year from the date of retail purchase by you (the "Warranty Period"). During the Warranty Period, the Product (including components), will be repaired or replaced at Vieta Pro's option, without charge for either parts or labor OR at Vieta Pro's sole option, the price of the Product pro-rated over the remaining balance of the Warranty Period. Any warranty service or replacement of parts will not extend the Warranty Period.
This Limited Warranty does not cover defects which are a result of: (1) damage caused by accident, unreasonable use or neglect (including the lack of reasonable and necessary maintenance); (2) damage during shipment (claims must be presented to the carrier); (3) damage to, or deterioration of, any accessory or decorative surface; (4) damage resulting from failure to follow the instructions contained in your owner's manual; (5) damage resulting from the performance of repairs by someone other than an authorized Vieta Pro service center; (6) deterioration of components parts, the nature of which is to become worn or depleted with use, such as batteries and headphone ear pads.
Furthermore, this Limited Warranty covers only actual defects withing the Product itself, and does not cover the costs of installation or removal from a fixed installation, setup or adjustments, claims based on misrepresentation by seller, performance variations resulting from installation-related circumstances such as source quality or AC power or Product modifications, any unit on which the serial number has been exceaced, modified or removed, or units used for other than home use. This Limited Warranty is valid only for Vieta Pro products purchased from an authorized dealer.
Except to the extent expressly prohibited in your jurisdiction by applicable law, all implied warranties, including fitness for a particular purpose and merchantability are hereby excluded and in no event shall Vieta Pro or any FRAMASON AUDIO S.A. subsidiary be liable for any indirect, direct, incidental, special or consequential loss or damages whatsoever (including, without limitation, other pecuniary loss) arising out of the use of or inability to use the Product, even if Vieta Pro and/or FRAMASON AUDIO S.A. subsidiary have been advised of the possibility of such damages. To any extent that FRAMASON AUDIO S.A. cannot lawfully disclaim implied warranties under this Limited Warranty, all such implied warranties are limited in duration to the duration of this warranty. Some jurisdictions do not allow the exclusion or limitation of incidental or consequential damages or exclusions or limitations on the duration of implied warranties or conditions, so the above limitations or exclusions may not apply to you. This warranty gives your specific legal rights, and you may also have other rights that vary by jurisdiction.
HOW TO OBTAIN WARRANTY SERVICE.
Contact the dealer who sold you this Product, or contact Vieta Pro customer support using the contact information on the relevant country specific support website for your Product to request warranty service. To validate your right to this Limited Warranty, you must provide the original sales invoice or other proof of ownership and date of purchase. Do not return your Product without prior authorization from the corresponding dealer or Vieta Pro (FRAMASON AUDIO S.A.) Warranty repair of the Vieta Pro product must be carried out by and authorized dealer or service center.
Unauthorized warranty repair will void the warranty and is performed at your sole risk.
You are also welcome to consult the relevant country specific Vieta Pro support website for your Product for helpful hints.
WHO PAYS FOR WHAT.
This Limited Warranty covers all expenses for labor and materials required for the repair OR replacement of the Product that is found to be defective, and a reasonable return shipping charge within the country of repair. Please be sure to save the original shipping carton(s), because a charge will be made for additional cartons/packaging.
You will be charged for the cost of examining a unit that is not in need of repair (including resulting shipping costs), or for necessary repairs not covered by this Limited Warranty.
We sincerely thank you for your expression of confidence in Vieta Pro.
Vieta Pro by FRAMASON AUDIO S.A.
WARRANTY AGAINS DEFECTS FOR AUSTRALIA
This warranty against defects shall only apply to Products distributed by Vieta Pro (FRAMASON AUDIO S.A.) and sold to you within Australia after August 2021. Please refer to Vieta Pro's Limited Warranty enclosed here for further information on Product warranty.
Warranty against defects:
Vieta Pro's Products come with guarantees that cannot be excluded under the Australian Consumer Law. During the warranty period, you are entitled to a replacement or refund for a major failure and compensation for any other reasonably foreseeable loss or damage. You are also entitled to have the goods repaired or replaced if the goods fail to be of acceptable quality and the failure goes not amount to a major failure. Subject to the terms and conditions herein and Vieta Pro's Limited Warranty, Vieta Pro will repair or replace without charge any manufacturing defects that appear in Vieta Pro Products within the warranty period identified for the product in the first year, commencing on the date of the original purchase. You are entitled to have the defective Product repaired, replaced or a refund in accordance to your rights under law. The benefits given to you by this Warranty are in addition to other rights and remedies you may have under law and nothing in this Warranty purports to restrict, modify or exclude your legal rights as consumer under Australian Law. Check our web site www.vieta.es to know general information or firmware updates if the product needs it.
How to Claim:
To make a claim under this warranty, you should contact the seller who sold you the Product, or contact the Vieta Pro customer support team at [email protected]. You are responsible for the cost of returning the defective Product unless notified otherwise.
Security
IMPORTANT SAFETY INSTRUCTIONS:
For all the products:
Read and follow these instructions.
Keep these instructions.
Heed all warnings.
Follow all instructions.
Do not block any ventilation openings. Install this product following the instructions.
Do not install this product near any heat sources such as radiators, heat registers stoves or other devices (including amplifiers) that produce heat.
Do not defeat the safety purpose of the polarized or grounding-type plug. A polarized plug has two blades with one wider than the other. A grounding-type plug has two blades and a third grounding prong. The wide blade or the third prong I provided for your safety. If the provided plug does not fit into your outlet, consult an electrician for replacement of the obsolete outlet.
Protect the power cord from being walked on or pinched, particularly at plugs, convenience receptacles and the point where they exit from the device.
Use only attachments/accessories specified by the manufacturer.
Unplug this device during lighting storms or when unused for long periods of time.
To disconnect this device from the AC mains completely, disconnect the power-supply card plug from the AC receptacle.
The mains plug of the power-supply cord shall remain readily operable.
Do not expose batteries to excessive heat such as sunshine, fire or the like.
This device is intended to be used only with the power supply and/or charging cable provided by the manufacturer
PRECAUCIÓN
RISK OF ELECTRIC SHOCK. DO NOT OPEN
The lightning flash with an arrowhead symbol, within an equilateral triangle, is intended to alert the user to the presence of uninsulated "Dangerous Voltage" within product's enclosure that may be of sucient magnitude to constitute a risk of electrical shock to persons.
The exclamation point within an equilateral triangle is intended to alert the user to the presence of important operating and maintenance (servicing) instructions in the literature accompanying the product.
WARNING: To reduce the risk of fire or electric shock, do not expose this device to rain or moisture.
CAUTION FCC AND IC STATEMENT FOR USERS (USA AND CANADA ONLY).
This device complies with part 15 of the FCC Rules. Operation is subject to following two conditions: 1) This device may not cause harmful interference.
2) this device must accept any interference received, including interference that may case undesired operation CAN ICES-3(B)/NMB-(3)B.
Federal Communication Commission Interference statement.
(FCC).
This equipment has been tested and found to comply with the limits for a Class B digital device, pursuant to Part 15 of the FCC Rules. These limits are designed to provide reasonable protection against harmful interference in a residential installation. This equipment generates, uses and can radiate radio frequency energy and, if not installed and used in accordance with the instructions, may cause harmful interference to radio communications.
However, there is no guarantee that interference will not occur in a particular installation. If this equipment does cause harmful off and on, the user is encouraged to try to connect the interference by one or more of the following measures:
– Reorient or relocate the receiving antenna.
– Increase the separation between the equipment and receiver.
– Connect the equipment into an outlet on a circuit different from that to which the receiver is connected.
– Consult the dealer or an experienced radio/TV technician for help.
Caution: Changes or modifications not expressly approved by Vieta
Pro could void the user's authority to operate the equipment.
FCC ID: 2ARR8-KTW-824
For Products that transmit RF Energy:
FCC AND IC INFORMATION FOR USERS:
This device complies with Part 15 of the FCC rules and Indrustry Canada license-exempt RSS stardard(s). Operation is subject to the following two conditions:
1) This device may not cause harmful interference.
2) This device must accept any interference received, including the interference that may cause undersired operation.
FCC/IC Radiation Exposure statement.
This equipment complies with FCC/IC RSS-102 radiation exposure limits set forth for an uncontrolled environment.
For Wi-Fi 5G device. FCC Caution:
High power radars are allocated as primary user of the 5.25 to 5.35Ghz and 5.65 to 5.85GHz bands. These radars stations can cause interference with and/or damage this device. No configuration controls are provided for the wireless equipment allowing any change in the frequency of operations outside the FCC grant of authorization for US operation according to Part 15.407 of the FCC rules.
IC Caution:
User should also be advised that:
1) The device for operation in the band 5150 – 5250Mhz is only for indoor use to reduce the potential for harmful interference to co-channel mobile satellite systems.
2) The maximum antenna gain permitted for devices in the bands 5250-5350 MHz and 5470-5725 MHz shall comply with the e.i.r.p. limit.
3) The maximum antenna gain permitted for devices in the band 5725-5825 MHz shall comply with the e.i.r.p. limits specified for point-to-point operation as appropriate.
4) Users should also be advised that high-power radars are allocated as primary users (i.e. priority users) of the bands 5250-5350 MHz and 5650-5850 MHz and that these radars could cause interference and/or damage to LE-LAN devices.
Exposure of humans to RF fields (RSS-102)
The computers employ low gain integral antennas that do not emit RF field in excess of Health Canada limits for the general population; consult Safety Code 6, obtainable from Health Canada's web site at http://www.hc-sc.gc.ca/
The radiated energy from the antennas connected to the wireless adapters conforms to the IC limit of the RF exposure requirement regarding IC RSS-102, Issue 5 clause 4, SAR tests are conducted using recommended operating positions accepted by the FCC/RS with the device transmitting at its highest certified power level in all tested frequency band without distance attaching away from the body. Non-compliance with the above restrictions may result in violation of FCC RF exposure guidelines
Use Restriction: Attention in France, operation is limited to indoor use within the band 5150-5350MHz.
For Products with Radio Receivers That Can Use an External Antenna (USA only): CATV (Cable TV) or Antenna Grounding.
If an outside antenna or cable system is connected to this product, be certain that it's grounded so as to provide some protection against voltage surges and static charges. Section 810 of the National Electrical Code (NEC), ANSI/NFPA No. 70-1984, provides information with respect to proper grounding of the mast and supporting structure, grounding of the lead-in wire to an antenna discharge unit, size of grounding conductors, location of the antenna discharge unit, connection to grounding electrodes and requirements of the grounding electrode.
Note to CATV System Installer:
This reminder is provided to call the CATV (cable TV) system installer's attention to article 820-40 of the NEC, which provides guidelines for proper grounding system of the building, as close to the point cable entry as possible.
For CD/DVD/Blu-ray Disc ™ Players: Caution.
This product uses a laser system. To prevent direct exposure to the laser beam, do not open the cabinet enclosure or defeat any of the safety mechanisms provided for your protection. DO NOT STARE INTO THE LASER BEAM. To ensure proper use of this product, please read the owner's manual carefully and retain it for future use. Should the unit require maintenance or repair, please contact your local Vieta Pro service center. Refer servicing to qualified personnel only.
CLASS 1 LASER PRODUCT
KLASSE 1 LASER PRODUKT
LUOKAN 1 LASER LAITE
KLASS 1 LASER APPARAT
CLASSE 1 PRODUIT LASER
FOR ALL EU COUNTRIES:
For products that include audio out.
Prevention of hearing loss.

Caution: Permanent hearing loss may occur if earphones or headphones are used at high volume for prolonged periods of time. The products have been tested to comply with the sound Pressure Level requirement laid down in the applicable NF EN 50332-1:2013 and/or EN 50332-2:2013 standards as required by French article L.5232-1.
Note: To prevent possible hearing damage, do not listen at high volume levels for long periods.
This product complies with the requirements of the EU (1999/5 /EC) regarding the Limiting the exposure of the general public to electromagnetic fields as regards health protection.
The limits are part of broad recommendations for the protection of the general public. These recommendations have been developed and verified by scientific organizations doing specific test and evaluations of scientific studies. The measurement for the European Council recommended limit for mobile devices is the "Specific Absorption Rate" (SAR) and the average sAR limit is 2.0W/Kg on 10 grams of body tissue.
FRAMASON AUDIO S.A. it meets the requirement of the International Commission on Non-Ionizing Radiation Protection (ICNRP).
In the case of body use, this product has been tested and meets the ICNRP exposure guidelines and the European Standard EN 62479 and EN 50663. The SAR value has been measured with the device at a distance of 1.0 cm from the body transmitting at the highest certified output power level in all frequency bands of the mobile device.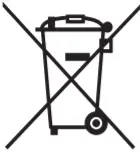 Aviso de WEEE: The Directive on Wate Electrical and Electronic Equiment (WEEE), wich entered into force as European law on 14/02/2014, resulted in a major change in the treatment of electrical equipment at end-of-life. The purpose of this Directive is, as first priority, the prevention of WEEE, and in addition, to promote the reuse, recycling and other forms of recovery of such wastes so as to reduce disposal. The WEEE logo is shown on this part.
This product must not be disposed of or dumped with your other household waste. You are liable to dispose of all your electronic or electrical waste equipment by relocating over to specified collection point for recycling of such hazardous waste. Isolated collection and proper recovery of your electronic and electrical waste equipment at the time of disposal will allow us to help conserving natural resources. Moreover, proper recycling of the electronic and electrical waste equipment will ensure safety of human health and environment. For more information about electronic and electrical waste equipment disposal, recovery and collection points, please contact your local city center, household waste disposal service, shop from where you purchased the equipment, or manufacturer of the equipment.
RoHS Compliance.
This product is in compliance with Directive 2011/65/EU and its amendment (EU) 2015/863 of the European Parliament and of the Council of 4 June 2015 on the restriction of the use of certain hazardous substances in electrical and electronic equipment.
For Products That Include Batteries.
EU Batteries Directive 2013/56/EU
A new battery directive 2013/56/EU on Battery and Accumulator replacing directive entered into force on the 01/07/2015.
The directive applies to all types of batteries and accumulators (AA, AAA, button cells, lead acid, rechargeable packs) including those incorporated into appliances except for military, medical and power tool applications. The directive sets out rules for collection, treatment, recycling and disposal of batteries, and aims to prohibit certain hazardous substances and to improve environmental performance of batteries and all operations in the supply chain.
Instructions for Users on Removal, Recycling and Disposal of Used Batteries.
To remove the batteries from your equipment or remote control, reverse the procedure described in the owner's manual for inserting batteries. For products with a built-in battery that lasts for the lifetime of the product, removal may not be possible for the user. In this case, recycling or recovery centers handle the dismantling of the product and the removal of the battery. If, for any reason, it becomes necessary to replace such a battery, this procedure must be performed by authorized service centers. In the European Union and other locations, it is illegal to dispose of any battery with household trash. All batteries must be disposed of in an environmentally sound manner. Contact your local waste-management offcials for information regarding the environmentally sound collection, recycling and disposal of used batteries.
WARNING: Danger of explosion if battery is incorrectly replaced. To reduce risk of fire or burns don't disassemble, crush, puncture, short external contacts, expose to temperature above 60ºC (140ºF), or dispose of in fire or water. Replace only with specified batteries.
| | |
| --- | --- |
| | The symbol indicating "separate collection" for all batteries and accumulators shall be crossed-out wheeled bin shown here |
In case of batteries, accumulators and button cells more than 0.0005% mercury, more than 0.002% cadmium or more than 0.004% lead, shall be marked with the chemical symbol for the metal concerned; Hg, Cd or Pd respectively. Please Refer to the below symbol:

WARNING:
DO NOT INGEST BATTERY, CHEMICAL BURN HAZARD (The remote control supplied with). This product contains a coin/button cell battery. If the coin/button cell battery is swallowed, it can cause severe internal burns in just 2 hours and can lead to death. Keep new and used batteries away from children. If the battery compartment does not close securely, stop using the product and keep it away from children. If you think batteries might have been swallowed or place inside any part of the body, seek immediate medical attention.
For All Products Except Those with Wireless Operation:
FRAMASON AUDIO S.A. hereby declares that this equipment is in compliance with the EMC 2014/30/EU Directive, LVD 2014/35/EU Directive. The declaration of conformity may be consulted on our Web site www.vieta.es.
For All Products with Wireless Operation:
FRAMASON AUDIO S.A. hereby declares that this equipment is in compliance with the essential requirements and other relevant provisions of Directive 2014/53/EU. The declaration of conformity may be consulted on our Web site www.vieta.es.

The Bluetooth® word mark and logo are registered trademarks owned by Bluetooth SIG, Inc.
Compatible with Android and Apple. "Android" is a trademark of Google Inc. "Apple" is a trademark of Apple Inc.
Designed and engineered in SPAIN. Made in China.
Imported and distributed in USA by BELISA LLC, 6420 Rea Road Suite A1 #252, Charlotte, NC 28277, USA.
VIETA® is a trademark of FRAMASON Audio, SA.
Avd. Pau Casals Nº7 I entlo. 2 I 08021 Barcelona, Spain.
www.vietapro.com
✉Europe: [email protected] | ✉Americas: [email protected]