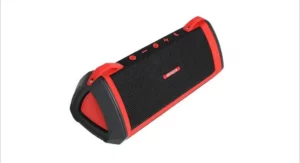 Quick Start Guide
Aiwa Exos-3 User Manual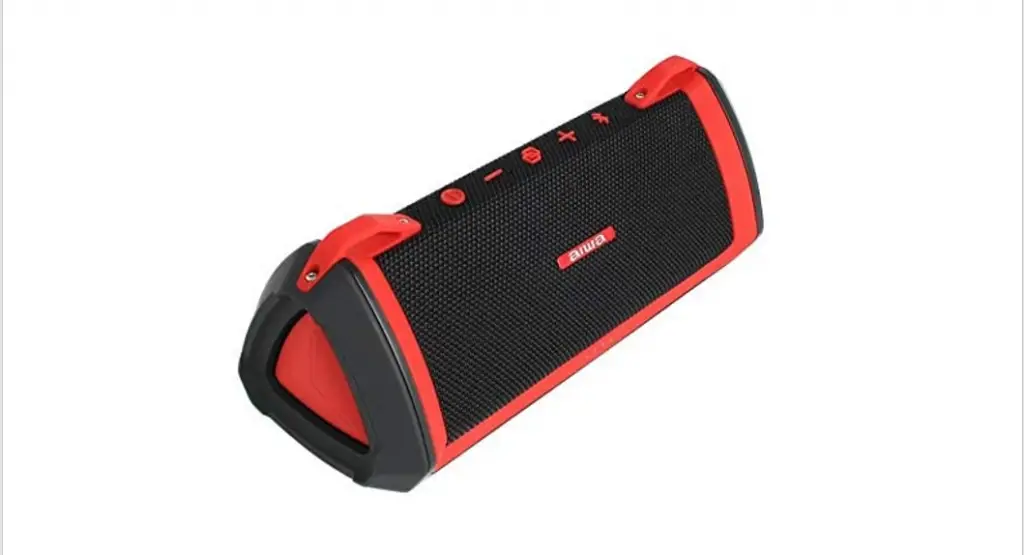 Aiwa Corporation
[email protected]
(888) 982-8561
Exos-3 Features
IP67 Waterproof
Stereo pairing of two speakers
Onboard DSP
Two subwoofer radiators
USB power bank
Package Contents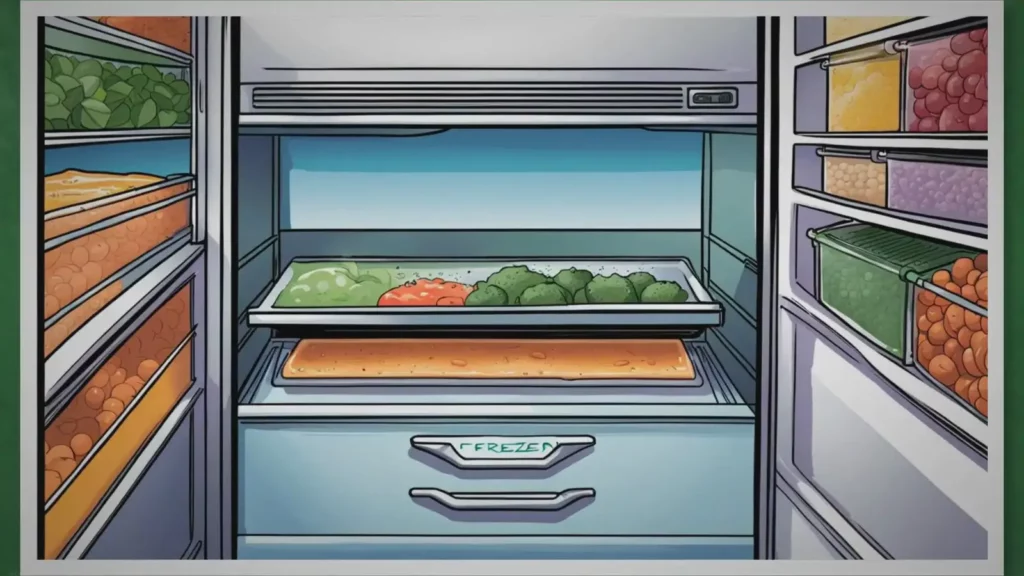 Speaker
USB-C Charging Cable-50CM / 3.5 mm AUX-IN Cable 50CM
Strap
USB Power adapter
User Manual

Supported profiles: AVRCP V1.6, A2DP V1.3, HFP V1.7, HSP V1.2
Bluetooth range: 33 feet (10m)
Dimensions: 282*124*124 mm
Internal battery: Li-Ion 7.4V/5000mAh
USB-C Charging input: DC 5V 2A
USB Charging output: DC 5V 1A
Speaker diameter: φ 70mm*2 + 30mm*1
Impedance: 4 Ω
Max power output: 20W * 2 + 6W * 1
Frequency response: 50HZ-20KHZ
Signal to noise ratio: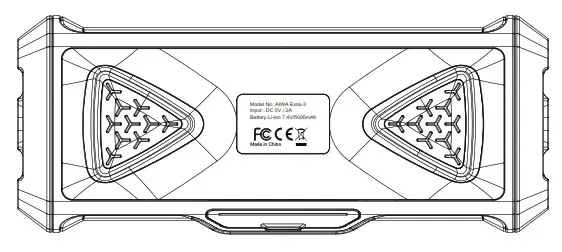 80 db
THD: ≤1%
Controls, Connectors and Lights

Button Functions
Button:
Short press to increase volume (or press and hold to advance to the next track)
Button:
Short press to lower the volume (or press and hold to return to the start of the current track)
Stereo Pair Button
Pairs two Exos-3 speakers for stereo sound
Bluetooth Button:
Press and hold to pair with a new device
Power Button:
Press and hold the button to turn the speaker on/off (or short press for play/pause)
USB-A Port:
Charges device using a USB-A charger
USB-C Port:
Charges Exos-3 via using a USB-C charger
Aux-In:
Connect to the speaker via 3.5mm aux-in cable
Bluetooth Indicator:
Shows Bluetooth connection status
Charge Indicator:
Shows remaining battery power
Aux Indicator:
Illuminates when Aux input is connected
Operation
Powering ON/OFF
Press and Hold "ON/OFF" button for 2 seconds to power on and power off. The battery capacity indicator will time out after 10 minutes; press any button and the indicator will light again.
Pairing
The unit will automatically go into "Pairing Mode" when it is powered on, the blue LED light will blink to indicate you have entered pairing status.
In your device's Bluetooth settings, select "Aiwa Exos-3." Once paired, an audible prompt will indicate the successful pairing and the blue LED light will illuminate solidly once paired.
Press and hold the Bluetooth button for 3 seconds to disconnect the current device and pair to a new one.
Begin Streaming Music
Press Power
Button to start playing music,
Power Button press again to pause music. Press and Hold
Button 2 seconds to play the next track. Press and Hold
Button 2 seconds to restart the current track. Press either
Button or
Button for volume control.
Making and Receiving Phone Calls
Use the built-in microphone to make and receive calls, using the device as a speakerphone. Short press
Bluetooth to accept and end a call. To reject a call, press and hold
Bluetooth
Aux Mode
Plug in the supplied 3.5 mm cable into the unit, connect the other to your device. The light green LED will light to indicate "Aux" mode.
In Aux Mode,
Press
Button to increase the volume
Press
Button to lower the volume
Press
Button to mute the speaker
Skip, back and play/pause are controlled on your phone only while in Aux Mode
Pairing two speakers
Two Exos-3 speakers can be linked together to enjoy wireless stereo sound.
Make sure the speakers do not have an active Bluetooth connection (disconnect by pressing the Bluetooth button if needed.)
Power on both speakers, press the Stereo Pair Button on the one you wish to be the primary speaker. The secondary speaker will automatically connect and you'll hear an audible prompt when pairing is successfully completed.
The primary speaker's blue LED will blink (this speaker will play the left channel audio) and the secondary speaker's blue LED will illuminate continuously (this speaker will play the right channel audio.)
Connect your phone or tablet to the primary speaker via Bluetooth or Aux input to the primary speaker.
Notes:
The two speakers will remain paired even when phones are disconnected, to disconnect the secondary speaker, simply press the button on the primary speaker.
While two speakers are paired, some controls will only be operational on the primary speaker.
Power bank function
The USB output can be used for charging the speaker is on or off. When the charging device is fully an audible indicator will be heard, and charging will cease.
Charging
Battery life: The battery will last approximately 15 hours when used at 50% volume, or 9 hours at 80% volume.
Charging additional devices from the USB port will reduce battery life accordingly.
The power indicator will blink while charging. The 4 orange LEDs indicate current battery level. When all 4 are fully illuminated, the device is completely charged.
Charge time: Approximately 4 hours from fully depleted to fully charged.
Notes
The device should be fully charged before long-term storage and recharged every 3 months to ensure the battery operates at full capacity.
FCC Statement
This device complies with part 15 of the FCC Rules. Operation is subject to the condition that this device does not cause harmful interference (1) this device may not cause harmful interference, and (2) this device must accept any interference received, including interference that may cause undesired operation.
Changes or modifications not expressly approved by the party responsible for compliance could void the user's authority to operate the equipment.
NOTE: This equipment has been tested and found to comply with the limits for a Class B digital device, pursuant to Part 15 of the FCC Rules. These limits are designed to provide reasonable protection against harmful interference in a residential installation. This equipment generates, uses and can radiate radio frequency energy and, if not installed and used in accordance with the instructions, may cause harmful interference to radio communications. However, there is no guarantee that interference will not occur in a particular installation.
If this equipment does cause harmful interference to radio or television reception, which can be determined by turning the equipment off and on, the user is encouraged to try to correct the interference by one or more of the following measures:
– Reorient or relocate the receiving antenna.
– Increase the separation between the equipment and receiver.
– Connect the equipment into an outlet on a circuit different from that to which the receiver is connected.
– Consult the dealer or an experienced radio/TV technician for help.
To maintain compliance with FCC's RF Exposure guidelines, This equipment should be installed and operated with a minimum distance between 20cm the radiator your body: Use only the supplied antenna.
CE Statement
This device was tested for typical body-worn operations. To comply with RF exposure requirements, a minimum separation distance of 20mm must be maintained between the user's body and the device, including the antenna. Third-party belt clips, holsters, and similar accessories used by this device should not contain any metallic components. Body-worn accessories that do not meet these requirements may not comply with RF exposure requirements and should be avoided. Use only the supplied or an approved antenna.This device in compliance with the essential requirements and other relevant provisions of Directive 2014/53/EU. All essential radio test suites have been carried out.
CAUTION: RISK OF EXPLOSION IF BATTERY IS REPLACED BY AN INCORRECT TYPE. DISPOSE OF USED BATTERIES ACCORDING TO THE INSTRUCTIONS
The product shall only be connected to a USB interface of version USB 2.0
Adapter shall be installed near the equipment and shall be easilyaccessible.
The plug considered as disconnect device of adapter
The device complies with RF specifications when the device used at 20mm from your body