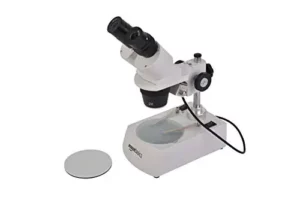 amazonbasics B07TSCK5VN Forward Mounted Binocular Stereo Microscope
Parts
Parts Description
A. WF10x eyepiece x2
B. Diopter adjustment
C. Adjustable eyepiece housing
D. Head
E. Objective
F. Incident light lamp
G. Translucent stage plate
H. Transmitted light lamp
I. Base
J. Height adjustment knob
K. Focus knob
L. Light switch
M. Power switch
N. Power socket
O. Stage clips
P. Eye cup x2
Q. Black/white stage plate
R. Dust cover
S. Adapter
IMPORTANT SAFEGUARDS
Read these instructions carefully and retain them for future use. If this product is passed to a third party, then these instructions must be included. When using electrical appliances, basic safety precautions should always be followed to reduce the risk of fire, electric shock, and/or injury to persons including the following:
WARNING: It is prohibited to disassemble the machine.
WARNING: Risk of serious injury! Dyes are harmful by inhalation, harmful in contact with skin, harmful if swallowed. It is prohibited to disassemble the machine.
WARNING: Risk of serious injury! Dyes are harmful by inhalation, harmful in contact with skin, harmful if swallowed.
Methylene Blue Dye: Avoid eye and skin contact. Causes serious eye irritation. Do not swallow. Do not inhale.
First aid in case of eye contact: Immediately flush eyes with excess water for 15 minutes, lifting lower and upper eyelids occasionally. Remove contact lenses if wearing any. Get medical attention if irritation develops.
First aid in case of skin contact: Immediately flush skin with excess water for 15 minutes while removing contaminated clothing. Get medical attention if irritation develops.
First aid in case of ingestion: Do not induce vomiting without medical advice. Consult a physician if necessary.
NOTICE: Methylene Blue dye has been classified by the International Agency for Research on Cancer (IARC) as Group 3: Not classifiable as carcinogenic to humans.
NOTICE: Use the product within the correct ambient conditions to avoid mildewing and damage.
Keep the work area clean, clear and away from any food storage. Prepare the slides in a well-lit area and close to a water supply. Use a solid table with a heat-resistant top.
Do not allow dyes to come into contact with any part of the body particularly mouth and eyes.
Do not eat, drink or smoke in the work area.
Clean all the accessories and the work area after each use.
Wash hands thoroughly after handling and carrying out experiments.
A separate tin or bucket should be used for the disposal of specimen samples and dyes. Any wasted solution should be poured directly down a drain, but never into a sink basin.
Dispose of used specimen samples a household trash immediately after use.
Do not discard any equipment into the fire to avoid violent combustion or explosion.
If the product has to be moved, carry with one hand holding the product at the arm and another hand supporting it at the base.
Examine the set regularly for potentially unsafe conditions, such as damaged housing, or parts. In the event of such damage, the set should not be used until it is properly repaired.
Store the set in its original packaging out of reach of children and animals.
Symbols Explanation
This product is classified as protection class II. This means the product is equipped with reinforced or double insulation between the mains supply circuit and the output voltage or the casing. Therefore it does not require a safety connection to an electrical earth (ground). This product is for indoor use only.
Direct current (DC).
Alternating current (AC).
Health advice for emergencies. Wash hands before and after experiments. Safety warning. Improper use of the product could result in injury or death.
Intended Use
This product is for private use, home schooling, school applications and teaching demonstrations. It is not for commercial use.
This product is intended to be used in dry indoor areas only.
No liability will be accepted for damages resulting from improper use or non-compliance with these instructions.
Before First Use
Check the product for transport damages.
DANGER: Risk of suffocation! Keep any packaging materials away from children – these materials are a potential source of danger, e.g. suffocation.
Operation
Switching on/off
Connect the adapter (S) to a power source and the other end to the power socket (N).
Flip the power switch (M) to "I" to turn on.
After use, flip the power switch (M) to "O" to turn off.
Calculating magnification power
Total magnification power is calculated by multiplying the magnification power of the eyepiece and the objective lens.
Eyepiece magnification power
Objective lens magnification power
Total magnification power
10x (A)
2x (E)
20x
4x (E)
40x
Observing through the microscope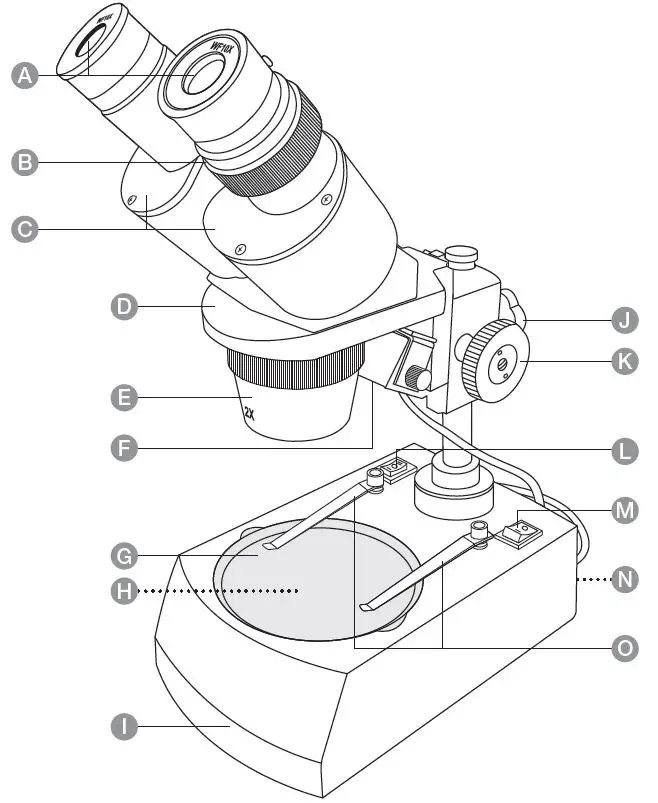 A. For observing slides or translucent specimens, use the translucent stage plate (G). Flip the light switch (L) to "II" to turn on the transmitted light lamp (H).
B. For observing solids or opaque specimens, use the black/white stage plate (Q). Use the black side for light colored specimens and the white side for dark colored specimens. Flip the light switch (L to "I" to turn on the incident light lamp (F).
Place the eyepieces (A) into the adjustable eyepiece housing (C).
NOTICE: There is an option to secure the eyepieces (A), tighten the screw on the side of the adjustable eyepiece housing (C) to lock the eyepieces (A) in place.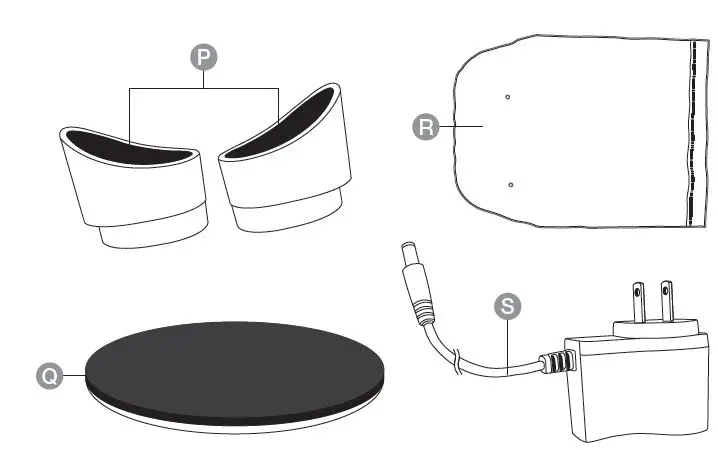 Attach the eye cups (P) onto the eyepieces (A).
Remove the cover of the objective (E).
Rotate the objective (E) to the lowest magnification power setting.
NOTICE Start with the lowest magnification power every time a new specimen is placed on a stage plate (G/Q). Most observations are made at low magnification power.
Place a slide, a small object or a petri-dish holding a specimen (not included) onto the stage plate (G/Q). Secure the slide or specimen with the stage clips (O) if needed.
Turn the height adjustment knob (J) to adjust the height of the head (D) to an estimated viewing distance.
Look into the left eyepiece (A), rotate the focus knob (N) slowly until the image is clear. Adjust the position of the slide/specimen if needed.
Look into the right eyepiece (A), rotate the diopter adjustment (B) until the image is clear.
Look into both eyepieces (A), move around the adjustable eyepiece housing (C) until the two images merge into one.
Rotate the objective (E) to the higher magnification power. Re-adjust the focus using the focus knob (N) and the diopter adjustment (B) if needed.
After using the microscope, remove the slide/specimen from the stage plate (G/Q).
Switch off (M) and disconnect the adaptor (S) from the socket outlet.
Clean the work area and dispose of the used specimens.
Cleaning and Maintenance
WARNING: Risk of damage! During cleaning do not immerse the product in water or other liquids. Never hold the product under running water.
Cleaning
To clean the lenses (A, E), only use lens cleaning tissues. Do not use cloth, paper or hands.
To clean the product, wipe with a soft, slightly moist cloth.
Never use corrosive detergents, wire brushes, abrasive scourers, metal or sharp utensils to clean the product.
Maintenance
After each use, place the dust cover (R) on the microscope. Place the accessories back into their respective plastic bags to prevent dust from collecting.
Slight greasing or putting oil may be needed for the mechanical moving parts. Apply the appropriate oil discreetly.
FCC – Supplier's Declaration of Conformity
Unique Identifier
B07TVHLY4C-All-Metal Optical Glass Lenses Cordless LED Student Biological Compound Microscope
Responsible Party
Amazon.com Services, Inc
U.S. Contact Information
410 Terry Ave N. Seattle, WA

98109, United States

Telephone Number
(206) 266-1000
FCC Compliance Statement
This device complies with Part 15 of the FCC rules. Operation is subject to the following two conditions:

this device may not cause harmful interference, and
this device must accept any interference received, including interference that may cause undesired operation.

Changes or modifications not expressly approved by the party responsible for compliance could void the user's authority to operate the equipment.
FCC Interference Statement
This equipment has been tested and found to comply with the limits for a Class B digital device, pursuant to part 15 of the FCC Rules. These limits are designed to provide reasonable protection against harmful interference in a residential installation. This equipment generates, uses and can radiate radio frequency energy and, if not installed and used in accordance with the instructions, may cause harmful interference to radio communications. However, there is no guarantee that interference will not occur in a particular installation. If this equipment does cause harmful interference to radio or television reception, which can be determined by turning the equipment off and on, the user is encouraged to try to correct the interference by one or more of the following measures:
Reorient or relocate the receiving antenna.
Increase the separation between the equipment and receiver.
Connect the equipment into an outlet on a circuit different from that to which the receiver is connected.
Consult the dealer or an experienced radio / TV technician for help.
Canada IC Notice
This Class B digital apparatus complies with Canadian CAN ICES‑3(B) / NMB‑3(B) standard.
Specifications
Power input:
100-240 V~, 50/60 Hz, 0.3 A
Power output:
12 V , 1000 mA
Magnification power range:
20x, 40x
Working temperature:
-40 to 158 °F (-40 to 70 °C)
R.H. range:
10 to 100%
Net weight:
approx. 15.4 lbs (7 kg)
Dimensions (W x H x D):
approx. 4.72 x 11.81 x 7.87″

(12 x 30 x 20 cm)
Feedback and Help
Love it? Hate it? Let us know with a customer review. AmazonBasics is committed to delivering customer-driven products that live up to your high standards. We encourage you to write a review sharing your experiences with the product.
amazon.com/review/review‑your‑purchases#
amazon.com/gp/help/customer/contact‑us