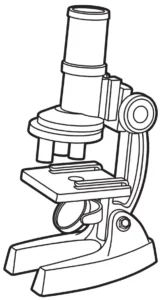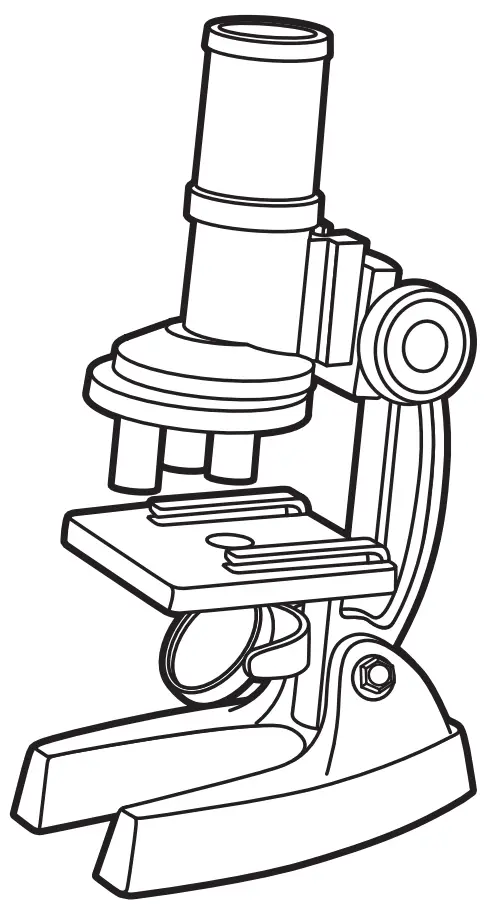 anko Microscope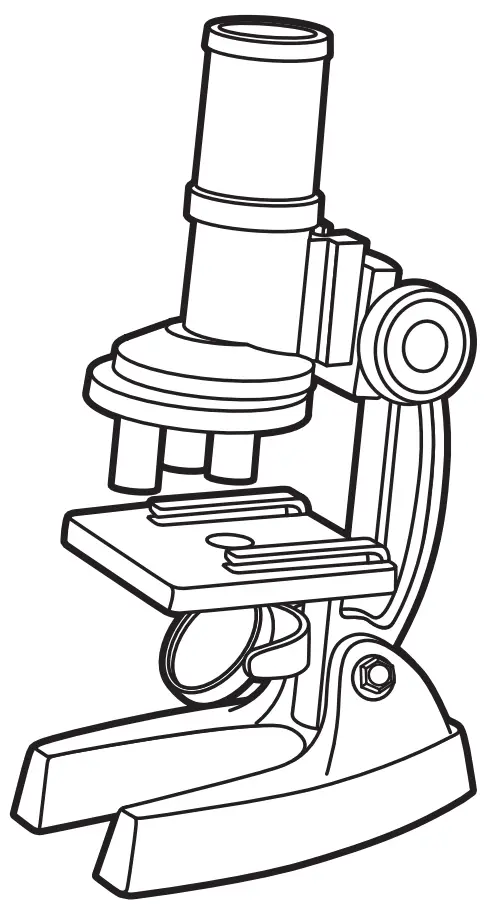 > magnification: 100X, 300X, 600X, 900X

PACKAGE CONTENTS
1 x Microscope
1x Magnifier
1 x Transfer pipette
1xTweezer
1 Set of scalpels
1 x Prepared slide
7 x Blank slides
5 x Blank labels
5 x Cover slips
1 x Instruction manual
REQUIRED: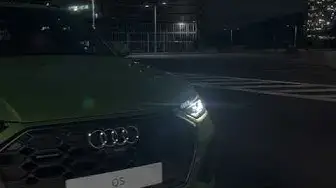 GUIDANCE FOR SUPERVISING ADULTS
This microscope is recommended for children over the age of 8 years old.
Read and follow the instructions carefully, safety regulation and first aid information for your reference only.
This microscope set comprises of functional sharp needle, sharp edge on scalpel and slicer.
Inaccurate use of chemicals can result in injury and harm to health.
Due to the fact that the abilities of children differ, supervising adults should assess as to which experiment is appropriate for them.
Children should be supervised by an adult at all times.
The preparation area should be kept clear of any obstruction. It should be clean and near a sink or water.
COMPONENTS OF A MICROSCOPE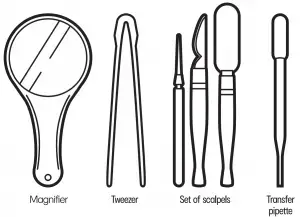 OBSERVING A SPECIMEN
Tilt the body and adjust the reflector so the light is caught by mirror.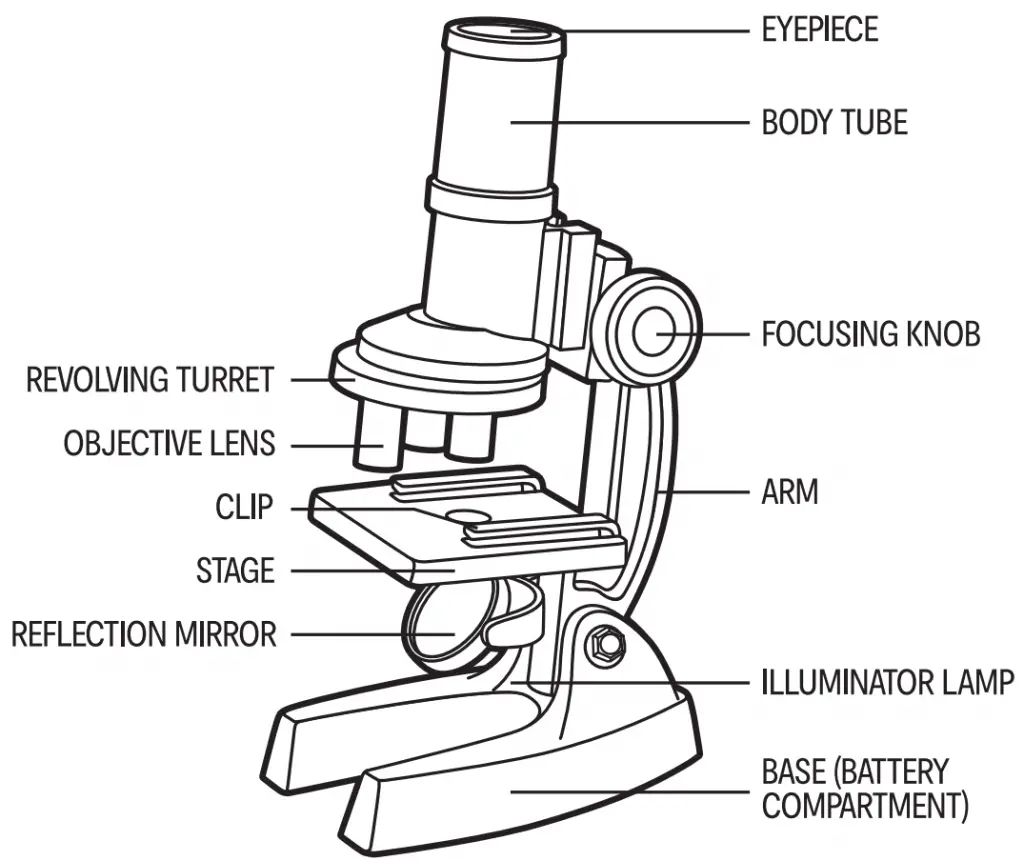 Put the prepared slide on the platform, and fasten it in place with clips.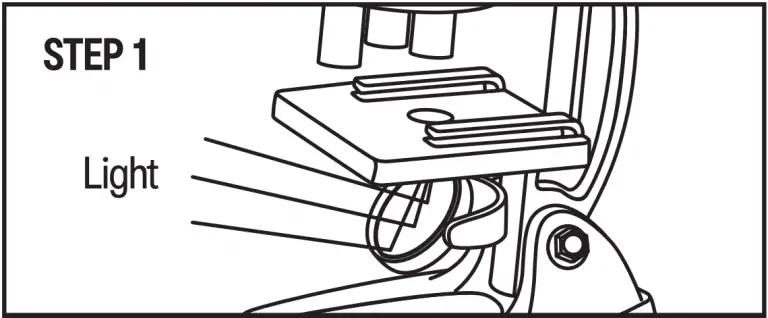 Choose which magnification strength you desire. Remember, the greater the length of the objective lens, the bigger magnification. In general, this is set to a low setting to begin with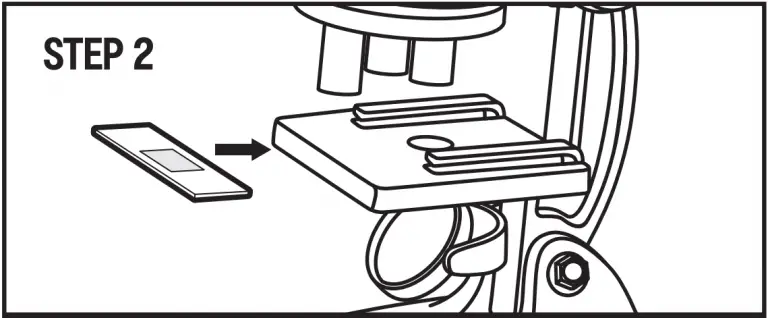 To change the magnification strength, turn revolving turret until you hear the "click ".
Using the adjustment, let down the lens as close as possible to the prepared slide. Next, looking through the eyepiece, turn the knob anti-clockwise until the image comes into focus.
BATTERY INSTALLATION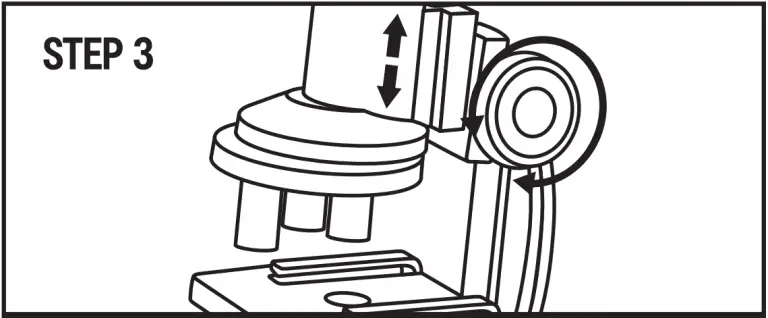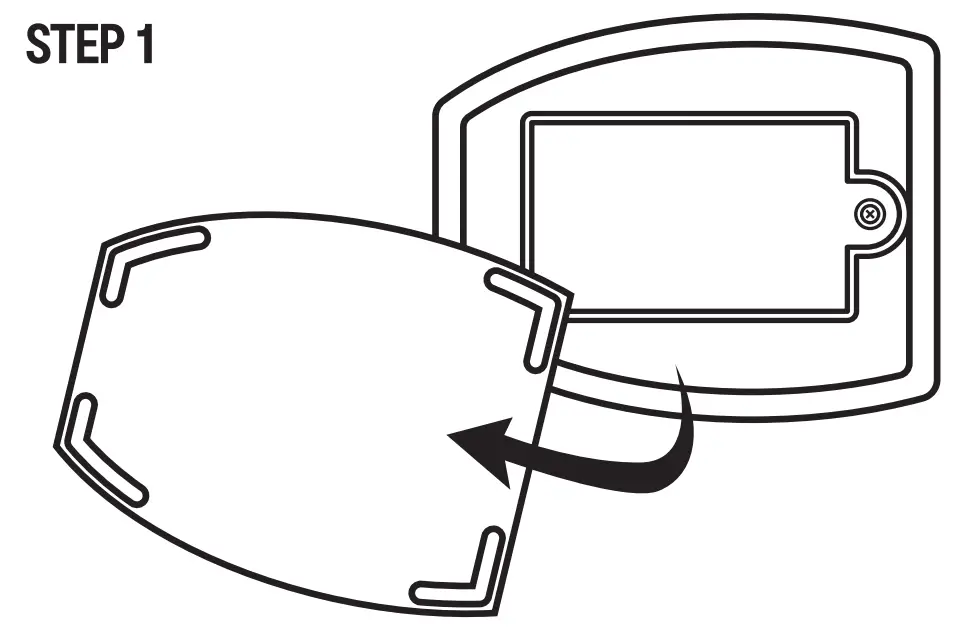 BATTERY INFORMATION
Open the bottom cover of your Microscope.
Use a screwdriver (not included) to remove the screw on the battery comportment door.
Insert the 2 x 1.5V 'M' batteries (not included) according to the diagram. Ensure that the positive(+) and negative (-) polarities match the illustrations inside the battery comportment.
Replace the battery comportment door and replace the screw using the screwdriver.
Remove the batteries when not in use.
LOW BATTERY INDICATORS:
When the batteries grow weak, Microscope will become unresponsive.
When this happens, please replace all batteries.
MPORTANT BATTERY INFORMATION:
Be sure to insert batteries in the correct polarity ( +) and (-) positions.
Use only batteries of the same or equivalent type as specified.
Never mix old and new batteries. Replace all batteries at the same time.
Do not mix alkaline, standard and rechargeable batteries together in the battery comportment.
Use only one battery type.
Do not use rechargeable batteries in this product.
Do not attempt to recharge non-rechargeable batteries.
Promptly remove used batteries from the product.
Remove batteries from the product before extended storage or product disposal.
Do not dispose of batteries in fire; batteries may explode or leak.
To prevent short-circuit of battery terminals, keep battery comportment free of all materials except batteries.
Do not throw batteries in household garbage; dispose of them at battery collection stations or special garbage sites.
SIMPLE SPECIMEN PREPARATION
Put specimen you want to observe on blank slide.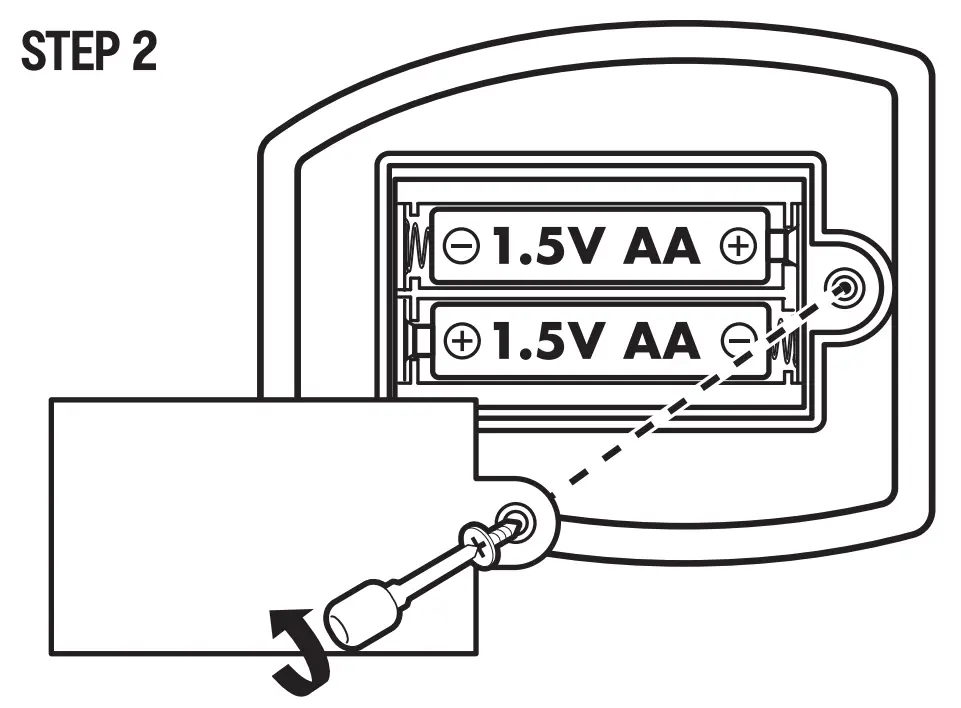 Drip one drop of water with the pipette.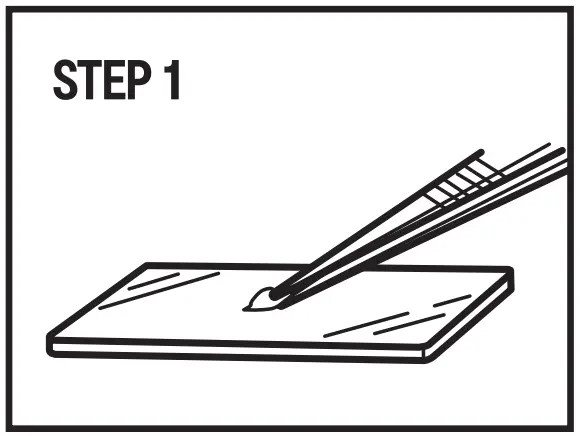 Put the cover slip on the specimen, press it to release the air bubbles.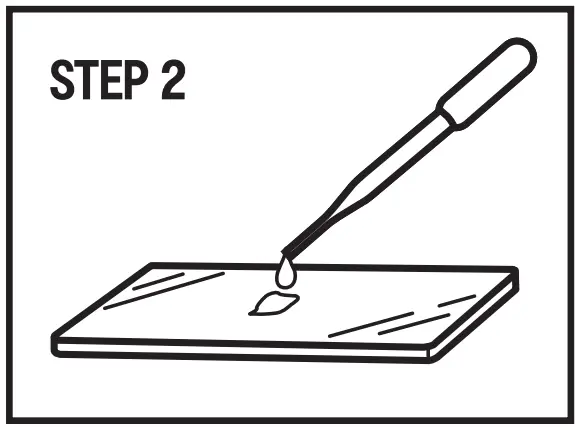 Absorb excess water with paper towel.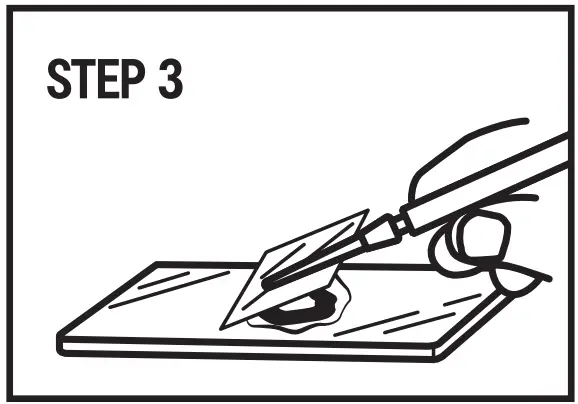 EXAMPLES OF SPECIMEN PREPARATION
GERM
Toke small piece of moldy food or fruit by matchstick or toothpick, smear on blank slide, drip a drop of water, add cover slip and press it down, then you can observe the germ.
ONION
Take a piece of garlic or onion and peel off a thin layer of membrane using the tweezers. Place the membrane on a blank slide and add one drop of water, you will now be able to observe the cells of the membrane.
Add a drop of iodine solution or ink (not included) for a clearer view of the cells.
(Adults should assist with iodine or ink as it can cause staining to your skin or clothes.)
SAND
Take some sand grains by spoon, put them on blank slide, drip a drop of water, add cover slip, then you can see colour, shape and size of sand.
FLOWER PETAL
Take a flower petal, cut down a small piece and drip a drop of water, then you will be able to see the anatomy of the plant or leaf that you are observing.
ADULT SUPERVISION REQUIRED.
PRODUCT MAY VARY FROM IMAGE SHOWN.
PLEASE KEEP THE PACKAGING FOR FUTURE REFERENCE.
MADE IN CHINA
WARNING: ONLY FOR USE BY CHILDREN OVER 8 YEARS OLD. ADULT SUPERVISION REQUIRED. THIS TOY CONTAINS FUNCTIONAL SHARP NEEDLE, SHARP EDGE ON SCALPEL AND SLICER.
WARNING: BATTERIES ARE TO BE INSERTED WITH THE CORRECT POLARITY (+AND-). DO NOT MIX DIFFERENT TYPES OF BATTERIES OR NEW AND USED BATTERIES. NON-RECHARGEABLE BATTERIES ARE NOT TO BE RECHARGED. RECHARGEABLE BATTERIES ARE ONLY TO BE CHARGED BY AN ADULT. RECHARGEABLE BATTERIES ARE TO BE REMOVED FROM THE TOY BEFORE BEING CHARGED. THE SUPPLY TERMINALS ARE NOT TO BE SHORT-CIRCUITED. REMOVE BATTERIES FROM THE TOY WHEN NOT IN USE FOR EXTENDED TIME OR WHEN BATTERIES BECOME EXHAUSTED. BATTERY INSTALLATION BY AN ADULT IS REQUIRED.
DISPOSE OF BATTERIES RESPONSIBLY. DO NOT DISPOSE OF IN FIRE.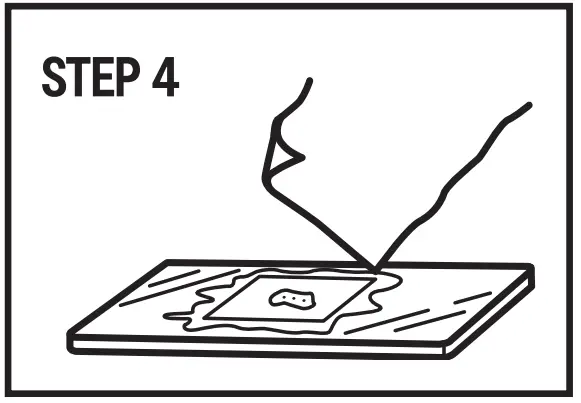 WARNING: CHOKING HAZARD
SMALL PARTS. NOT SUITABLE FOR CHILDREN UNDER 3 YEARS.
WARNING: DO NOT LOOK MAGNIFIER DIRECTLY AT THE SUNLIGHT.
WARNING: FOR SAFETY REASONS, REMOVE ALL TAGS, LABELS AND PLASTIC FASTENERS BEFORE GIVING THIS TOY TO YOUR CHILD.
CAUTION! READ THE INSTRUCTIONS BEFORE USE, FOLLOW AND KEEP IT FOR REFERENCE. KEEP SMALL CHILDREN AND ANIMALS AWAY FROM EXPERIMENTS. STORE THE MICROSCOPE SET OUT OF REACH OF SMALL CHILDREN. EYE PROTECTION FOR SUPERVISING ADULTS AND CHILDREN IS NOT INCLUDED.