User Manual / Cardioid Condenser Side-Address Microphone
AT4033a


Thank you for purchasing this product. Before using the product, read through the user manual to ensure that you will use the product correctly. Please keep this manual for future reference.
■ Features
Specially engineered to meet the most critical acoustic requirements of professional recording, broadcast, and sound reinforcement
Transformerless circuitry virtually eliminates low-frequency distortion and provides a superior correlation of the high-speed transients
The 2-micron thick, vapor-deposited gold diaphragm undergoes a five-step aging process so that the optimum characteristics achieved remain constant over years of use
Floating-construction capsule assembly provides isolation from noise and vibration
Precision-machined, nickel-plated brass, acoustic element baffle provides enhanced element stability and optimal sensitivity
Open acoustical environment of the symmetrical housing assembly minimizes unwanted internal reflections
Custom shock mount provides superior isolation
Integral 80 Hz low-cut filter switch and 10 dB pad switch
State-of-the-art design and manufacturing techniques ensure compliance with A-T's stringent consistency and reliability standards
■ Safety precaution
Although this product was designed to be used safely, failing to use it correctly may result in an accident. To ensure safety, observe all warnings and cautions while using the product.
■ Cautions for the product
Do not subject the product to strong impact to avoid malfunction.
Do not disassemble, modify or attempt to repair the product.
Do not handle the product with wet hands to avoid electric shock or injury.
Do not store the product under direct sunlight, near heating devices or in a hot, humid or dusty place.
■ Notes on use
A raised Audio-Technica emblem is on the front of the microphone. Position this side of the microphone toward the sound source.
In use, secure the cable to the microphone stand or boom, leaving a slack loop at the microphone. This will ensure the most effective shock isolation and reduce the possibility of accidentally pulling the microphone out of its mount.
■ Connection procedure
Connect the output terminals of the microphone to a device that has a microphone input (balanced input) compatible with a phantom power supply. The output connector is an XLRM-type with polarity as shown in the figure below.
This product requires 48 V DC phantom power
■ Switch settings
To reduce the pickup of low-frequency ambient noise (such as traffic, air-handling systems, etc.), room reverberation, and mechanically coupled vibrations, turn ON ( ) the low-cut filter switch located on the side.
If audio input exceeds the maximum input sound level, set the pad switch to -10 dB.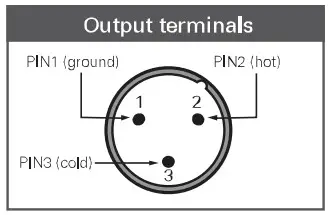 ■ Specifications
Element
Fixed-charge back plate, permanently polarized condenser
Polar pattern
Cardioid
Frequency response
30-20,000 Hz
Low cut
80 Hz, 12 dB/octave
Pad
-10 dB
Open circuit sensitivity
-32 dB (25.1 mV) (0dB = 1 V/Pa, 1 kHz)
Impedance
100 ohms
Maximum input sound level
145 dB SPL (1 kHz at 1% THD)
155 dB SPL (When pad is on.)
Noise
17 dB SPL (A-weighted)
Dynamic range
128 dB (1 kHz at Max SPL)
Signal-to-noise ratio
77 dB (1 kHz at 1 Pa, A-weighted)
Phantom power requirements
48 V DC, 3.2 mA
Switches
Low cut: on/off, Pad: on/off
Weight
380 g (13.4 oz)
Dimensions
170.0 mm (6.69″) long,
53.4 mm (2.10″) maximum body diameter
Output connector
Integral 3-pin XLR-M type
Audio-Technica case style
R1
Included accessories
AT8449a shock mount, stand adapter (3/8"-5/8"),
microphone dust cover, carry case
• 1 Pascal = 10 dynes/cm2 = 10 microbars = 94 dB SPL
For product improvement, the product is subject to modification without notice.