Avantree Wireless ANC Headphones
BTHS-AS90 User Manual


Product Specifications
Bluetooth version: V4.1
Support profiles: HFP, HSP, A2DP, AVRCP
Supported audio format(s): SBC, FastStream
Driver diameter: 40mm
Impedance: 32ohm
Frequency response: 20Hz-20KHz
Effective Range: Line of sight approx. 30 ft (10m)
Working time: Up to 35 hours music time
Charging time: approx. 2 hours
Ear pads inner diameter: 6cm (length)* 3.7cm(width)
Ear pads outer diameter: 9.5cm (length)* 7.5cm(width)
Product weight: 230g
Please read this User Guide carefully and keep it handy
For more AS90 product information please see support.avantree.com or search "AS90" or "Avantree Aria" on www.avantree.com
Basic Operation


LED indicator

Activate noise cancellation (ANC)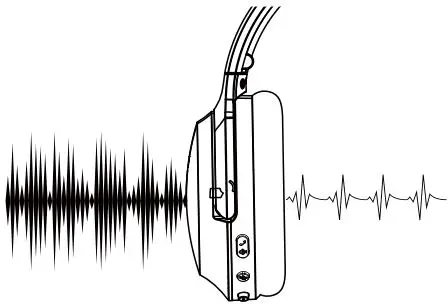 After power ON, slide ANC switch to "ANC" to activate the ANC function. The ANC LED light will turn GREEN.
Slide ANC switch opposite to "ANC" to deactivate ANC function, the ANC LED will turn off.
Note:
• You will NOT be able to use the ANC function when the headphones' battery is low.
• If you want to use the ANC function in wired mode, please power ON the headphones first.
Connect to a Bluetooth device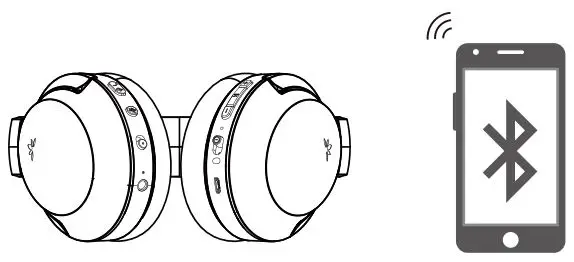 Enter headphones into PAIRNG MODE – Slide the power switch to position and hold for 3s until the LED flashes BLUE and RED alternately.
On your mobile device – Turn on Bluetooth and select "Avantree AS90" to connect. If you are using a Bluetooth
transmitter, please enter your transmitter into PAIRING MODE (please refer to your transmitter's user manual).
Reconnect to Bluetooth device
Normally, once powered on, the headphones will reconnect to the last connected device automatically within 5-10 seconds.
If it doesn't, please slide the Power Switch to position ONCE, OR select "Avantree AS90" from your device to connect manually. (If you're using a Bluetooth transmitter, please refer its user manual to reconnect)
Using as a wired headphone

You may use the supplied 3.5mm audio cable to connect to a non-Bluetooth device.
Note: The control buttons, the built-in mic, and the detachable boom mic DOES NOT work in wired mode.
Note: If you wish to use the ANC function in wired mode, please turn on the headphones first.
Charging

When the LED starts blinking RED once every 10s or indicator solid RED , or when you hear "beep" / prompts sound, you should recharge your headphones. Please plug it into a USB wall charger (DC 5V / 0.5-2A) or a powered USB port via the micro USB cable that we provided.
Normally it takes 2 hours to fully recharge. The LED indicator on the headphones will remain RED while charging and automatically turn o when the charging is complete.
Clear the headphones pairing history
Turn on the headset (Non-calling Status.) Press and hold both and for 5 seconds until the LED blinks PINK for 2 seconds. Now the pairing history has been cleared. The headphones will enter PAIRING MODE automatically (LED blinks Blue and Red alternately) and you'll be able to pair it with the target Bluetooth device again.
Troubleshooting
No sound with PC?
Set Avantree AS90 as the default device or output device on the PC.
When using AS90 to make VOIP calls through apps, please set AS90 Hands-Free as Microphone and Speakers device.
No sound with Bluetooth transmitter when watching TV?
Ensure Bluetooth transmitter and headphones are connected properly.
Check to ensure audio source is functioning properly

AUX & RCA output on TV – test with wired headphones
OPT output on TV – Set audio format to "PCM/LPCM" or turnoff Dolby/DTS

Change your TV audio out setting to "External speakers /Headset."
Headphones do not pair with Bluetooth device?
Ensure that the AS90 is in Pairing mode – LED flashing BLUE and RED alternately.
For Bluetooth transmitters, please ensure that the transmitter is in Pairing mode – you may refer to its user manual.
For Smart phones, tablets and PC
Turn the Bluetooth off and then on again.
Delete "Avantree AS90" headphones from your device's Bluetooth list and try to pair again.
Clear the headphone's pairing history and pair again.