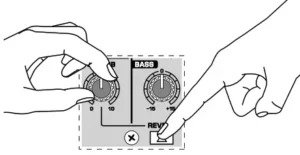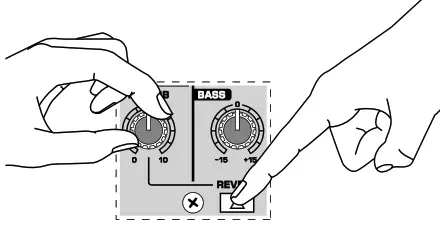 Quick Start Guide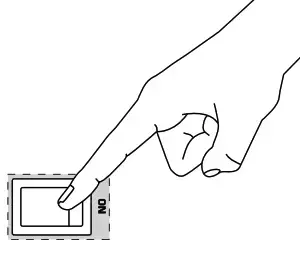 EUROPORT EPS500MP3
Ultra-Compact 500-Watt 8-Channel Portable PA System with MP3 Player,
Reverb and Wireless Option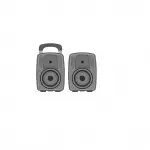 Important Safety Instructions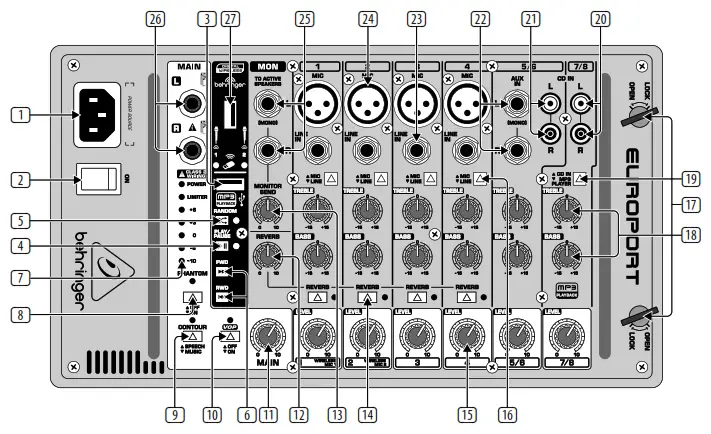 Terminals marked with this symbol carry an electrical current of sufficient magnitude to constitute a risk of electric shock. Use only high-quality professional speaker cables with ¼" TS or twist-locking plugs pre-installed. All other installation or modifications should be performed only by qualified personnel.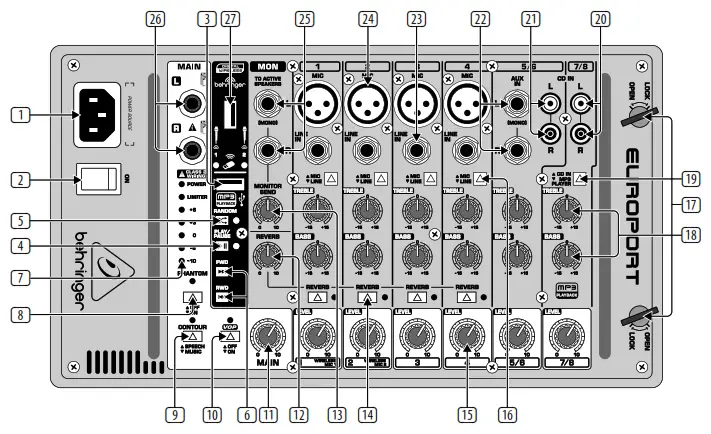 This symbol, wherever it appears, alerts you to the presence of uninsulated dangerous voltage inside the enclosure – voltage that may be sufficient to constitute a risk of shock.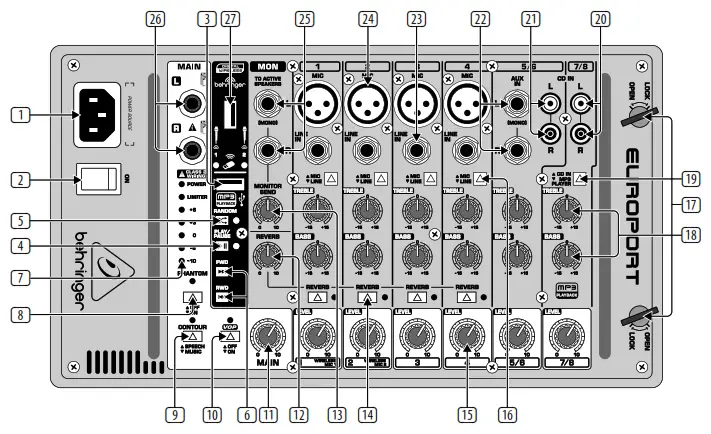 This symbol, wherever it appears, alerts you to important operating and maintenance instructions in the accompanying literature. Please read the manual.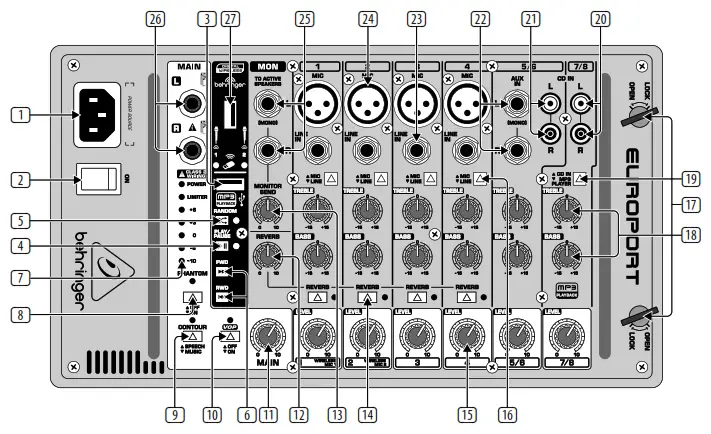 Caution
To reduce the risk of electric shock, do not remove the top cover (or the rear section). No user-serviceable parts inside. Refer servicing to qualified personnel.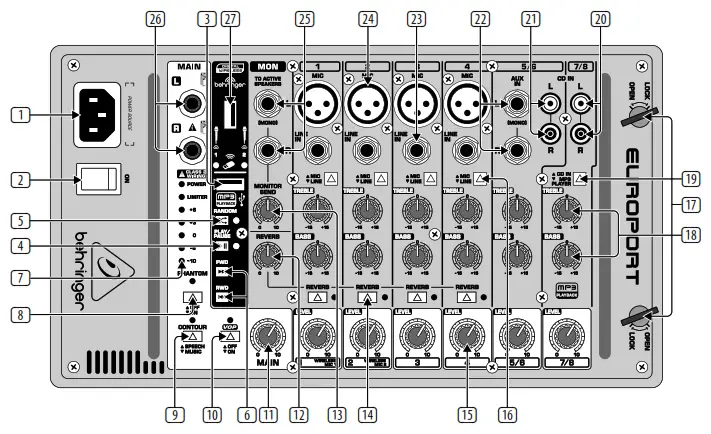 Caution
To reduce the risk of fire or electric shock, do not expose this appliance to rain and moisture. The apparatus shall not be exposed to dripping or splashing liquids and no objects filled with liquids, such as vases, shall be placed on the apparatus.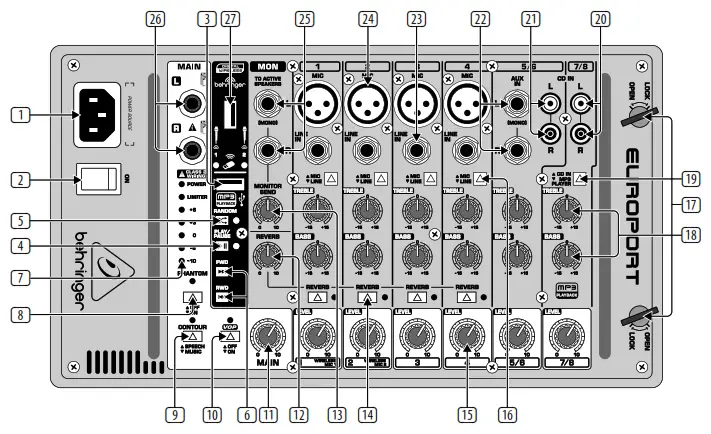 Caution
These service instructions are for use by qualified service personnel only. To reduce the risk of electric shock do not perform any servicing other than that contained in the operation instructions. Repairs have to be performed by qualified service personnel.
Read these instructions.
Keep these instructions.
Heed all warnings.
Follow all instructions.
Do not use this apparatus near water.
Clean only with a dry cloth.
Do not block any ventilation openings. Install in accordance with the manufacturer's instructions.
Do not install near any heat sources such as radiators, heat registers, stoves, or other apparatus (including amplifiers) that produce heat.
Do not defeat the safety purpose of the polarized or grounding-type plug. A polarized plug has two blades with one wider than the other. A grounding-type plug has two blades and a third grounding prong. The wide blade or the third prong is provided for your safety. If the provided plug does not fit into your outlet, consult an electrician for the replacement of the obsolete outlet.
Protect the power cord from being walked on or pinched particularly at plugs, convenience receptacles, and the point where they exit from the apparatus.
Use only attachments/accessories specified by the manufacturer.
Use only with the cart, stand, tripod, bracket table specified by the manufacturer, or sold with the apparatus. When a car is used, use caution when moving the cart/apparatus combination to avoid injury from tip-over.

Unplug this apparatus during lightning storms or when unused for long periods of time.
Refer all servicing to qualified service personnel. Servicing is required when the apparatus has been damaged in any way, such as power supply cord or plug is damaged, liquid has been spilled or objects have fallen into the apparatus, the apparatus has been exposed to rain or moisture, does not operate normally, or has been dropped.
The apparatus shall be connected to a MAINS socket outlet with a protective earthing connection.
Where the MAINS plug or an appliance coupler is used as the disconnect device, the disconnect device shall remain readily operable.
Correct disposal of this product: This symbol indicates that this product must not be disposed of with household waste, according to the WEEE Directive (2012/19/EU) and your national law. This product should be taken to a collection center licensed for the recycling of waste electrical and electronic equipment (EEE). The mishandling of this type of waste could have a possible
negative impact on the environment and human health due to potentially hazardous substances that are generally associated with EEE. At the same time, your cooperation in the correct disposal of this product will contribute to the efficient use of natural resources. For more information about where you can take your waste equipment for recycling, please contact your local city office or your household waste collection service.
Do not install in a confined space, such as a bookcase or similar unit.
Do not place naked flame sources, such as lighted candles, on the apparatus.
Please keep the environmental aspects of battery disposal in mind. Batteries must be disposed of at a battery collection point.
This apparatus may be used in tropical and moderate climates up to 45°C.
LEGAL DISCLAIMER
Music Tribe accepts no liability for any loss which may be suffered by any person who relies either wholly on or in part upon any description, photograph, or statement contained herein. Technical specifications, appearances, and other information are subject to change without notice. All trademarks are the property of their respective owners. Midas, Klark Teknik, Lab Gruppen, Lake, Tannoy, Turbosound, TC Electronic, TC Helicon, Behringer, Bugera, Oberheim, Auratone, and Coolaudio are trademarks or registered trademarks of Music Tribe Global Brands Ltd. © Music Tribe Global Brands Ltd. 2021 All rights reserved.
LIMITED WARRANTY
For the applicable warranty terms and conditions and additional information regarding Music Tribe's Limited Warranty, please see complete details online at musictribe.com/warranty.
EUROPORT EPS500MP3 Hook-up
Step 1: Hook-Up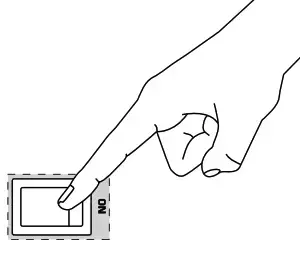 EUROPORT EPS500MP3 Controls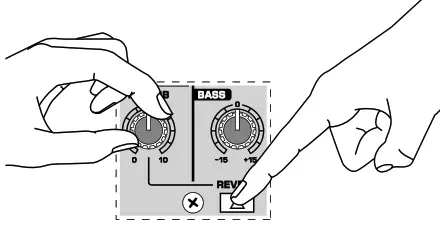 Step 2: Controls
1
POWER SOURCE – Connect the included IEC
cable to this socket and into a mains outlet.
18
TREBLE/BASS EQ knobs adjust
hi and low frequencies by ±15 dB
(same for channels 1-8).
2
POWER ON switch turns the power to the unit
on and off.
19
CD IN/MP3 PLAYER button switches
between a stereo signal connected to stereo
channel 7/8 and the onboard MP3 player.
3
USB drive input jack for connecting an
external USB memory device.
20
CD IN L and R stereo inputs for connecting an
external stereo source via RCA cables.
4
MP3 PLAY/PAUSE button
21
Same as inputs on channel 7/8.
5
MP3 PLAYER RANDOM button shuffles
playback of files from USB drive.
22
AUX IN jacks for connecting ¼" mono or
stereo sends from a single sound source.
6
( FWD and RWD buttons for skipping to the
next or previous file.
23
LINE IN jack connects instruments,
sub-mixers, or other line-level sources
(balanced or unbalanced) using cables with
¼" plugs.
7
LIMITER LED and VU METER display the
signal level and when the LIMITER reduces the
signal in the event of a surge.
24
MIC input jack for dynamic or condenser
microphones connected with XLR cables.
8
PHANTOM power button engages 48 V power
for condenser microphones.
25
MON(ITOR) OUT jacks for routing stereo signal
to external powered speakers.
9
CONTOUR button changes the frequency
boost to optimize for speech or music.
26
MAIN OUT(PUT) jacks for connecting the
power amp to speakers using speaker cables
with ¼" plugs.
10
VOP button dims the stereo channels when
there is signal activity on channels 1-4.
27
WIRELESS mic dongle jack for use with
optional wireless microphones.
11
MAIN volume knob controls the overall
volume to the MAIN outputs.
28
Speaker Cables (6100 mm x 2)
12
REVERB knob adjusts the amount of reverb
applied to channels 1-4.
29
Power Cable
13
MONITOR SEND knob adjusts the volume
of the signal routed out the MON left and
right jacks.
30
Mic Cable (6100 mm)
14
REVERB button activates the reverb effect on
channels 1-4 individually.
31
Mic Bag
15
LEVEL knob adjusts the channel volume
(same for channels 1-8).
32
Mic Stand Adapter Bracket
16
MIC/LINE button switches between line level
input and balanced XLR input.
33
Mic Clip
17
OPEN/LOCK latches for attaching/detaching
the powered mixer from the speaker.
34
XM1800S Microphone
EUROPORT EPS500MP3 Getting started
Remove the powered mixer and accessories from the storage compartments on the rear of the speakers. The supplied accessories include: 2 speaker cables (5 m), power cable, microphone cable, 1 XM1800S microphone, mic clip, mic bag, and mixer mic stand adapter bracket.
With the power turned off connect the included speaker cables to the inputs on the speakers and to the MAIN OUT jacks on the powered mixer.
Connect the included XM1800S microphone via the included mic cable to an XLR input on the powered mixer.
Connect all other microphones, line levels, and stereo sources to the powered mixer. (FR)
Set your channel LEVEL knobs to the 9 o'clock position and the MAIN volume knob to "0".

Power up all external devices.
Power up the unit by pressing the POWER ON switch.

Slowly turn the MAIN knob up 1/3 of the way.

Control the relative levels of microphones and input sources by adjusting each channel's Level knob.

Add reverb to channels 1-4 by pressing the channel's REVERB button and adjusting the REVERB knob.

Press the CONTOUR button to choose between SPEECH and MUSIC modes.
Press the VOP button to activate/ deactivate the voice-over priority feature. When activated, the VOP function dims the stereo channel volumes when microphone input is detected on channels 1-4.
Make final adjustments to the output sound using the MAIN knob. If the VU meter shows the output signal at +6 with the LIMITER LED lighting up repeatedly, reduce the output by turning the MAIN knob to the left.

MP3 PLAYER, Reproductor MP3, Lecteur MP3, MP3 Player, MP3 Player
Insert USB flash drive with MP3 content into the MP3 PLAYER USB jack.

Push the CD IN/MP3 PLAYER button on channel 7/8 to select the MP3 PLAYER function.

Press the PLAY/PAUSE button to start or stop the playback of MP3 files on the USB drive.
Press the FWD or RWD buttons to skip to the next or the previous file.
Press the RANDOM button to have the MP3 files play in random order (LED will light up when this feature is engaged).
Adjust the volume level and EQ settings using the knobs on channel 7/8.
Specifications
Amplifier
Max output power (Peak power)
250 W + 250 W
Limiter
Optical
Microphone Inputs
Type
XLR, balanced
Sensitivity
-54 dBV
Impedance
2.2 kΩ
Line Inputs
Type
¼" TRS connector, balanced
Sensitivity
-11 dBV
Impedance
10 kΩ
Stereo Line Input (5/6)
Type
¼" TRS connector, balanced
Sensitivity
-11 dBV
Impedance
10 kΩ
RCA Input (5/6)
Sensitivity
-11 dBV
Impedance
10 kΩ
RCA Input (7/8)
Sensitivity
-11 dBV
Impedance
15 kΩ
MP3 Playback: USB Type A
File system
FAT 16, FAT 32
Format
MP3
Bit rates
8 – 320 kbps, VBR
Sample rates
8 kHz, 16 kHz, 32 kHz, 11.025 kHz,
22.05 kHz, 44.1 kHz, 12 kHz,
24 kHz, 48 kHz
Wireless System
Connector
USB 3.0
Frequency band
2.417 ~ 2.471 GHz
Frequency response (Wireless Link)
20 Hz – 14.7 kHz +0/-0.3 dB
Range
Max. 120 m (line of sight)
Audio Outputs
Type
¼" TS, unbalanced
Impedance
1 kΩ
Level Control
Input trim
-∞ to +16.5 dB
Max. input level
26 dBu
Loudspeaker System Data
Woofer
8″ / 209 mm
Tweeter
1″ / 25.4 mm
Frequency response (-10 dB)
50 Hz to 20 kHz
Crossover frequency
2.5 kHz
Equalizer
High
±15 dB @ 10 kHz
Low
±15 dB @ 80 Hz
Microphone
Type
Behringer XM1800S, Dynamic
Frequency response
80 Hz – 15 kHz
Power Supply
Voltage (Fuses)
USA / Canada
100 -120 V~, 50/60 Hz
UK / Australia
220 – 240 V~, 50/60 Hz
Europe
220 – 240 V~, 50/60 Hz
China / Korea
220 – 240 V~, 50/60 Hz
Japan
100 -120 V~, 50/60 Hz
Power consumption
Max. 90 W
Mains connection
Standard IEC receptacle
Dimensions/Weight
H x W x D
Appr. 18.3 x 10.87 x 10.1″
Appr. 466 x 276 x 257 mm
Weight
Appr. 41.3 lbs / 18.8 kg
Other important information
1. Register online.
Please register your new Music Tribe equipment right after you purchase it by visiting musictribe.com. Registering your purchase using our simple online form helps us to process your repair claims more quickly and efficiently. Also, read the terms and conditions of our warranty, if applicable.
2. Malfunction.
Should your Music Tribe Authorized Reseller not be located in your vicinity, you may contact the Music Tribe Authorized Fulfiller for your country listed under "Support" at musictribe.com. Should your country not be listed, please check if your problem can be dealt with by our "Online Support" which may also be found under "Support" at musictribe.com. Alternatively, please submit an online warranty claim at musictribe.com BEFORE returning the product.
3. Power Connections.
Before plugging the unit into a power socket, please make sure you are using the correct mains voltage for your particular model. Faulty fuses must be replaced with fuses of the same type and rating without exception.
FEDERAL COMMUNICATIONS COMMISSION COMPLIANCE INFORMATION
Behringer
EUROPORT EPS500MP3
Responsible Party Name: Music Tribe Commercial NV Inc.
Address: 5270 Procyon Street, Las Vegas NV 89118, United States
Phone Number: +1 702 800 8290
EUROPORT EPS500MP3
This equipment has been tested and found to comply with the limits for a Class B digital device, pursuant to part 15 of the FCC Rules. These limits are designed to provide reasonable protection against harmful interference in a residential installation. This equipment generates, uses, and can radiate radio frequency energy and, if not installed and used in accordance with the instructions, may cause harmful interference to radio communications. However, there is no guarantee that interference will not occur in a particular installation. If this equipment does cause harmful interference to radio or television reception, which can be determined by turning the equipment off and on, the user is encouraged to try to correct the interference by one or more of the following measures:
Reorient or relocate the receiving antenna.
Increase the separation between the equipment and receiver.
Connect the equipment into an outlet on a circuit different from that to which the receiver is connected.
Consult the dealer or an experienced radio/TV technician for help. This device complies with Part 15 of the FCC rules.
Operation is subject to the following two conditions: (1) this device may not cause harmful interference, and (2) this device must accept any interference received, including interference that may cause undesired operation. Important information:
Changes or modifications to the equipment not expressly approved by Music Tribe can void the user's authority to use the equipment.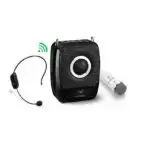 Hereby, Music Tribe declares that this product is in compliance with Directive 2014/35/EU, Directive 2014/30/EU, Directive 2011/65/EU and Amendment 2015/863/EU, Directive 2012/19/EU, Regulation 519/2012 REACH SVHC and Directive 1907/2006/EC.
Full text of EU DoC is available at https://community.musictribe.com/
EU Representative: Music Tribe Brands DK A/S
Address: Ib Spang Olsens Gade 17, DK – 8200 Aarhus N, Denmark